Table of Contents
Right before Halloween, Apple dropped some product updates with the theme "Scary Fast". The drops are a bit unusual for Apple because it's the first time that they dropped at 5 pm (usually it's 10 am in California) and historically quite late (usually by mid-October).
The event unfolded in a record time of 30 minutes (usually it's over an hour of product showcase extravaganza). So here's what you need to know from Apple's October Event of 2023.
New Apple Silicon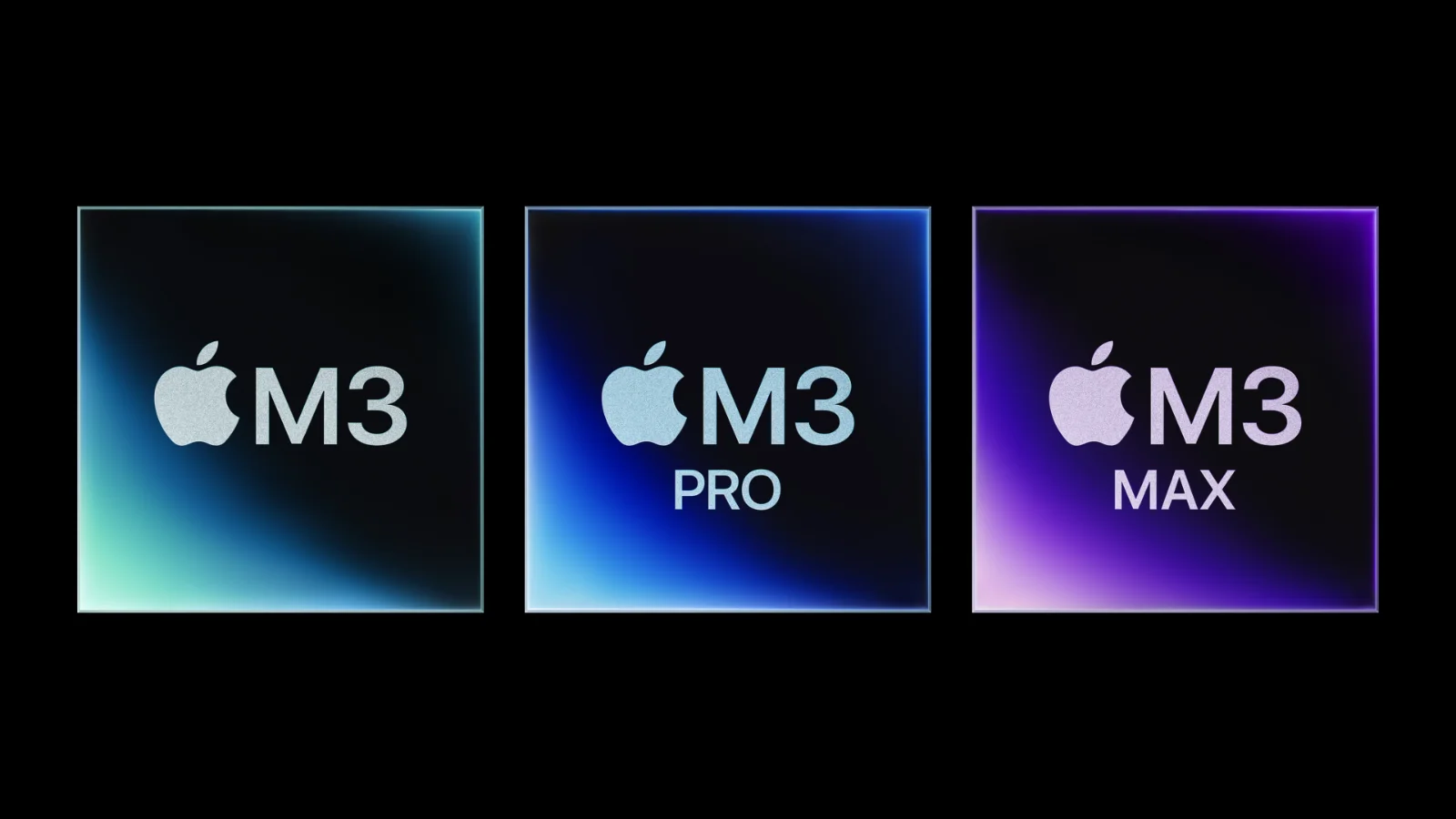 The star of the show is the new Apple Silicon, the M3 "family". And what's different this time is we got the 3 most used Apple Silicon right away, the M3, M3 Pro, and M3 Max right from the gate instead of Apple slowly dripping out updates over the year.
Here are some of the features of the M3 Family
3nm manufacturing process: Just like the A17 Pro that powers the iPhone 15 Pro line, the M3 Family is built on TSMC's 3nm manufacturing process. Since Apple bought TSMC's entire 3nm manufacturing process lines, it comes as no surprise. The benefits of smaller nodes are the ability to add more chips in a given space and the natural speed bump because the signals don't have to travel as much as they used to.


It might not be obvious, but this generation of M3 Pro is substantially different than the previous versions of Pro which are chopped version of the Max chips.

Brand new design: It wasn't said, but it seems that the M3 Pro is no longer a chopped-up version of the M3 Max. So Apple might have 3 separate production lines for Apple Silicon.
Improved graphics: The main improvement of the M3 family over the M2/M1 is the improved graphics


Red areas are the wasted memory space if using traditional memory allocation methods. With dynamic cache, memory is allocated dynamically for each program, so multiple programs uses the memory more efficiently. If this would have any impact in real world performance remains to be seen.

Dynamic caching: Johny Srouji tried to explain how it works but let's be honest: nobody understands how it works. One way to explain is that Apple through macOS will dynamically allocate memory on each program in macOS so no memory space goes to waste. A program itself won't see the difference, but if you run multiple programs, overall there's an increase in performance.


In a nutshell, mesh shader is a new way to drop triangles into 3D objects. Dedicated hardware to draw this will make your games faster.

Mesh shading: In computer graphics, shading is how you draw objects using the mathematics of triangles. Mesh shading is the latest technique in doing so and having dedicated hardware to do mesh shading means a faster way of doing it, and for the first time in Apple Silicon, there are hardware-accelerated mesh shaders.


Ray-tracing: In computer graphics, ray tracing is the algorithm to light up a 3D object by calculating the path of light from the object to the source. It's computationally intensive, but the result is you have beautiful and realistic sceneries while playing games. Hardware-accelerated ray-tracing which was introduced in the A17 Pro chip now comes to the M3 family of chips.
Highest performing efficiency cores: While the performance core had a modest 15% boost against the M2 family, the efficiency cores are boosted by 50% over the M1 family, which means mundane tasks like reading your email can be done faster.
Media Engine: While media engine has been introduced since M2, the M3 has support for AV1 which means better battery life when streaming videos from Netflix and YouTube, which to be honest, is how we spend most of our time on the Macs.
Higher memory support: The M3 Max now supports a whopping 128GB of memory, while the M3 Pro bumps its support to 36 GB (up from 32 GB). However, the memory bandwidth has been reduced. Some speculation says that the latest 3nm manufacturing has some yield issues and Apple decided to lower their standards to meet demand.
The upper limits of memory and storage support might be confusing for some, so here's a convenient table to be reminded of how it all should be.
| Chip | M3 | M3 Pro | M3 Max |
| --- | --- | --- | --- |
| Max CPU-cores | 8 (4p + 4e) | 12 (6p + 6e) | 16 (8p+ 4e) |
| Max GPU-cores | 10 | 18 | 40 |
| Min Memory offered (GB) | 8 | 18 | 32 |
| Max Memory supported (GB) | 24 | 36 | 128 |
| Max Storage offered | 2 TB | 4 TB | 8 TB |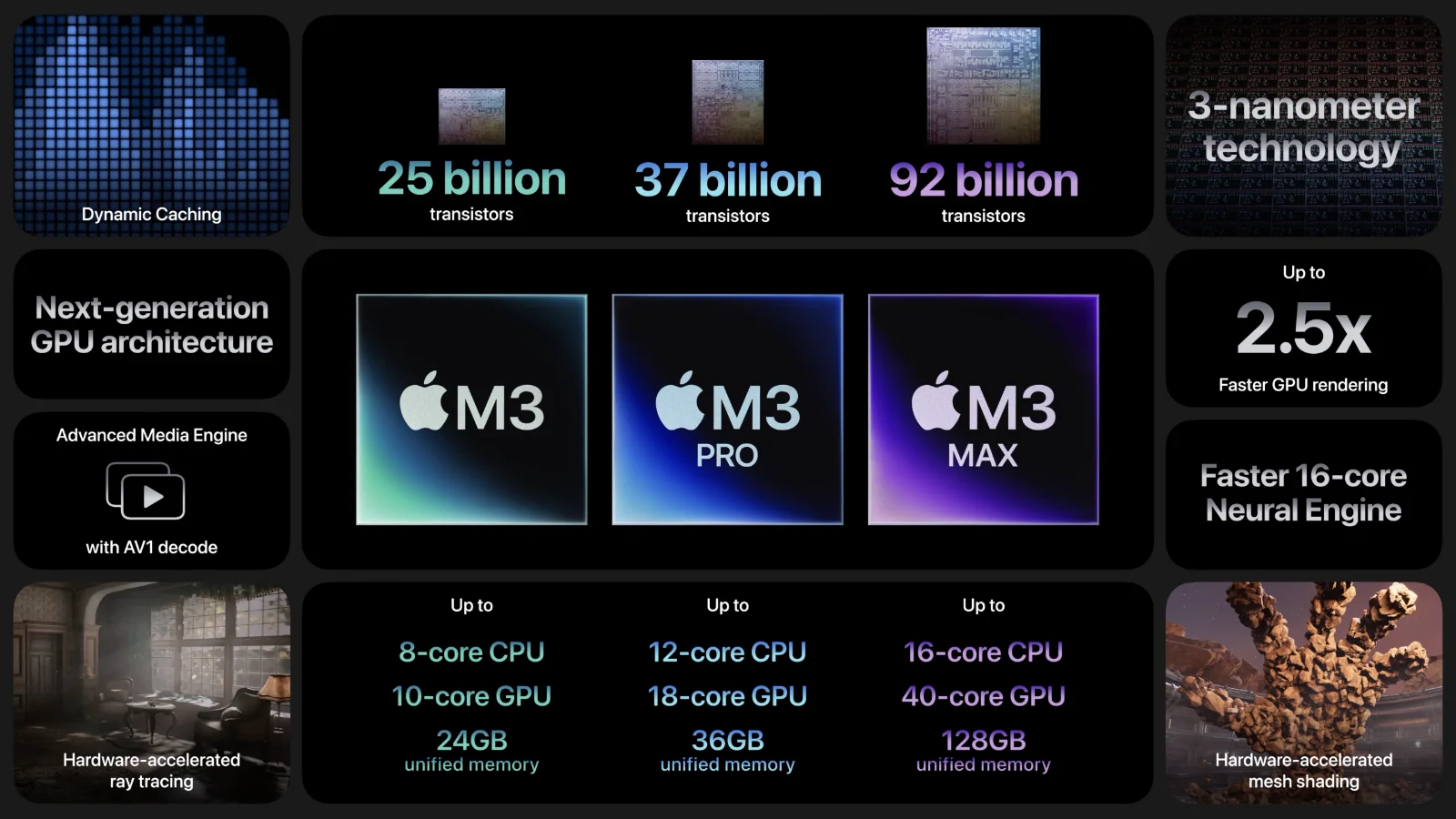 Updated MacBook Pro, RIP TouchBar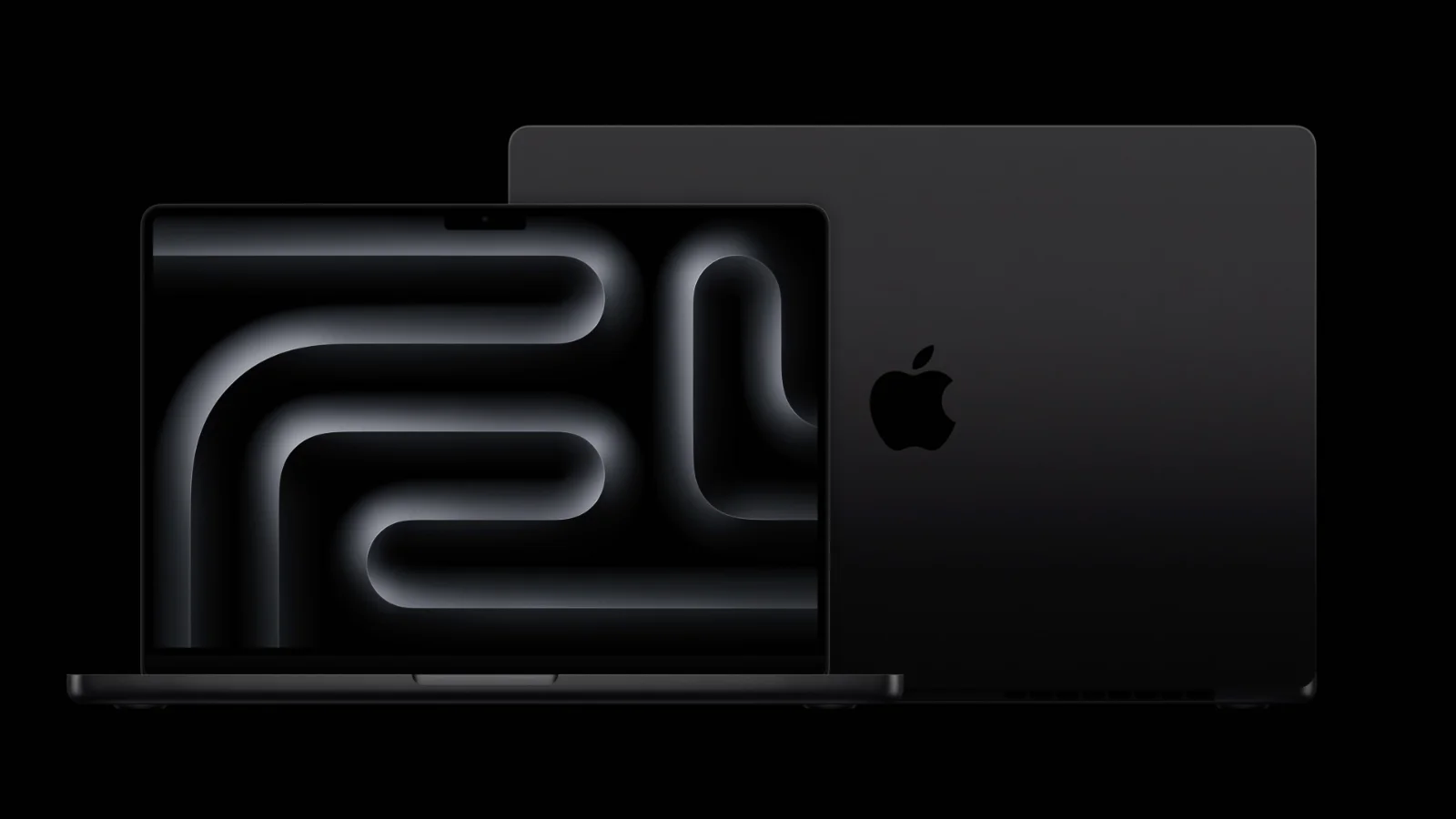 The next star of the show is Apple's second most popular product, the MacBook Pro (the most popular would be the cheaper MacBook Air). Here are some of the changes that Apple did on the MacBook Pro
RIP TouchID: Apple discontinued the 13" MacBook Pro with TouchID. Love it or hate it, TouchID will be gone Apple lineup forever. It was a good experiment, but ultimately, it didn't live up to Apple's expectations.
14" M3 MacBook Pro: Replacing the 13" MacBook Pro is the M3 14" MacBook Pro. In other words, Apple took the early 2023 MacBook Pro and put an M3 chip on it. It also brought down the entry price of the 14" MacBook Pro to $1,600. For that, you get the 8GB memory and 512GB storage with the M3 chip.


New Color: Replacing the Space Grey in an alternative MacBook Pro model is the new Space Black color. However, you need to purchase a MacBook Pro with the M3 Pro or M3 Max chip to get the privilege. Classic silver is always available on all MacBook Pro models.
Slightly brighter screen: The max brightness on the new MacBook Pro is bumped to 600 nits instead of 500 nits. According to some YouTubers, it is most likely a software update because there exists some 3rd party software to do the same functionality.
Everything else is the same: Other than the chip, basically the rehash of the early 2022 MacBook Pro, which isn't a bad thing because at the time of its release, the M2 Pro/Max MacBook Pro was the best laptop on the planet.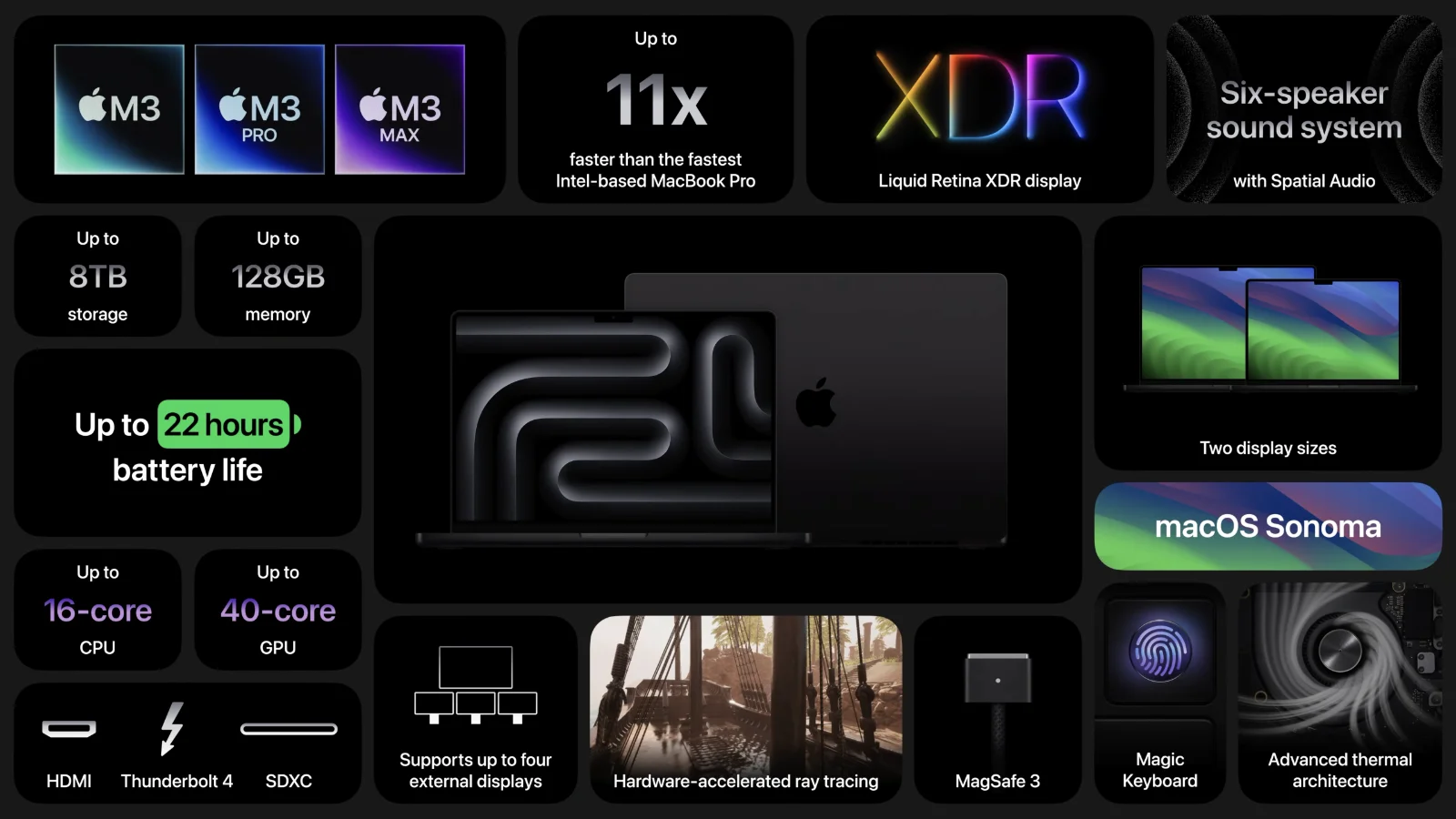 Updated iMac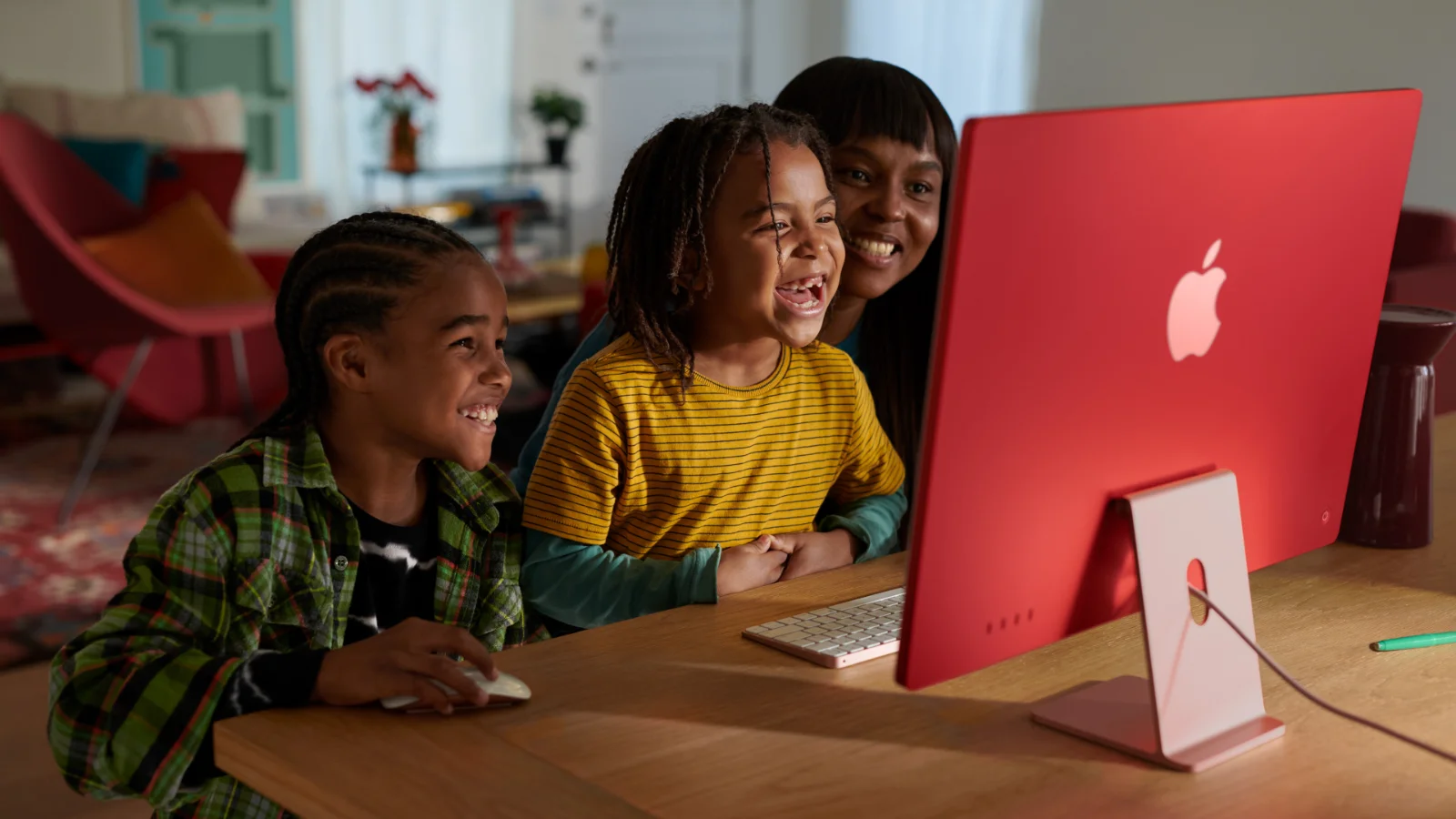 Apple finally updated the iMac to run on the M3 chip, skipping M2 altogether.
M3 chip: Apple put the M3 chip on the iMac. As all-in-ones go, I reckon that the M3 iMac would be the most powerful, thinnest all-in-one to date.
That's it: Did Apple put the M3 chip and call it a day? Yes. Other than the M1, every other aspect of the iMac is already ahead of the competition: a 6-speaker system, spatial audio, a great webcam, and Thunderbolt 4 support. So for their targeted user base, the M3 iMac is more than enough for their daily needs.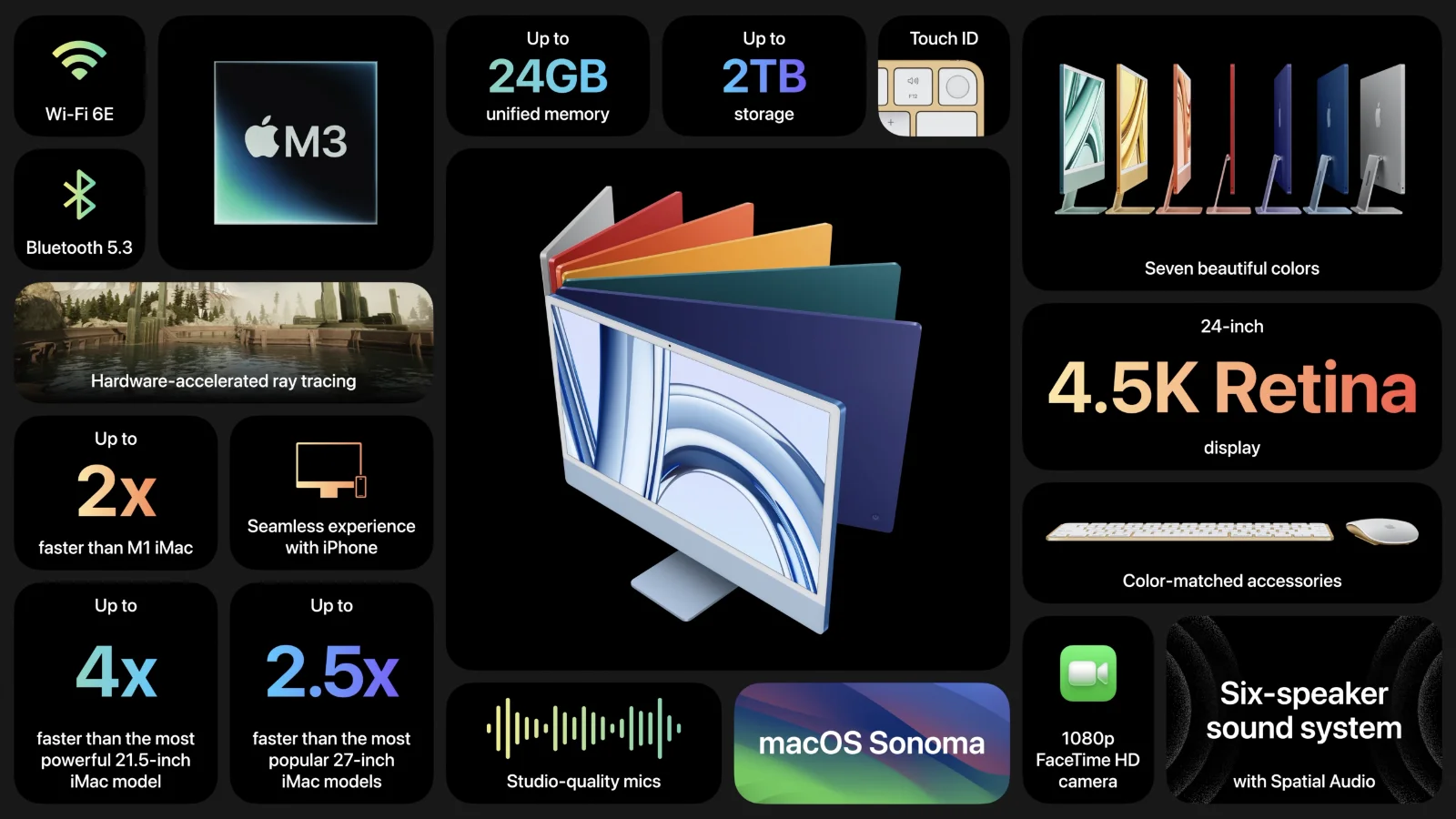 Observations
Here are some of observations that was made
It's a short story: The entire event ended within 30 minutes. Usually Apple event showcase is a 1-hour extravaganza of explainers, transitions, and epic scenes. This is short and sweet.

Behind the scenes of Apple's first event shot entirely on iPhone! pic.twitter.com/EJBAouBVuk

— Ian Zelbo (@ianzelbo) October 31, 2023

Shot on the iPhone: The entire production is shot using the iPhone 15 Pro Max. Well, if using professional grade lighting, gimbal, microphone, and complete with a professional crew that costs multiples of iPhone 15 Pro Maxes, do take that "shot with iPhone" statement with a grain of salt. Don't forget to mention the post-production costs as well.
What it means for the Vision Pro: When Apple unveiled the Vision Pro, it featured the M2 chip. Apple wouldn't release a flagship product with last generation chip, so it's very obvious that the Vision Pro will ship with an M3 chip on day 1.
M3 Ultra will be insane: For many, the M3 Pro is enough. There are some use cases for the M3 Max. However, the M3 Ultra which will be on the next Mac Studio will be insane: 32-core CPU, 80-core GPU with hardware-accelerated mesh shader and ray-tracing, 256GB memory support. The next Mac Studio will be beast for those who needs it. With unofficial results shows that M3 Max beat M2 Ultra in multi-core Geekbench, makes me wonder how OP M3 Ultra will be.
Plug
Support this free website by visiting my Amazon affiliate links. Any purchase you make will give me a cut without any extra cost to you
Other Ecosystem Items
Apple 2022 Product Roadmap
2021 went by very fast for most of us, and as the year going into the end game, we take a look behind and see what's in front of us.
Tags:
events
,
apple
,
m3
,
macbook pro
,
imac
,
m3 pro
,
m3 max
,