Macbook Pro M3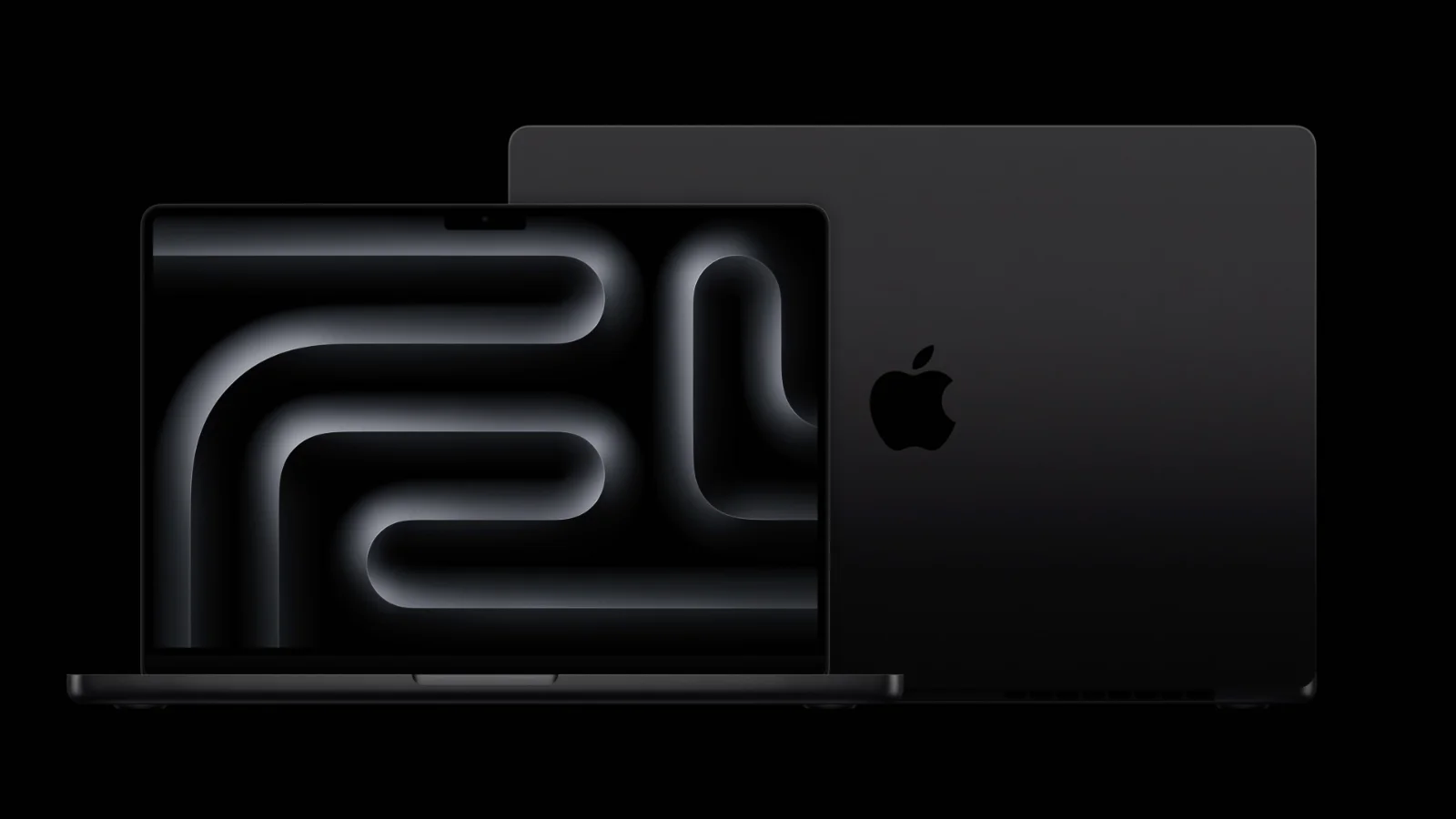 Apple updated the MacBook Pro during their October "Scary Fast" event. Apple updated the MacBook Pro to the M2 Pro and M2 Max chip earlier this year, so the update is ahead of schedule.
Here's what you need to know in regard to the updates:-
M3 Family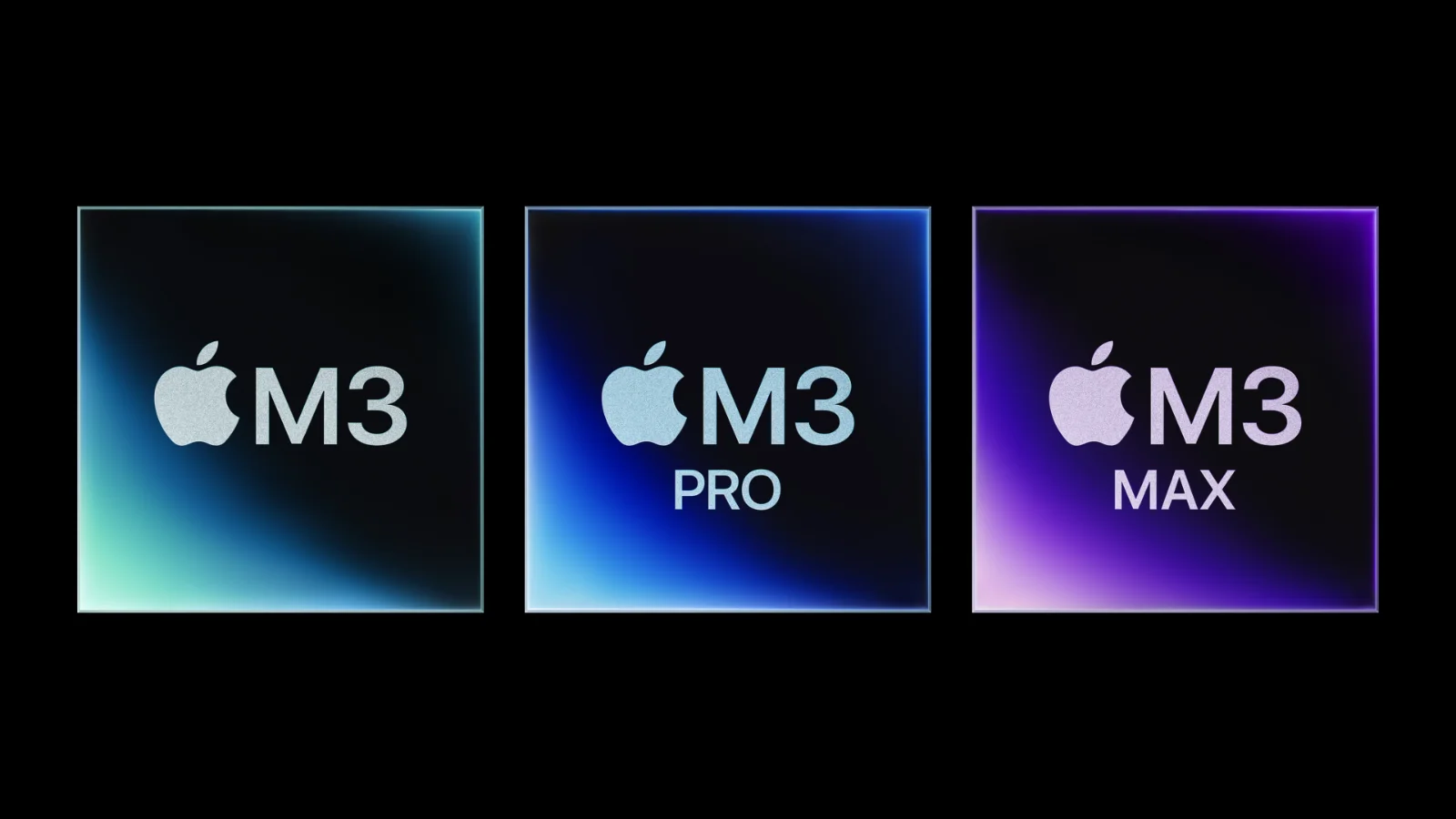 The star of the show is the introduction of the M3 family and Apple decided to update unleash the most popular M3 chips right out of the gate. So we get the base M3, the M3 Pro, and the M3 Max.
Here are the improvement highlights over the M2 generation of Apple Silicon
3nm manufacturing: Apple leads the industry with the first mobile/desktop chip to use 3nm manufacturing which comes from TSMC. The result is the baseline performance is higher because the transistors are packed close together and higher capabilities because Apple can put more transistors in a single die of the same area.
Improved graphics: The main focus of the M3 family is improved graphics which includes a few dedicated hardware that specialize in graphics and of course a clockcycle bump.
Dedicated mesh shaders and ray tracing: Mesh shading and ray tracing are techniques in computer graphics that make scenes in computer games more realistic. Those techniques are data-intensive and with the help of dedicated hardware to tackle those problems, gaming on the Mac becomes more desirable.


Updated media engine: Apple didn't say how many streams of 8K ProRes videos it can support now, but we think it should be more than enough for 99% of users out that. Apple improved upon the media engine to include support for AV1 codec, which is popular in media streaming sites like YouTube and Netflix.
Reduced Memory bandwidth: The M3 memory bandwidth is unchanged at 100GB/s, the M3 Pro bandwidth is reduced to 150GB/s from 200GB/s in the M2 Pro while the M3 Max is unchanged at 400GB/s. We believe that Apple dropped one of the memory channels in the M3 Pro although we don't know why Apple chose this route.


Improved efficiency core performance: While having more performant performance cores is good, getting your efficiency cores to be more performant while maintaining power consumption is even better. Apple claims that the efficiency cores are 50% higher performing than the ones in the M1 family.


M3 Pro is distinct from M3 Max: In M2 and M1 generations, the Pro line is a chopped version of the Max chip. Typically companies do this to improve yield and reduce costs. But in the M3 generation, the M3 Pro chip has a design that is different from both the M3 and the M3 Max.
High memory support for the M3 Pro: The M3 Pro starts at 18 GB of memory (instead of 16) and goes to 36GB of memory (instead of 32GB). We believe that Apple uses the new 9GB and 18GB memory chips to achieve this.


CPU Monkey reports that M2 Max nearly outperforms the M2 Ultra in multi-core benchmarks, which rises an eyebrow.

More powerful M3 Max: The M3 Max is a performance-orientated mobile monster chip: with 16 CPU cores which 12 are performance cores and up to 40 GPU cores. It is rumored that in multi-core GeekBench 6, the M3 Max nearly outperforms the M2 Ultra. The M3 Max pushes the max memory support to 128GB, compared to 96GB previously.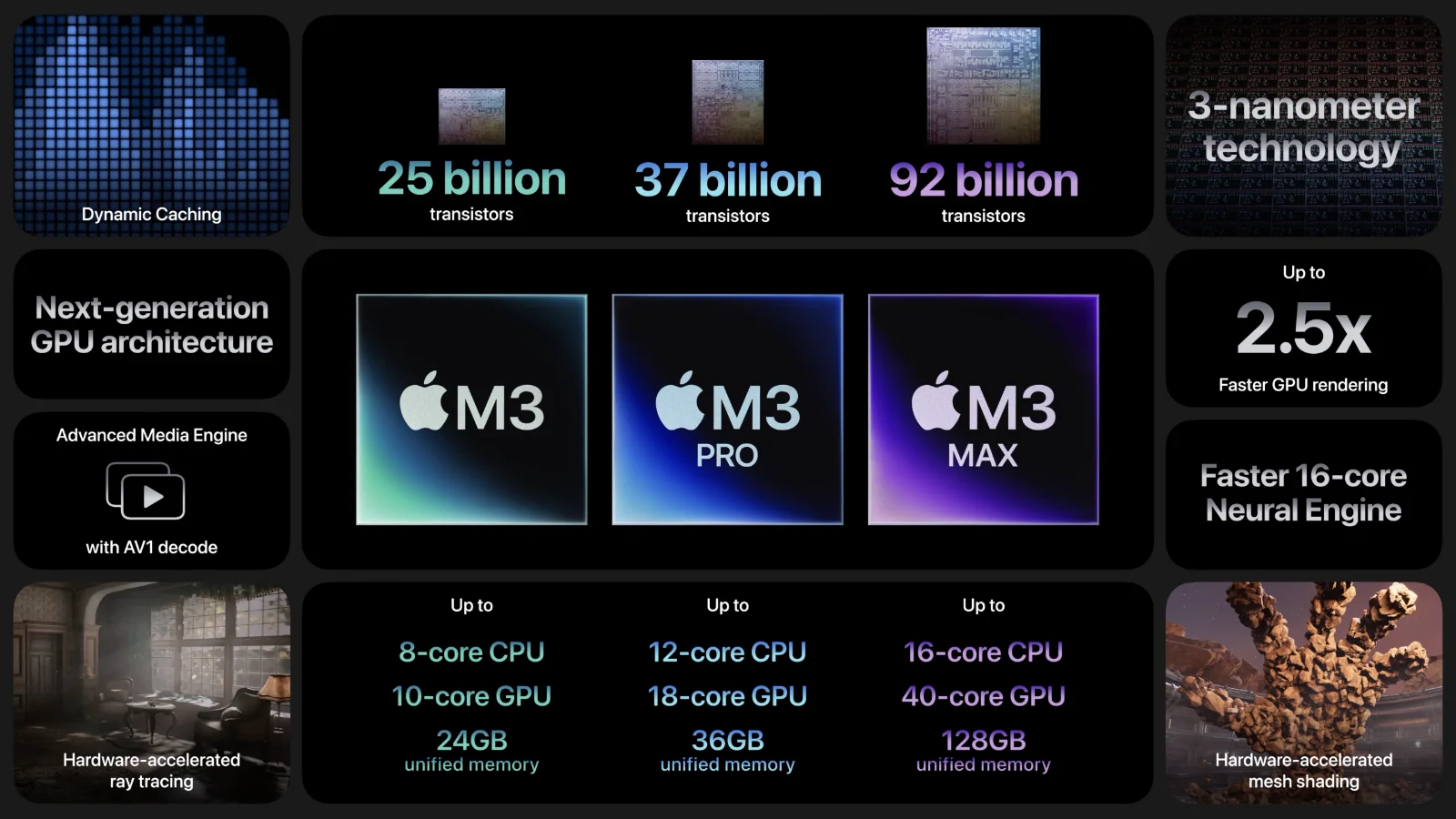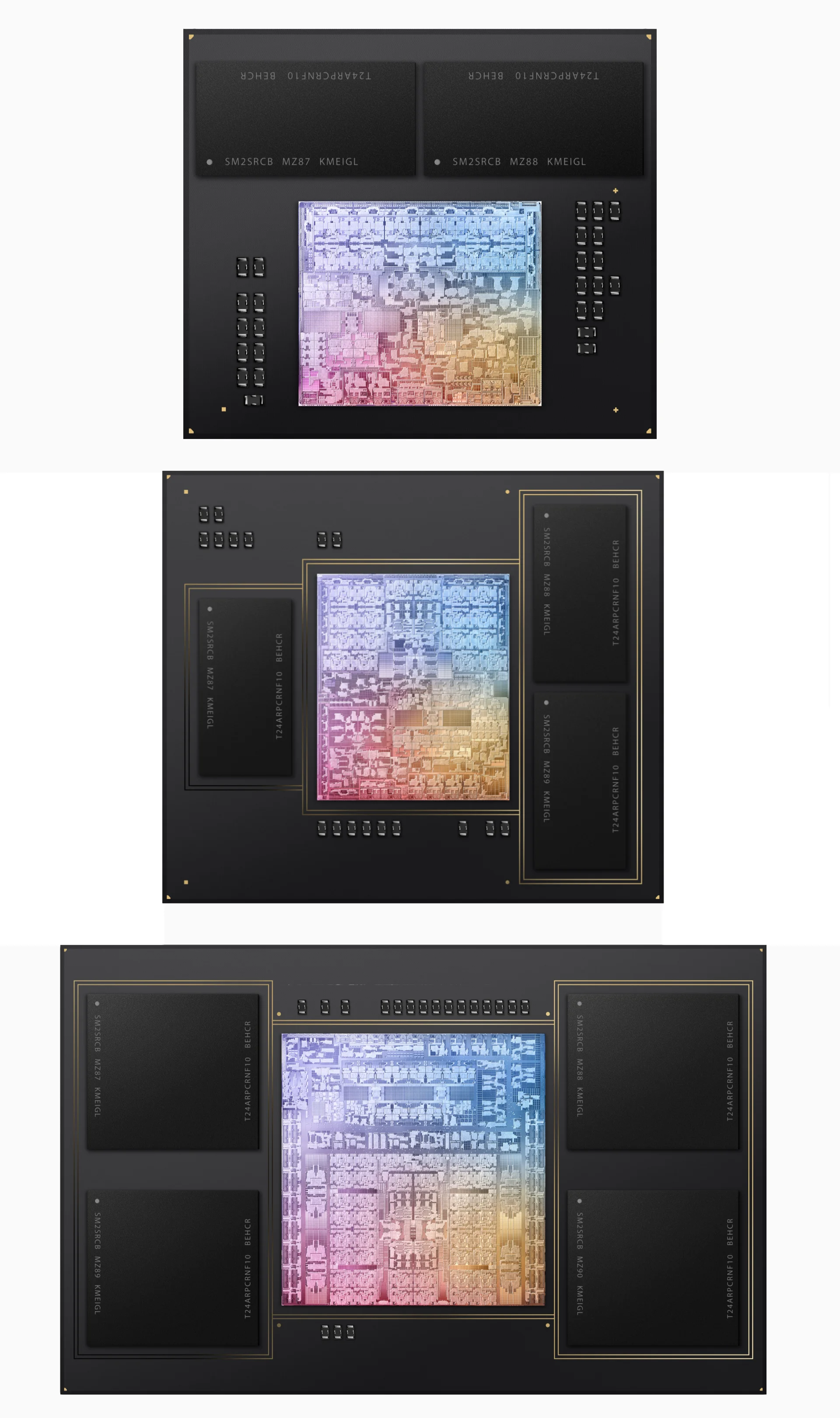 The MacBook Pro itself
"New" M3 MacBook Pro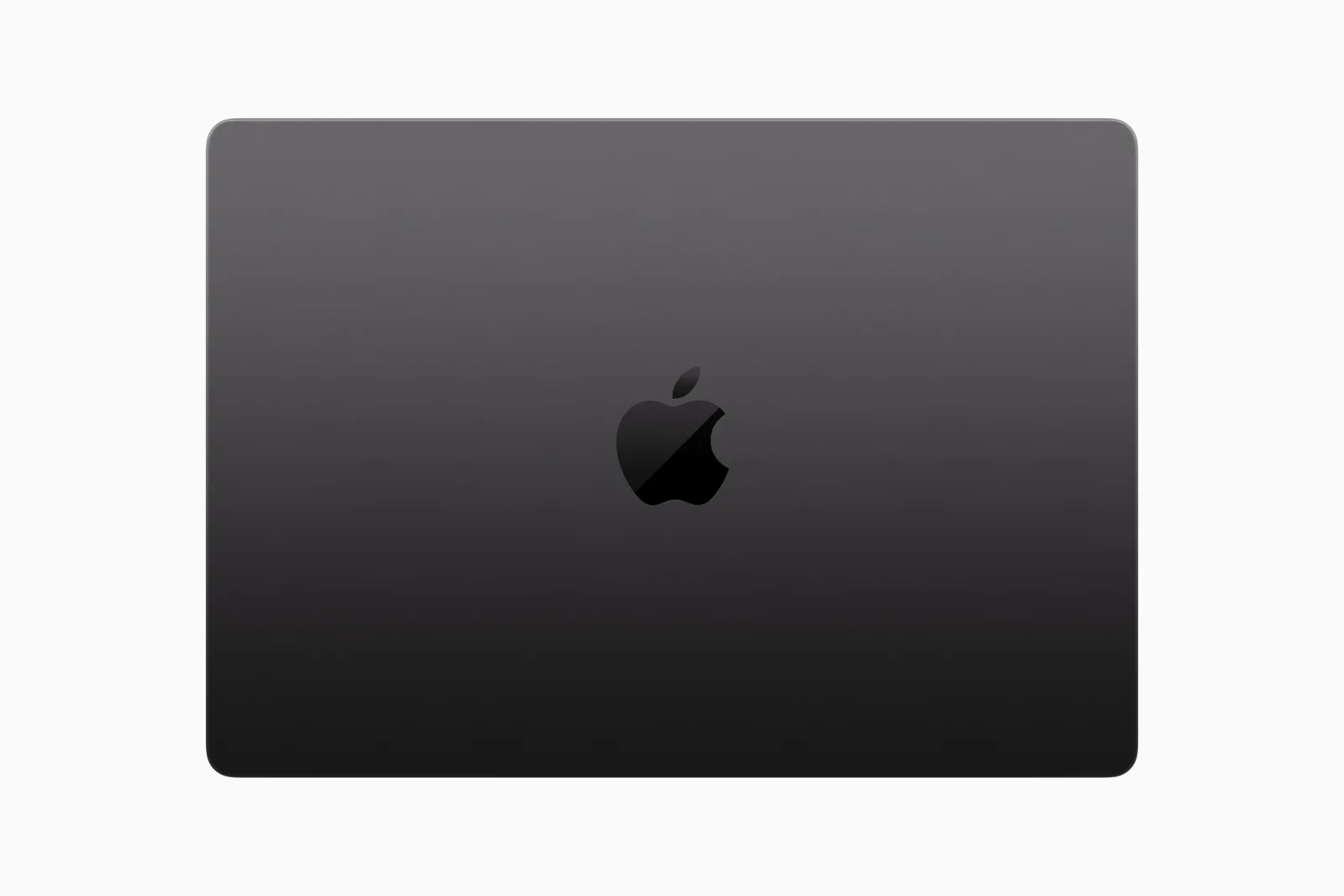 Apple finally killed the 2016 MacBook Pro chassis by putting the new M3 chip in the 2021 MacBook Pro body. Other than having two Thunderbolt 4 ports instead of three, it's identical to the M3 Pro and M3 Max versions of the MacBook Pro. Put a MacBook Pro on a coffee table, and you wouldn't know if it has the base M1 Pro or the mobile monster M3 Max with 128GB of memory.
The screen has been updated to have a higher brightness of 600 nits instead of 500. There's speculation that this is a software update since there are software solutions in the Apple App Store right now to do just this.
Pricing of the MacBook Pro has been lowered to $1,600 for the M3 MacBook Pro and you can spend up to $8,000 for the ultimate 16" M3 Max MacBook Pro with 128GB of memory and 8TB of internal storage.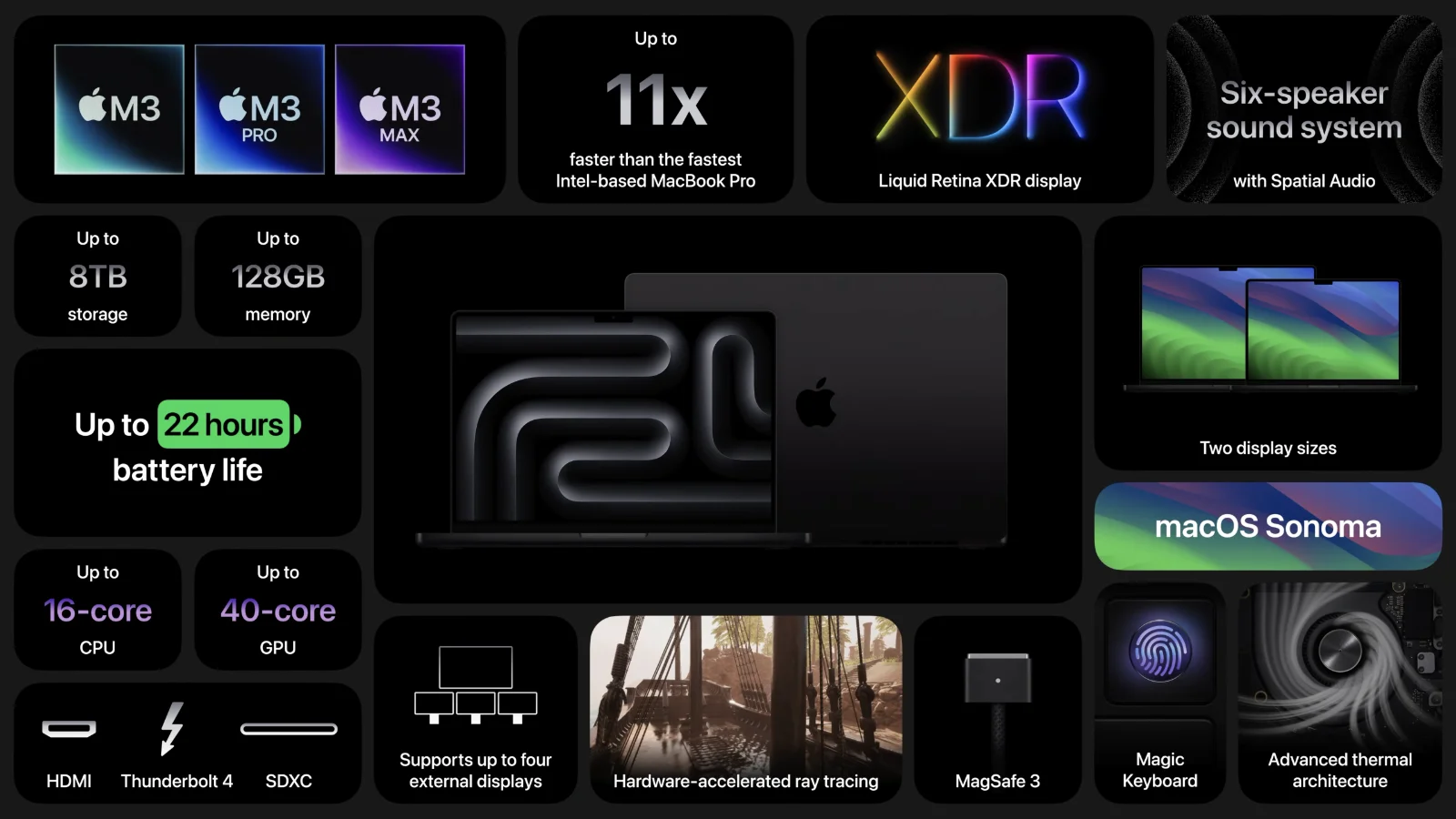 Pricing Guide
The configuration and pricing can be confusing because different chips in the M3 family have different memory support, so here's the pricing guide in a table to help alleviate the confusion.
CPU/Memory
8GB
16GB
18GB
24GB
36GB
48 GB
64GB
96 GB
128GB
M3 (8-core CPU, 10-core GPU)
$1,599
$1,799
-
$1,999
-
M3 Pro (11-core CPU, 14-core GPU)
-
$1,999
-
$2,399
-
M3 Pro (12-core CPU, 18-core GPU)
-
$2,199 ($2,499 for 16" MacBook Pro)
-
$2,599 ($2,899)
-
M3 Max (14-core CPU, 30-core GPU)
-
$2,999 ($3,299)
-
$3,799 ($4,099)
-
M3 Max (16-core CPU, 40-core GPU)
-
$3,499 ($3,799)
$3,699 ($3,999)
-
$4,499 ($4,799)
All MacBook Pro comes with at least 512GB of internal storage. Upgrade options for storage are as follows:-
Upgrade to 1TB; add $200
Upgrade to 2TB; add $600
Upgrade to 4TB; add $1,200
Upgrade to 8TB; add $2,4000
However, based on your choice of chips, there's also a limit on how much internal storage you can have:-
M3: Options up to 2TB of internal storage
M3 Pro: Options up to 4TB of internal storage
M3 Max: Options up to 8TB of internal storage
So you cannot have an M3 MacBook Pro with 8TB of internal storage. This is probably because Apple limits how many I/O channels for storage based on the chip.
Which one is right for you?
To answer this question, it is basically up to your workflow. Do examine your workflow and the answer will present itself. If you just typing up screenplays, you don't need an M3 Max with 128GB of memory, and if you are doing 3D VFX for a major blockbuster film, the base M3 MacBook Pro wouldn't cut it.
Here are recommendations based on predicted workflows:-
Powerpoint presentation, spreadsheets, blogging, content consumption: The base $1,600 MacBook Pro is good enough
Gaming (Apple Arcade): The base is $1,600 or if you want to future-proof things, put another $400 for an M3 Pro
Video Editing: You can do it with the base $1,600. There are known YouTubers that build their videos using a base iMac (with M1 some more), so having the base MacBook Pro is not a problem. A $400 investment in a M3 Pro with loads more memory is the best investment you can get.
Complex 3D rendering: This where the muscles of the M3 Max actually matter. The problem is, that a lot of performance issue isn't on the M3 family itself, but the software isn't optimized for the Apple Silicon. This is the main reason why some software works better in the Windows environment than Apple despite Intel and Apple chips being quite close in performance according to benchmarks.
Developing software: As a software engineer, the more powerful the computer is nicer, but a good external display is even more important. Yes, the base M3 MacBook Pro is good, but the M3 Pro MacBook Pro is better.
For the upgrade path, here are some recommendations:-
Intel-based Macs: Absolutely
M1 Macs: Maybe
M2 Macs: No
Windows computer: It depends on your environment. There are good cases why you should stay in a Windows/Linux environment but there are also good cases why you should be in Macs.
Is 8GB of memory enough?
Apple sells a $1,600 laptop with 8GB of memory. This is insane. In the Windows world, you'll be getting a gaming or high-end laptop with at least 16GB of memory. Is 8GB is enough for a MacBook Pro? Funtionally yes, but Apple should put at least 16GB of memory when it's selling a "professional" laptop. Especially when an 8GB LPDDR5 memory module which Apple uses costs around $25 in retail which means it could cost Apple $5 to $10 which is nothing for a $1,600 laptop.
Plug
Support this free website by visiting my Amazon affiliate links. Any purchase you make will give me a cut without any extra cost to you
Other Ecosystem Items