Apple dropped the invite on 12th October for an October event with the tagline "Unleashed". The poster shows that you are about to go into hyperspace like in Star Wars or Star Trek and jumping off to another part of the galaxy. The invite has a lot of things that is different about Apple. The event is on a Monday (usually they do it on Tuesdays or Wednesdays), the turnaround time is just around 6 days (usually around 2 weeks) and they do it, relatively speaking, quitely (the Apple webpage is barely changed, still trying to promote the iPhone 13). So what will Apple show us in this event? Read on to find out.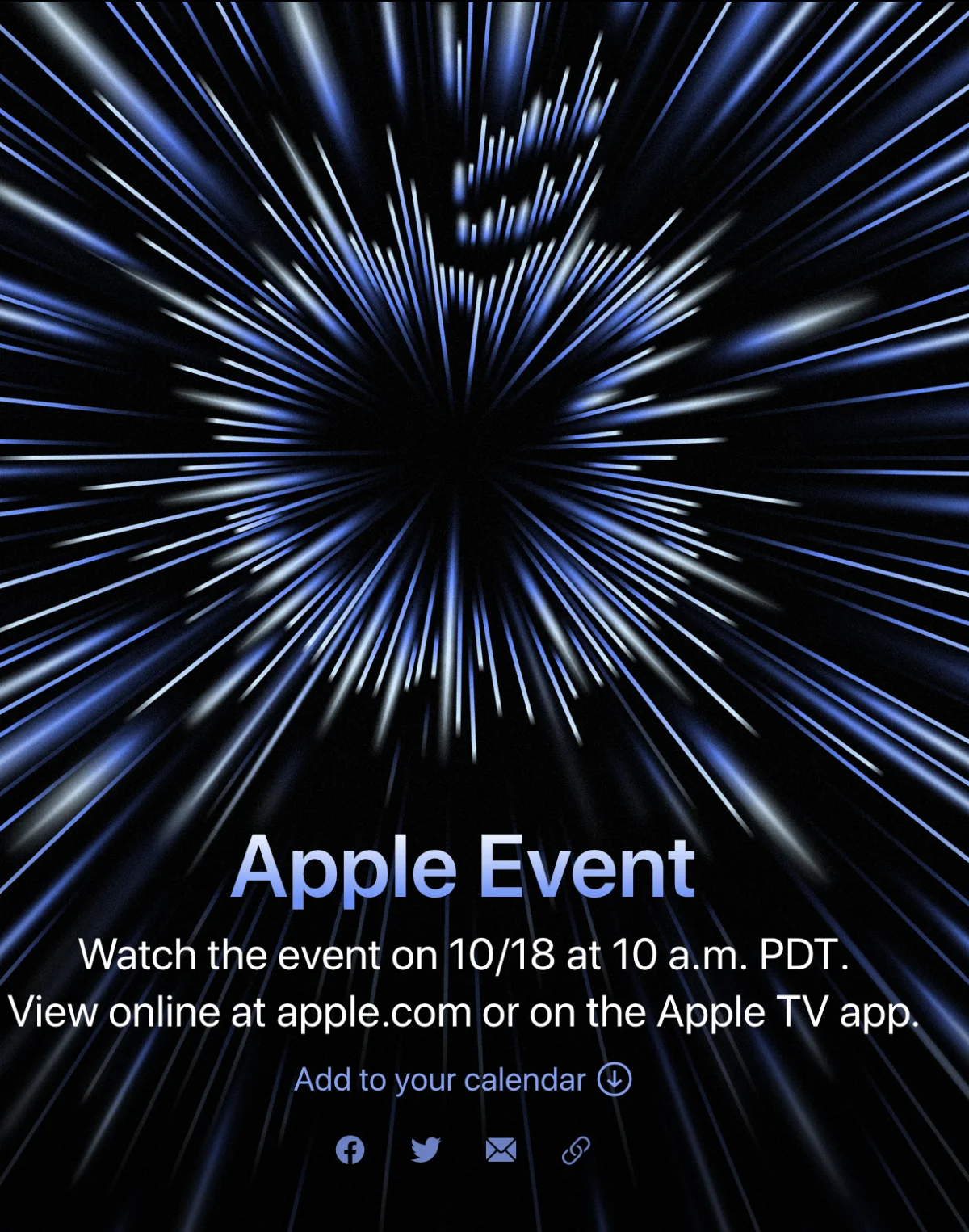 New M1X Chip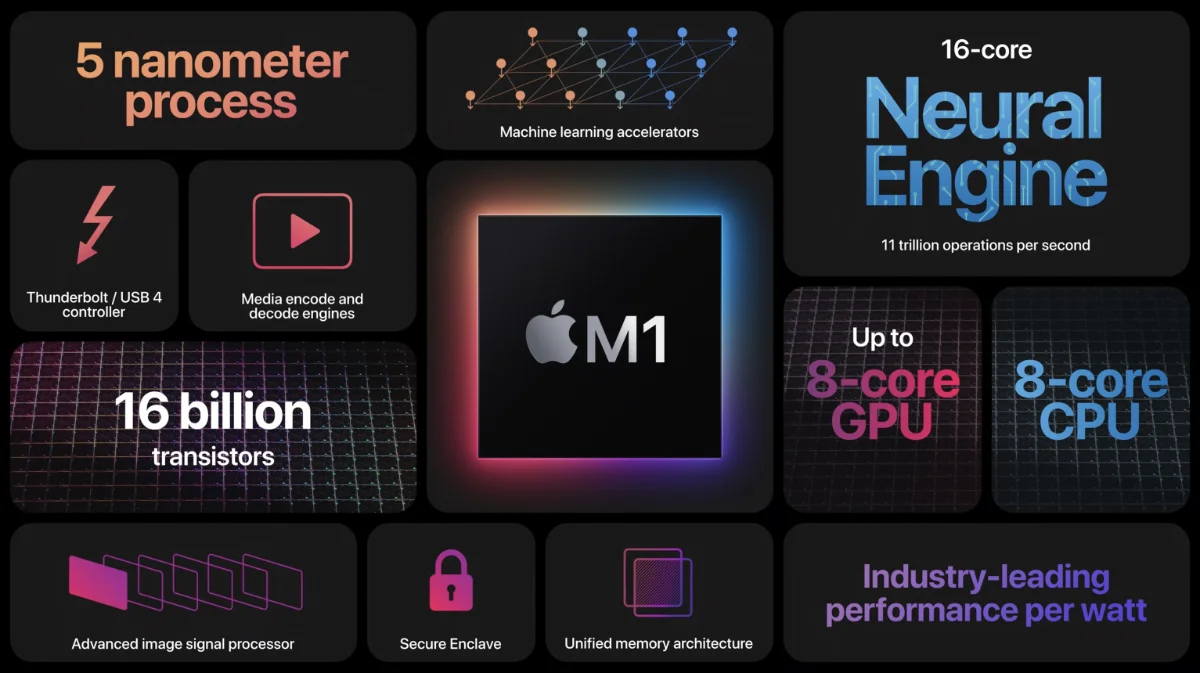 As of October 2021, Apple has updated the lower end Mac Mini, MacBook Air, lower end MacBook Pro 13" and replaced the 21.5" iMac with a newer 24" iMac. So basically, Apple has updated their lower-end consumer offerings to the newer M-series platform. Apple's motivation to only update the consumer Macs is clear: it's a brand-new platform, they are transitioning from Intel to their own solution, they wanted developers to update their software to take advantage of the new platform and so on. So far the transition has been smoother than anticipated. Now, it's the big moment where professional grade Macs needs refreshing.
At the heart of the upgrade would be a newer chip that can handle all the professional demands and then some more. There's speculation that the new chip will be dubbed M1X or M2, but at this point, it's all just marketing. Apple can name the chip whatever they want and it still be the same. A rose by any other name will still smell as sweet. For clarification purpose, we will stick to the M1X name as there are strong rumors to suggest that will be the name Apple chooses for the higher end M1 chip.
To anticipate what Apple will unveil with the M1X, you have to look two things: what is Apple is planning to replace and how does Apple update their chips, especially the recent moves from the A14 to the A15.
Right now, the MacBook Pro 16", the top-of-the-line MacBook Pro is running on Intel Core i9-9980HK with AMD Radeon 5500M as their discreet GPU. RAM starts around 16GB and goes up to 64GB although the Intel chip can support up to 128GB. TPD on the CPU is around 45W and the GPU is around 50W. The current Intel offering is the 11th generation Core processor i9-11980HK which has the following specs:-
8 computer cores (16 threads with hyper threading)
Up to 128GB memory support
some sort of internal GPU
45W TDP
10nm manufacturing process
Thunderbolt 4 support
In Apple's view, the integrated graphic card is not beefy enough for what Apple expect power users on the Mac will do, so they would pair them with discreet graphic chips like the Radeon 5500M and several generations of Radeon before them. So Apple goal, just like in the M1 is to have a system on chip that does all that in one single package.
Now, the M1 was released around the same time with the A14 processor. Apple way of designing processor is hugely different than Intel's or AMD's way. The main difference is that Apple chip designer has only one customer: Apple. So, they are designing the M-series processor around Apple products and Apple's needs. So, everything in the M1X is only what Apple needs, unlike Intel and AMD which has to put a lot of things to satisfy a lot of customers which has wildly different needs.
So, the M1X is to be released around the same time as the A15 processor. The A15 is basically a refreshed and refined version of the A14 processor. So, the improvements that Apple did on the A15 over the A14 are:-
Improved manufacturing process: still on 5nm, but refined
Enlarge the graphics cores with a 5-core option
Redesign the core to be more efficient.
Bump the clock speed from 3.1 GHz to 3.2 GHz.
The result is the A15 has around 10% improvement against the A14. Modest by most standard, but the gulf enlarges when it is using multiple cores. So, you can expect Apple will use the same tactics for the M1X: improved manufacturing process, bump the clock speed, redesigned cores. There's another trick in Apple sleeve: increase the core count for both the performance and graphic cores. The rumors that are circling around is that the M1X will have at least double the performance core count (8-cores) up to 12 performance cores. On the graphic front, it is rumored that it will have at least double the graphic cores count, which falls in around 16-cores. There are rumors about a 20 and 40 cores version that is being tested for the ultimate Mac Pro.
Another rumor is the inclusion of the Afterburner card, an accelerator card that can be optionally purchase for Mac Pro. The card is a reprogrammable ASIC (app specific integrated chip) that is designed to handle ProRes files. Because of this, the Mac Pro can handle up to 6 streams of 8K ProRes simultaneously at 29.97 fps, or 23 4K RAW ProRes stream. Now, we don't expect the M1X to have the same level of performance as a dedicated $2,000 Afterburner card, but considering that Apple is fielding iPhones that can shoot in ProRes, it is not farfetched to think that Apple might include Afterburner cores inside the M1X chip.
Expected spec of soon to be reveiled M1X chip based on the latest A-series and M-series chip
1Estimation based on MaxxTech of Youtube.
Feature
A14
A15
M1
M1X
Clockspeed
3.1 Ghz
3.22 Ghz
3.2 Ghz
3.4-3.5? Ghz
Manufacturing Process
5 nm
5+ nm
5nm
5+ nm
Performance Cores
2
4
8-10
Efficiency Cores
4
2-4
Neural Cores
16
Graphic Cores
4
4/5
8
16 or more
Reported TDP under load
6W
6W
10W
20W?
GeekBench 5 (single)
1592
1726
1744
??
GeekBench 5 (multicore)
4112
4606
7676
150001
GeekBench 5 (metal)
8,977
14,216
21,168
44,0001
On the memory front, currently all M1 runs on 8 or 16 GB of RAM. It is not known if this is a hard limit by Apple since the supplier Hynix does provide 16 and 24 GB LPDDR4X modules which Apple uses for the M1. The current MacBook Pro currently can be configured from 16Gb to 64GB of RAM, so it make sense for Apple to at least match the specs in the current offering. Judging by current offering from Hynix, Apple can make a laptop with up to 48 GB of RAM is using only two channels or 96GB of RAM if using 4 channels. LPDDR5 does exists which give a performance boost and lower power consumption, but with the global chip production crunch that everyone is facing, it is unlikely that Apple will field it.
In conclusion, logic dictates that Apple will need a chip that can at least match the performance and maybe cut the power consumption on the portable Macs. Apple has demonstrated that with the M1, you can have and eat your cake. The M1 is the best of both worlds: lower power consumption and higher performance gains. It is required for Apple to justify the platform which to have a chip that can at least perform as good as Intel's offering without the device being a space heater.
During the #AppleEvent, we'll probably see a MacBook Pro with Apple's new M1X chip. pic.twitter.com/c96nKMrmBJ

— PCMag (@PCMag) October 12, 2021
Don't want to jump the gun, but expectation can be a thief of joy
MacBook Pro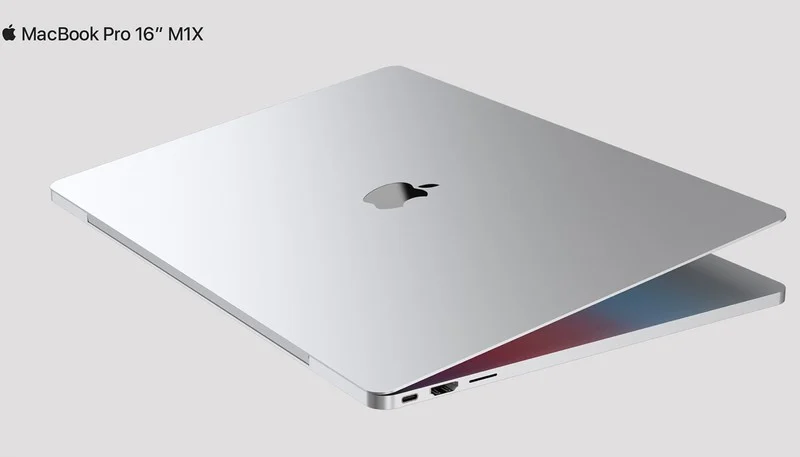 When Apple release the current design of the MacBook Pro, the reviews was mixed. Some praise the thinner design. Other points out the many fallings of the new design. The butterfly keyboard that does not feel good to type and often breaks. The then new USB-C only ports on the Pro laptop which means users need to buy a lot of dongles to connect to their existing devices. The thin-by-any-means-necessary design which leads to the laptop often thermal throttle and feel very hot to touch. The TouchBar was supposed to be a revolutionary new way to use the keyboard, but in the end, it's a big meh for a lot of people. Nice to have, but you won't miss it if its gone.
Apple has tweaked the MacBook Pro in every refresh cycle. They updated the butterfly keyboard several times until they ditch it completely. Slightly thicker chassis for better heat management, but in the end, Intel chips is just too hot to handle. The batteries has increased to improve unplugged life until it reach the legally limited 100Wh capacity. In the end, the MacBook Pro has mixed reviews, it's a solid product but has many professional cares about.
It is expected that Apple will release a new design for this October event. The stronger source that we have that one of Apple suppliers, Qunanta, has been blackmailed with ransomware. They leaked what is suppose to be a CAD drawing of the new MacBook Pro that complete with USB-C ports, HDMI ports, SD card port and suppose to be a MagSafe power port. So it seems that Apple has returned to the design ethos of what makes the best MacBook Pro laptop: durable, stylish, useful, powerful and a tool.
Other rumors that circulate is that the new MacBook Pro will come in 16" and 14" size respectively. They will feature OLED screens that can support HDR content and finally have ProMotion which was present in iPad Pro for years now. It is unknown what kind of RAM and storage will they have, but it is expected to at least match with what that is currently offered in the MacBook Pro, which is 16 to 64GB of RAM and 512 to 8192 GB of storage. Pricing starts from $2,400 for the base 16" version and upto $6,600 when all options are maxed out.
Mac Mini
Other than the MacBook Pro that everybody is waiting for, there's another Mac that would is still waiting for an update, in both design and specs, especially on the upper echelons: the humble Mac Mini. One of the first Macs that got the M-series chip was the silver Mac Mini which is still the cheapest Mac that you can buy. While does not sell as well as laptops, the Mac Mini is popular amongst hobbyist, developers and people who just wanted to try to use a Mac. Apple also have a space grey Mac Mini which higher specs that people use as a server or part of a render farm for movie studios.
The Mac Mini requires an update for a few reasons. First, as it shown on the M1 Mac Mini, the board and the power supply is comically small for the chassis of the Mac Mini. The 150W power supply is comically large against the M1 which at best, use only 10W of power. The reason why Apple hasn't change anything in the Mac Mini because the design is timeless, it does not sell well, and basically, it's not broken. I personally have a Mac Mini from 2011 that I still use as a media server today. The only gap that the current Mac Mini has is the lack of ports (due to M1 chip limitations) and lack of higher end version for server use.
It is expected that Apple will unleash an all=new Mac Mini design for the October event. This would be the first redesign of the Mac Mini since 2010 (110 years ago in IT world). From design leaks, it expected that the new Mac Mini will use the same form factor but slightly shorter. The port array will basically be the same but rearrange in a new way: 4 USB-C ports + USB-A ports, HDMI and ethernet ports. The power port is expected to use the same port that was introduce in the new iMac 24".
Grab Bag
Now it is anticipated that we will get new M-series chip, a new MacBook Pro and possibility a Mac Mini, what else does Apple will have in store for us? Here are the rumors from most likely to most unlikely.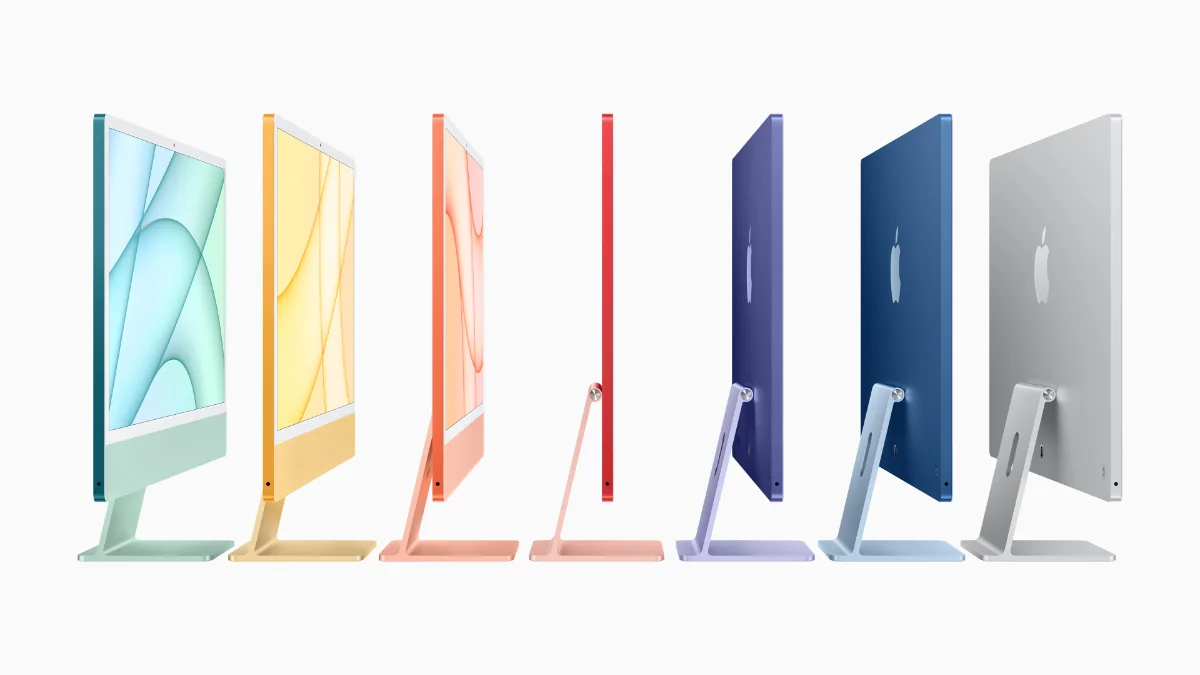 30" iMac The 21.5" iMac was recently updated to a new bigger screen and thinner 24" iMac. While this event Apple is expected to launch a new high-performance chip for the higher end MacBooks and Mac Mini, it is not outside the realm of possibility that Apple will update the 27" iMac to a larger screen iMac with the same design cues as the 27" iMac. Whether if that will happen or not, remains to be seen.
Mac Pro Mini When Apple introduced the Mac Pro, it was a showcase of the best Mac Apple can make. However, there is a large gap between the Mac Pro and the next level desktop Mac: the 27" iMac. The Mac Pro starts at $5,999 while the 27" iMac starts at $1,799 (or $2,299 for the higher base spec). There is a niche market where there are people who wanted the power and flexibility of the Mac Pro, but only have the budget for half of it. Whether Apple is going to fill that niche is a question that will have to wait.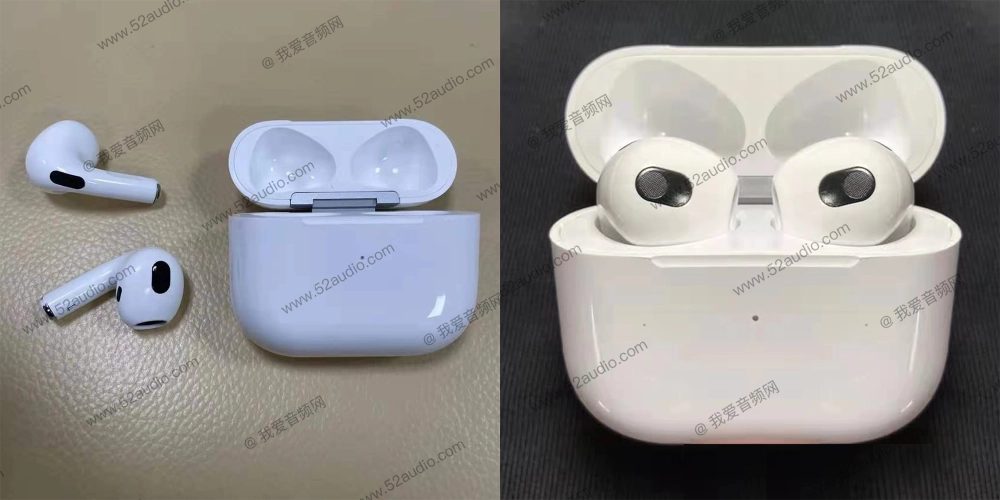 AirPods The running joke is that every time Apple does a showcase event, the AirPods will be updated. We'll see if that will happen on Monday.
Conclusion
It would be very interesting to see what Apple will unveil on Monday. It is a highly anticipated event since there are many people who hold off from getting a MacBook Pro because they actually need to extra oomph for their work, which include video editors, photographers, programmers and scientist.
Resources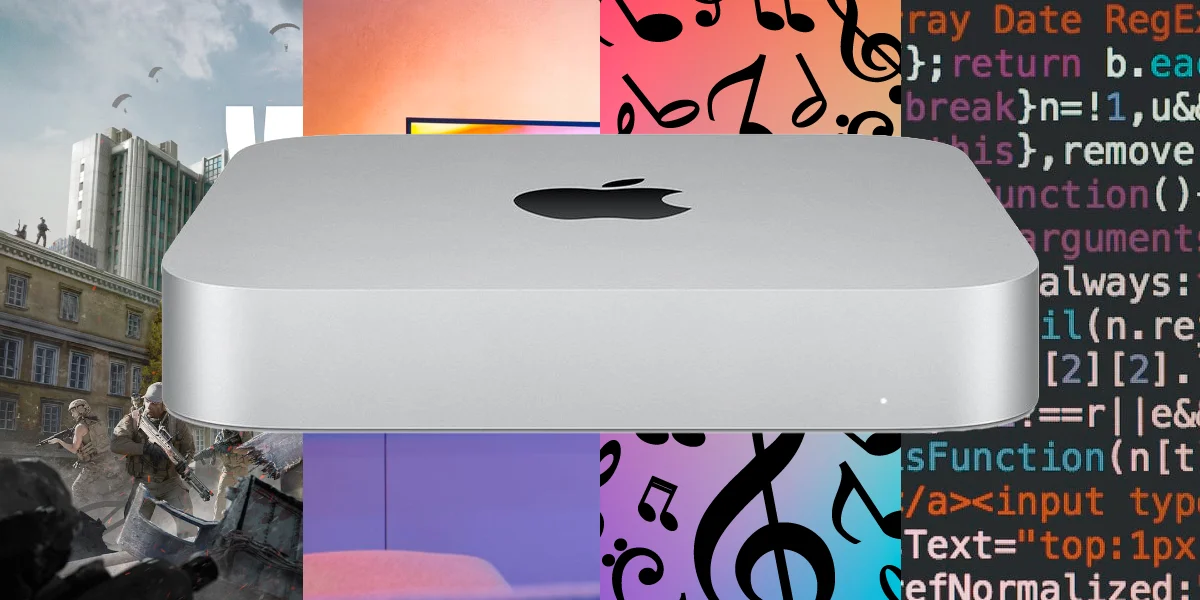 Mac Mini Setup Guide from Noob to Pro
The absolute unit of computing called the Mac Mini is both powerful and versatile. This is a guide to help you setup your Mac Mini to get the most out of it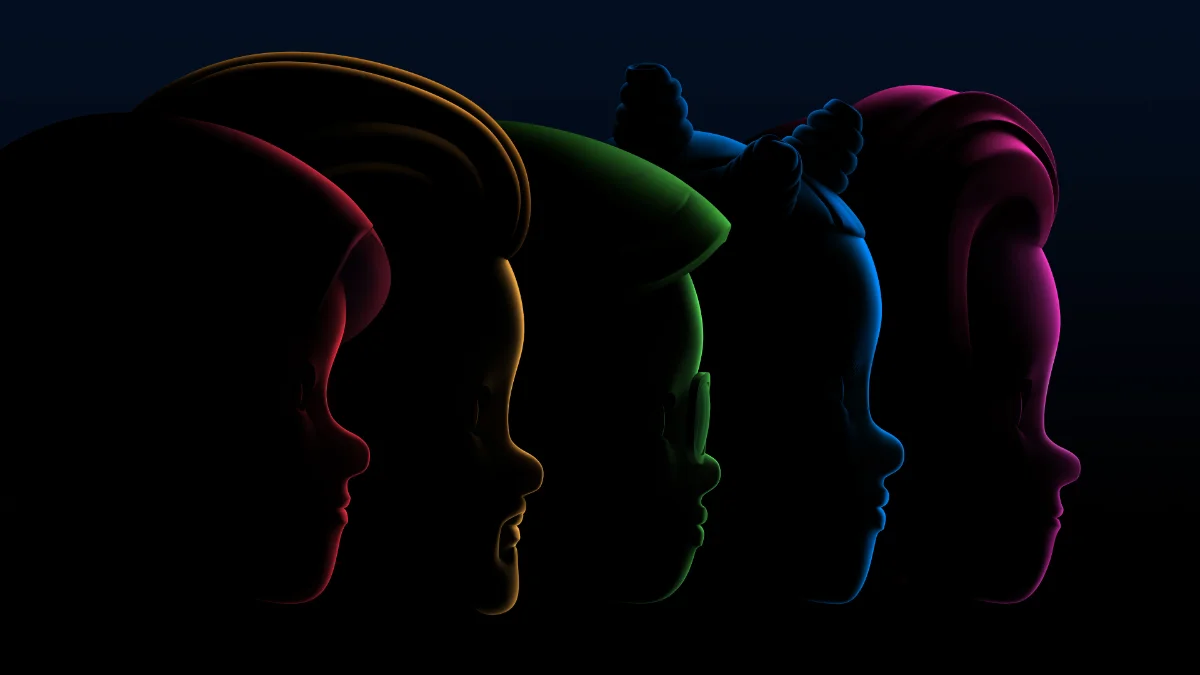 WWDC 2022 Preview
WorldWide Developers Conference is coming in early June as always. This year's theme would be 'Swiftly Approaching'. Take take a sneak peek of what we expect will come out of WWDC 2022.
Tags:
apple events
,
preview
,
m1x
,
new
,
macbook
,
mac mini
,