It is the paradox of Apple. Apple is one of the largest seller of smartphones in the world, but Apple does not directly own any factory that makes. A few people wondered why Apple buys it screens from Samsung, LG and Sharp which are competing in the smartphone space. This is because Apple is in business of selling iPhone and the Apple ecosystem, not screens.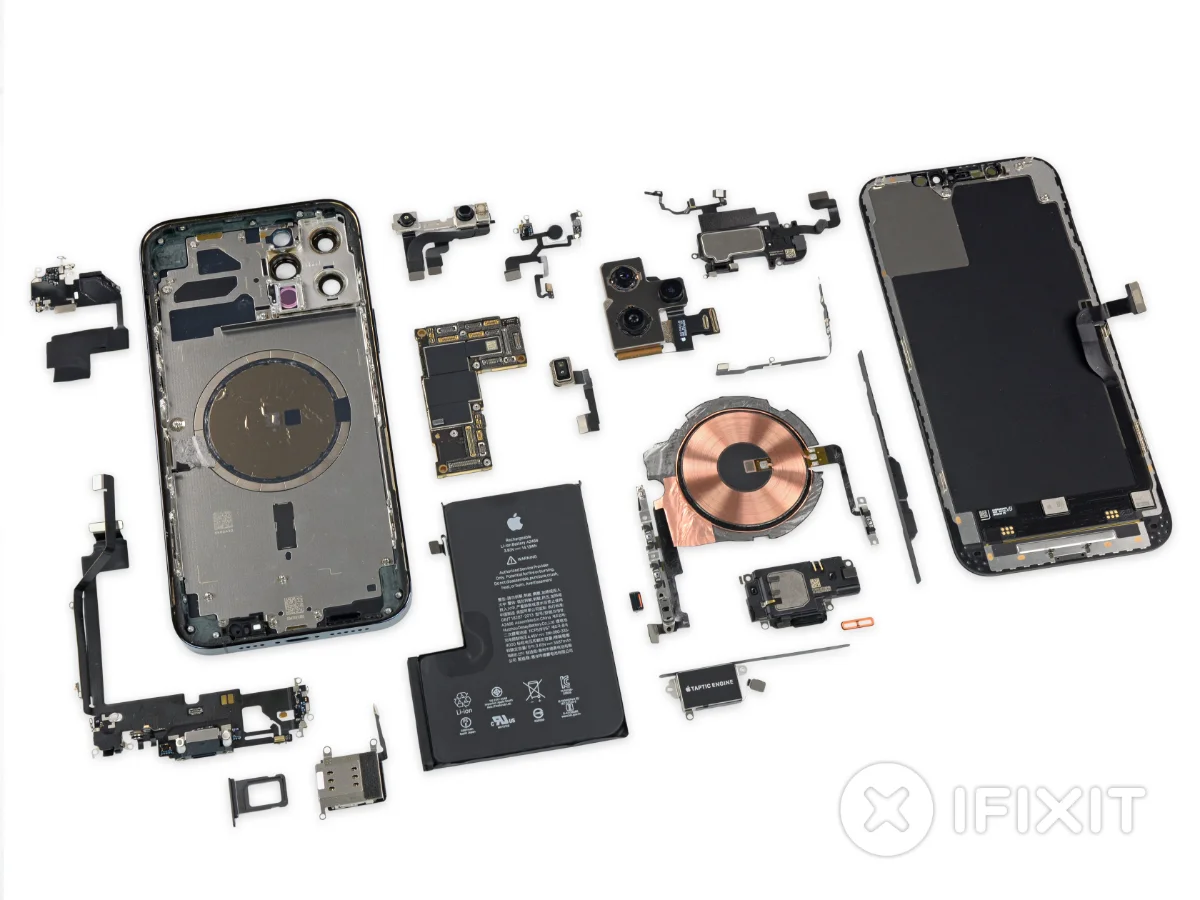 Apple sells over 200 million iPhone per year. They do come in various sizes but it's just around 2–3 sizes. When you are selling 200 million iPhones, you need to make 200 million iPhones. You can either own the factory that build the phones like how Dell does with their computers or get a third party to do the manufacturing for you.
Furthermore, making a modern polished smartphone like the iPhone 12 Pro Max is a complicated process. There is easily 1000 individual components that makes up the final product. Because of the complexity and Apple demanding nature in terms of quality and quantity, outsourcing the manufacturing of the final product is a prudent approach. All Apple needs to do is to manage their vendors, the supply chain logistics and also quality control along the way, which by itself is an amazing feat of the mordern globalized world where everything must work, just in-time.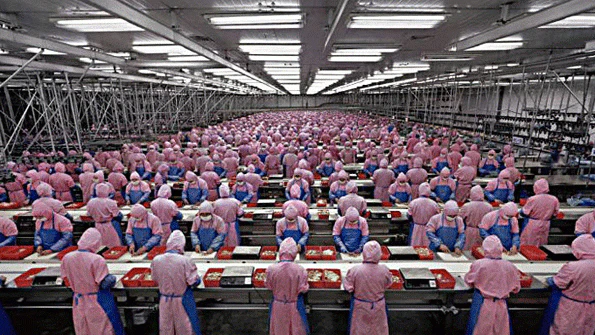 Both have its advantages and disadvantages, but for Apple, their advantages outweighs the disadvantages. When you want to make 200 million to 250 million iPhones, you have a lot of power with your manufacturer. Apple like other US companies applies the "smile" principal. The design and the sales where the money is maximized and the manufacturing where the cost is minimized.
The advantages for Apple in using Foxconn to build the iPhone and Samsung to supply the screen is flexibility. If Apple does not like Foxconn way of doing things, Apple can take their business away. Just like how Apple apply workers living and dignity standards to Samsung as well.
Samsung might sell around 250 to 300 million phones per year, but it sells around 500 million screens per year because Apple bought their screens. Imaging your customer decided to go to LG with their order of 200 million plus screens, how bad does your year is going to look like? So Samsung might willing to cut prices to keep Apple's business and others might entice Apple by offering better value. In the end, Apple have bargaining power because of the volume it commands.
Plug
You can help grow this website and visiting my affiliate links below:-
USB-C charger - 100W - Amazon
Apple USB-C 20W charger - Amazon
Anker USB-C to Lighting Cable - Amazon
Apple Pencil
Magic Keyboard
Smart Folio
Smart Cover - Amazon
AirPods
Some of Apple Suppliers
Supplier
Potential supply item
3M Company
Things
AAC Technologies
Acoustics, Precision Processing, Haptics, Optics, Sensor & RF Antenna
Advanced Semiconductor Engineering
Semiconductor packaging, testing and electronic manufacutring
Alps Electric Company
Electronic components for phones and other devices
Amkor Technology Limited
Chip packaging
Amphenol Corp
Eletronic and fiber optic connectors, cable and interconnect systems
ams AG
Sensor and sensing solutions
Analog Devices Inc
Data conversion, signal processing and power management
Artesyn Embedded Technologies
Power conversion and embedded computing
Asahi Glass
Glass for display
Asia Vitals Components
Cooling, casing, hinges, camera and touch panel
AT & S Austria Technologie & SystemTechnik
PCB manufacturing
Biel Crystal
Back Glass for phones
Boyd Corp
Engineered materials and thermal solutions
Boardcom Limited
Semiconductor and infrastructure software
BYD Electronic
Hanset components and assembly
Career Technology
Circuits and related assembly
Catcher Technology
Chassis
Cathay Tat Ming Precision Metal Products
High Precision Hardware Parts
CCL Design
Labels, precision die cut, brand enchancement and protection
Cheng Loong
Paper packaging
Cheng Uei Precision Company
??
Chengdu Homin
Tool, Die and Mold Making
China Circuit Technology
Printed Circuit Board
CN Innovations
Metal and glass processing. Touch panel
Coilcraft Inc.
Inductors and transformers
Compal Electronics Inc.
Orignal Design manufacturer
Compeq Manufacturing
PCB manufacturing
Corning Inc.
Specialty glass, ceramic and other materials
Cosmosupplylab Ltd.
Eletronic parts and electronics communicatons equipment
Cowell E Holdings Inc.
Camera module and optical components
Creland Technology Ltd.
??
CymMetrik Enterprise
Labels, Structural components and enclosure decorations
Cypress Semiconductor
Semiconductor components
Darfon Electronics
Notebook keyboard and precision components
Delta Electronics
DC industrial, computer fans and switching power
Derkwoo Electronic
Mobile Phones components, display chassis, ABS
Dexerials Corp.
Functional materials
Dioes Inc.
Semiconductor
DSM Engineering Plastics
High performance plastics
Dynapack International Technology
Storage battery manufacturing
ECCO leather B.V.
Leather manufacturer
Flex Ltd.
Contract manufacturer
Flexium Interconnect Ltd.
Flexiable Printed Circuit Board
Foster Electric Co. Ltd.
Speakers and headphones
Fujikura Ltd.
Communication cables and network equipment manufacturing
Fuyang Technology Corp.
AGV (automated guided vehicles), RGV logistics
Genius Electronic Optical Ltd.
Lens
GoerTek Inc.
Acoustics components
Golden Arrow Printing Ltd.
Printing and packaging
Guandong Ellington Electronics Tech
Printed Circuit Board
Hama Naka Shoukin Industry
Microscrew
Henkel AG
Adhesive Technologies, Beauty and Laudary
Hi-P International
Industrial mold
Hirose Electric
Interface connectors for sensing devices
Hitachi Ltd.
Conglomerate
Hon Hai Precision (Foxconn)
Actually Foxxconn, electronics contract manufacturer
Ibiden
Plastic packaging and PCB
II-VI Inc.
Optical material and Semiconductor
INB Electronics
??
Infineon Technologies AG
Semiconductor manufacturer, memory chips, etc
Intel Corp
Semiconductor, CPU, etc
Interflex Co.
Flexiable Printed Circuit Boards
Intermedia Inc.
Online business communication services
Inventec Corp.
Computer manufacturer
J.Pond Industry
??
Jabil Inc.
Manufacturing services
Japan Aviation Electronics Industry
Electrical connectors
Japan Display Inc.
Display technology
Jiangsu Changjiang Electronics
Semiconductor system integration packing and test
Jilin Liyuan Precision
Manufacturer Aluminum products
Jinlong Machinery & Electronics
Resource exploitation, iron and steel production, shipbuilding and electrical machinery
Jones Tech
Material Solutions
JXTG Holdings
Owned by Eneos, petroleum and metals Conglomerate
Kantatsu Co. Ltd.
Design, develop and manufacture electronic components
KEMET Corp.
Capacitor Technology
Kinsus Interconnect
Ball Grid Array
Knowles Corp
micro acoustic, audio processing, and precision devices
Kunshan Kersen Science & Tech
Precision metal structural components
Kyocera Corp
Ceramics and electronics manufacturing
Laird PLC
Electronics and Technology
Largan Precision
Camera lens module
Lens Technology Ltd.
Lens product
LG Chem
Chemical manufacturer
LG Display co.
Display manufacturer
LG Innotek
Electronic component manufacturing
Lite-On Tech
Computer components
Longwell Co.
Power cord, cables, connectors and power adapter
Luen Fung Group
Precision metals
Luxshare Precision Industry
Electronic Component manufacturing
LY Investment (HK)
Investment company
Marian Inc.
Flexiable Components manufacturer
Maxim Integrated Products
Analog and mixed-signal integrated circuits
Merry Electronics Co. Ltd.
Electroaucoustics
Microchip Tech Inc.
Microcontroller, mixed-signal, analog and flash-IP integrated curcuits
Micron Tech.
Computer memory and storage
MinebeaMitsumi Inc
Machinery and electronics component
Molex Inc
Electric, electronics and optical connectors
Murata Manufacturing
Manufacturer of electronic component
MYS Group Co. Ltd.
Cardboard and plastic packaging
Nanya Tech Corp.
Dynamic RAM
Nichia Corp.
Chemical engineering and manufacturing
Nidec Corp.
Electric motors
Nissha Co. Ltd.
Printing technologies
Nitto Denko Corp.
Tapes, vinyl, LCDs, insulation and others
NOK Corp.
Oil Seal
NXP Semiconductor
Microcontroller, processors and sensors
O-film Tech Co. Ltd.
Electronic components
ON Semiconductor Corp.
Semiconductor supplier
Pai Shing International
Packaging
Panasonic Corp.
Electronics Conglomerate
Phone In Mag-Electronics
Neodymium magnets
Pioneer Material Precision Tech.
Functional elastomers (rubbers / silicone )
POSCO
Steel
Primax Electronics
Computer, electronics and consumer products
Qorvo Inc.
Radio-frequency systems
Quadrant Solutions
Custom magnetic solutions
Qualcomm Inc.
Wireless electronics solutions
Quanta Computer Inc.
Notebook and computer manufacturer
R.R. Donelley & Sons
Marketing and business communication and commercial printing
Radian Opto-Elecrtronics
LCD backlight
Renesas Electronics
Semiconductor manufacturer
Risuntek Inc.
Eletronic products
Robert Bosch
Precision mechanics and electrical engineering
Rohm Co. Ltd.
Electronics parts manufacturer
SABIC Innovative Plastics
Polymers, Chemical, Argi-nuteriants manufacturer
Salcomp
Power adapters and chargers
Samsung Electronics
Electronic components Conglomerate
Samsung SDI
Storage battery
Seiko Advance Ltd.
Screen ink
Seoul Semiconductor Ltd.
LED
Shandong Innovation Grp.
??
Sharp Corp.
electronic products, particullary displays
Shenzen Desay Battery Tech.
Battery
Shenzen Fortuna Tech.
thermoplastic polyuthane (TPU), silicon and plastic field products
Shenzen Sunway Communicatoin Co. Ltd.
Mobile terminal antenna
Shenzen YUTO Packaging Tech
Brand packaging solutions
Shin Zu Shing
Hinge assembly, springs and stamping
Simplo Tech
Lithum batteries
SK Hynix
memory Semiconductor
Skyworks Solutions Inc.
Semiconductor, radio and mobile communications
SMK Corp.
Connectors, switches, plugs, etc
Solvay SA
Chemical company
Sony Corp.
Electronic Conglomerate
STMicroelectronics N.V.
Electronics and Semiconductor manufacturing
Stora Enso Oyj
Pulp, paper and forest products
Sumida Corp.
Inductive components and modules
Sumitomo Chemical Ltd.
Chemical Company
Sunrex Technology Co. Ltd.
Computer peripheral products
Sunwodo Electric Co. Ltd.
Electronic manufacutring services
Suzhou Dongshang Precision Ltd.
Precision metal plate and cast metal
Suzhou Zhongjemai Panal Industry Tech Ltd.
??
Swiftronic Holding
Rubber composite material, plastic mold and precision rubber
Taishan City Kam Kiu Aluminum Extrusion
Aluminum materials
Taiwan Hokoda Tech Ltd.
Aluminum billets and extrusion
Taiwan Semiconductor Manufacturing Ltd.
Semiconductor contract manufacturing and design
Taiyo Yuden Co.
Electronic parts and recordable media
TDK Corp.
Electronic materials and recording / data storage media
Texas Instrument Inc.
Semiconductor and integrated circuits
The Chemours Co.
Chemical company
TK Group
Vegetable oil Conglomerate. Also does ship building, pulp and paper, plastics, cement and textiles
Tongda Group Ltd.
Electronic component manufacturing
Toshiba Corp.
Conglomerate
Toyo Rikagaku Kenkyusho
Metalworking technologies
TPK Holding
Touch panels
Trinseo S.A.
Plastics, latex binders and synthetic rubber materials
Tripod Tech. Co.
Manufacture and distirbution of PCBs
Tsujiden Co. Ltd.
Optical films for backlights and other films
TTM Technologies Ltd.
PCB manufacturing
UACJ Corp.
Aluminum extruded product manufacturing
Unimicron Tech. Corp.
PCB manufacturing
Unisteel Tech. Corp.
Precision engineering component
Unimicron Tech Corp.
PCB manufacturer
Unitech Printed Circuit Board Corp
PCB manufacturing
Western Digital Corp.
Hard drive and data storage company
Wickeder Group
metalilc semi-finished product and classic metal processing
Winox Enterprise Co. Ltd.
Watch braclet, custom jewelery and smartphone casing
Wistron Corp.
Orignal Design manufacturer
Xiamen Jian Jia Optoelectronics Co. Ltd
Optical film materials, brightness enhancement films, conductive devices and others
Yageo Corp.
Passive devices - resistors, capacitors and inductors
Young Poong Corp.
Non-ferrous metals
Zeniya Aluminum Engineering Ltd.
Aluminum Products
Zhen Ding Tech. Ltd.
PCB manufacturing
Zhenghe Group
Petrochemical products
Other suppliers
Supplier
Potential supply
AMD Inc.
CPU / Graphics chips
Cirrus Logic Inc.
Analog, mixed-signals and DSP circuits
Dialog Semiconductor
Integraed, mixed-signal curcuits
Lumentum Holdings Inc.
Optical and photonic products
Omnivision Inc.
Image sensor manufacturing
Parade Tech. Inc.
LCD panel timing controllers
Silicon Works Co. Ltd.
Mixed-signals Semiconductor
SiTime Corp.
Silicon based timing solutions
Synaptics Inc.
Plug
Tags:
iphone
,
global manufacturing
,
making stuff
,