iPhone 12
Apple most profitable hardware ever, the iPhone, has been updated on October 2020 and slowly being distributed worldwide just in time for Christmas 2020. The release has been delayed for over a month due to the spectacular nature of 2020. For this lineup, Apple released four versions of the iPhone 12: the regular sized iPhone 12 and iPhone 12 Pro, and the supersized and supershrunk iPhone 12 Pro Max and iPhone 12 Mini.
What it is?
These are smartphones. Handheld computers that can take pictures, record videos, be a music player, internet communication device, do a million things with small software snippets called apps and last but not least, take a phone call.
Base features highlights
5G The headline feature that it's all have 5G. USA version has a cutout for the milimeter wave antenna to ensure higher speeed still. Global version does not have this.
Brand new design The shell that was in iPhone 11 first debut in iPhone 6 which was around 5 years. So this new design returns to the boxy shape of the iPhone 4 which considered the best designed phone ever. So expect this design language will be in the newer generations of iPhones for the next 5 years.
Nicer screen All iPhone 12 variant has new screens. They are more denser, have higher constrast ratio, and can actually playback HDR (more on that later).
Tougher screen New technology that is called Ceramic Shield should make this iPhone more shatter resistance. Despite with the name ceramic, this screen is mostly made of glass so it is not harder as shown by tests on Youtube. So they way they do this is by incorporate ceramic crystals in the glass to make a translucent layer like a net to make it more shatter resistant.
A14 chip This is the 10th generation phone chip made by Apple. More improvement around 20-30% of certain workloads and has become the basis of the M-series chip that will be on Apple laptops and desktops.
Smaller size option The consensus over the past few years is that flagship phones has gotten bigger and bigger over the years. Now introducing the iPhone 12 Mini. Imagine the size of an old iPhone 6 but with all screen. It will be funny if there's a video shows Shaq, a very huge guy, using the mini, which makes to phone looks like some Tic Tacs.
MagSafe connector They have review the name MagSafe for the Mac days of yonder to the iPhone. It is basically a circle of magnets around the Qi charging coil to ensure that the connector snapped into place. The magnet is strong enough to lift the iPhone but not strong enough is a little more force is applied. And of course they sell a new connector called the MagSafe connector.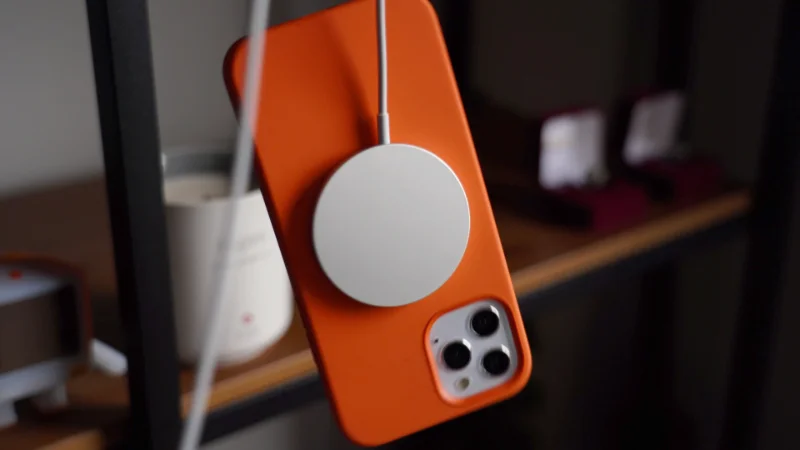 MagSafe accessories A phone is a very personal device and of course you want to accessorized your phone. Now they have things that can magnetically snapped to your phone. One of the them is a wallet. There's also a car holder for your phone.
No more free chargers and headphones First manufacturer to ship with out chargers or headphone except in select countries (France requires handsfree kit with phones). As usual, expect other companies to mock this decision only to follow suit with their next product iteration.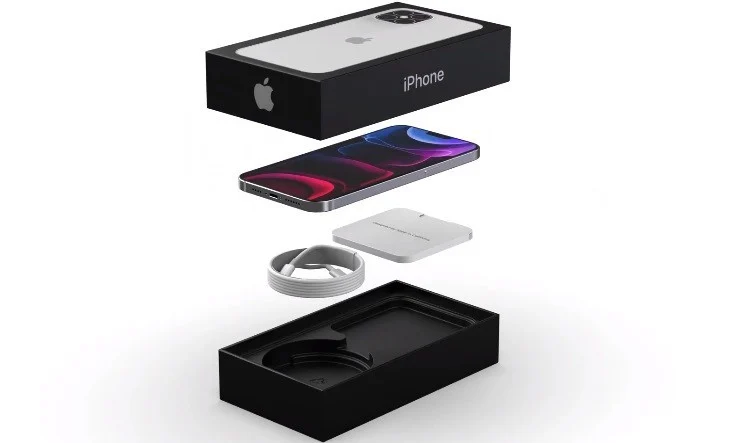 Dolby Vision HDR playback and recording The iPhone is powerful enought that it can play Dolby Vision HDR standard. It also powerful enough that it can record in Dolby Vision HDR. As of 2020, the only thing that Apple makes that can play HDR content is the iPhone 12 and the $5,000 Pro Cinema Display XDR.
Colors The base variant has more color varieties than the Pro variant. At launch, the comes with red, green and blue. A purple has been added on the April 2021 event.

Pro features highlights
Telephoto zoom The bigger Pro Max has a bigger sensor and a sensor that moves along with your wrist vibrations to ensure the pictures are sharply in focus and videos are not shaky. The normal Pro version retains the camera that was present in iPhone Pro 11.
Night mode portraits You can now take portrait mode at night. When they said at night, it means only lit by street lamp or moonlight.
LIDAR sensor LIDAR shoots lasers in a grid pattern around an object and measure how fast the light bounce back. From there you can create a 3D depth map of said object. New LIDAR sensor allows for better focusing. You can also measure objects more accurately with LIDAR. The grid pattern is not as dense as the Face ID so don't expect accuracy for small faraway objects.
Sensor Shift Image Stabilization In the Max variant, it is equipped with the more advanced sensor shift optical image stabilization. Instead of moving the lens to ensure a sharp image, it also moves the sensor itself to produce a more sharper image handheld.
ProRAW Like RAW file images of high end cameras, the iPhone Pros lineup also as an option to capture and download photo files in RAW format for later editing.
See: Is Apple ProRAW worth it?
More capacity 512GB of storage instead of 256GB for the normal 12.
Larger screen Pro Max is the biggest iPhone ever made with 6.3 inches of screen real estate.
Other features
Water resistance The phones are rated IP68 so you take some underwater shots with your phone. Just don't go too deep or too long.
Face ID All phones are using Face ID for authentication. Still no improvement when wearning mask (a 2020 global phenomenon).
Dual SIM You can have two SIM cards on the iPhones. One is the physical nanoSIM card and the other is the software base eSIM. Support for this depends on your telco provider.
Computational Photography Computational Photography is an automatic feature that help you make better pictures. For example, it uses all the camera available and creates the proper depth map to make bokeh and make the correct color adjustments. Another use is for night mode where it will automatically take pictures in different ISOs from different lens and stitch them together for a HDR night photography.
See: How to take better pictures with your iPhone.
Deep Fusion Another aspect of computational photography is Deep Fusion. This is done by taking the same photos in multiple exposure settings at the same time by using the different cameras that you have on the phone. This is pretty much like making HDR photos by exposure bracketing on DSLRs.
Apple Ecosystem You can use the iPhone as part of your Apple ecosystem. For example, when all your devices are connected to the iCloud, you copy text from one the phone, that text is available on your MacBook Pro to be pasted on. You can use AirDrop to quickly transfer files from you iPhone to your Mac and vice-versa
Tech Specs
This table will focus more on the difference instead of total specs common features has been discussed.
Feature
iPhone 12 Mini
iPhone 12
iPhone 12 Pro
iPhone 12 Pro Max
Screen
Screen Size
5.4" OLED Super Retina XDR Display
6.1" OLED Super Retina XDR Display
6.1" OLED Super Retina XDR Display
6.7" OLED Super Retina XDR Display
Screen resolution (pixels)
2340 x 1080
2532 x 1170
2532 x 1170
2778 x 1284
Typical max brightness (nits)
625
625
800
800
Typical HDR max brightness (nits)
1200
1200
1200
1200
Rear Camera System
Ultra wide
f/2.4
Wide
f/1.6
Telephoto
-
-
f/2.0
f/2.2
LIDAR scanner
-
-
Yes
Yes
Optical zoom range
2x
2x
4x
5x
Digital zoom range
5x
5x
10x
12x
Apple ProRAW
-
-
Yes
Yes
Night Mode Portrait
-
-
Yes
Yes
HDR Video recording (fps)
Upto 30
Upto 60
Video Image stablization
Optical
Sensor Shift Optical
Dimensions and Weight
Height (mm)
131.5
146.7
146.7
160.8
Width (mm)
64.2
71.5
71.5
78.1
Depth (mm)
7.4
7.4
7.4
7.4
Weight (g)
135
164
189
228
Battery
Video playback (hours)
15
17
17
20
Video playback, streamed (hours)
10
11
11
12
Audio playback (hours)
50
65
65
80
Others
Storage (GB)
64, 128 or 256
128, 256 or 512
Sidebar
Aluminum
Stainless Steel
Is the base version worth it?
Apple has stopped encouraging their customers for yearly upgrade since iPhone X. Since their userbase has reached more than a billion users, they are targeting people who are on phones that are more than 2-3 years old. This base version is a big upgrade for the people who is on iPhone 7 or 8 or even the legendary 6s.
Is the pro version worth it?
If taking pictures and video is very important to you and its how you make a living (which nowadays not an unusual proposition), then yes, the Pro version is worth it. iPhone 12 Pro lineup is now more focus on the software aspect than hardware aspect. In terms of experience wise, if you are not the one who shoots videos regularly, you might not notice the difference. For some people, the larger screen would be a welcoming additional since many people are always working on the go. Having that powerful handheld computer would certainly helped.
Where to get it
The usual is at Amazon and Apple of course.