Table of Contents
Update: We added coverage on the new A15 chip and compared it to the SnapDragon 888. You can read about it here.
Since the dawn of the smartphone age, Apple has been the company that everyone wants to beat. And for good reason: despite having only having arond 30% of the smartphone market share, it holds over 60% of smartphone profit share. Apple chip devision which powers the iPhone helps in this regard. One of the biggest challenger is Qualcomm, a little San Diego company that powers over 30% of all smartphones.
Mobile computing has grown leaps and bounds in performance and capabilities over the last 10 years. It has come a long way from just sending messages and playing VGA quality videos on a tiny screen. Now, you can play 4K or even 8K videos, stream that signal from almost anywhere in the world and connect to the internet faster than many wired connection from just a few years ago.
The latest offering from Apple and Qualcomm today is no different. They represent that wonders of computing engineering that many never thought possible. 5 nanometer process, 5G connection, HDR capture and playback, exceptional computational audio and photography. And to put everything on a chip that suppose to be run by batteries and completely cooled by air, that's the amazing part. We will compare the two most advanced mobile chips ever produced.
Apple A14 Bionic
The A14 Bionic is a mobile microprocessor designed by Apple and manufactured by TSCM. It is the latest descendant of a long series of A-series processor by Apple, which first introduced as the A4 which debut in the first iPad. Currently, the A14 Bionic is featured in the iPhone 12 lineup and the iPad Air 4.
The chip is designed on a 5 nanometer process with 6 cores in two core configuration, the high performance Fire core and the high-efficiency Ice cores. There are 2 Fire cores and 4 Ice cores in the A14 Bionic. The A14 has a separate Neural Engine core which features a 16-core neural processor. It also sports a 4-core GPU that is 50% faster than the nearest competitor (at launch time).
New features on the A14 include a new signal processor which enable iPhone 12 record videos in HDR, capture photos in ProRAW format and night mode. The A14 also has new I/O core which allows USB 3 connection (which is available in iPad Air 4). 5G connection is via Qualcomm X55 4G/5G modem. A faster neural core enables the iPhone 12 to read text in photos and videos, making better portrait mode pictures and also better AR.
Total memory installed for systems that are using this are 4GB for the iPad and iPhone 12 and 6GB for the iPhone Pro line. Apple introduce better memory compression. TDP for those chips is measured at 6w peak. Idle is at a few watts since a fully charge iPhone 12 can be in standby for 384 hours (16 days).
Qualcomm Snapdragon 888
The Snapdragon 888 is a mobile processor designed by Qualcomm and made by Samsung Foundry. It is also the latest chip in a long line of Snapdragon chip designed by Qualcomm for mobile phones. Unlike Apple, Qualcomm is a chip merchant so any company can use Qualcomm chip to make their own mobile solution. Among Snapdragon 888 phones include Samsung Galaxy S21, Xiaomi Mi 11, Asus ROG Phone 5 and OnePlus 9 and 9 Pro.
The SnapDragon 888 is powerful enough to run the flagship phones in any company lineup. In the $1099 Samsung Galaxy S21 Ultra phone, the phone features 4 cameras, 8K video recording and playback, HDR capture and 5G. The $1,999 Samsung Galaxy Z Fold 2 also has an outer display and an inner foldable display.
Just like the A14 Bionic, the Snapdragon 888 is made on the 5 nanometer process. It has 8 cores in three different configuration. There's the single Prime core which features very high performance, three Gold cores for high performance and four Silver cores for high efficiency.
Adreno 660 is the graphic processor for the Snapdragon 888 which featured dual core graphics. One of the new optimization trick is to have variable rate shading where it allows the shaders to work on two or four pixels at a time instead of one. VRS can help with power efficiency or performance depending on the developer. o
For machine learning, the Snapdragon featured the Hexagon 780 which has accelerators for Scalar, Tensor and Vector workloads. Performance improved further from with ability to crunch around 26 TOPS instead of 15 in previous generation. A14 Bionic only managed to do 11 TOPS. However, benchmarks for AI is hard to come by for Apple devices since you only allowed to use CoreML SDK while Android has ML Kit. So apples to apples comparison is hard to come by.
For I/O, the chip can do 8K capture and playback, which is one of the earliest mobile chip that can actually do that. It also can do 5G connection. It is the first Snapdragon with triple image signal processor.
For 5G support, it uses the X60 5G modem which is integrated in the chip itself instead of external like other chips before it.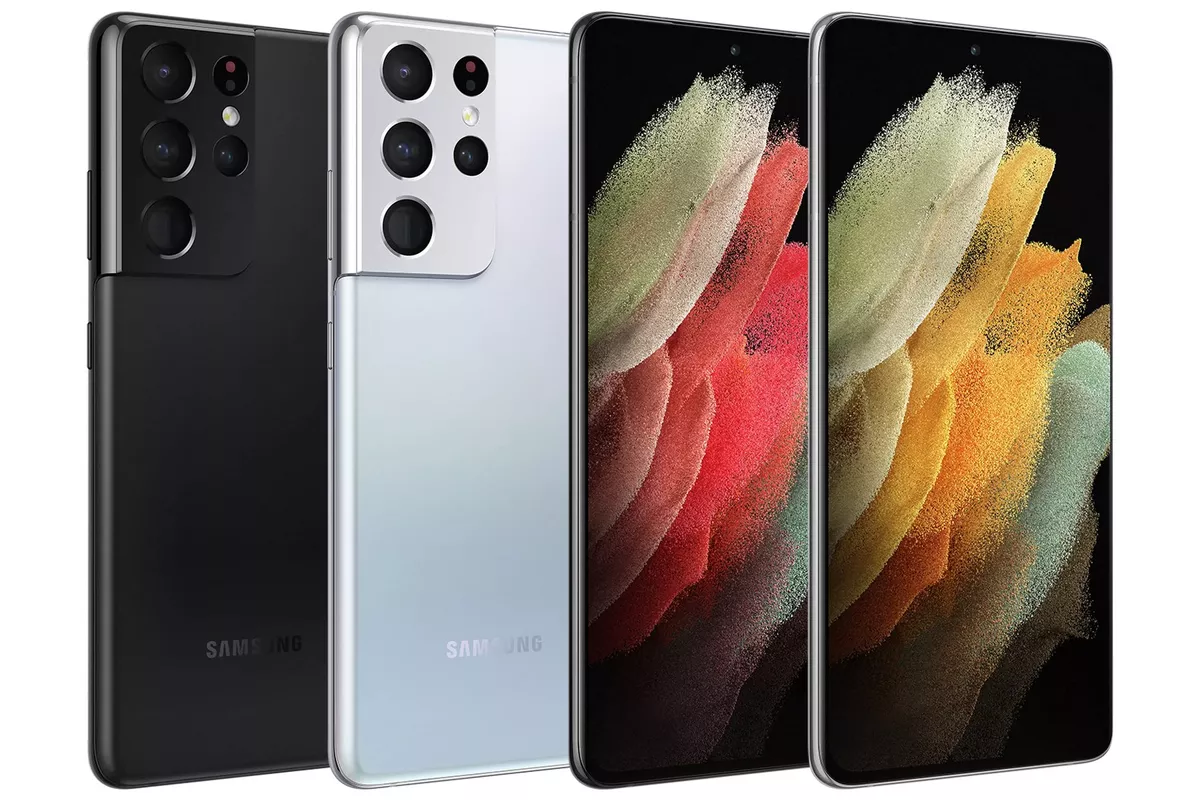 The total memory installed for Snapdragon systems is at 16GB. This rivals a lot of laptops, but this could be attribute to 8K video capture and playback requirements which needs at least 4 times the processing power of a 4K videos. It will be higher still when that 8K signals is captured in HDR. Because of high performance requirement, the Snapdragon has a higher TDP of 10w which almost doubles of that A14 Bionic.
Performance Chart
The Apple A14 was able to beat out the Qualcomm SnapDragon 888 in most tests despite having less compute and graphic cores, less memory in most of the phones tested. Yes, the SnapDragon 888 has an edge over the A14 in raw performance benchmark, however, it did better in some syntactic benchmark like GeekBench 5 and gaming benchmark. It all boils down to how efficient and optimized each CPU and Apple tighter integration between hardware and software pays off in this matter. I suspect that with the upcoming A15 chip in the next iPhone, the gap could go even wider. But time will tell how it goes.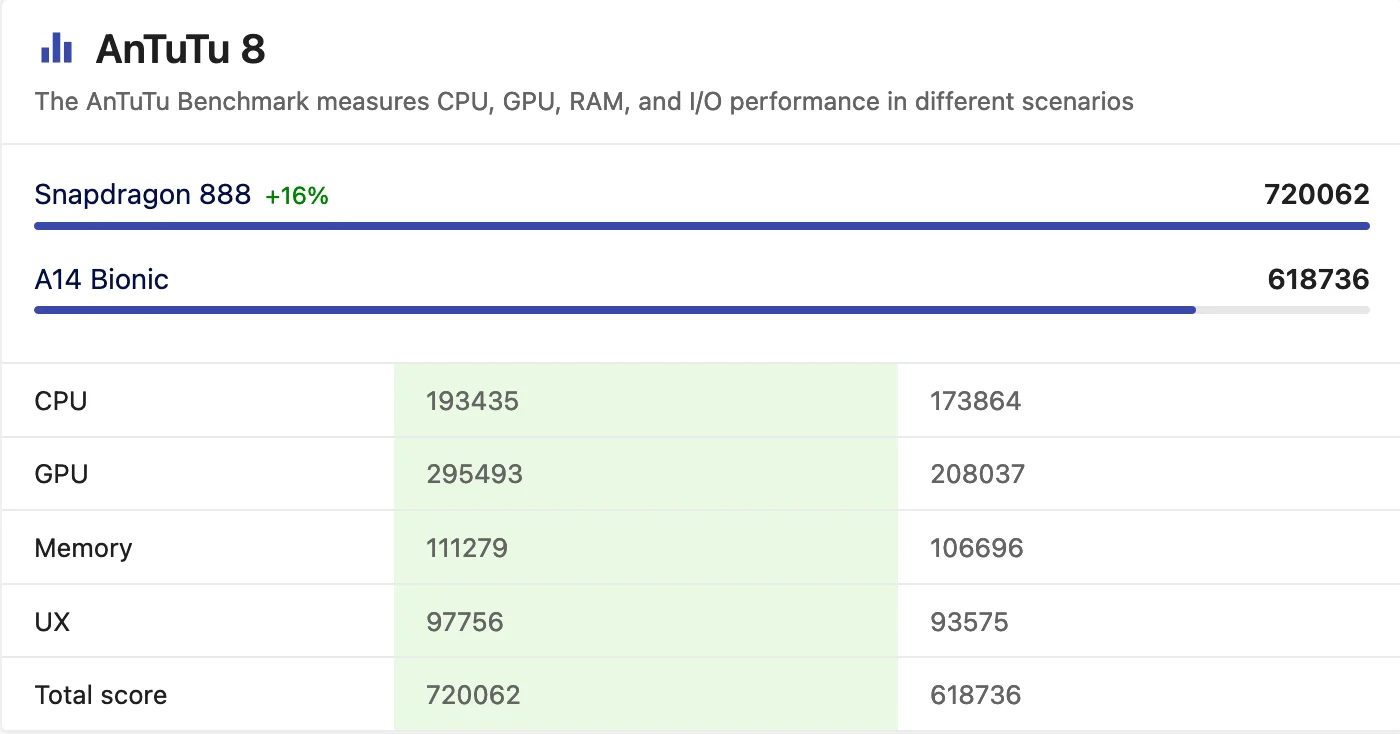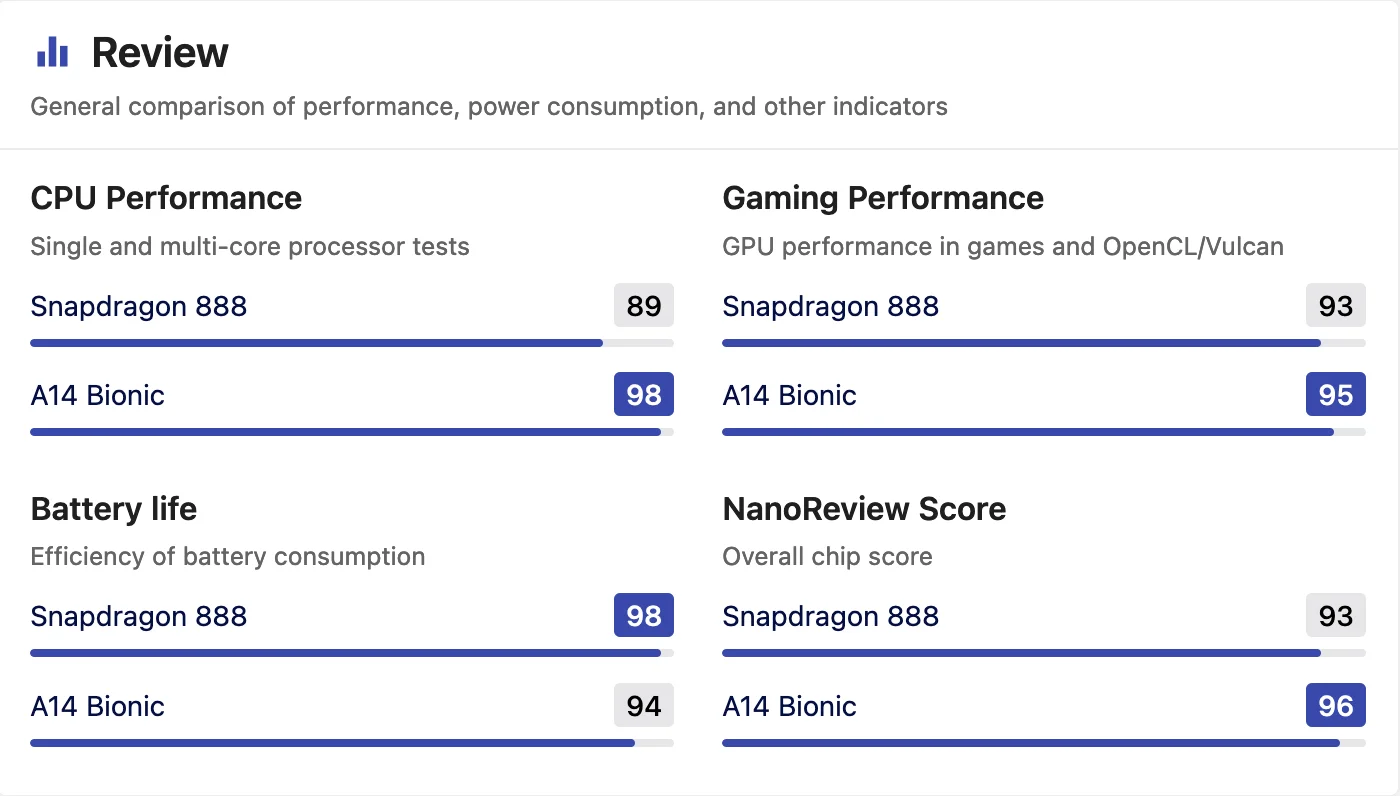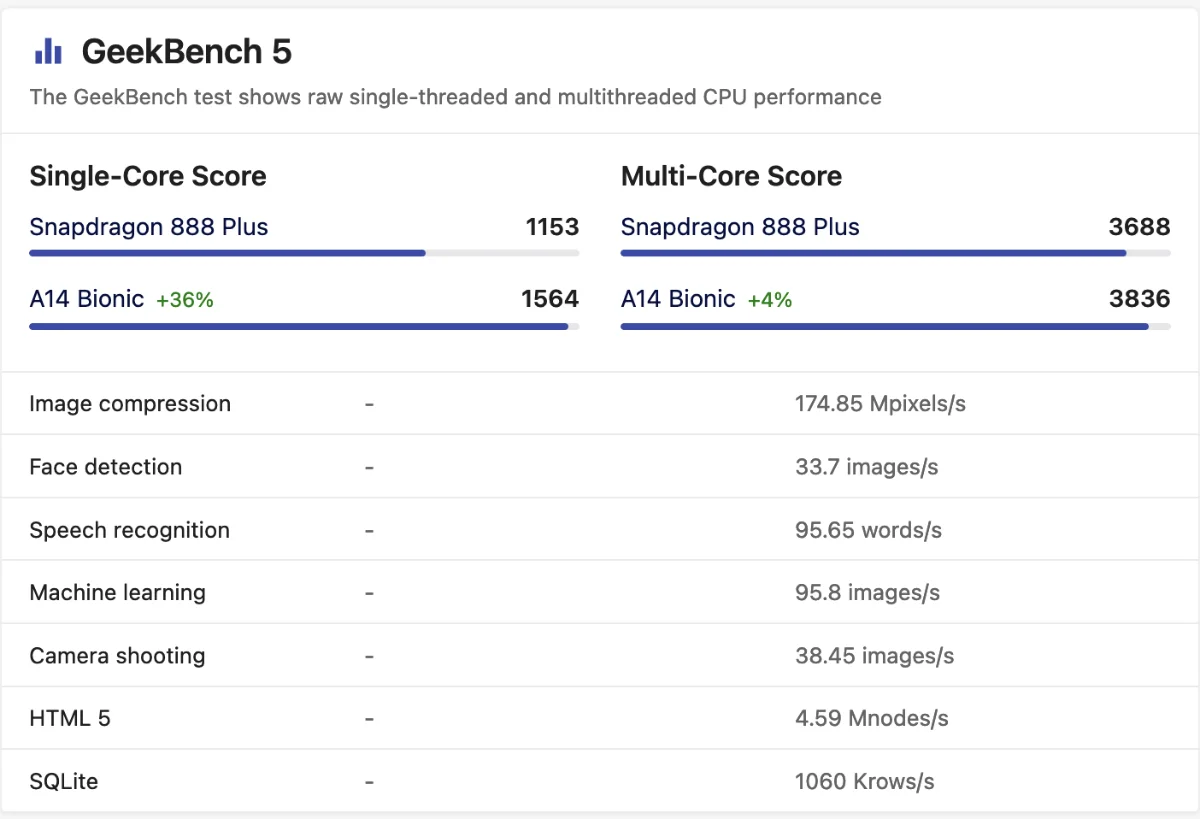 Comparison Chart
Feature
A14 Bionic
Snapdragon 888
General
Designer
Apple
Qualcomm
Manufacturing
TSCM 5nm
Samsung 5nm
Die Size (mm2)
88
??
Specs
CPU High performance
2x 3.1GHz Fire
1x 2.84GHz Prime, 3x 2.4GHz Gold
CPU High Efficiency
4x 1.8GHz Ice
4x 1.8GHz Silver
GPU Cores
4
2
ML Cores
16
??
I/O
5G?
Yes
Yes
4K Video?
24, 30 or 60 fps
30 or 60 fps
4K HDR Video?
24, 30 or 60 fps
30 or 60 fps
8K Video?
No
24 fps
8K HDR Video?
No
No
Wi-Fi 6?
Yes
Yes
Conclusion
Snapdragon has been engineered to be the performance king. There could be more powerful desktop and laptop offering from Intel and AMD, but to have this kind of performance in a single chip that runs on battery and only air cooled, this is the performance per watt king.
The A14 Bionic represents Apple latest engineering prowess. One thing to remember that this is a part of Apple overall solution. Apple is the master of marrying hardware and software capabilities to bring a platform higher than it has ever been. Apple design the chip not only arond the iPhone, but in their entire ecosystem as well.
There are great rivalries in any major marketplace. Boeing vs Airbus. At one time, Nikon vs Canon and now Canon vs Sony. So is Apple vs the rest of the industry. The great thing about these rivalries is that they bring out the best in each other and the in the end, we, the consumer get to benefit by having better tech every year with lower or better pricing. It would be interesting what Apple will bring with their A15 and Qualcomm with their 888+ and other future chips.
Plug
Support this free website by visiting my Amazon affiliate links. Any purchase you make will give me a cut without any extra cost to you
Are Apple Products Expensive?
Many people claimed that Apple products are overpriced and not worth their cost. We investigate the market to see if this is true.
WWDC 2023 Prediction & Recap
Based on pre-event announcements and what the rumors are saying, this year's World Wide Developers Conference could be the most groundbreaking yet from Apple.
Tags:
android
,
apple
,
a14
,
snapdragon-888
,
comparison
,