Table of Contents
Your web browser often starts out as a medium for accessing web pages on the internet. However, it soon grows to become your companion. At this point, you are so used to it and want to personalize your experience.
Doing this makes surfing the web much easier. If you do it right, you may even be able to use your browser with your eyes closed. It will be similar to walking through an apartment you have lived in all your life.
Settings to Customize Your Safari Browser
Speaking of browsers, the average MacBook user typically opts for Safari. This app is specifically designed to operate optimally on Apple devices. It works similarly to Google Chrome on a Chromebook or an Android phone.
This article will share insights on how you can modify the setting on your Safari browser for a better experience. It will also give actionable tips on how to go about this process.
Meanwhile, users should also learn how to update Safari on their devices. This is because many of these functions may only be available in the latest versions.
Without further ado, here are ways to customize your browser setting for the best online surfing experience:
Setting Safari as Your Default Browser

Before you can enjoy the maximum benefits of Safari, you need to use it. There is no better way to ensure this, other than setting it as your default browser. With this feature on, most redirects on your phone will open the resulting websites via this browser.
To make Safari your default web explorer, follow these steps:
Click on the Apple Menu
Select System to launch your system settings
Scroll down and click on the Desktop and Dock icon
Click on the pop-up on the 'Default Browser Tab'
Select Safari as your default browser
After completing this step, it is important to know that not all applications will redirect you to Safari. Therefore, there is no reason to worry if this happens.
Block Pop-Ups and Annoying Ads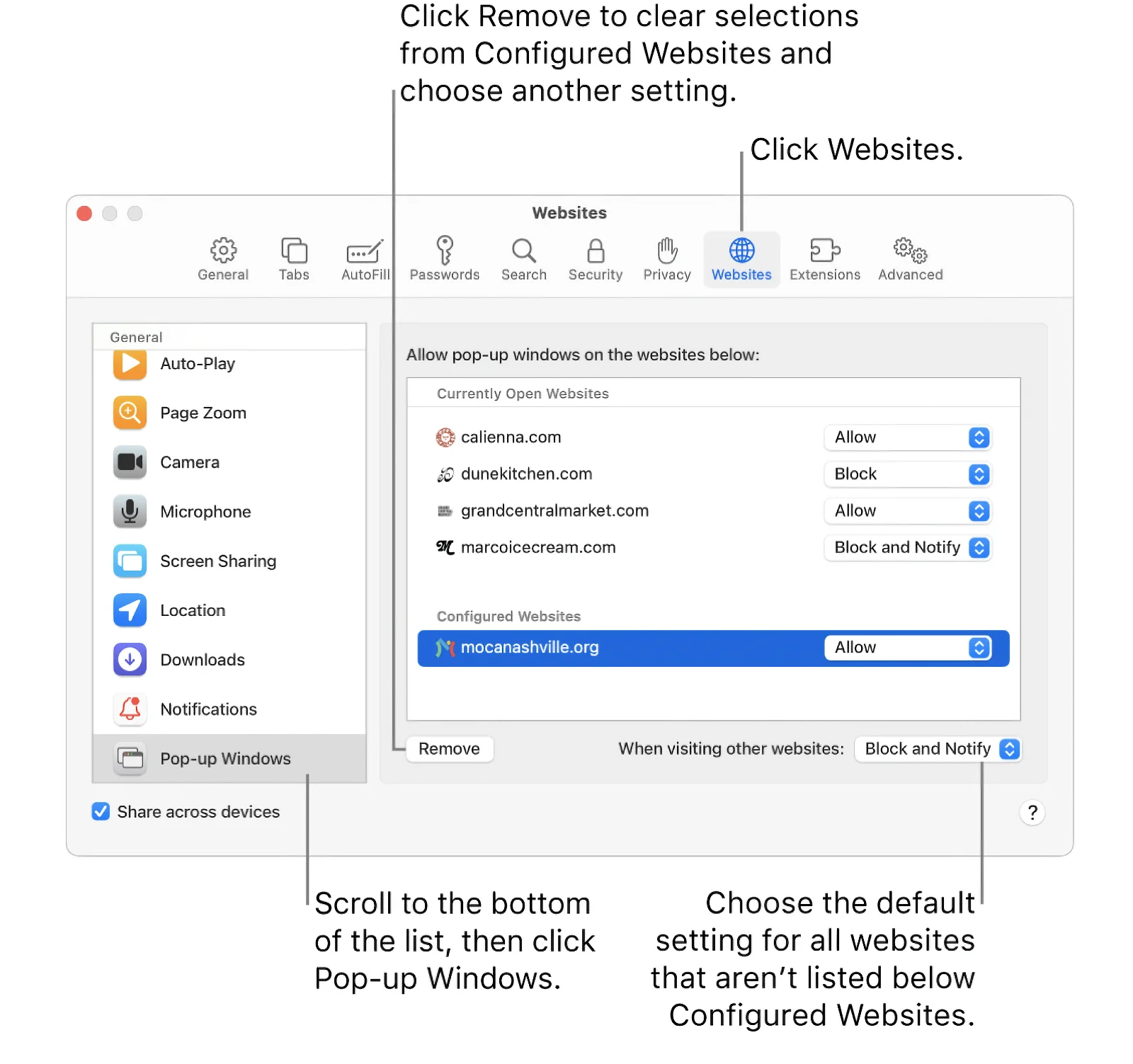 There are times when you are surfing through specific websites, and ads just keep popping up on your screen. While marketing is essential, it should not be intrusive and disturb internet users. This is even stranger for people who use a closed ecosystem like Apple that filters out content.
Luckily for Mac users, the Safari browser has a feature that blocks pop-ups on websites. To utilize this feature, follow these steps:
Launch the Safari app
Go to the Settings
Click on 'Websites'
Select the popup window on the left or scroll to the bottom of the submenu
On this submenu, toggle the button to either allow or restrict pop-ups on websites.
Stop the Autoplay Feature of Videos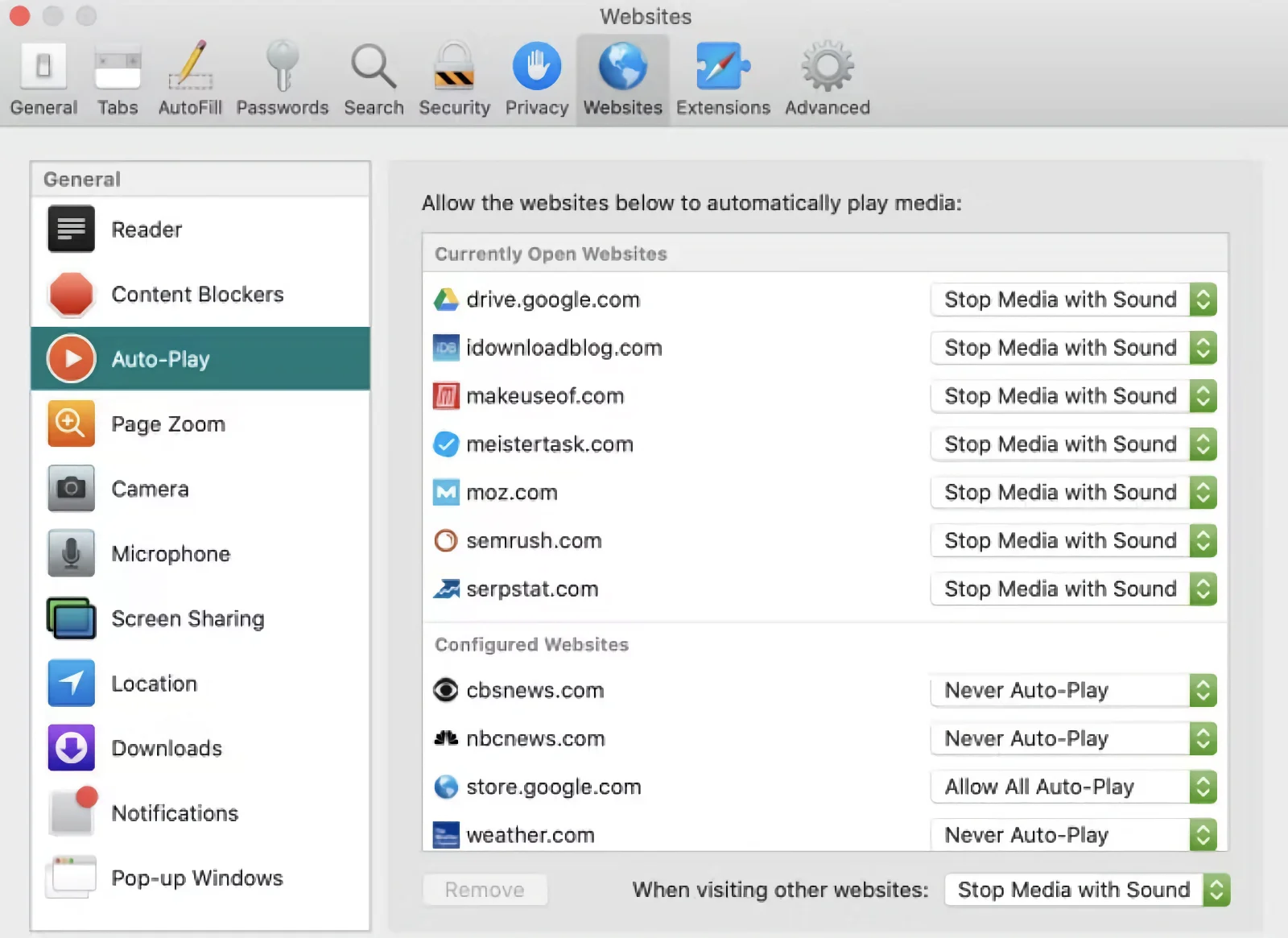 That initial sound resulting from videos on a website automatically playing can be startling and/or embarrassing. If not anything, people should decide whether or not they want to watch videos embedded in any webpage. Besides that, videos also consume the user's data.
Those who use Safari can always deactivate the autoplay feature by following these steps:
Open Safari's settings
Scroll to Preferences
Click on Websites
Select Autoplay on the left sidebar
Choose Stop Media With Sound to deactivate the autoplay feature.
Changing Your Search Engine to DuckDuckGo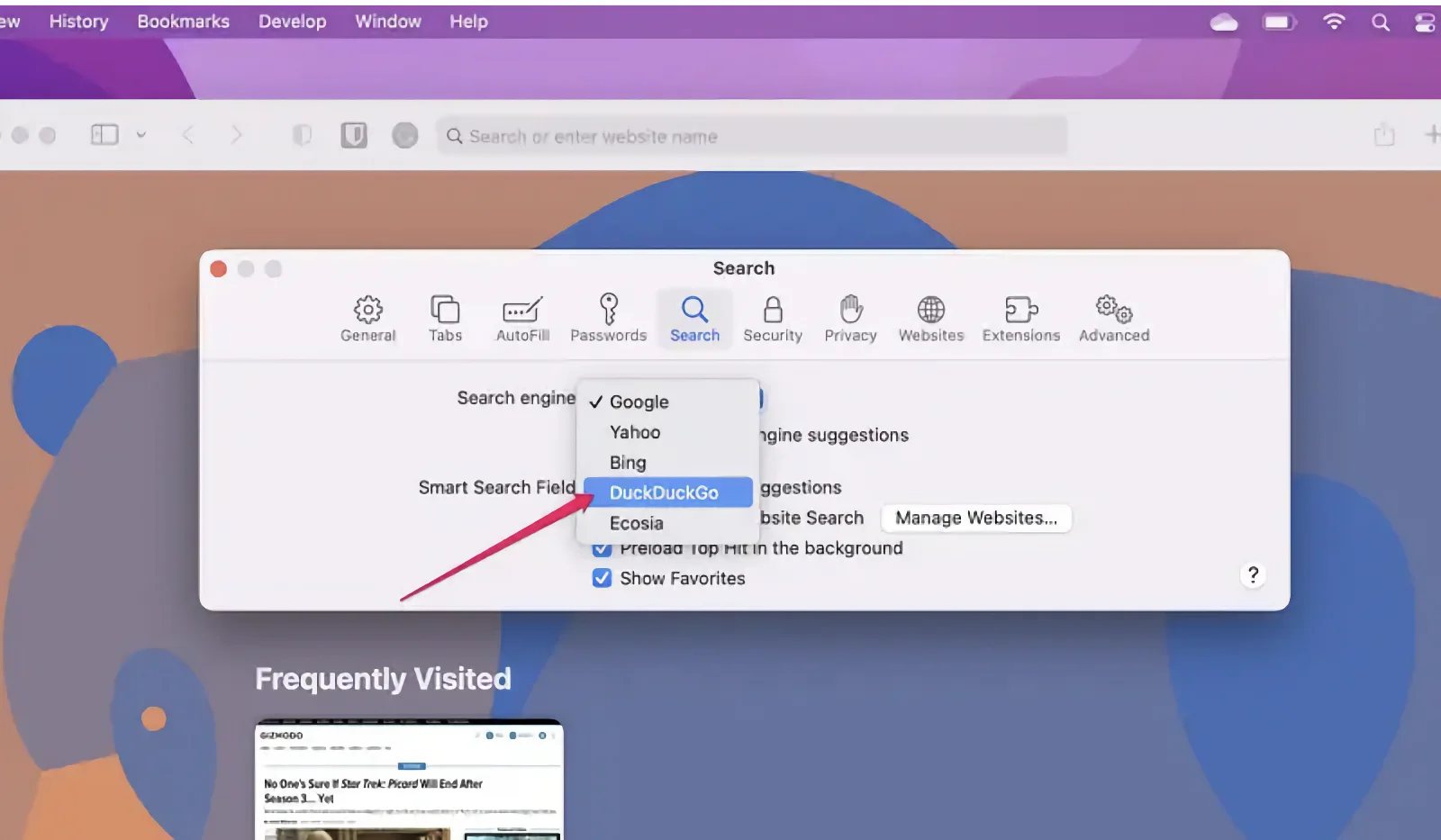 As part of ensuring a closed ecosystem, Apple enables people to switch their preferred search engine from Google to DuckDuckGo. Unlike the former, the latter does not mine your data for marketing purposes. In addition, this further helps to ensure people's privacy.
To change your default search engine, follow these steps:
Go to Safari's settings
Click on preferences
Select the Window tab
Click on the right side of the search engine
Change your search engine from Google to DuckDuckGo.
Disable Cross-Site Tracking and Block Cookies

So far, we have discussed better ways to improve your browsing experience. This time around, we will highlight measures to improve your digital security. One way to do this is by preventing cross-site tracking and disabling cookies.
Websites use different tools to track users' internet activities to create online blueprints. While it is most often for marketing purposes, people cannot afford to take chances. To complete this process, follow these steps:
Go to Safari's settings
Click on Privacy
Tick the appropriate boxes to prevent cross-site tracking and block all cookies.
Disable Autofill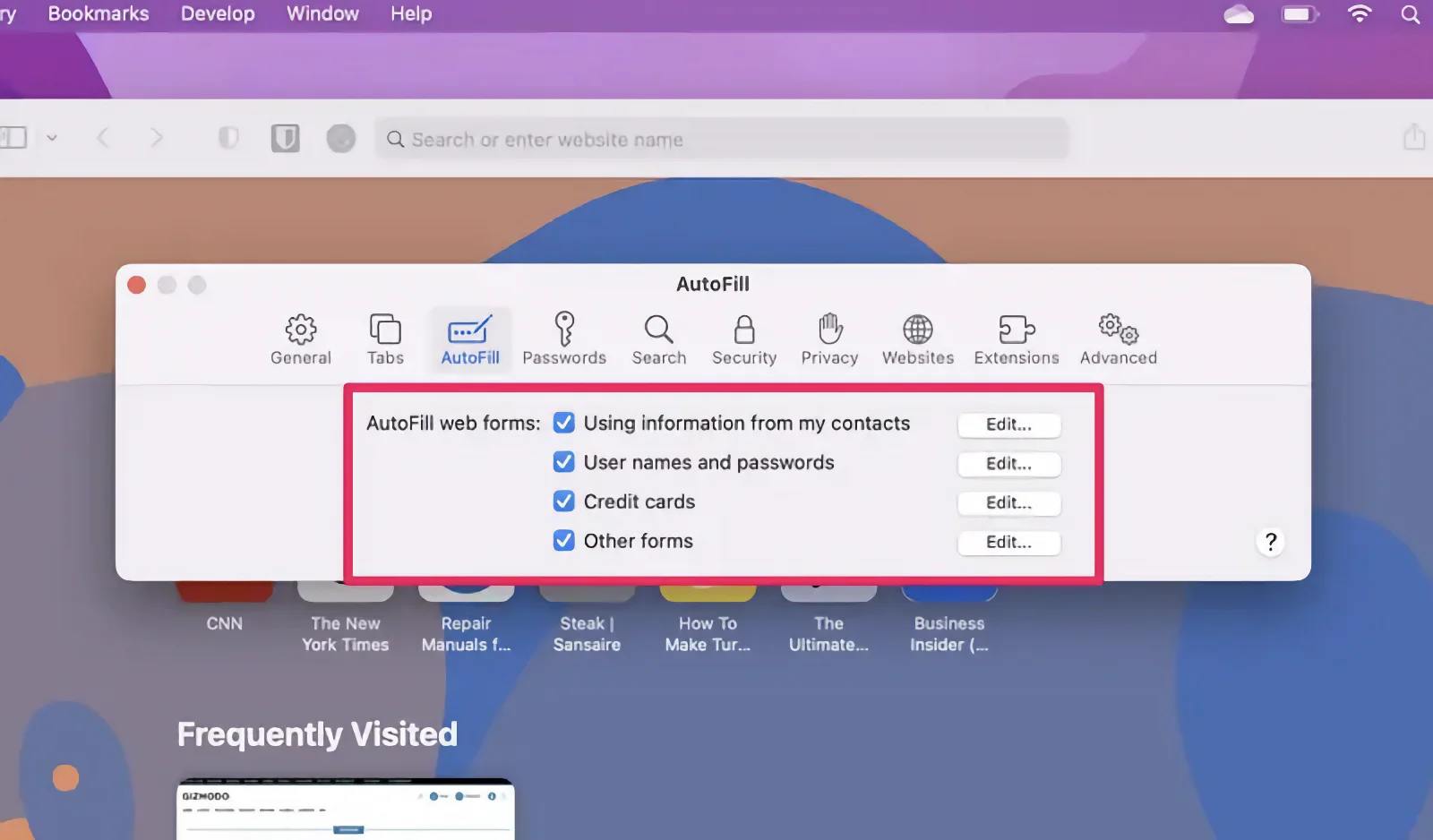 The autofill feature makes online surfing easier as people do not have to fill out forms continually. However, it also means that Safari also gets to store some basic information. However, not everyone wants the browser to store their personal data.
Instead of constantly deleting your data constantly, you can disable the autofill feature. This way, Safari does not store your personal data. To do so, follow these steps:
Launch Safari's settings
Click on Preferences
Scroll to the Autofill submenu
Select the type of data you want to disable.
Conclusion
Safari is a very powerful browser and is designed to give Mac users the ultimate experience. Using these tips above, they can improve their browsing experience via this app.
Plug
Support this free website by visiting my Amazon affiliate links. Any purchase you make will give me a cut without any extra cost to you
Other Ecosystem Items
Cloning Your External Drive in macOS
A small guide on how to clone your external storage to another storage and expand the volume on the new storage to use all the capacity of the new storage.
WWDC 2023 Prediction & Recap
Based on pre-event announcements and what the rumors are saying, this year's World Wide Developers Conference could be the most groundbreaking yet from Apple.
Tags:
macos
,
safari
,
customize
,
settings
,