At the glance, the M1 Mac Mini and the newly redesigned M1 iMac 24" looked they are two completely different product that cater to two different Apple user demographics. In most cases, you will be right, but now both the Mac Mini and iMac is pretty much running with the same hardware but with different accessories, one would wonder how similar or different the Mac Mini and the iMac if both of them are similarly priced?
Now for this comparison, I'll be using the mid-tier iMac which right now retails for $1,499 and compare that with a $699 with $800 of accessories which also bring the total cost of the Mac Mini system to $1,499.
Executive Summary
iMac
Mac Mini
Summary
All-in-one Mac. Just plug in and go.
Basic unit of Mac. Bring your keyboard, mouse and monitor.
General Specs

M1 Processor, up to 16GB of RAM, up to 2 TB of storage, 4.5K 24" LED-Backlit screen, up to 4 USB-C Ports, Magic Keyboard, Magic Mouse
$1,499 option has ethernet port, TouchID on Magic Keyboard, 4 USB-C ports instead of 2
Starts from $1,299

M1 Processor, up to 16 GB or RAM, up to 2 TB of storage, 2 USB-C ports, 2 USB-A ports, HDMI
Option for 10 GB Ethernet
Starts from $699

Pros

Best all-in-one computer on the market
The screen, mouse and keyboard are quite good
Cleanest design yet

Cheapest Mac you can buy
Can actually beat a $5,000 Mac Pro in some tasks
Option to customize your build to your heart's content

Cons

The mouse charging scheme is still there
White bezels might not be it for everyone
No option upgrade RAM or CPU down the road

You have to buy a monitor, keyboard and mouse
M1 might be the limiting factor, It's a good chip, but can only do so much
Design straight from the 2010s
No option upgrade RAM or CPU down the road

Conclusion
If you want a desktop Mac, nothing beats this. Nothing on the market is like this. Recommended to get at least the middle tier $1,499 version as it is more worth it.
Option to customize is very attractive, but if you don't want to do it, better get the iMac
Where to buy?
Amazon ($1,649.99)*
Amazon ($649)*
* These are Amazon affiliate links. I get a cut with out extra cost to you. Prices shown is correct at press time. Go to the website for the most accurate pricing.
iMac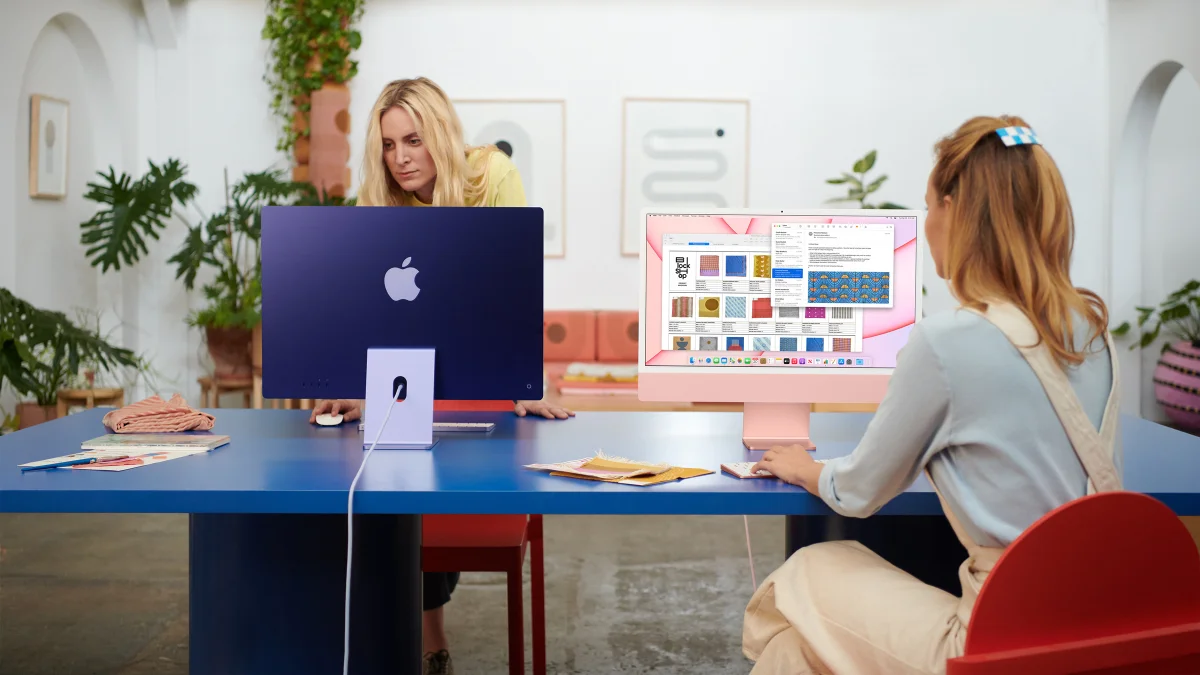 The major thing that is going on for the 24-inch iMac that the Mac Mini could not possibly catch up is the design. It's is the cleanest, sharpest and most chic computer ever made yet from Apple. There's nothing wrong with the Mac Mini design, which is pretty much in the same shape or form since 2010, but nothing beats the look and feel of having an entire desktop computer which just one wire coming out of it.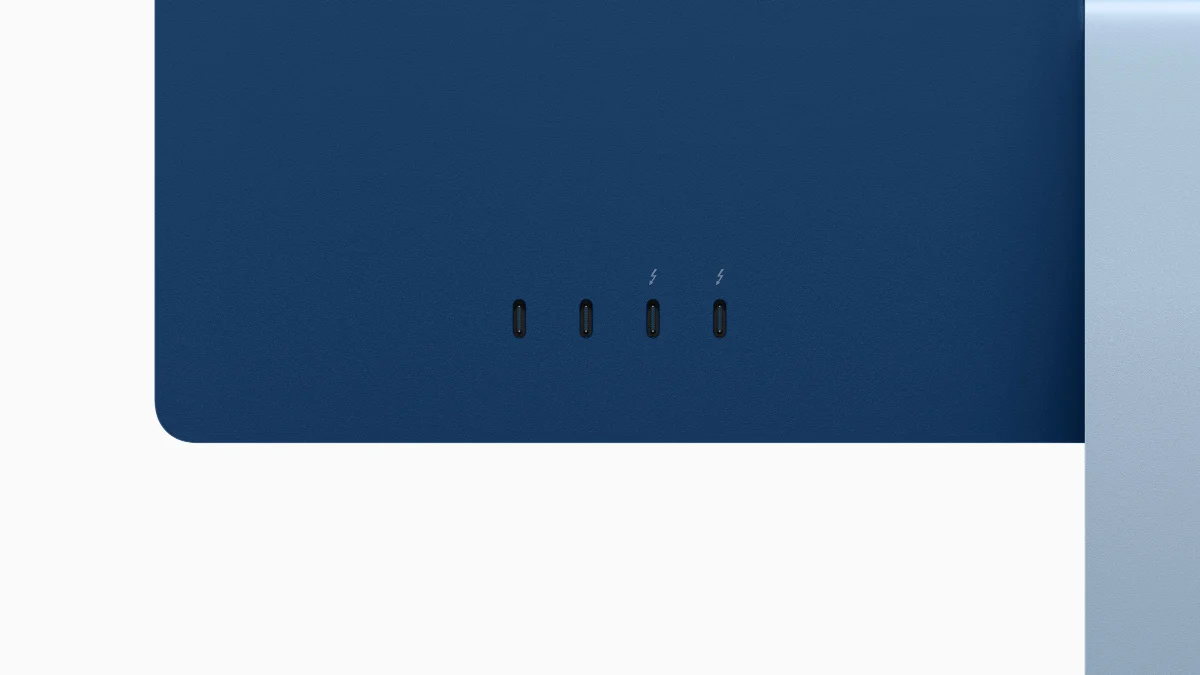 Another win for the iMac is that is a well equipped computer that for the most part, you do not really need to buy any other accessories for your iMac. Wireless keyboard with TouchID. Check. Full HD front facing camera with portrait mode for FaceTime Calls? Check. Decent speakers that have Dolby Atmos? Check. On top of it, you have around 7 colors to choose from to match with your living arrangement.
The monitor is a unique piece of equipment that is simply not available on the market. 4K monitors usually gets from 27" in side. But you have a higher resolution monitor (4.5K) in a smaller package (24"). The result is a monitor that deliver crisp and accurate color rendition. To even match the monitor performance, you have to find a 5K display which currently retails around $989.
Now, for the drawback of having the iMac is that you are stuck with whatever Apple decided what is best for you. Of course you can plug in more accessories to get the desired effect / performance that you are looking for, but that will cost more money.
Another thing to consider is the USB-A, or the lack of ports in the new iMac. Yes, the iMac has 4 USB-C ports and two of them are Thunderbolt 4 ports. Yes, USB-C has been with us since 2016 and it has become the standard. But USB-A has been the standard since 1996 and the majority of devices around you are still in USB-A format. Apple wants to force people and the industry to adopt the USB-C standard and the industry is moving towards that, but annoyingly most of our devices are still on USB-A. This means you have to get a dongle to connect to your devices. Small inconvenience, but an inconvenience nevertheless.
The final complaint about the iMac is that Magic Mouse. Apple in its infinite wisdom decided to keep the Magic Mouse despite redesigning basically everything with the iMac. There are numerous complaints about the Magic Mouse from the placement of the charging port, the how it actually feels in the hand and of course the build quality of the product. If there's anything Apple should redesign, it is the Magic Mouse. I don't mind having an uglier looking mouse, but more comfortable and practical to use.
Mac Mini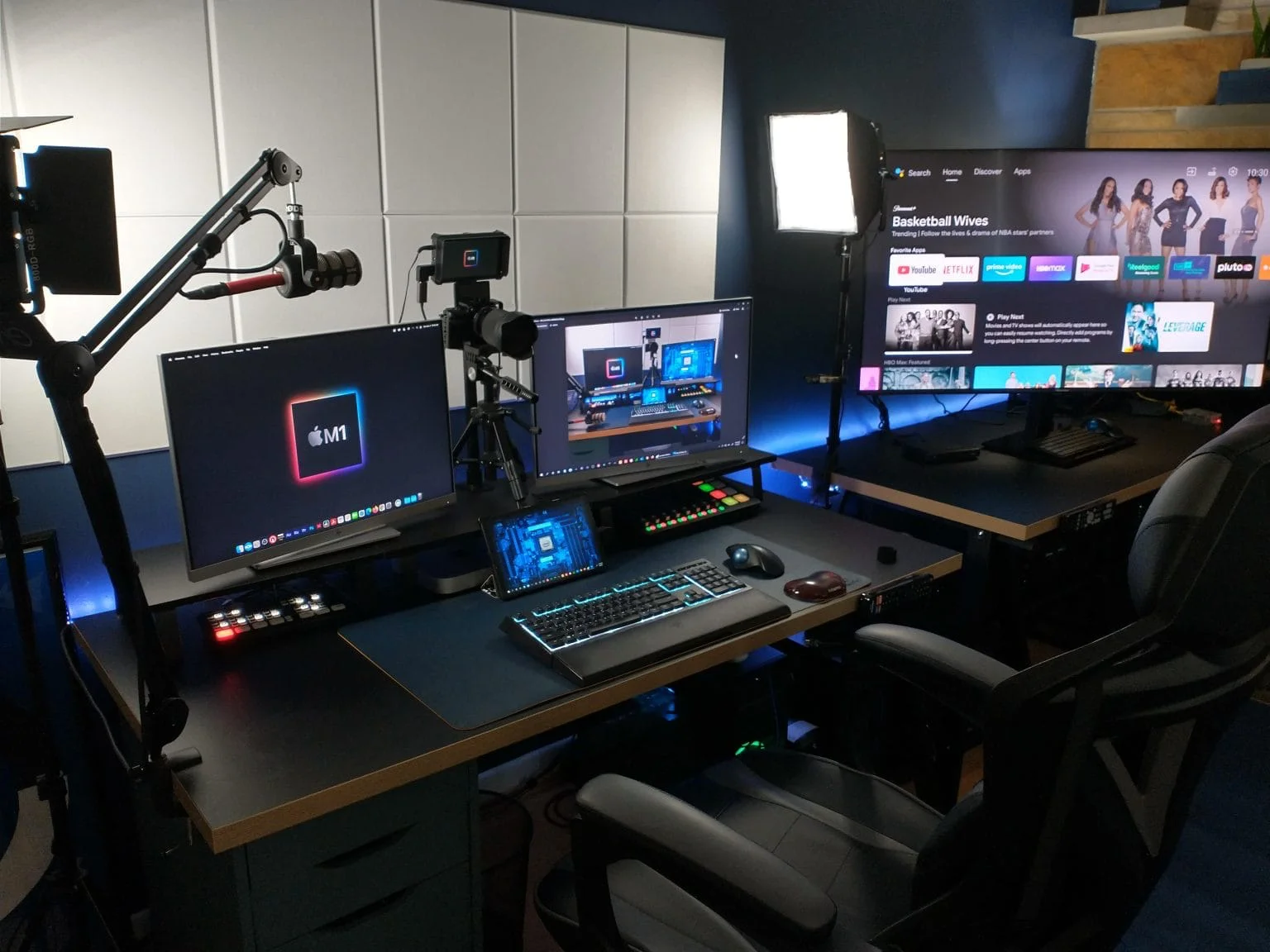 The Mac Mini is not only Apple cheapest Mac, but also a customizer's delight. Small, powerful and loaded with ports, it's an absolute unit of computing power that pack a punch for performance, but yet, consume so little power that one is mind blown how everything is being done.
The magical thing about the Mac Mini is the price. At $699 (which you can get an additional discount at around $50 - $100 online), you basically have the same basic specs with the 24" iMac. You basically get the same M1 chip that the iMac has, the same 8GB RAM that the iMac has (Apple charge $200 to upgrade the RAM from 8GB to 16GB) and also the same 256GB storage space that the iMac has. And if you willing to spend another $800 to customize your peripherals, you will get one heck of a setup.
Here's an example setup if you have $800 to burn to put some peripherals to the basic Mac Mini. You can get a Samsung 32" 4K Gaming monitor for $349 or a 43" 4K TV by Toshiba. For control inputs, you can get one of the world's best keyboard, the Keychron K2 at $99 or if you like the some TouchID goodness, Apple sell the Magic Keyboard with TouchID for $159. Upgrade your mouse game with the Logitec MX Master mouse at $99. At this point, we already spent around $650 to get a better monitor, keyboard and mouse, which leaves us around $150 for upgrades. If you care about web cams, you can get a 4K Logitec Brio Webcam for $165. Or you can upgrade the dismal speakers buy opting for the Harmon/Kardon Soundstick at $199 or to be within budget a Bose Speakers at $99. Feel that 256GB internal storage too small? You can easily plug in a USB-C SSD external hard drive for $129 which gives you additional 1TB of storage space. Good enough for video editing work.
Here's a summary of the gear that I just mentioned. All links goes to my Amazon affiliate in which I get a small share of the sale but does not cost you any extra. Prices are correct at press time.
One good things about buying separately is that you can upgrade your peripherals over time instead of having to buy them all in one go. I'm still using my 2011 Mac Mini as a file and media server and the peripherals changes over time from a monitor to a 4K TV which it still do just fine. I believe the M1 that can run today's workload without any issue will continue to run well for at least 5-10 years of use.
Connecting all those peripherals does have it drawback. You will run into cable management problems and your workspace will look messy if you are not careful. The running cost will be higher as you draw more electricity to power all your gear. And face it, most electronics out there are is either in black or beige so you don't have the colorful, playful chic design of the iMac.
The Mac Mini setup can be good, but only if you put some thought into the setup. Most likely, the Mac Mini setup will be people who wants the most economical route to the macOS platform, which is not a bad thing, or people who willing to spend a lot of time and money into the perfect setup. Generally speaking, the iMac is a very attractive proposition because everything has been thought out for you right out of the box and the experience is stellar for the price of admission.
Conclusion
Let say we draw a line. On that line there's three levels, from good experience, beyond expectation and far beyond expectations. The iMac is where we would categorize the product as beyond expectations. It's a very good all-in-one product with compelling price point. Your experience with the product will be the same with other people because everyone will be getting the same thing. Meanwhile, the Mac Mini. The experience will run the gamut from good to far beyond expectations. This is because the Mac Mini is just a base device. The quality of the peripherals will show you the quality of the macOS experience. Yes, the Mac Mini can be a phenomenal product if you put some money, time and effort to get the best out of the Mac Mini, but right out of the box, the iMac will give you the best effort from Applet yet.
Plug
Support this free website by visiting my Amazon affiliate links. Any purchase you make will give me a cut without any extra cost to you
Accessories:-
Wireless earphones / headphones:-
Buyer's Guide:-
Imagining the new iMac 2021
The new iMac is expected to be the harbinger of new Apple design language and bring out the best of computing on Apple.
Tags:
comparisons
,
m1
,
mac mini
,
imac
,