Table of Contents
Apple and Nvidia updated their latest graphic offerings for 2023 in January. Nvidia has finally released their highly anticipated RTX 40-series graphic chips while Apple has finally spec-bumped their critically acclaimed M2 "professional" chip. Nvidia, the performance crown, has doubled down on making huge leaps of performance at the cost of power consumption while Apple, which has been criticized for having underpowered graphics compared to their peers managed to bump performance while maintaining power consumption.
In the end, which one is the right step? Power at any cost or efficiency gains? Let's find out.
M2 Pro / M2 Max
The Apple M2 Max is the second generation "professional" chip in their own line of computer chips that called Apple Silicon. Instead of the other players that rely on everyone else components to work together as a computer, Apple prefers to create everything from the ground up. The result: you have a powerful System-On-Chip that does everything all in a single place.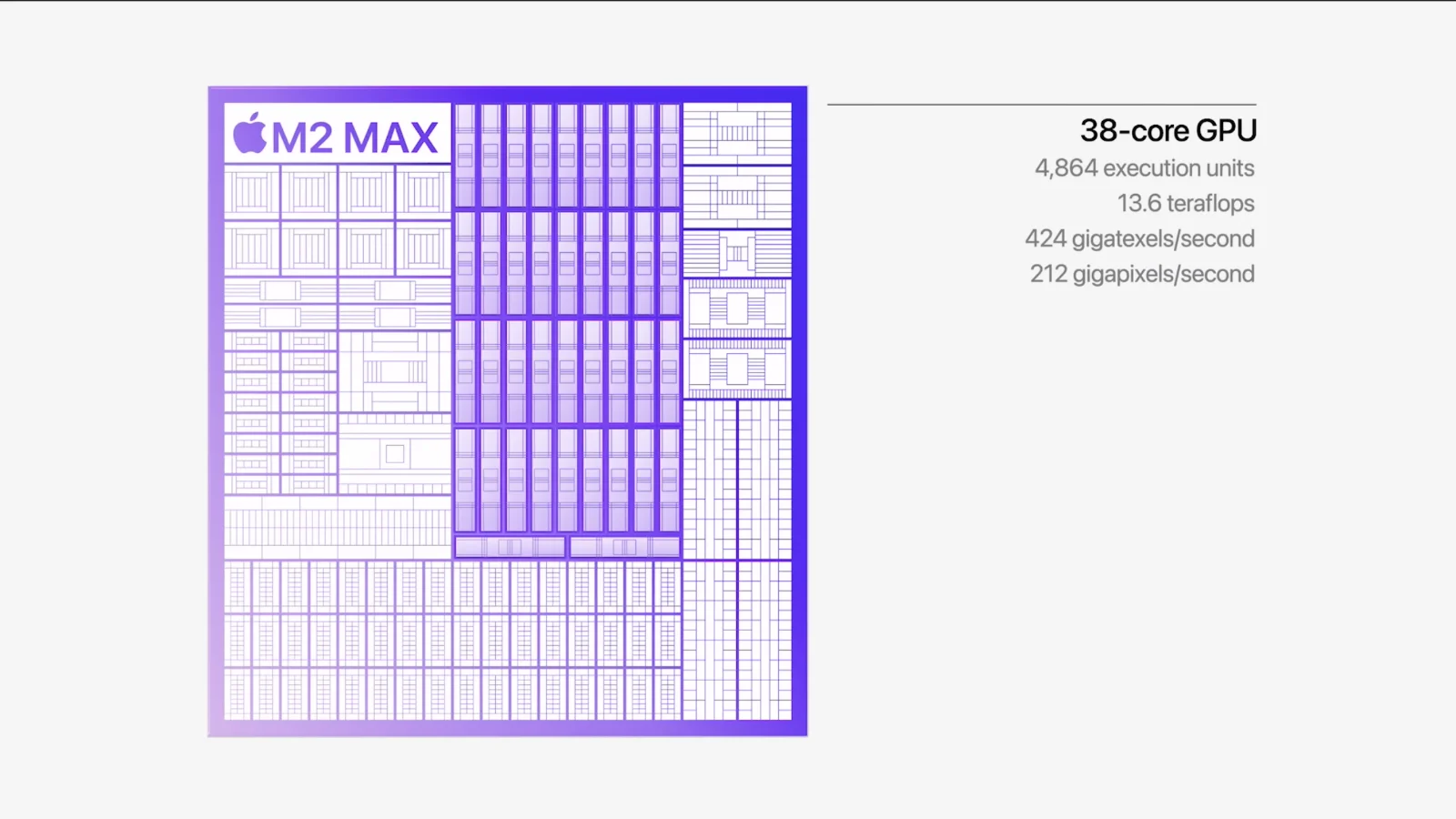 In the second generation, Apple gives a spec bump on everything in the previous generation. The new CPU cores have been added, clock speed is boosted and more importantly in this scope, new graphic cores have been added. Now you have up to 19 graphic cores in the M2 Pro and up to a whopping 38 cores for the M2 Professional.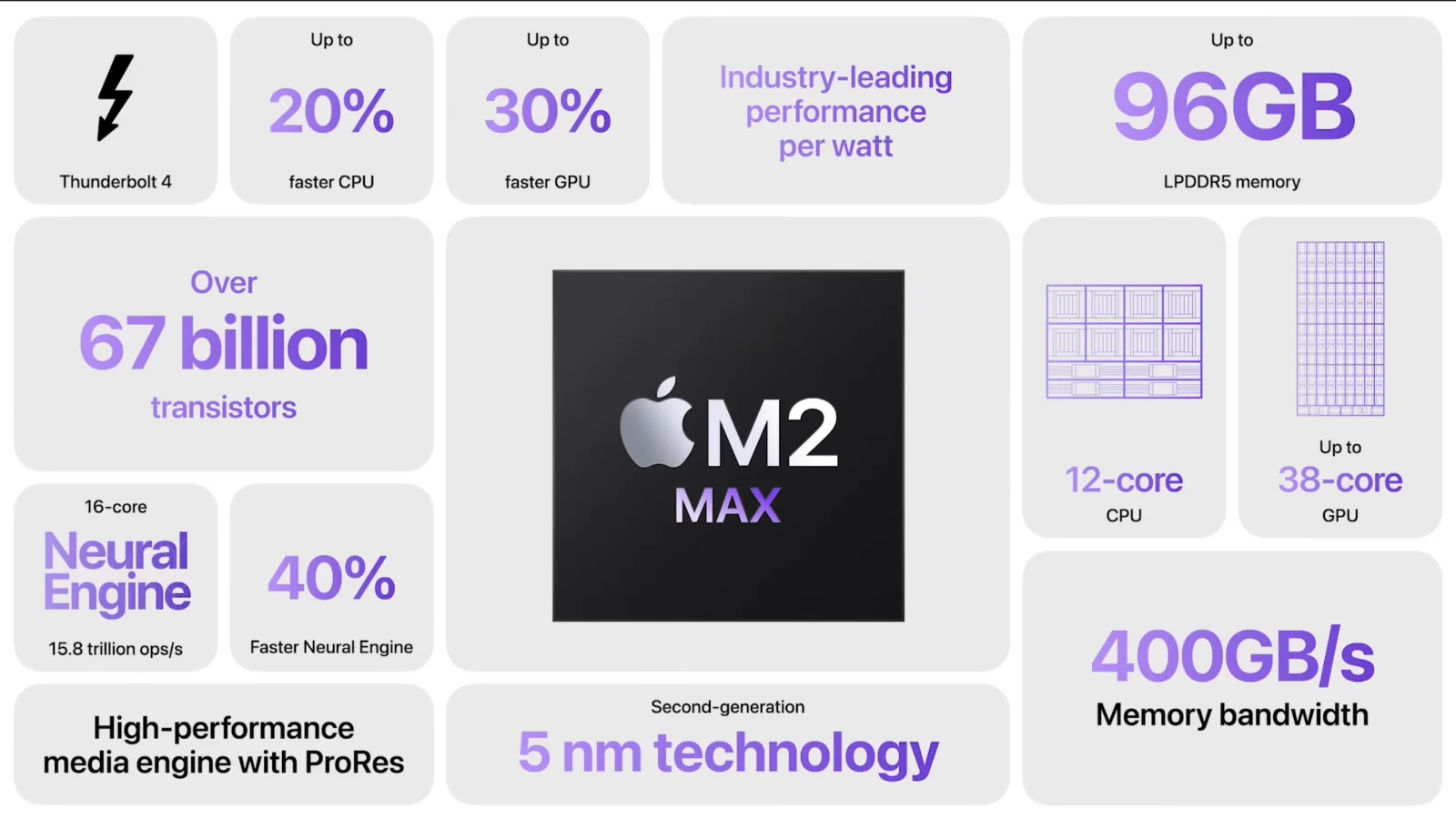 The graphic capabilities have also been given a boost. Their media engine which handles video file coding and encoding tasks has been given a boost so they now can handle more 8K ProRes (Apple's own professional video format) than the previous generation. The Display engine is also updated so you can output to an 8K display, a feat that even the most powerful of the 1st generation Apple Silicon can't even do.
4080 RTX Mobile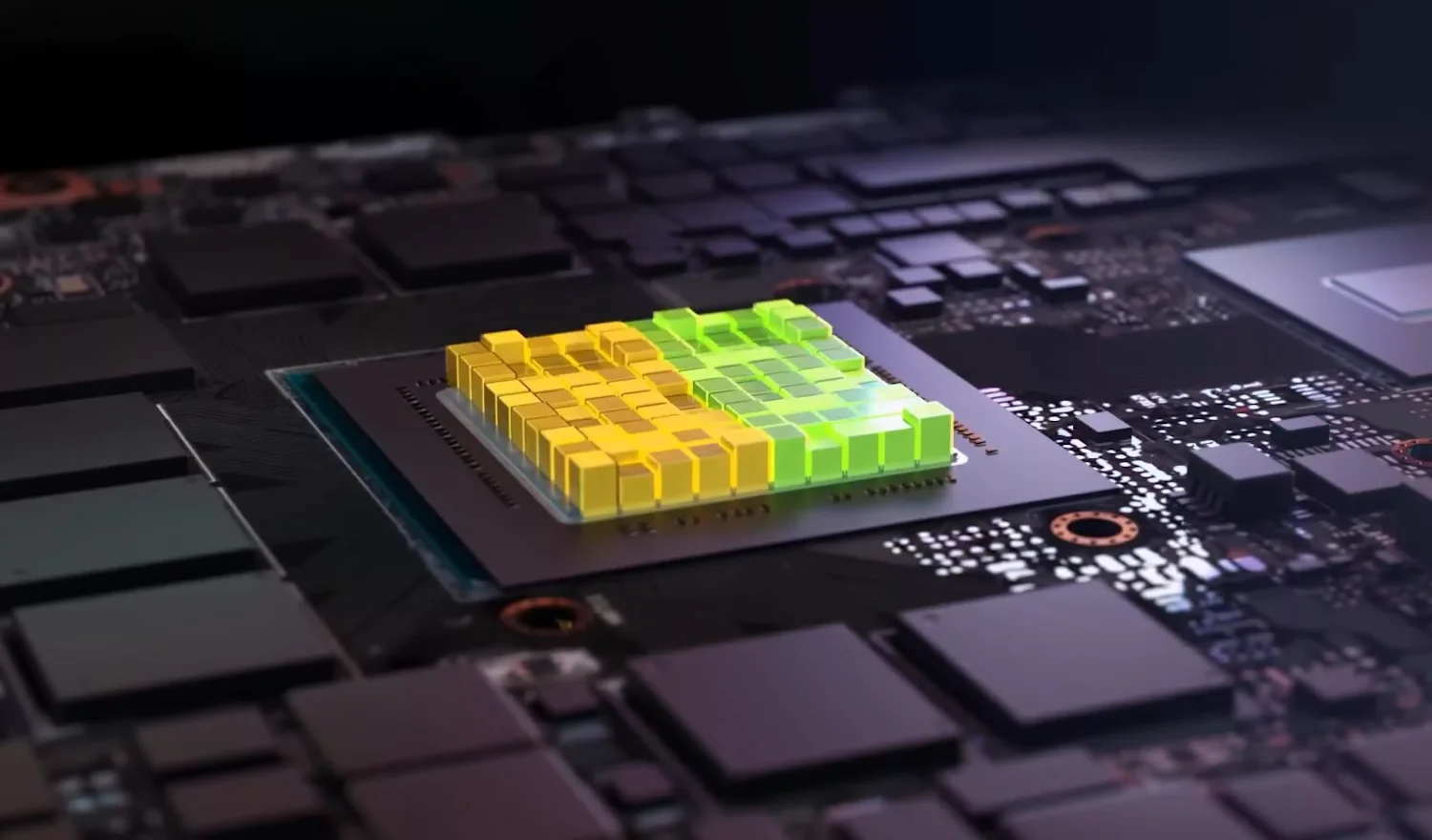 Nvidia has craved its name as the king of the video graphic performance crown since the early days of discreet graphic computing. Now the company has branched out the AI, cloud graphics, and even cryptocurrency mining. The performance of the RTX 30-series has been legendary and even then, Nvidia isn't resting on its laurels and continues pushing the boundaries of what's possible in visual performance.

Nvidia launched the RTX 40-series line around September 2022 and their mobile counterpart (which will be the focus of this article) is announced in January 2023 during CES 2023.
The improvements of the RTX 40-series over the RTX 30-series are what you expect from Nvidia: more transistors (almost double), higher memory bandwidth, and of course more performance. What is interesting is that it lowers their power consumption to 110 W (vs 150W on the RTX 3080 mobile). They are also introduced a new top-of-line model the RTX 4090 mobile. Previously, the RTX 3090 nameplate is only reserved for the highest-end desktop graphics card.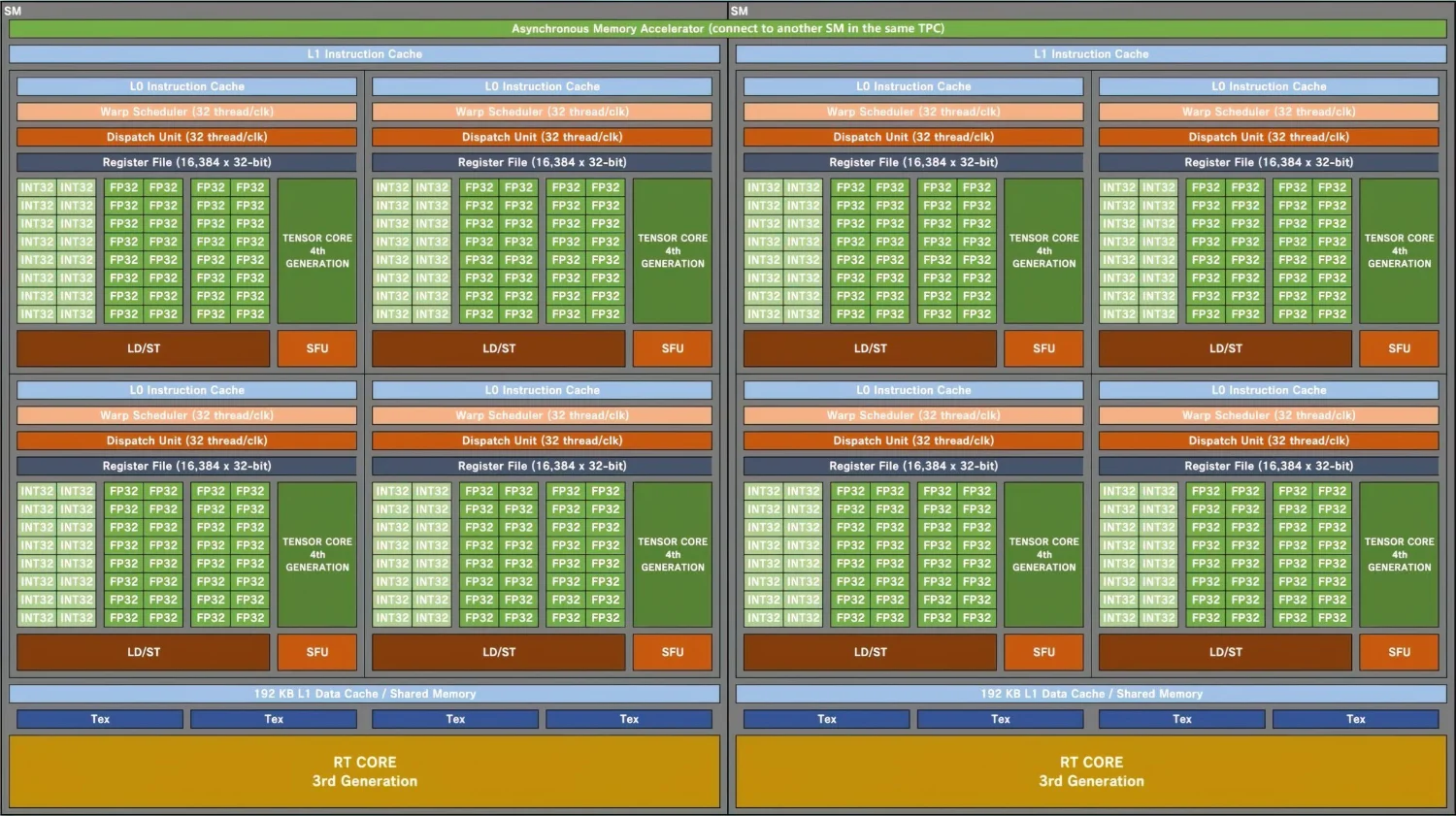 The new architecture is dubbed Ada Lovelace, in honor of the first-ever computer programmer and undoubtedly, the mother of modern computing. Nvidia claimed up to 40% performance increase over the 30-series RTX.
Like Apple and other players, some parts of the graphic chip have specialized cores to do specialized tasks: Tensor cores specialized in handling AI workloads, RT cores handles ray-tracing which allows real-time light traying and AV1 encoder do the heavy lifting of media files.
Performance
There's an adage when choosing between Macs and Windows boxes: Macs are good for video editing and designing while Windows are better at gaming and everything else. This holds for this comparison as well.
Benchmark after benchmark shows the same thing: on gaming, the RTX 4080 and RTX 4090 Mobile will beat the M2 Max. While the M2 Max will have the edge when you are exporting videos from your timeline.
What at play here is how each company approach to optimization. For Apple, their bread and butter is design and video editing and the their work flow is highly optimized for it from the Media Engine to all the way how well Final Cut Pro works on the MacOS environment. For Nvidia, most gamers are on Windows and Nvidia pull all the stops to ensure that the graphic driver and their chip runs DirectX as smooth as possible.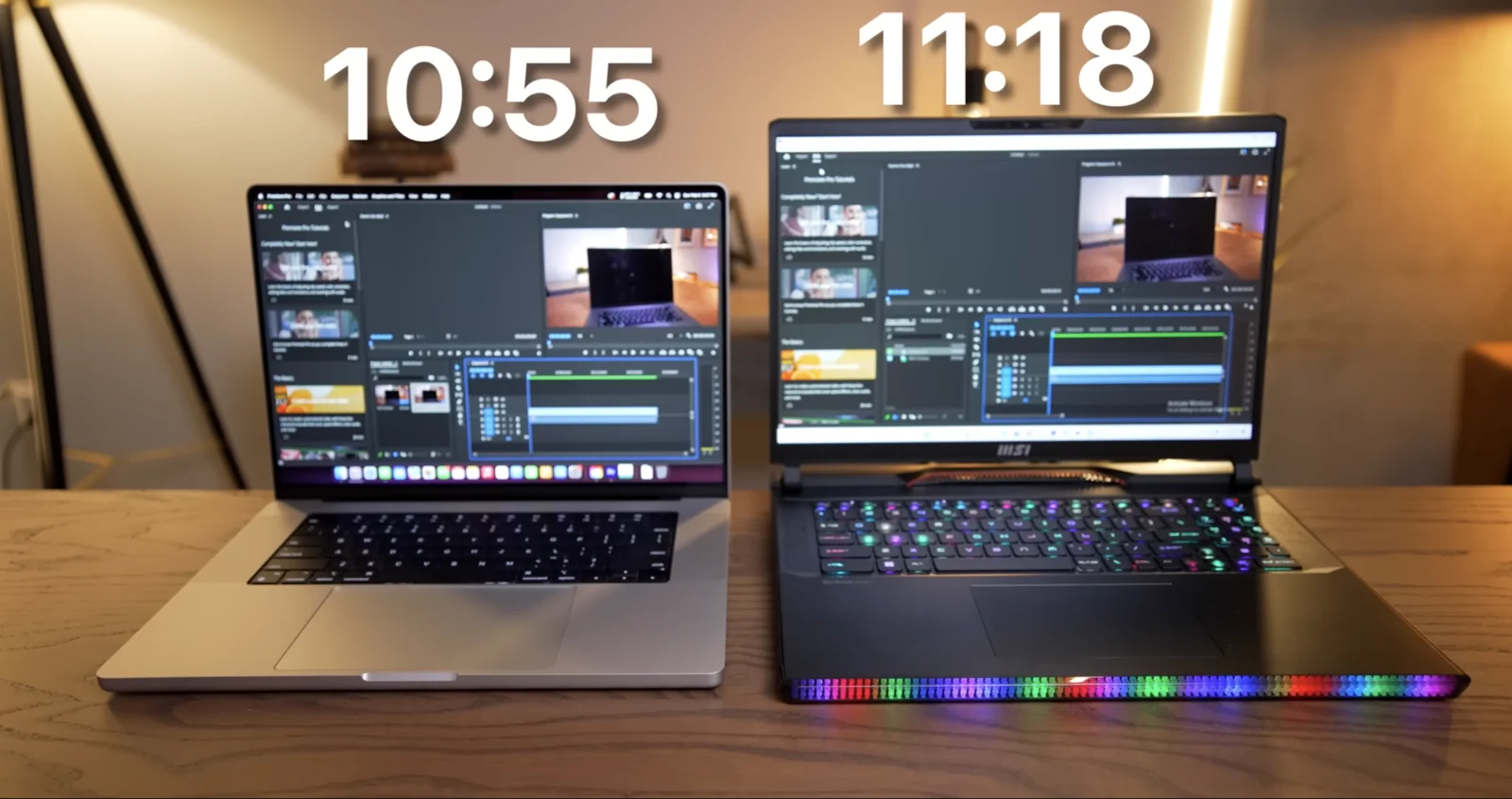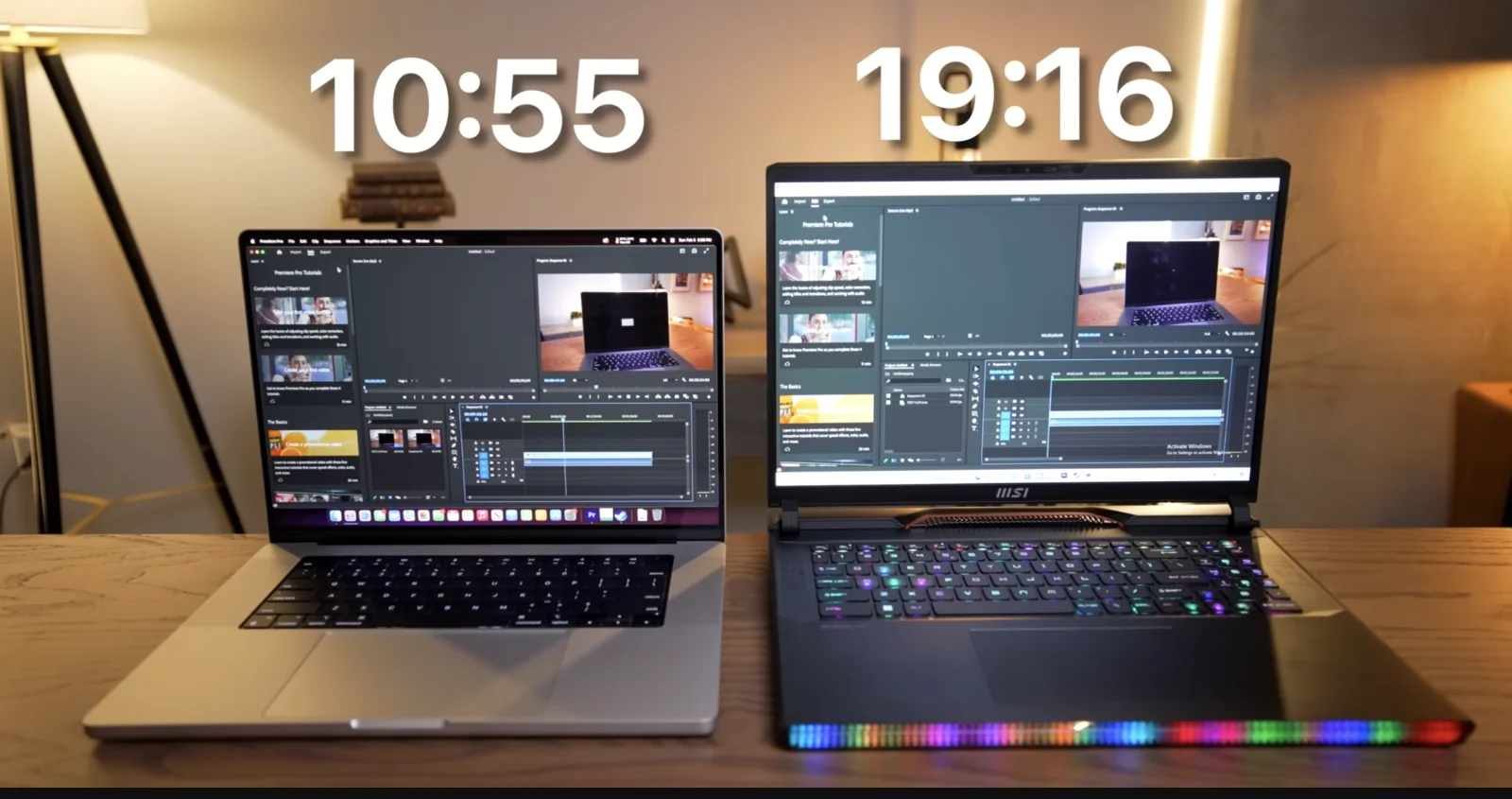 However, this is on wall outlet power. When things have to run on battery, the results takes a dramatic turn. It is known for a while that many of the gaming / performance laptop that come from Nvidia and Intel are targeted while on outlet power. These chips are not optimized on battery power at all. In the same test where the Apple's chip has a small performance leap over the RTX 4090 Mobile on outlet power, that lead becomes a landslide when the RTX 4090 is on battery power.
The result is clear: if you need things to be done while on the go, where you don't have access to a power outlet, please use the MacBook Pro. It's the best-performing laptop while on battery power.
conclusion
No doubt, in terms of raw performance, Nvidia maintains the performance crown. But of course, there are caveats. The performance is there if you are connected to a wall outlet. The M2 Max is still the better laptop chip if you are always on the move. And if your workflow involves a lot of video editing or picture editing, seriously consider the M2 Max. If your time is spent playing AAA video game titles, it's a safe bet the Windows/Intel/Nvidia combo is the way to go.
In other words, everyone moves forward by bringing their best, but the status quo hasn't changed much.
Plug
Support this free website by visiting my Amazon affiliate links. Any purchase you make will give me a cut without any extra cost to you
Other Ecosystem Items
Apple 2022 Product Roadmap
2021 went by very fast for most of us, and as the year going into the end game, we take a look behind and see what's in front of us.
Online IDEs Compared
With everything going to the Internet, it will be just a matter of time before the tools to build the Internet will go the same way.
Tags:
apple
,
m2 pro
,
m2 max
,
nvidia
,
4080 rtx
,
40-series rtx
,
comparison
,