Table of Contents
Before we start, I would like to share two stories. When Google acquired Android way back in 2005, Google had the foresight that the next era of computing which started with mainframe, then minicomputers, then personal desktop and later desktop would be miniaturized to the smartphone. Google had a product ready only to be stopped by the first iPhone launch in 2007, which proved to be so ground breaking that Google had to go back to the drawing board and redesign Android to be more like iOS. Because of that, the first Android phone was released almost 1 year after the first iPhone came out.
Despite being late to the party and falling far behind Apple, Google decided to follow in Microsoft footsteps and did what Microsoft did on the operating system on Android: own the software IP, allow the software to work a multitude of devices instead of one tight list, work with hardware vendors to make it work and market it like there's no tomorrow. And today, Android is everywhere, not only in the smartphones in your pocket, but also your TV and also your car.
However, making the Android flexible which ensures it's adoption rate has its pitfalls. Just like Windows, experience varies from one manufacturer to the other. Some vendors like Samsung, Huawei (before being kicked out) and Oppo provide great hardware and software implementation. Lesser known vendors dilute the experience in the name of cost cutting and sales number. Unlike Apple on iOS, your experience will vary from one device to another.
Now, Google has taken a page from Apple's playbook by introducing its first ever custom SOC for smartphones, the Google Tensor. Google has made their own phones, this after all the 6th generation Pixel by Google, but this is the first time that the SOC which is the heart of the phone is also made by Google. We will take a look about this new SOC and see how it compares to other leading SOCs from both Apple and Android phones.
Executive Summary:
Google Tensor is Google's own System On Chip (SOC) for mobile platform
It make it debut on Google's own smartphone: the Pixel 6
Just like other solutions from Apple and Qualcomm, it features high performance cores, high efficient cores, graphic cores and a custom neural network core
Motivations that one can argue why Google is in the hardware game is that it can guarantee support (something Android manufactures have yet to match), better hardware / software integration
However, the performance has yet to match other Android competitors let alone Apple's.
Based on performance and features, it is a very 1.0 version product, but this means that there are a lot of room for improvements.
Google Tensor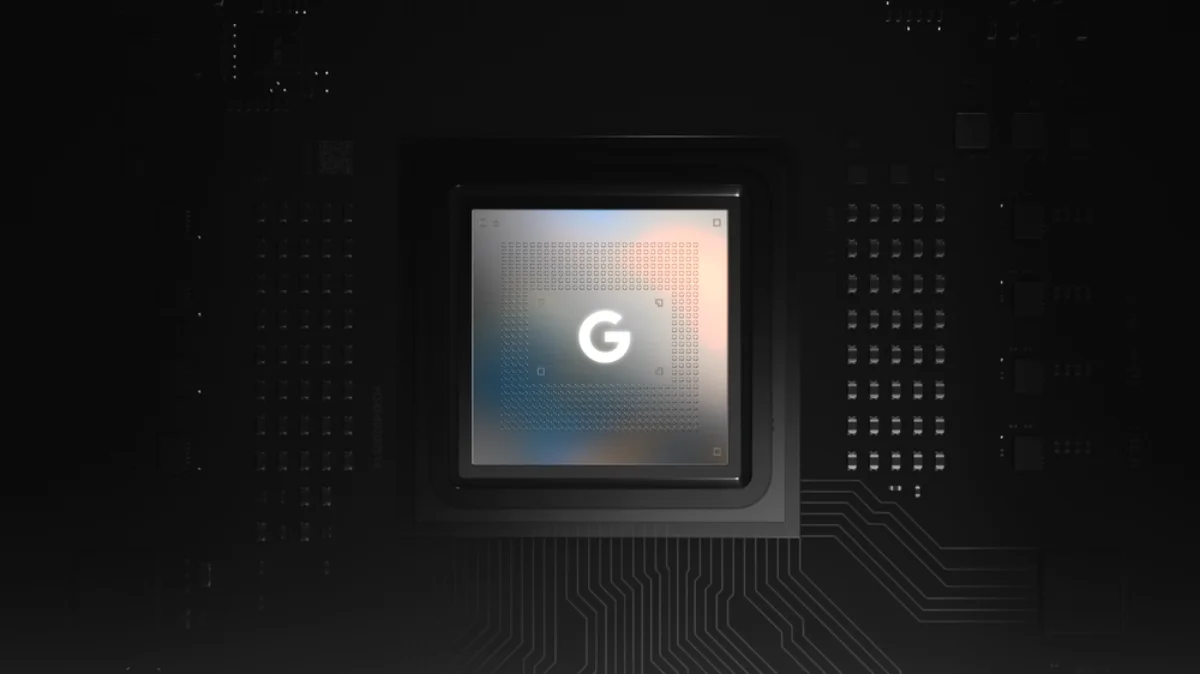 Google Tensor makes its debut with the introduction of the Google Pixel 6, Google's very own Android phone. The Pixel phone was introduced by Google as a 'reference' phone, a showcase of the Android operating system and the art of what's possible in the Android ecosystem. Google being a software company that showcases some bleeding edge tech that is possible with clever algorithms and capable hardware. Night mode (or night sight in Pixel 4) for example shows that with a decent but not spectacular lens, Google is able to use its machine learning technology to enhance night time pictures as though it was daylight.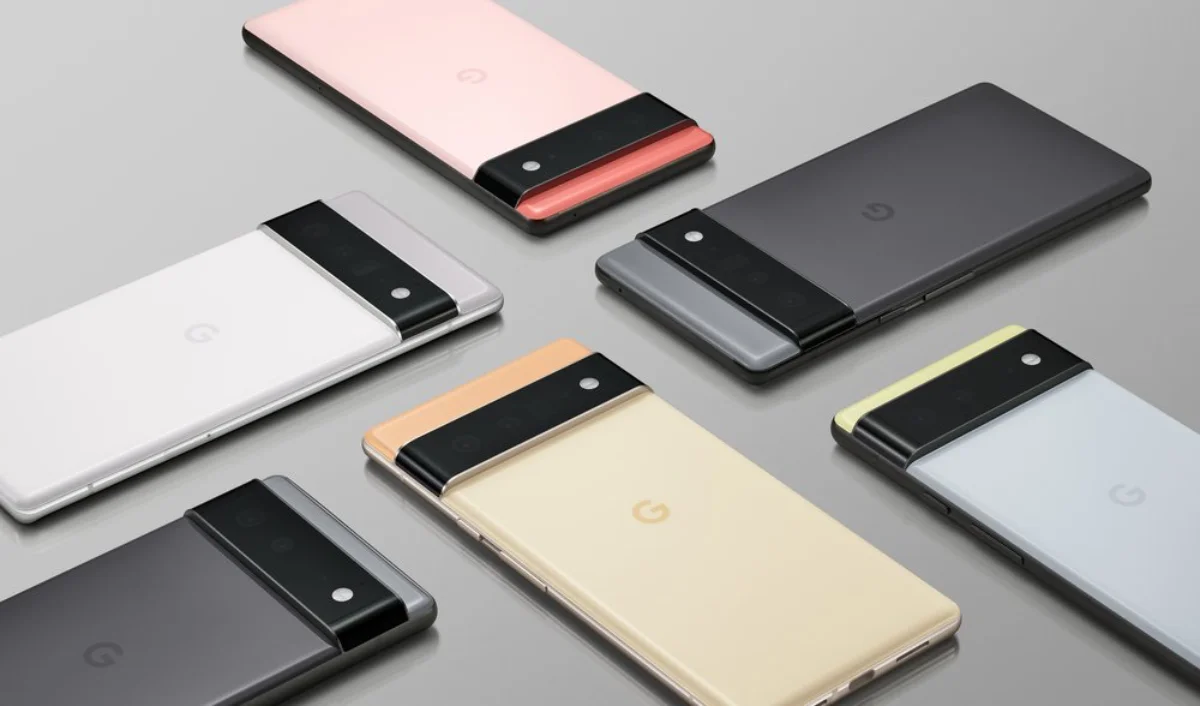 It is no different in the case of the Pixel 6. One of Google's headline features is called 'Motion Mode' where the phone cleverly identifies a scene and applies motion effects like the smoothing of a waterfall or a moving train. All this is possible not only with Google technical prowess, but the hardware that is capable to do such a feat, which in this case is the Google Tensor SOC.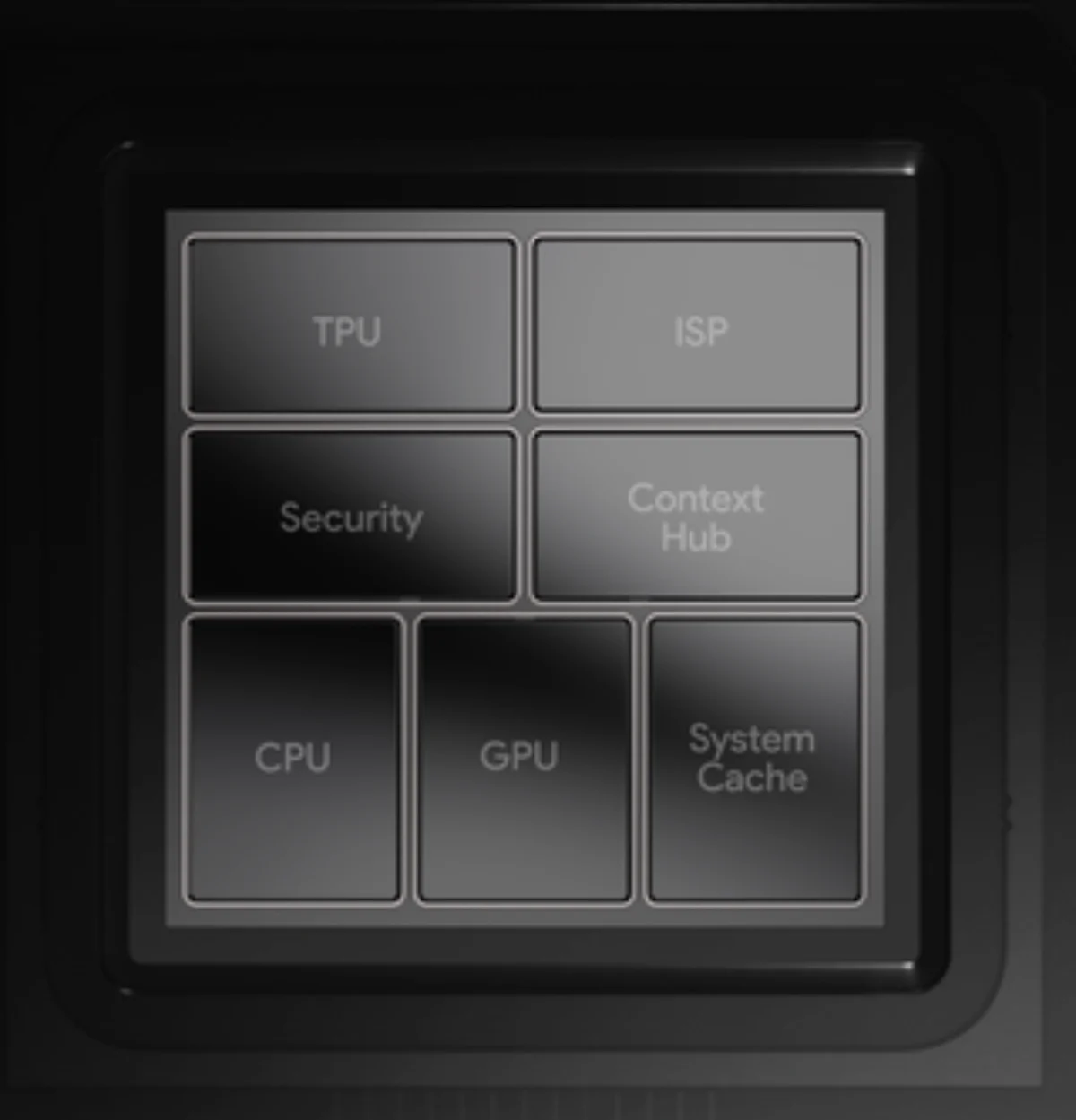 The Google Tensor is built on a 5nm process by Samsung Foundry. The Google Tensor is based on Samsung's own SOC, the Exynos 2100, which powers the flagship Samsung Galaxy S21. At the heart of the SOC is the dual Cortex X1 ultra-high performance cores, with dual high performance A76 cores and quad efficiency cores. A major difference with the Exynos 2100 is the Exynos 2100 uses a higher performing A78 cores. Graphics is powered by ARM Mali-G78 MP20 which implies 20 graphic cores on the SOC. The Titan M2 security module and the neural processing cores are custom by Google.
Having the hardware specs drilled down, one would ask why? Google is obviously a software company which values its software more than the hardware. Why did Google put its focus on building a custom chip? There's a few reasons for this. Despite the reputation of being a software company, Google has a long history of making custom hardware that supports its software division, from making custom network switches to having customized Intel processors and servers, having a custom SOC for phones is the next logical step to improve its software capabilities. It's a wonder why Google did not arrive at this point sooner.
The next obvious answer is the question of support. There's two trends that push Google to make its own SOC for smartphones. First, with flagship phones getting more capable and more expensive, people have no justification to upgrade smartphones every year just like in the early days of the smartphone revolution. Today's Android flagship phones have outstripped a typical user's needs.
The second is on the matter of OS updates. The biggest criticism of the Android platform is that phones get at most 2 years worth of updates. Compare this with Apple which the iPhone 6s that was released in 2016 is still getting the latest iOS updates. The reason being while Android is open sourced and flexible, the Android that goes into each phone is the responsibility of the manufacturer. Most manufacturers in desire to chase sales numbers are motivated not to support any phones that are more than two years old. Google is trying to remedy this by introducing a phone that it tightly controls and nudging major manufacturers to follow suit. Google promises that it will support at least 3 major OS updates and 5 years of security update on the Pixel 6, which is unheard of in the Android platform.
Now with the introduction of the Google Tensor, the great question is what's next? Will there be a Tensor 2? Tensor 3? If Google is following Apple footsteps, we will expect that the Tensor 3 would be Google's first custom SOC that is built from the ground up. Apple's A4 might be Apple's first custom SOC, but it's actually a modified Cortex SOC, it wasn't until the A6 where Apple built everything from scratch.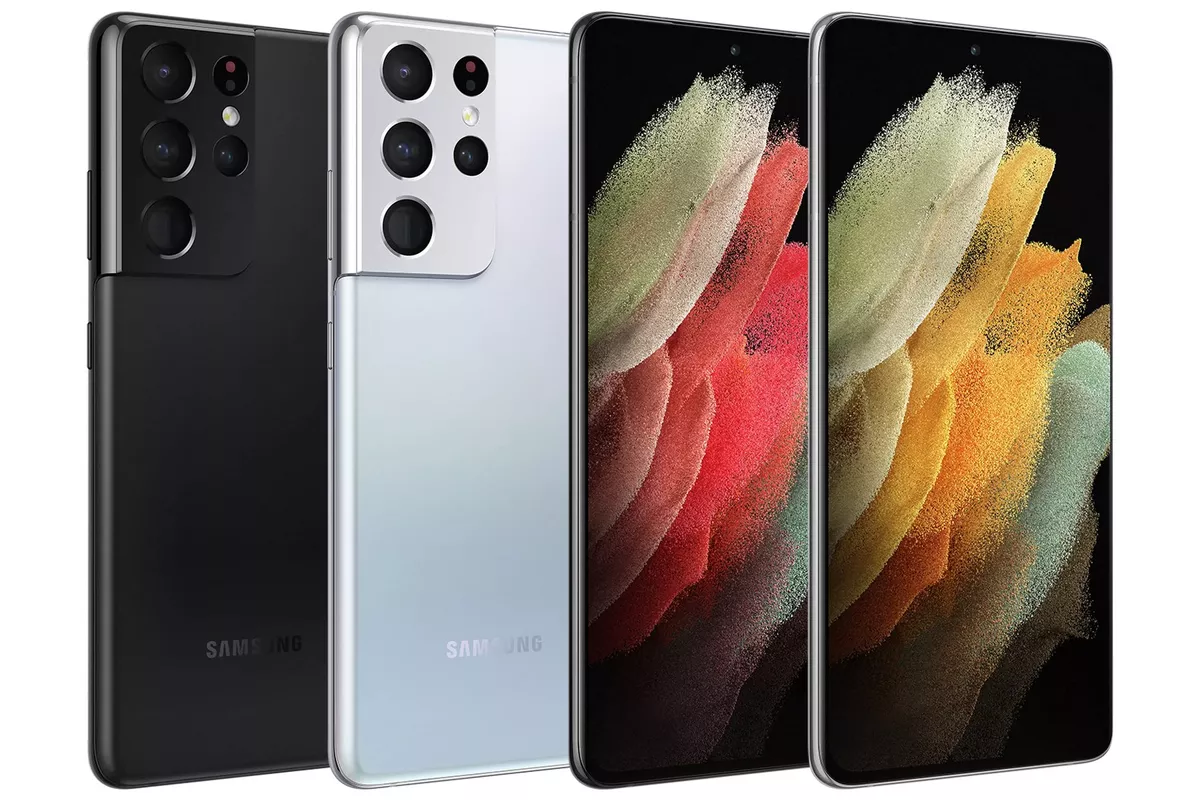 Apple A15
The A15 is the latest and greatest from Cupertino. It made its first debut on the iPhone 13 and iPad Mini 4. Compared to the previous iteration, this is the first time a mobile SOC from Apple has two different versions. The basis on that powers the iPhone 13 has 6 compute cores, 2 of them are the performant ones. The flagship iPhone has a beefier graphic cores (5 instead of 4), a media engine that can handle ProRes stream (ProRes is available on the iPhone 13 Pro) and a new Image Signal Processor and Display engine.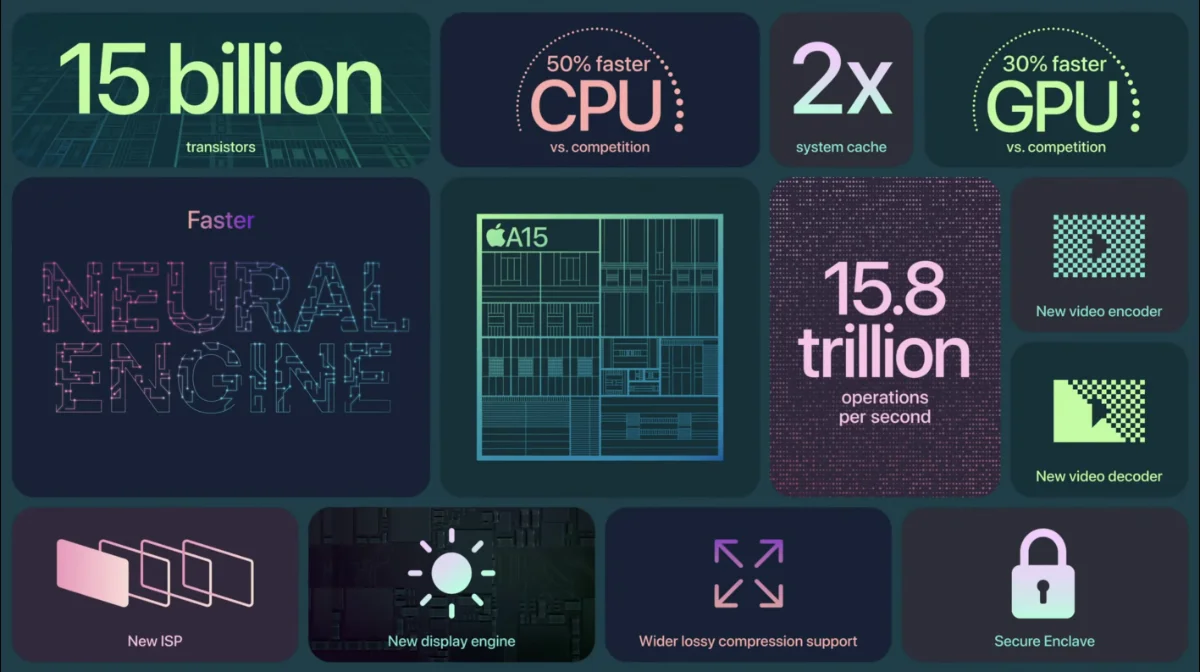 Compared to the A14, the A15 was not a quantum leap compared to the previous iterations. However, it boasts the most powerful GPU on the iPhone ever. So the Pixel 6 is the phone to get if you want to game around.
Benchmark
Benchmark tests show that the Google Tensor is on par with Android SOCs on single core tests while laggard in multicore tests. However, it has the most powerful GPU to date. GeekBench test shows that it is way behind compared to Apple's A15 but way ahead in GPU test.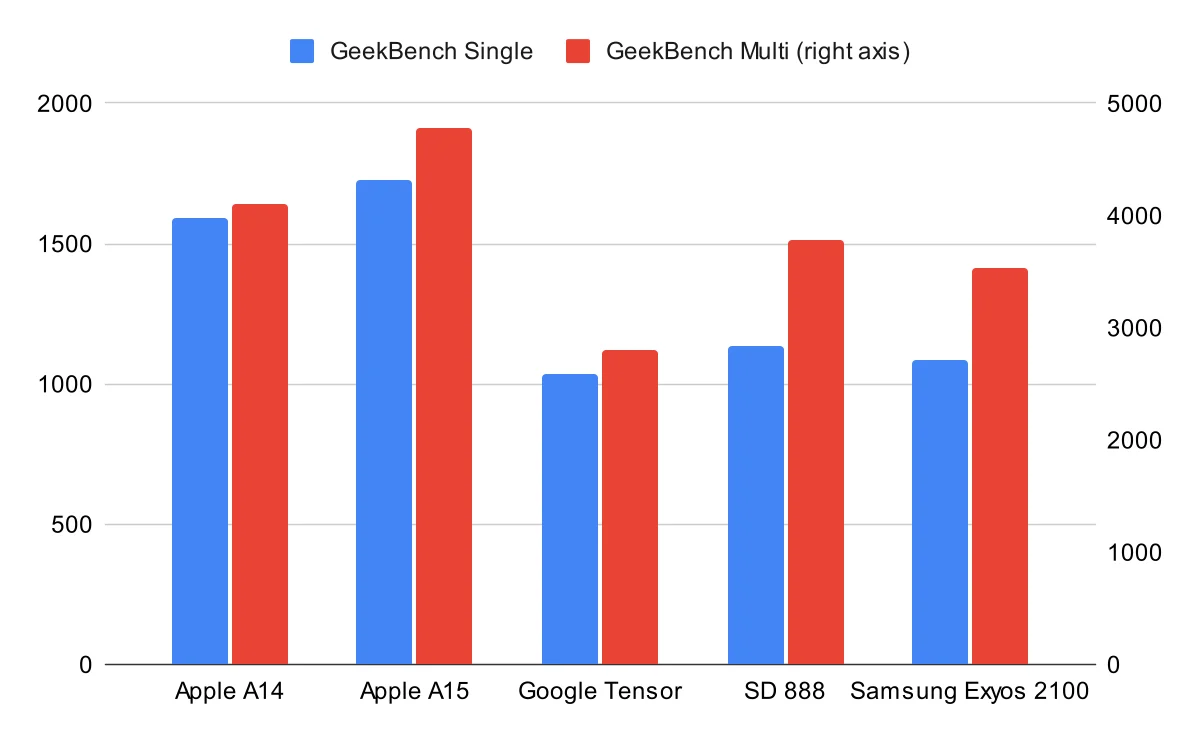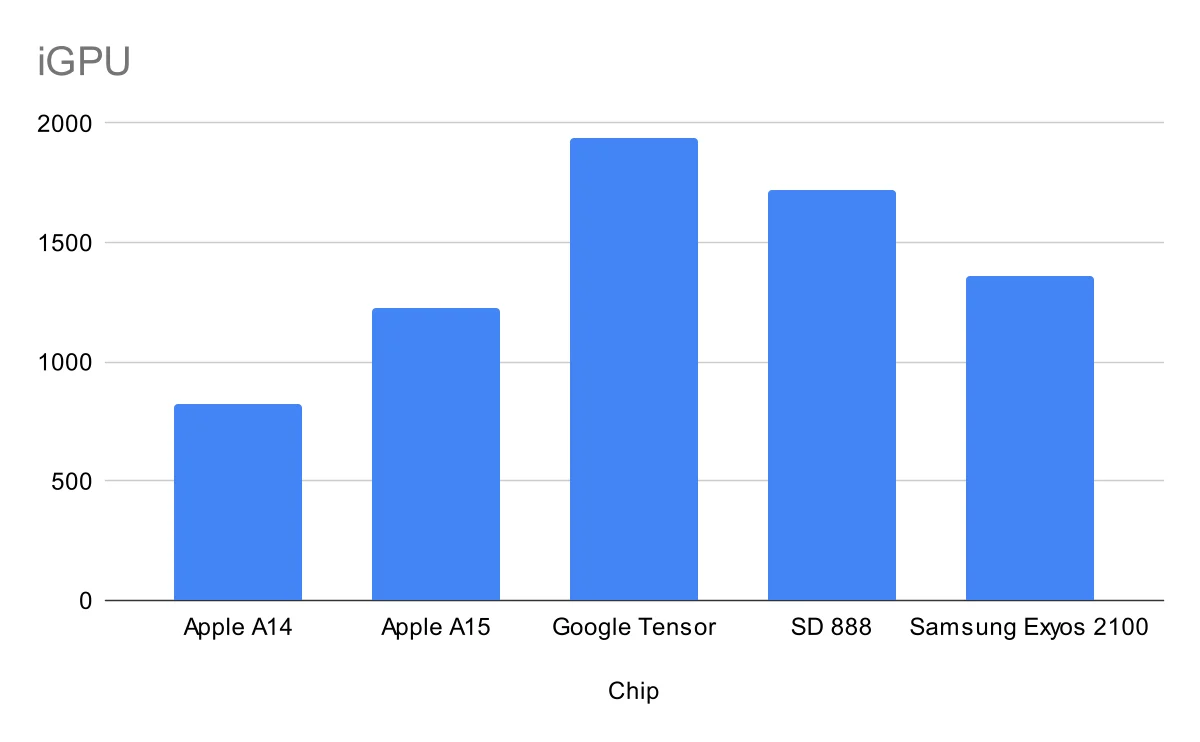 Conclusion
With Google entering the custom SOC game for it's mobile offering, it raises some questions and hopes about the future of Android. Will Google tighten its grip on the Android implementation? Is Google going Apple on Android? These are good questions to ask but at this moment, the only thing we can do is wait and see.
While Google Tensor is quite competitive at this point, it's the future that I'm excited about. Iteration will bring out the best of the Tensor SOC. Apple's first custom offering, the A4 is just a modified Cortex SOC. Only by A6 which appeared on the iPhone 5 where Apple made a brand new SOC from scratch. If Google follows Apple's footstep, we can expect Tensor 3 to be a clean sheet design from Google.
Plug
Support this free website by visiting my Amazon affiliate links. Any purchase you make will give me a cut without any extra cost to you
Resources
Apple M1 Series vs Intel 12th Generation Core i9
The Intel Empire strikes back with the 12th Generation Core processor code name Alder Lake. We take a look at Intel's latest offering and compare it with Apple's latest and greatest. Spoilers: Intel is faster, but ...
Tags:
comparison
,
apple
,
a15
,
google
,
tensor
,
soc
,
mobile
,