Thanksgiving is celebrated in the United States every fourth Thursday of November and this year it falls on 25th November. It's a time where the entire population moves around to go back to their hometown and gather around being thankful for the past year and hoping for the best for the next year.
Traditionally, there's a Black Friday event in the morning after which everybody wakes up in the small hours of the day, lining up at big box stores to get the best deals of the year. Now the event has moved online and we can get the deals early, no need to wake up so darn early, get dressed, line up in the cold and fight for the best TV deals.
Here are the deals that we found around Amazon and will be periodically updated to the Black Friday / Cyber Monday event. Some disclaimers with the links:-
These are Amazon Affiliate links. We get a cut when you purchase through these links. And they do not cost you extra. We just promote the links for you
Prices displayed were accurate when we wrote this article. To confirm the price, please click on the link.
We will update this page from time to time up to 29th November 2021. So please do refresh this page to see new deals
Happy hunting and good luck!
Televisions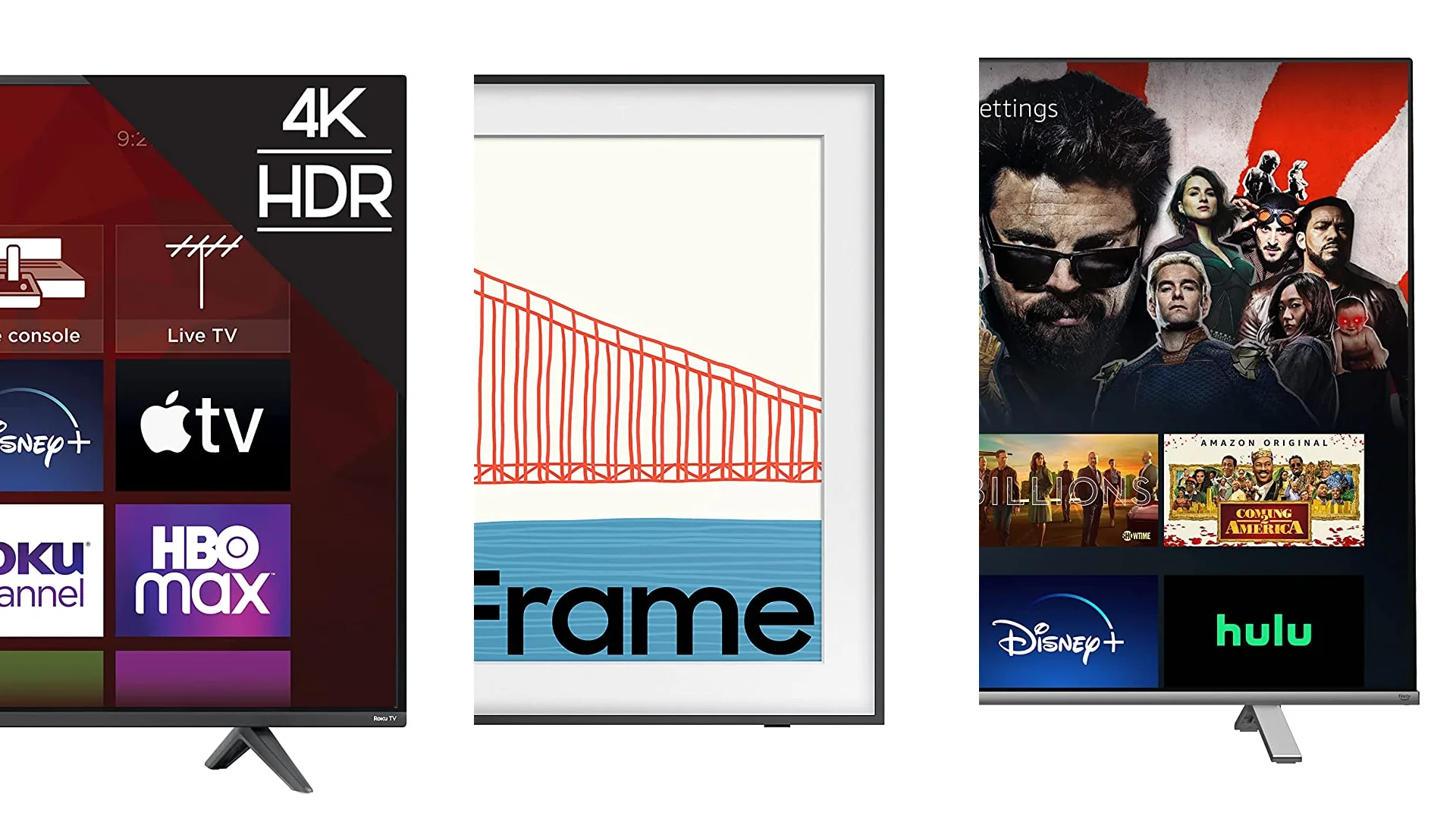 | Item | Price (Discount) | Link |
| --- | --- | --- |
| Samsung 32" Frame QLED FHD | $447 (25% off) | Amazon USA |
| Samsung 55" Frame Quantum HDR w/ Alexa | $999 (33% off) | Amazon USA |
| SAMSUNG 43" Class QLED Q60A Series | $497 (17% off) | Amazon USA |
| Toshiba 43" 4K TV | $289 (22% off) | Amazon USA |
| TCL 50" 4K TV | $359 (28% off) | Amazon USA |
| Sony X85J 75" TV | $1,298 (28% off) | Amazon USA |
| Sony X90J 4K 50" TV | $898.00 (18% off) | Amazon USA |
| Fire TV Stick 4K streaming device | $25 (50% off) | Amazon USA |
Computers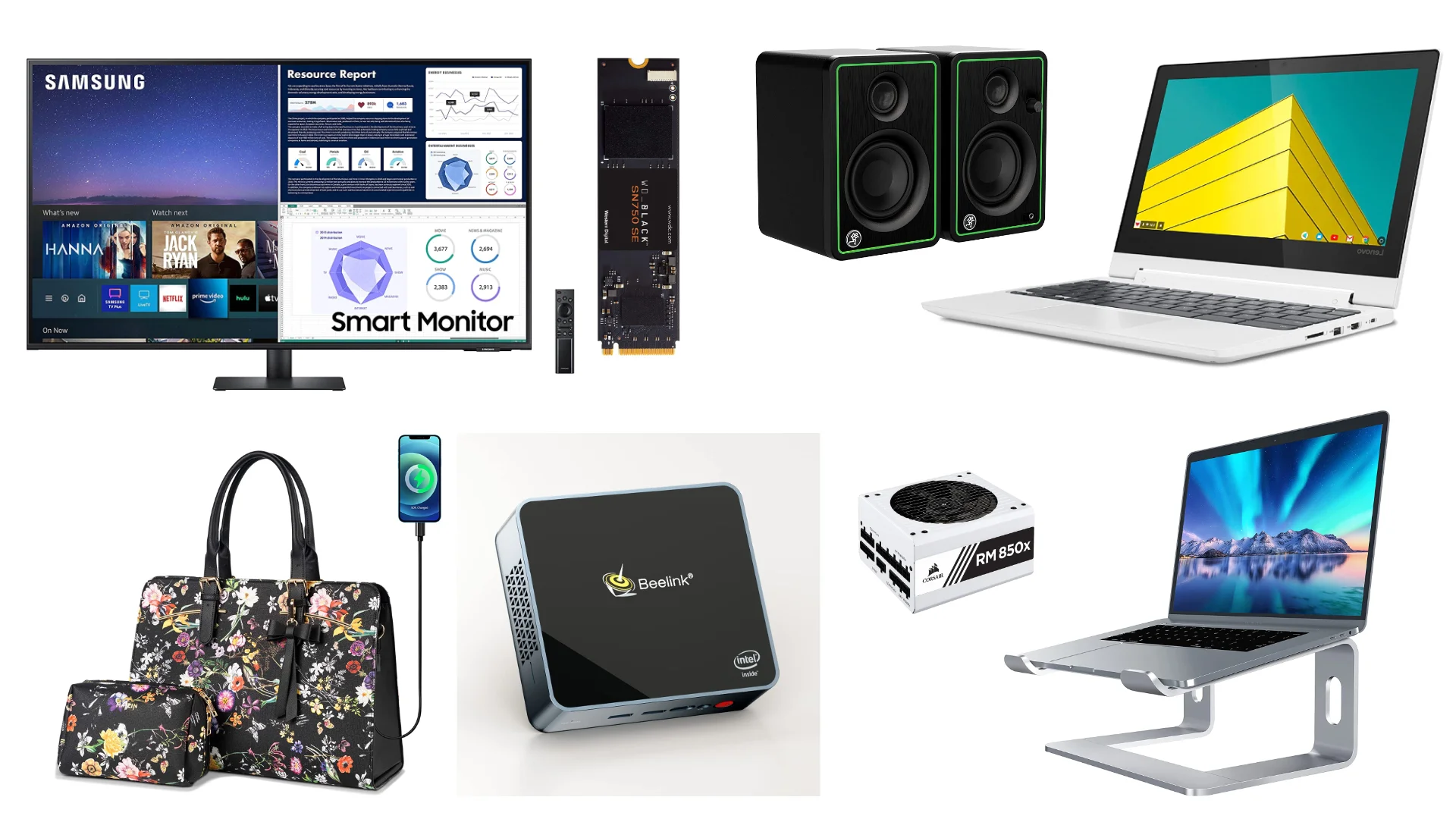 Item
Price (Discount)
Link
Desktops
Beelink Mini PC
$211 (15% off)
Amazon USA
MeLE Fanless Mini PC - 8GB RAM, 128GB Storage, Windows 10, Celeron J4125
$221 (15% off)
Amazon USA
Laptops / Tablets
ASUS Chromebook CX1 Laptop
$225 (20% off)
Amazon USA
Alienware m15 R4 Gaming Laptop
$1590 (16% off)
Amazon USA
Teclas 15.6" Laptop
$380 (Join Prime to get $70 off coupon)
Amazon USA
Lenovo ChromeBook
$150 (53% off)
Amazon USA
SAMSUNG Galaxy Chromebook 4 11.6-inch 64GB eMMC, 4GB RAM, Gigabit Wi-Fi, Chrome OS
$180 (28% off)
Amazon USA
Samsung Galaxy Tab E
$92 (29% off) - Limited Time
Amazon USA
Monitors
SAMSUNG UE57 Series 28" 4K UHD Monitor
$250 (29% off)
Amazon USA
Sceptre Curved 30" 21:9 Gaming LED Monitor
$200 (29% off)
Amazon USA
Dell Curved Gaming Monitor 34 Inch Curved Monitor with 144Hz Refresh Rate, WQHD
$430 (19% off)
Amazon USA
Samsung 32" 4K Monitor
$400 (20% off)
Amazon USA
Samsung M7 43" UHD Smart Monitor
$449 (25% off)
Amazon USA
ASUS 28" 4K Monitor
$229 (8% off)
Amazon USA
Storage
Seagate Portable 5TB External Hard Drive
$99 (9% off)
Amazon USA
Sabrent 1TB M.2 Internal Storage
$150 (17% off)
Amazon USA
WD_Black 1TB M.2 Internal Storage
$100 (23% off)
Amazon USA
Samsung 970 EVO Plus 1TB SSD
$120 (14% off)
Amazon USA
Crucial P2 500GB 3D NAND NVMe PCIe M.2 SSD
$45 (25% off)
Amazon USA
Other Components
Razer Tartarus v2 Gaming Keypad
$50 (38% off)
Amazon USA
EVGA Z15 RGB Gaming Keyboard
$40 (69% off)
Amazon USA
Razer Basilisk v2 Wired Gaming Mouse
$35 (56% off)
Amazon USA
EVGA X20 Gaming Mouse
$45 (63% off)
Amazon USA
Cosair 850W Power supply
$119 (23% off)
Amazon USA
Mackie CR-X Monitors
$80 (20% off)
Amazon USA
Polk Monitor XT15
$129 (13% off)
Amazon USA
Accessories
Soundance Laptop Stand
$22.95 (43% off)
Amazon USA
Matein Woman's Laptop Bag
$39 (22% off)
Amazon USA
Compressed Air Duster
$51 (15% off)
Amazon USA
Logitech SLIM FOLIO PRO for iPad Pro 11-inch
$40 (42% off)
Amazon USA
USB-C Hub adapter for MacBook Pro
$13.50 (21% off)
Amazon USA
Anker USB C Hub, PowerExpand 8-in-1
$68 (15% off)
Amazon USA
Phones and accessories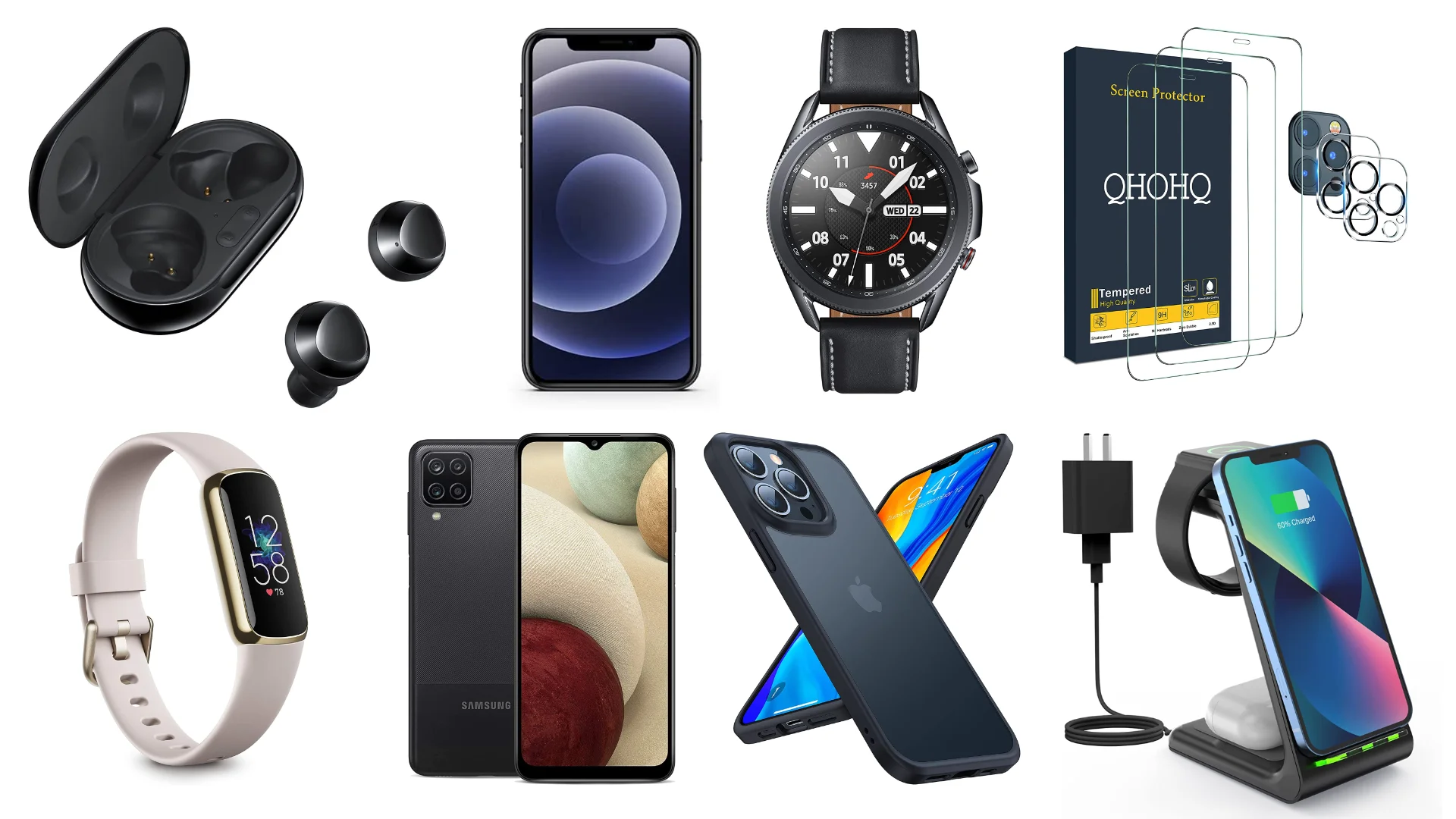 Item
Price (Discount)
Link
Smartphones
iPhone 11 Unlocked
$479 (16% off)
Amazon USA
iPhone 12 Mini
$525 (25% off)
Amazon USA
Samsung Galaxy S20 FE
$650 (7% off)
Amazon USA
Samsung Galaxy A12
$160 (19% off)
Amazon USA
SmartWatches
FitBit Luxe
$99.95 (33% off)
Amazon USA
Garmin Instict Solar SmartWatch
$249.99 (38% off)
Amazon USA
Garmin Fenix 6X Pro
$499 (29% off)
Amazon USA
Samsung Galaxy Watch 2
$199 (20% off)
Amazon USA
Samsung Galaxy Watch 3
$379 (21% off)
Amazon USA
Wireless headphones
AirPods (3rd Gen)
$169 (5% off)
Amazon USA
(Renewed) Apple AirPods Pro
$162 (26% off)
Amazon USA
Samsung Galaxy Buds Plus
$100 (33% off)
Amazon USA
Bose Sport Earbuds
$149 (17% off)
Amazon USA
Bose QuietComfort Noise Cancelling Earbuds
$199 (29% off)
Amazon USA
Bose SoundLink Around Ear Wireless Headphones II
$179 (22% off)
Amazon USA
Charging cable + adapters
iPhone charging cable
$7.64 (41% off)
Amazon USA
Ciyoyo Wireless charging stand
$45 (13% off)
Amazon USA
Sunnywoo Metal Steel Band, Apple Watch Compatible
$11 (42% off)
Amazon USA
Case / Screen Protector
QHOHQ screen protector for iPhone 12 Pro Max
$11.04 (56% off)
Amazon USA
CaseKoo iPhone 13 Case
$17.84 (15% off)
Amazon USA
Torras ShockProof iPhone 13 Case
$17 (15% off)
Amazon USA
Others
Divoom Pixoo-Max Pixel Display
$85 (15% off)
Amazon USA
OTTERBOX COMMUTER SERIES Case for iPhone 12 & iPhone 12 Pro
$21 (48% off)
Amazon USA
Powerbanks
Anker Magnetic Wireless Portable Charger, PowerCore Magnetic 5K
$32 (42% off)
Amazon USA
Anker PowerCore Fusion III PIQ 3.0
$28 (30% off)
Amazon USA
Anker PowerCore III Elite 25600 87W Portable Charger Bundle
$98 (39% off)
Amazon USA
Cameras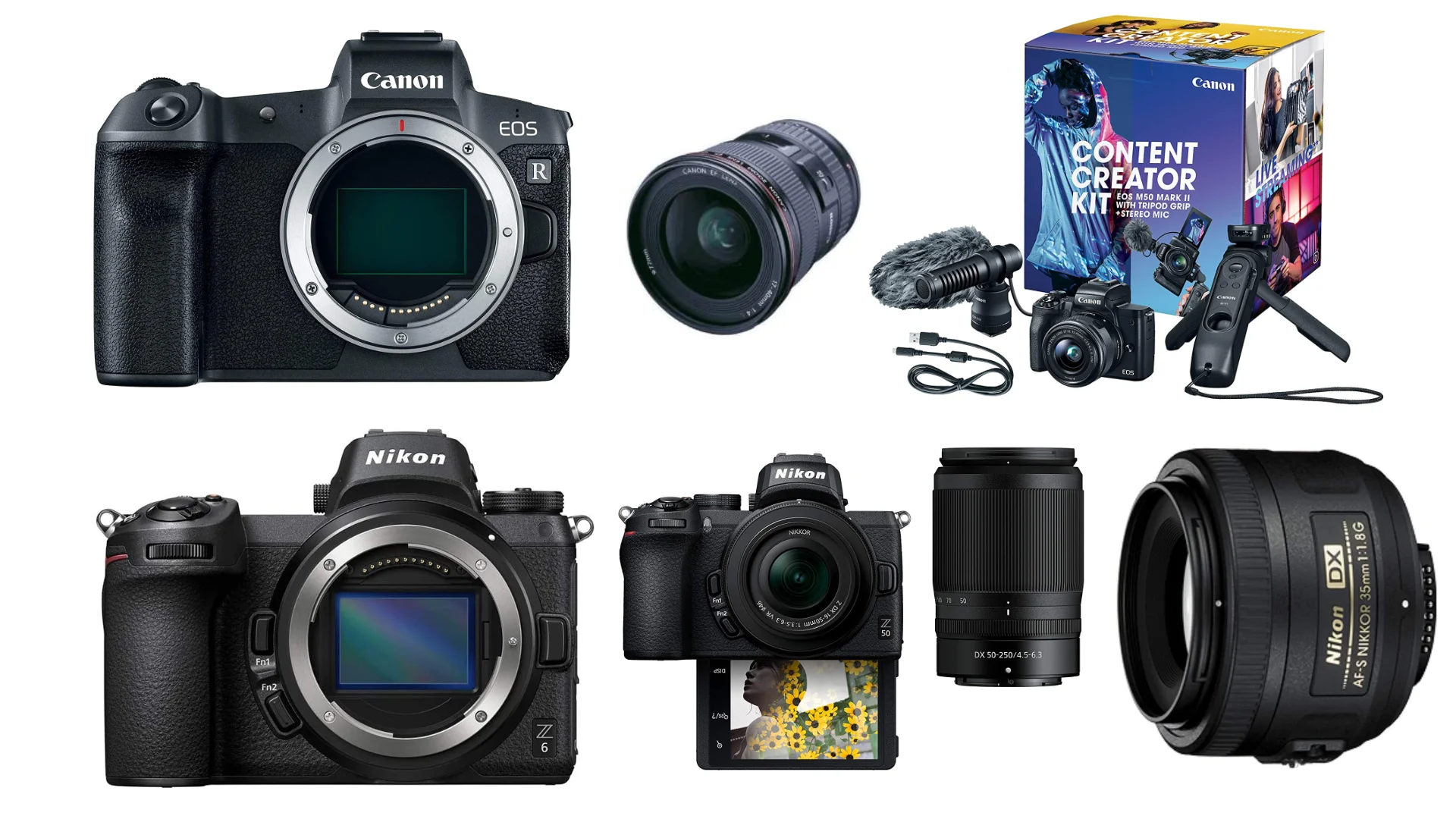 Item
Price (Discount)
Link
Photo orientated
Fujifilm X-E3 Mirrorless Digital Camera, Silver (Body Only)
$560 (20% off)
Amazon USA
Fujifilm Instax Mini 40 Instant Camera
$90
Amzon USA
Canon R
$1599 (11% off)
Amazon USA
Canon EF 17-40mm f/4 USM
$499 (38% off)
Amazon USA
Canon M50 content creator kit
$799 (11% off)
Amazon USA
Nikon Z6
$1596 (20% off)
Amazon USA
Nikon Z50 Kit
~ $1,196 (11% off)
Amazon USA
Nikon AF-S DX 35mm f/1.8
$178 (12% off)
Amazon USA
Sony α7 iii body
$1,798 (10% off)
Amazon USA
Sony SEL2470GM E-Mount Camera Lens
$1,798 (22% off)
Amazon USA
Polaroid 600 Camera - Vintage 90s Close Up Express
$116.55 (10% off)
Amazon USA
Video orientated
GoPro HERO8
$275
Amazon USA
GoPro HERO9
$350 (13% off)
Amazon USA
Binoculars
Nikon PROSTAFF 3S 8x42
$96 (19% off)
Amazon USA
Accessories
18" Ring Light with Tripod
$76.50 (30% off)
Amazon USA
Nikon PROSTAFF 3S 8x42
$97 (19% off)
Amazon USA
EMART Green Screen, Collapsible Chroma Key Panel
$123 (24% off)
Amazon USA
Other Gadgets
Item
Price (Discount)
Link
Printers
Brother Laser Printer
$150 (19% off)
Amazon USA
Epson EcoTank All-in-one
$362 (9%)/td>
Amazon USA
Software
Norton 360 Platinum
$35 (73% off)
Amazon USA
Just Dance 2022 (Nitendo Switch)
$30 (40% off)
Amazon USA
Far Cry 6 Xbox Series X|S, Xbox One
$40 (33% off)
Amazon USA
Adobe Photoshop Elements 2022 | PC/Mac Disc
$60 (40% off)
Amazon USA
Streaming
NexiGo 1080p WebCam
$46 (17% off)
Amazon USA
Blue Yeti Nano Premium Condenser USB Microphone
$80 (20% off)
Amazon USA
Shure MV5 Digital Condenser Microphone
$89 (28% off)
Amazon USA
Shure MV7X XLR Podcast Microphone
$149 (Get $100 if you are approved for Amazon Rewards Visa)
Amazon USA
Networking
NETGEAR WiFi Mesh Range Extender EX6250
$70 (42% off)
Amazon USA
Google Nest Wifi - AC2200 - Mesh WiFi System - 2 Pack
$209 (30% off)
Amazon USA
TPLink Desktop Switch
$13.49 (33% off)
Head to Amazon to get the deal
NetGear Desktop Switch 5 ports
$15.99 (30% off)
Amazon USA
TP-Link Wi-Fi 6 router
$75 (25% off)
Amazon USA
TP-Link 24-port Gigabit Ethernet Switch
$77
Amazon USA
TP-Link Litewave 5 Port Gigabit Switch
$12 (29% off)
Amazon USA
TP-Link AC1200 WiFi Extender
$30 (41% off)
Amazon USA
External Storage
Samsung Portable SSD 2TB
$250 (24% off)
Amazon USA
ScanDisk 32GB USB 2.0 Flash Drive
$13.35
Amazon USA
ScanDisk 4TB External SSD
$750 (17% off)
Amazon USA
SanDisk 2TB Extreme Portable SSD
$185 (60% off)
Amazon USA
Furniture
ErGear Dual Monitor Stand Mount
$85 (35% off)
Amazon USA
Home Audio
Echo (4th Gen)
$60 (40% off)
Amazon USA
Sony SSCS5 3-Way 3-Driver Bookshelf Speaker (Pair)
$88 (48% off)
Amazon USA
Polk Audio T15 100 Watt Home Theater Bookshelf Speakers
$69 (30% off)
Amazon USA
Others
Reolink Home Security Camera w/ 8 cameras
$559 (30% off)
Amazon USA
LE LED Camping Lantern, Battery Powered LED with 1000LM
$16.79
Amazon USA
Google Nest Thermostat
$99 (23% off)
Amazon USA
AKAI Professional LPK25 - USB MIDI Keyboard controller
$49 (17% off)
Amazon USA
Anker PowerConf Bluetooth Speakerphone
$81.50
Amazon USA
BaoFeng UV-82HP High Power Dual Band Radio
$48 (52% off)
Head to Amazon
BAOFENG BF-F8HP (UV-5R 3rd Gen) 8-Watt Dual Band Two-Way Radio
$48 (31% off)
Amazon USA
Macbook Pro Setup Guide: From Noob To Pro-Pro
With new MacBook Pro in your hand, everything in your horizon is available for your taking. Complete your MacBook Pro setup with these recommended accessories to complete your indispensable tool
Tags:
deals
,
black friday
,
apple
,
intel
,
android
,
buyers guide
,