Table of Contents
Healthy competition is always good for everyone because it brings the drive for people to be the best version of oneself. Intel is a dominant player in the microprocessor market. Dominance is so high that you basically get what Intel gives for a very high price. The smartphone revolution has changed that and with billions and billions of dollars of research went into making the most powerful hand computers ever known to man, we are now in the age where modified versions of mobile microprocessors can compete and beat out processors that are meant to be use on laptops and sometimes desktop.
Leading this charge is Apple who in the past decade has been constantly making the most powerful and efficient mobile processor on the market that is powering their best selling products: iPhones and iPads. Their derivatives also make billions of dollars for Apple such as the AirPods, Apple Watch, Apple TV and HomePods.
At WWDC 2020, Apple announced that they are moving away from Intel for their Macs and started to use their own solution called Apple Silicon, which is a scaled up version of the mobile processors. This document tracks the evolution of the Apple Silicon over time and compares it with contemporary mobile / desktop chips on the market, such as from Intel and AMD.
Apple Silicon Overview
Apple Silicon is Apple's scaled up version of microprocessor that used to run on mobile platforms like the iPad and iPhones which are now used to run all of their Macs. Apple Silicon was first announced in June 2020 during WWDC presentation and their first products were unveiled in a November 2020 event. The first Apple Silicon is called the M1 which was used in MacBook Air, MacBook Pro and Mac Mini.
However, as of October 2022, the only holdout is the Mac Pro which is a low volume workstation Mac that still runs on Intel's server-grade processor Xeon.
Intel Mobile Platform Overview
In personal computing, be it laptops or desktop, Intel is the microprocessor king. Despite having lost Apple as a major client, PCs are outselling Macs by a ratio of 9:1 and Intel has consistently outselling their major competitor AMD by a ratio of 2:1.
Intel's biggest misstep is not taking the smartphone revolution which at one point, Apple actually asked Intel to develop a chip for mobile phones. How things would change if Intel actually delivered.
Despite many of Intel's solutions shortcomings (the chips are power hungry, runs very hot), many still choose Intel and x86 platforms because many businesses still relies on Microsoft Windows and Linux. This is further boosted by game developers who choose Windows/Intel over Macs because of the bigger market share.
The Evolution
Year
Apple Silicon
Intel
Mid 2020

A12Z in Mac Mini DTK
First announcement of Macs moving to Apple Silicon
Introduces a Development Transition Kit. A Mac Mini with A12Z chip (that was used in 2020 iPad Pro) but running macOS. Not meant for production

Intel Core i9-10980HK
Top of the line mobile chip from Intel
8-cores hyperthreading, Intel UHD 630 graphics, 45W TDP
Up to 128 GB RAM support
Retails at $583

Late 2020

M1
First official Apple Silicon
First Macs to run Apple Silicon: Mac Mini, MacBook Pro and MacBook Air
4 performance cores, 4 efficiency cores, 16 neural cores, 8 graphic cores, 5nm, Apple Fabric

Tiger Lake Cores Introduced
Marketed at 11th Generation Intel Core. Based on Willow Cove microarchitecture
10nm SuperFin process
Intel Xe-LP Graphics
Image Processing Unit

Mid 2021

M1 Pro / M1 Max
First "professional" Apple Silicon
Updates the MacBook Pro
M1 Pro: 10 compute cores, 16 neural cores, 16 graphic cores
M1 Max: same like M1 Pro but has 32 graphic cores instead of 16 and extra Media Engine
Introduces Media Engine for hardware accelerate video encoder / decoder

Intel Core i9-11980HK released
11th generation top mobile processor
8-cores hyperthreading, Intel UHD Graphics, TDP from 45W to 65W
128GB RAM Support
Retails at $538

Early 2022

M1 Ultra
First desktop Apple Silicon
Appeared on Mac Studio
2x M1 Max linked via Ultra Fabric, so 20 compute cores, 32 neural cores, 64 graphic cores

Alder Lake Cores Launched
Introduces Performance and Efficiency Cores
Thread director to tell OS which cores to use
Introduce Xe integrated graphics
Built on Intel 7 (10nm Enhanced SuperFIN)
LPDDR5 memory support
ThunderBolt 4 and WiFi 6E support

Mid 2022

M2
First update on the M1
10 compute cores, 16 neural cores, 10 graphic cores
Still 5nm
Include Media Engine to process ProRes video files

Intel Core i9-12950HX
Top of the line mobile
First Intel chip with hybrid cores: 8 performance cores + 8 efficiency cores
Intel Xe Graphics
First to support DDR5 memory, memory support up to 128 GB
New manufacturing process: Intel 7
Variable power usage from 55W to 157W!!
Retails at $590

Early 2023

M2 Pro / M2 Max
Announced in mid-January 2023
2nd generation 5nm manufacturing process
40 billion transistors for M1 Pro and 67 billion for M2 Max
12 CPU cores (10 performance / 2 efficiency)
19 GPU cores for M2 Pro / 38 GPU cores for M2 Max
Faster 16-core Neural Engine
2nd generation 5nm manufacturing
32 GB memory support for M2 Pro, 96 GB memory support for M2 Max
8K Display support

Intel Core i9-13980HX
Announced during CES 2023 as the world's fastest mobile chip
16 performance cores + 8 efficiancy cores. running at 5.60 GHz (4.00 GHz for efficiency cores). 32 threads at the same time
Intel 7
128 GB memory support. Also supports DDR5
UHD graphics with 8K support
TDP: 55w upto 157w
Retails at $680

Mid 2023

M2 Ultra
Announced during WWDC '23
Two M2 Max chip connected together via UltraFusion bridge
24 CPU cores (20 performance / 4 efficiency)
76 GPU cores for M2 Ultra
32-core Neural Engine
192 GB memory support
8K display support. Can support up to six Apple Pro Display XDR (6K display)
Supports over 22 simultaneous 8K ProRes RAW stream
Performance Over Time
Intel refreshes their lineup every 12 months. Apple being a niche player in the personal computing space updates their entire line up every 18 months. So in generation, Intel generation on generation improvements is marginal while Apple has a bigger gap.
Apple has three main advantages over Intel:
Power Efficiency: Being designed as a mobile chipset, power efficiency is everything in Apple Silicon. Consumer chips like the M1 and M2 peaks at 10W and idle in single digits which enable Apple to create passively cooled laptops. Intel does have low wattage models in their line up but performance does not even hold a candle against Apple watt-for-watt.

Integrated Graphics: This also goes hand in hand with our third point. But lessons learned from their iPhone projects enables Apple to create a chip with power integrated graphics. Because of Intel's weak integrated graphics, Intel has to rely on 3rd party solutions like Nvidia and others, which results in overall higher system power usage

Ecosystem: Design philosophy is clearly different because of how both companies work. Intel is a chip merchant and while they do market study they tend to include the kitchen sink, so every instruction or feature imaginable would be there whether you use it or not. Apple on the other hand has total vertical control of the product so some features they don't want to support would not be in the chip itself. The Apple Silicon team has only 1 customer: the CEO of Apple.
While Apple has these features, let's not discount Intel just yet. They still have their advantages
Market Share: Right now, in personal computing and server space, the x86 still reigns supreme. This means that a lot of programs out there are still optimized for the x86 architecture. This is most prevalent in gaming titles. Gaming is a big business now where some AAA titles cost $100s of millions to produce. And the situation in Mac gaming is a catch-22: there's not much gaming titles because the market is small, the market is small because there's not many gaming titles.

Performance drive: Performance at all cost ensures that Intel chips will be championed by enthusiasts and business users alike. Yes, an Intel chip that is optimized will outperform an Apple Silicon chip in raw power. But that Intel machine will be more power hungry and bulkier, a fact that somehow does not affect a majority of power users.

Business Focus: Apple is into a lot of things, but they are not a chip merchant. There are pluses and minuses in Apple's approach. Intel, on the other hand, is a full fledge chip merchant which entire business is selling microprocessors. Apple might have more engineers than Intel, but all of Intel engineers are focused on making microprocessors. One big differentor of Intel is the update cycle. For Apple to update from M1 to M2, Intel has released two generations of their flagship chip. Right now Apple might have the leg up into things, but in the future, who knows?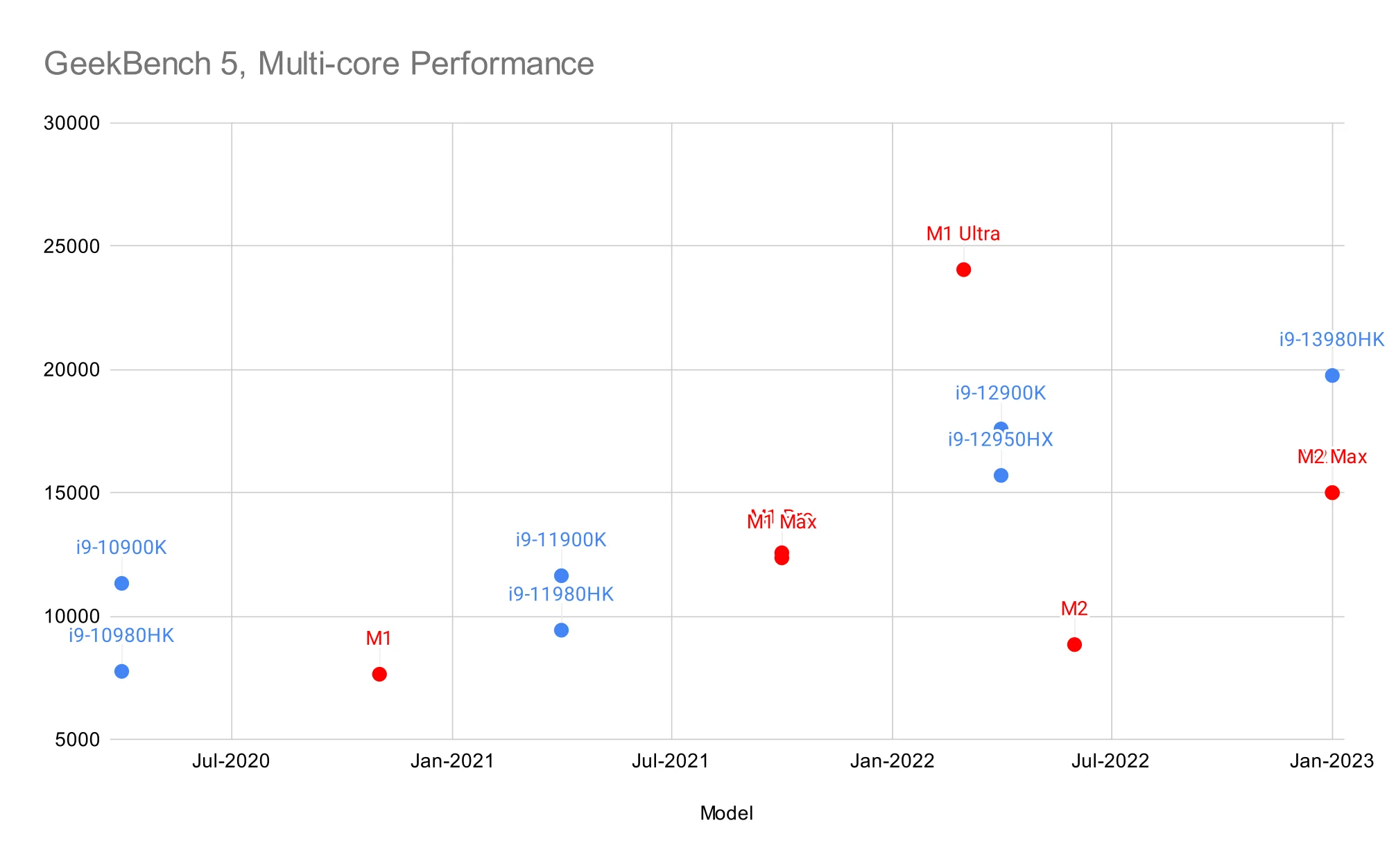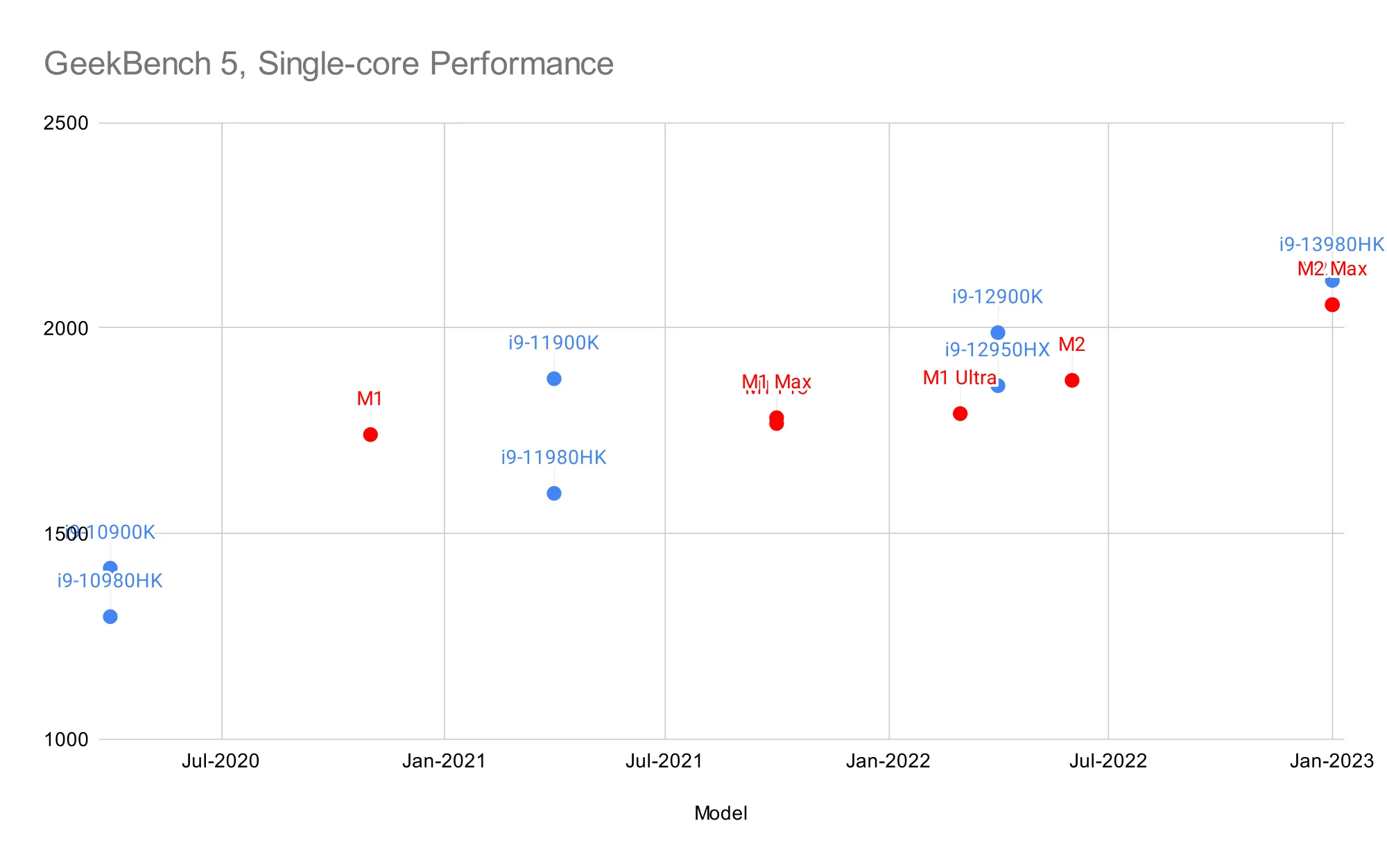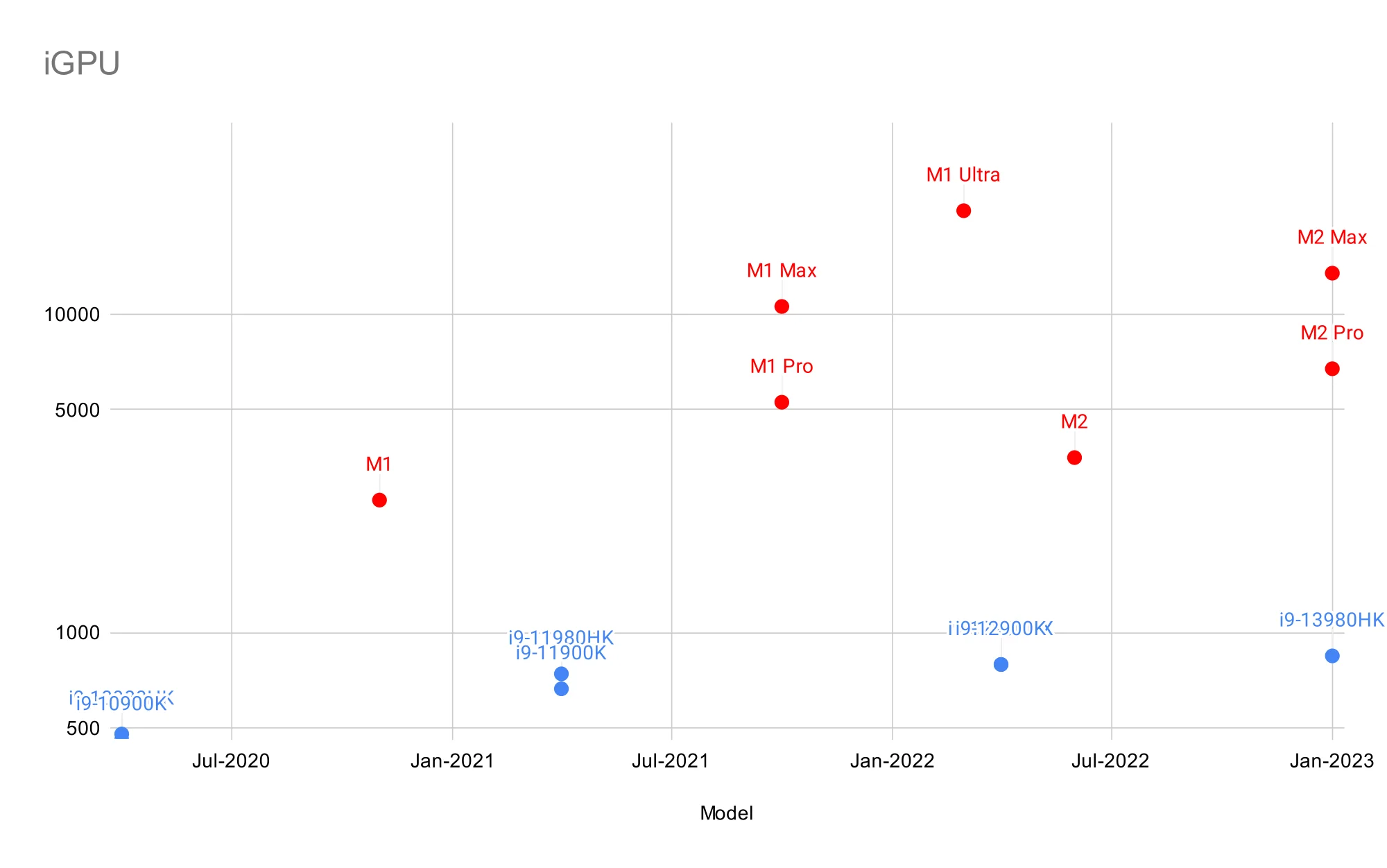 Conclusion
In terms of raw performance, Apple Silicon is surprisingly competitive and on occasion, can beat an established company like Intel. Ecosystem is also a great feature of Apple Silicon that will be Apple's trump card in the future.
Intel on the other hand, is a veteran player and does know how to fight when the competition and setbacks kicks in. AMD, Cyrix, x86-64, Itanium, Meltdown, Qualcomm, Apple and Samsung are issues and competition that Intel has to fight off over the years and so far, Intel does not seem to be on the verge of collapse. Being at the top of the game for so long takes skills and a little bit of luck.
Plug
Support this free website by visiting my Amazon affiliate links. Any purchase you make will give me a cut without any extra cost to you
Other Ecosystem Items
Online IDEs Compared
With everything going to the Internet, it will be just a matter of time before the tools to build the Internet will go the same way.
Tags:
appple silicon
,
m1
,
m1 pro
,
m1 max
,
m1 ultra
,
m2
,
intel
,
i9
,
comparison
,