Table of Contents
For the article on Apple M2 Pro / M2 Max against the latest Intel i9-13980HX, read here.
When Apple released the first Apple Silicon, the M1, way back in 2020, it caught Intel by surprise. Something that was meant to be entry level, and require no more power than a night light has beaten their top of the line laptop processor by a huge margin. Since then, Intel has gone back to work and pulled out all of the stops to ensure performance superiority, at all costs. And in January 2023, during CES 2023, Intel unveiled their latest creation: the 13th generation Core processor with the flagship i9-13980HX which Intel claims to be the most powerful mobile processor in the world.
While the official product hasn't hit the streets yet at the time of writing, we take a look at their press junket and compare them to the base M2 from Apple and see how things went. Spoilers: Intel is more like the brute force Bane while the M2 is the smarter Batman.
Executive Summary:-

Intel announced the 13th generation Core processor at CES 2023
Intel claims that it is the most powerful mobile processor ever created
With 24-cores, 128GB memory support, Wi-Fi 6E with Double Connect, dual Thunderbolt 4 controllers, it a very capable chip.
Apple M2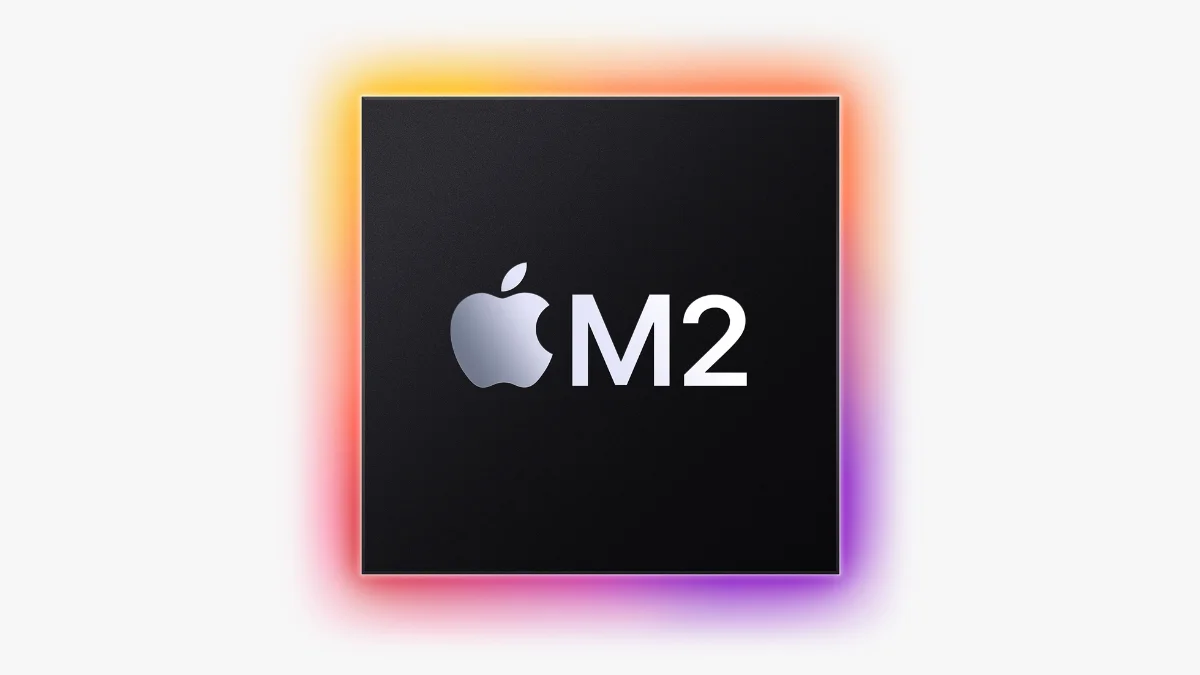 The M2 was released in the 2nd half of 2022 during WWDC '22 with the introduction of an all-new MacBook Air and repurposed 13" MacBook Pro. In summary, Apple found out what people liked about the first generation of Apple Silicon and applied what was learned into the 2nd generation of Apple Silicon starting with the M2 chip.
As an overview: the M2 is the continuation of Apple's tradition of designing everything in-house and putting all together in a single package: compute, graphics, I/O, memory controller, storage controller and now custom engines are put in a single chip, also known as System on Chip (SOC). But the M2 is an improvement over the already powerful and good M1: more compute cores, more capable graphic cores, new Media Engine to handle ProRes files and slight bump in clock speed (which in typical Apple fashion is not disclosed).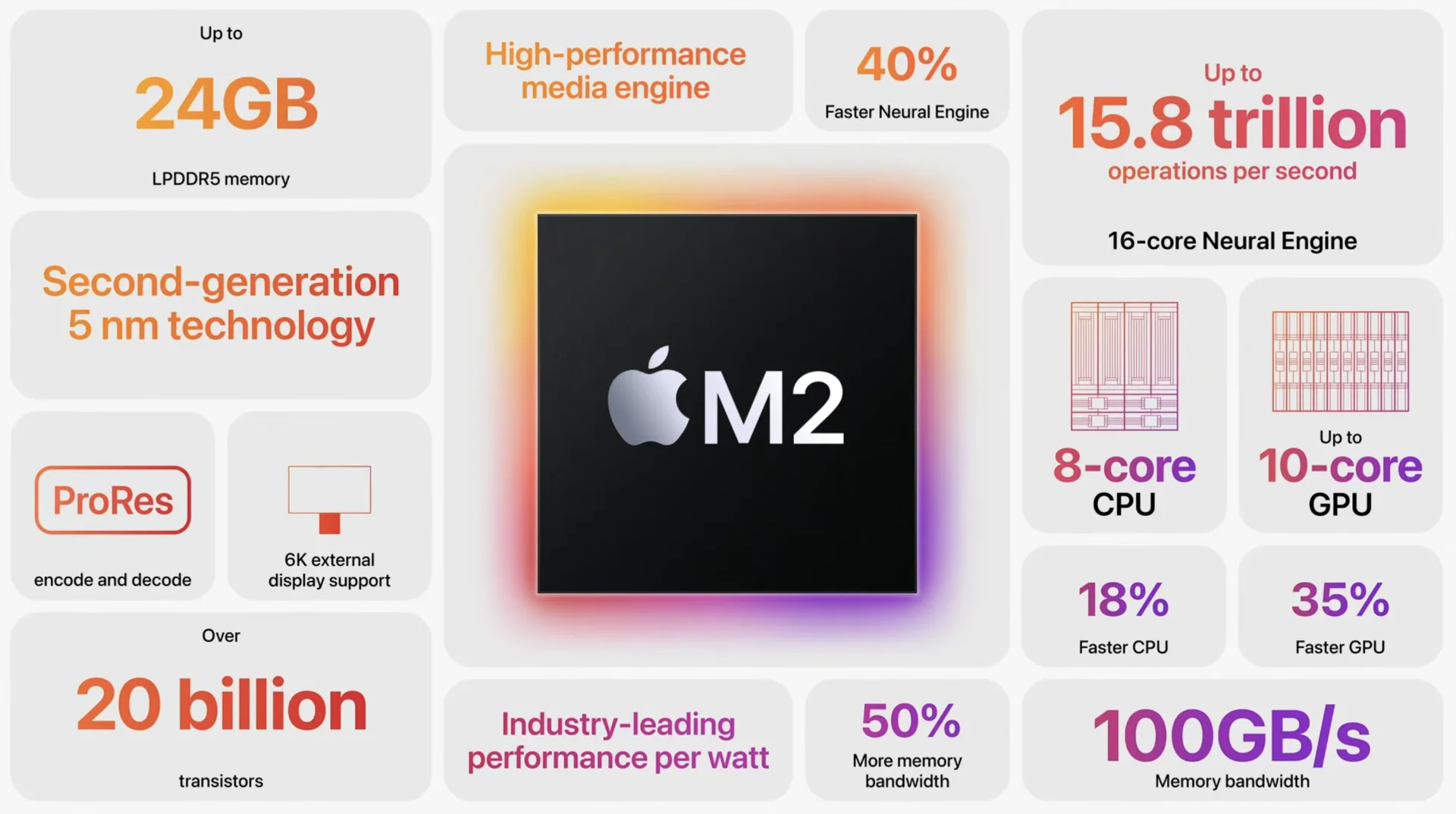 The real magic is all that performance is packed into something that runs on 10W of electricity (a bright LED lightbulb) so Apple can make something unique: a fanless ultra compact laptop that can do 4K video editing and stay on battery power for the whole day, something their Intel based competitors still have no answer to.
Intel Core i9-13th generation
Since Intel was humiliated by Apple in 2020, Intel has stepped up their game to be the king of performance - by any means necessary.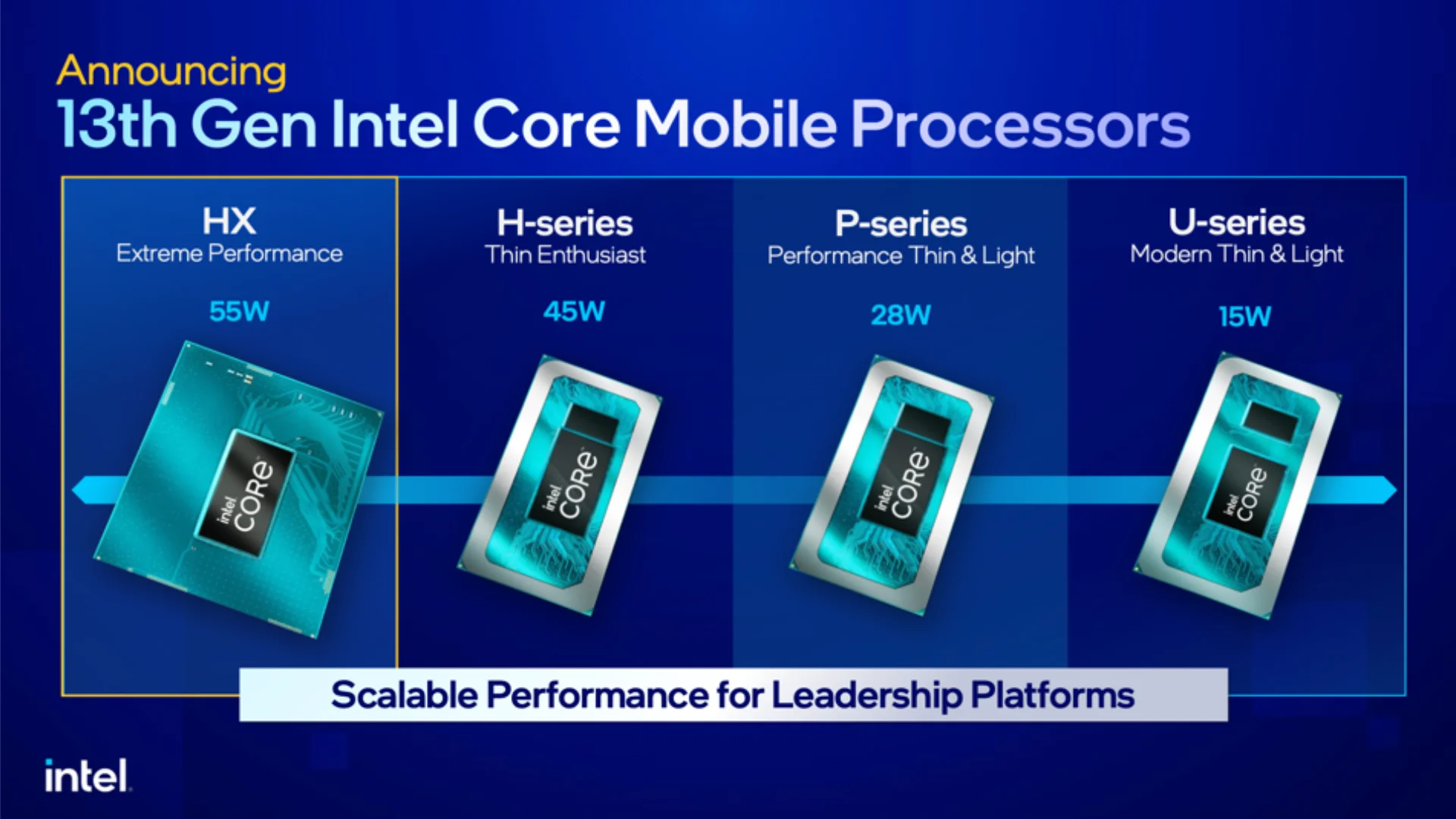 Chip line up:… Traditionally, Intel has a mix of chips based on performance levels and features, since generation 12, Intel has introduced a new variant: the HX-series, where performance levels are in the extreme. Before this, there's the U-series where it is the "common" spec, the P-series is the mid-tier performance and the H-series is the high performance chip. The HX-series is basically everything turned up to 11.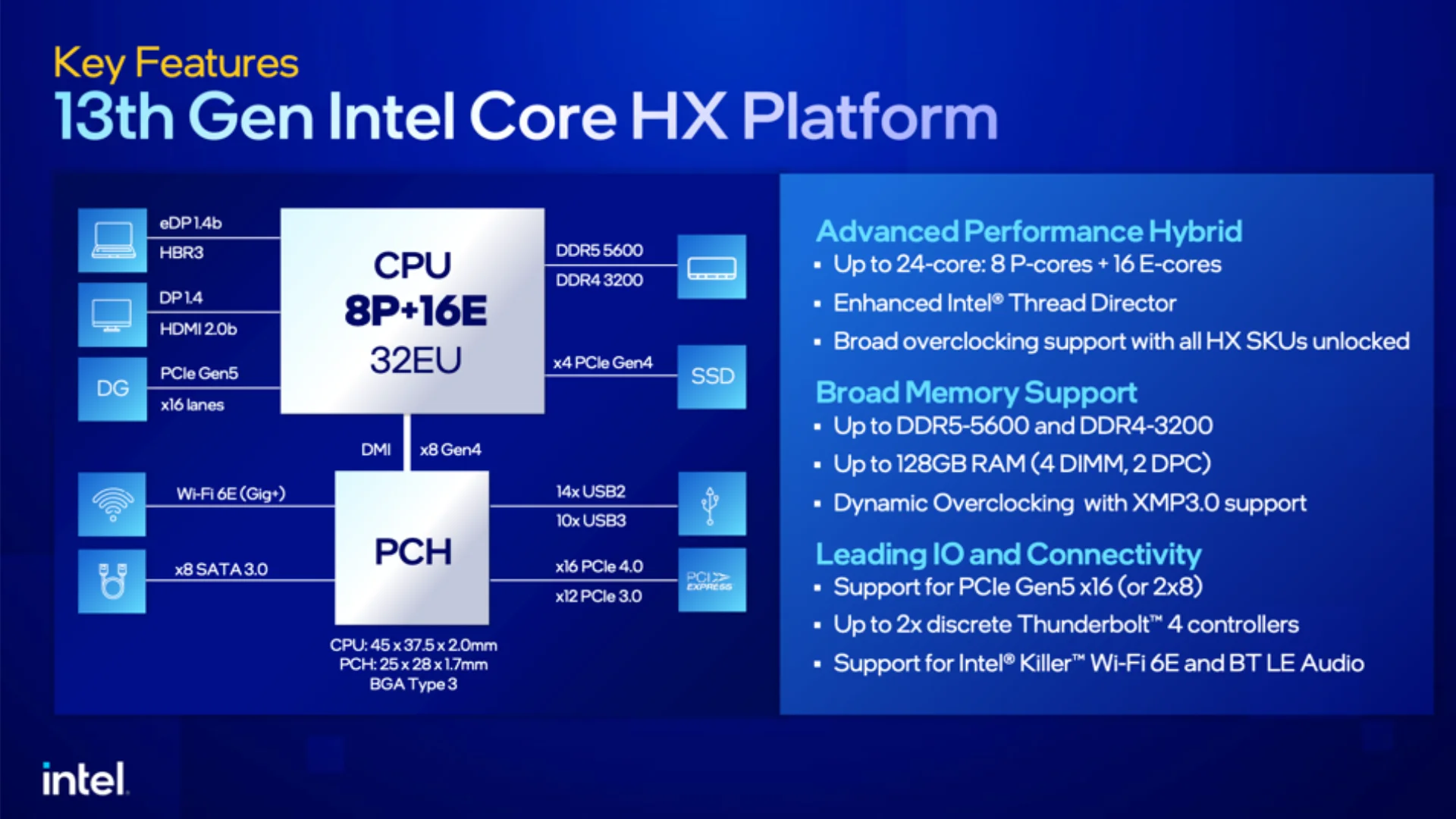 Multiple types of cores: … Since the 12th generation, Intel has introduced hybrid cores: a mix of performance and efficiency cores that are typically seen in mobile chips which Apple capitalize on their M1 chip. Now, the i9-13580HX has cores galore: 16-performance cores and 8-efficiency cores. Combined, they can run 32 threads at the same time. Intel also introduced Thread Director so the Operating System can assign the appropriate job to the appropriate cores.
Runs fast:… In base more, the efficiency cores run at 1.6GHz while the performance cores run at 2.2 GHz. In Turbo mode, aka beast mode, the efficiency cores bump to 4.0 GHz and the performance cores run at mind-blowing 5.6 GHz. When Intel for years has been struggling to move past 5 GHz clock speed, we are now back in the clock speed wars with the expectation of a 6 GHz processor on the horizon.
Runs hot:… Unlike Apple's approach which is to have maximum performance on a very limited power budget, Intel is happy to get performance at any power budget. The result is a chip that needs 55W just to run it and can suck up to 157W (!!) in beast mode. Considering the maximum battery size allowed on laptops is 100Wh, I doubt you can have full power on battery mode for more than 1 hour.
Graphics still left to be desired: … While Apple makes their graphic cores in house and is considered one of the most powerful integrated graphic cores around, Intel still makes dismal graphic cores and relies on Nvidia / AMD to do the graphic heavy lifting. The fact in their own press junket they didn't show any performance figure shows how Intel's integrated graphic cores do.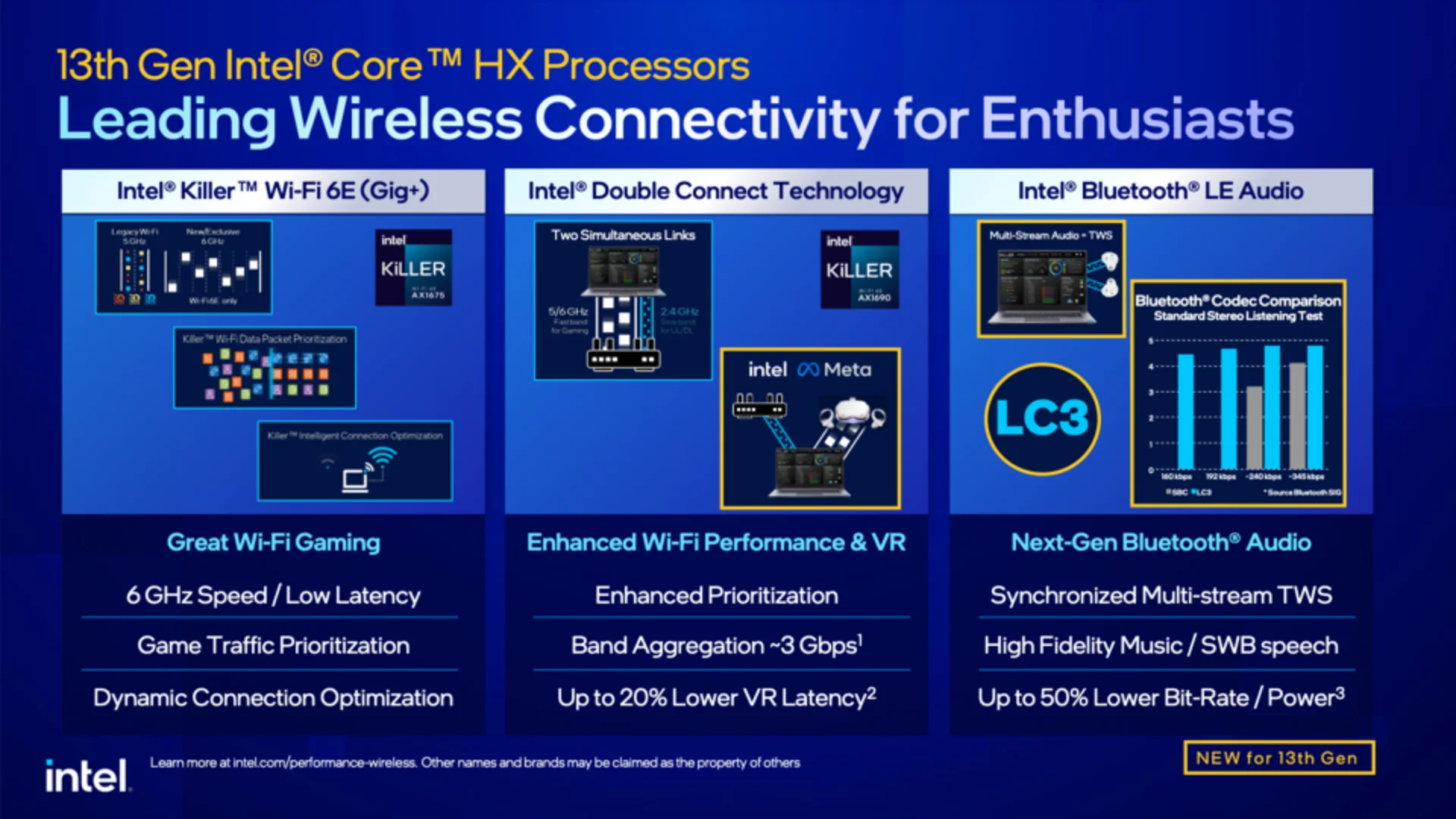 Specialized features: … Intel also showed some specialized features that the new Core 13th Generation features. Intel Killer™ Wi-Fi 6E (actual marketing name) shows support for Wi-Fi 6E which runs on the 6 GHz band, Double Connect Technology which allows to use dual Wi-Fi bands at the same time, herby increasing performance and Bluetooth LE (Low Energy) Audio, the industry standard which allows high performance audio connection at low energy cost.
Performance
While there are new gaming laptops from Razer (Blade 16 and Blade 18) and others that feature Intel's 13th generation Core i9 chips, at press time none of those are actually on store shelves yet, so performance figures right now have to be taken with whatever Intel is saying at the moment.
For single core performance, Intel claims a 11% performance improvement over the Apple M2 chip. Remember, Apple's chip runs at around 10 watts and most models that carry the chip do not have any fans to cool the chip.
For multi-core performance, which is more important for heavy duty tasks like gaming and video editing, Intel claims that the i9-13980HX has a 49% performance advantage over the Apple M1 Max, Apple's most powerful laptop chip. Considering that Apple's M1 Max has only 10 compute cores instead of Intel's 24 cores (16 of them are performance cores), one would expect Intel's lead to be in the 70 to 80% range.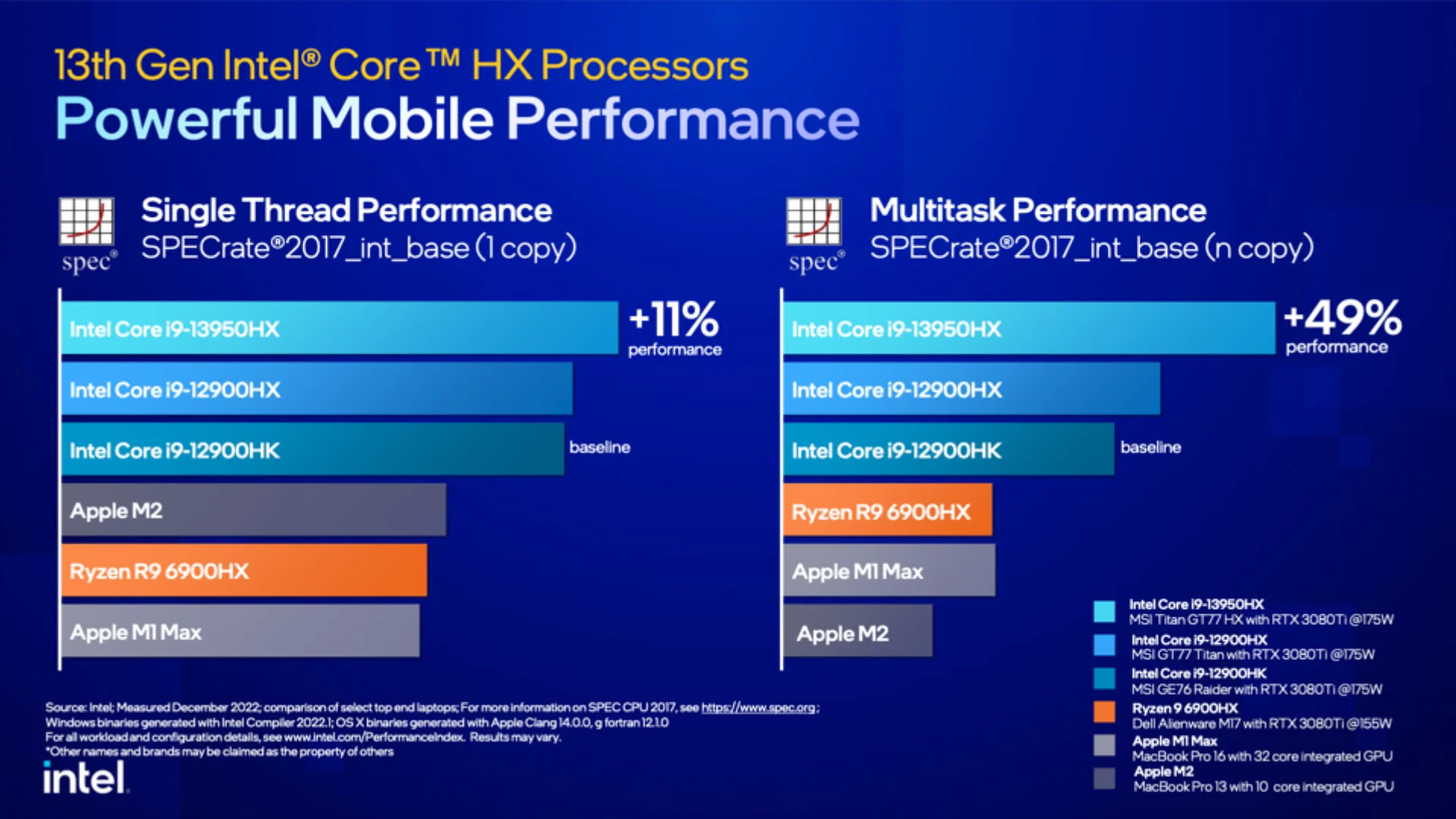 Another caveat to consider is that Intel uses Crossmark instead of the more popular benchmark. I guess we have to wait until we see the new Intel in the wild to do a proper benchmarking.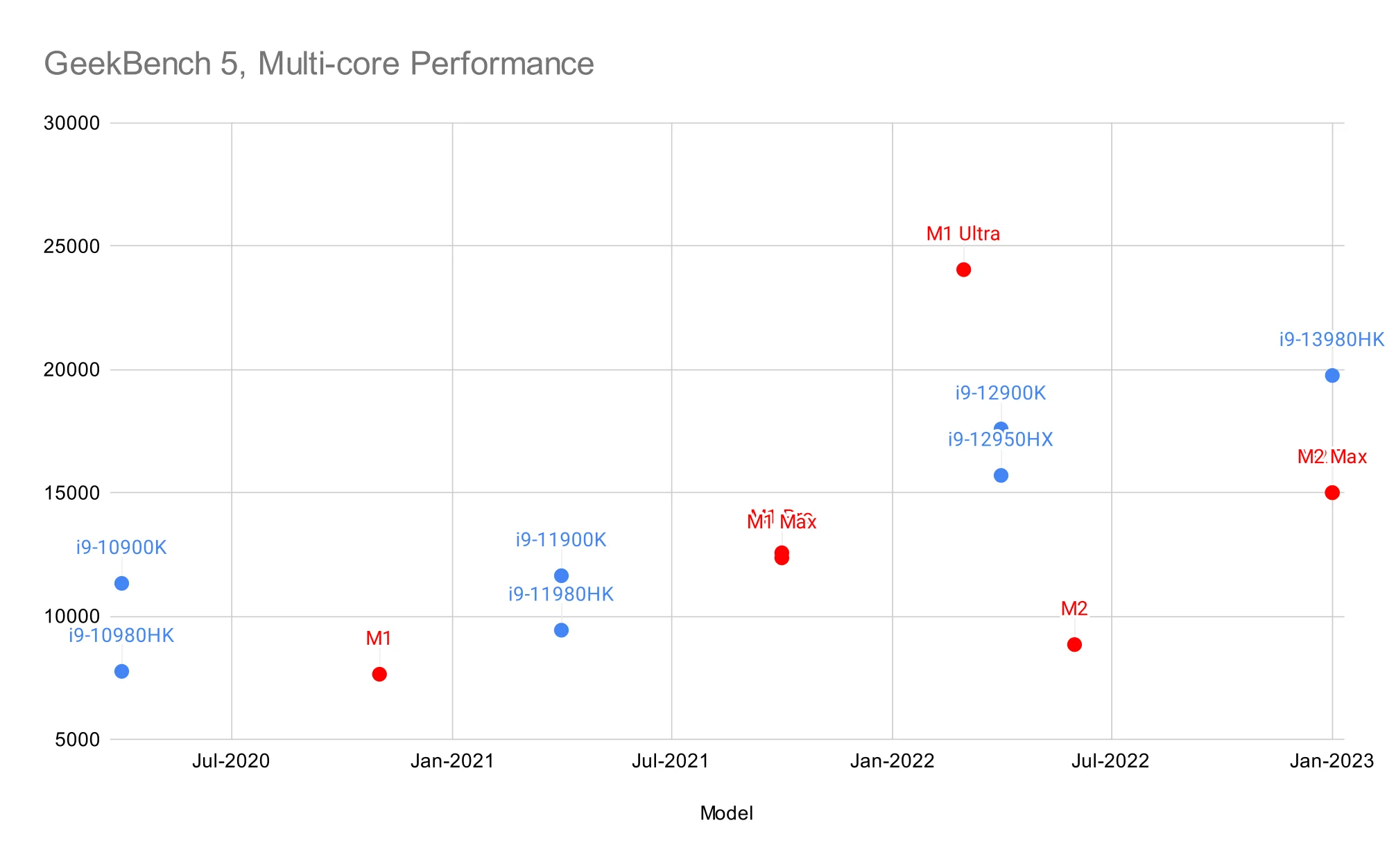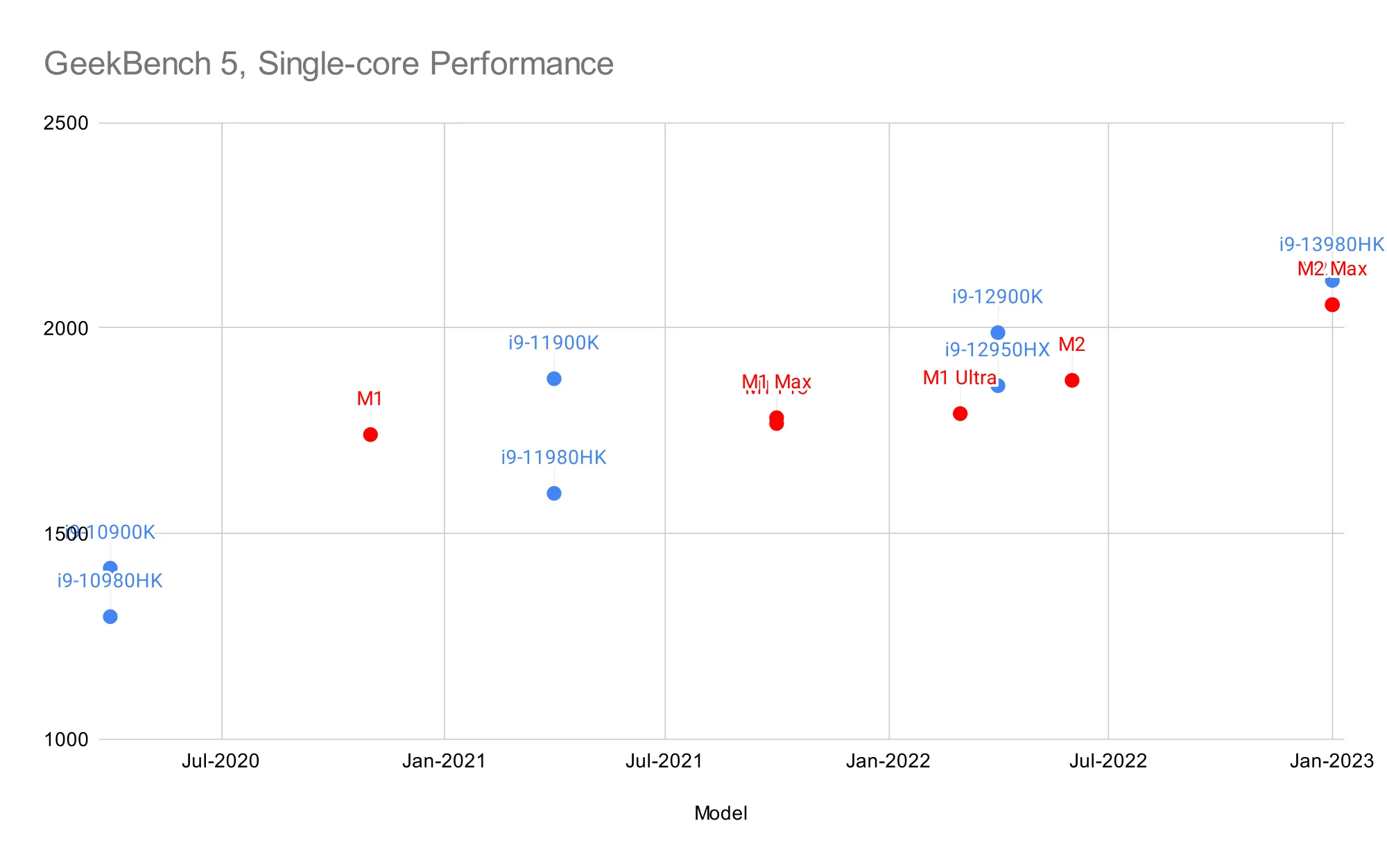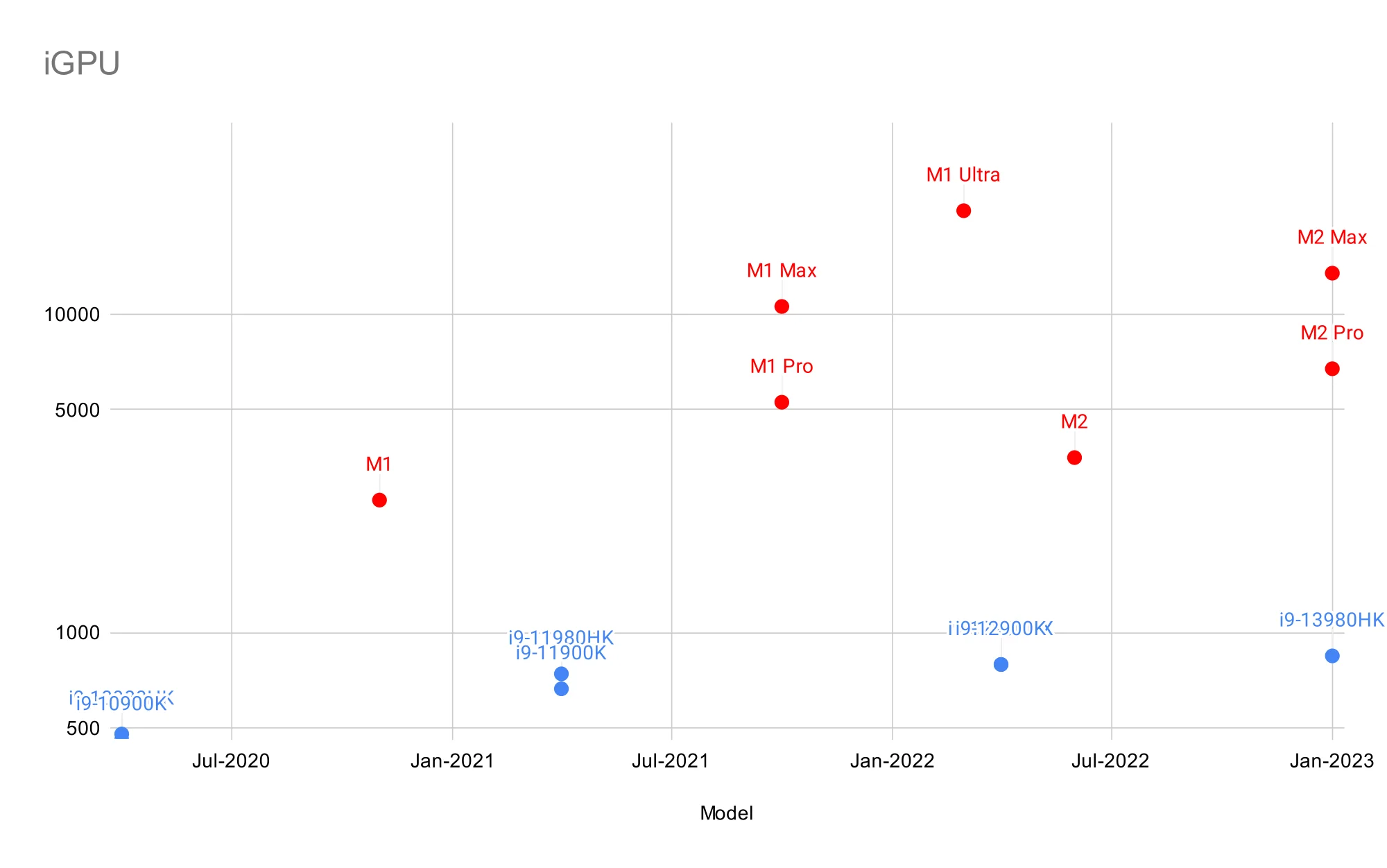 Conclusion
The interesting thing when you have competition in the market is not only the vibrancy of things, but the differences in approach of each player trying to solve the same problem. Apple set hard boundaries in the power consumption and aim to get as much performance squeezed from said boundary. Intel on the other hand aims to get as much performance at any means whatsoever?
Which would be a better solution? It depends on the customer of course, afterall, in matters of taste, the customer is always right.
Plug
Support this free website by visiting my Amazon affiliate links. Any purchase you make will give me a cut without any extra cost to you
Prices are correct at time of publishing. Please get the final price at Amazon.
Tags:
apple
,
intel
,
i9
,
i9 13th gen
,
m2
,
apple silicon
,