Table of Contents
Update: We also make a comparison between Intel's latest Alder Lake CPU against the M1-series, from base to M1 Max. Read about it here
The M1 chip, the first Apple Silicon, was released in November 2020 with much fan fare. It immediately blow people minds away as it is not only have lower power consumption, but higher performance than a lot of more expensive and more powerful chips offered by their competitors. What's surprising is that the chip that was designed to be put in a fan-less laptop can compete with a desktop chip that is geared for gaming.
Intel for the past few years has been falling behind. Fallen enough that the competitor has catch up and in some ways, beat them in a lot of metric from pricing to performance. Technology is never static and there's always something new coming out of tech companies every week and Intel is no difference. Intel has finally launched the anticipated 11th Generation Core i9, Intel's top of the line desktop consumer CPU with integrated graphics.
We will be comparing a $600 CPU against a $600 system. Yes, this comparison is whacky by definition and it shows that how close Apple is to matching the performance in Intel's best CPU and since the M1 is the first of many CPUs to come, we only seen the weakest M-series chip from Cupertino. Do remember that the M1 actually beaten the best 10th generation gaming CPU from Intel in single threaded performance.
11th Generation Core i9
The 11th generation Core featured a new architecture, code name Cypress Cove. The main headline feature is the new graphics core which promises to be 50% more powerful than the previous version. The new architecture also have better I/O performance, promising around 20GB USB 3.2 speed which is doubled than the previous generation, DMI 3.0 x8 link and Thunderbolt 4 support. The newer graphic cores can also support an 8K display, which will pave way for 8K gaming for the future. Deep Learning Boost which helps in machine learning workloads and other image and video accelerators is also featured in the CPU.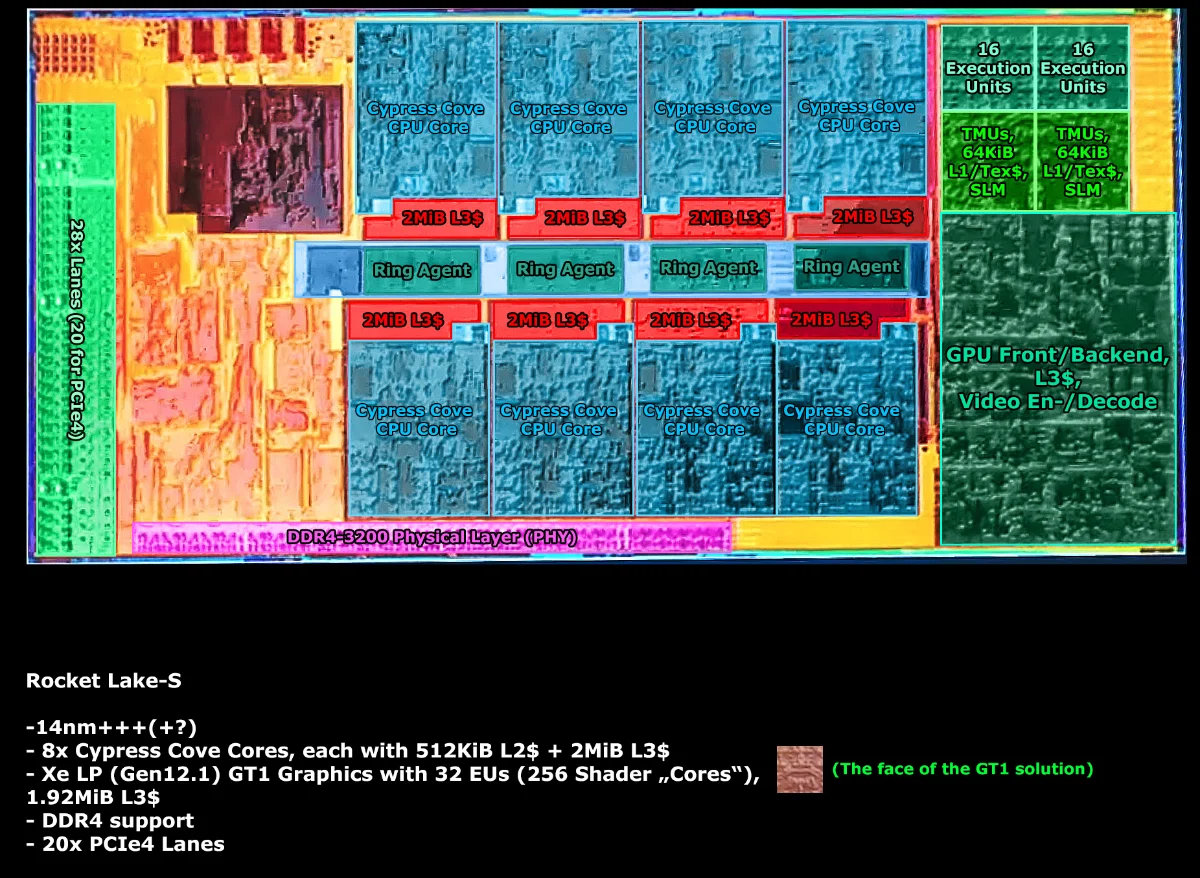 For the new top of the line i9-11900K, the core count has been reduced from 10 cores to 8 cores. Intel said that it compensate their overall performance by increasing the per-core performance compared to the previous generation. TurboBoost Speed has risen to a stratospheric 5.3 GHz. Adaptive Boost technology makes its debut on this 11th Generation Core processor. This technology allows Intel cores to run faster and hotter on multiple cores (upto 5.1 GHz on multiple cores) depending on the power and thermal budget available. So theoretically, better cooling system allows better performance in your build.
The i9-11900K is catered for enthusiasts and gamers, so the CPU can be overclocked. With TDP up to 125 watts, there is more room to grow with good cooling solutions. enthusiasts tricks to overclocking includes better thermal paste, better cooling heat sink (some are water cooled) and higher voltage to the processor.
Apple M1
Apple released their first line of Mac chips, dubbed Apple Silicon as the M1 for the lowest entry-level machines. It is both to showcase the lower limit of what Apple can do and as a preview of what's in store when Apple started to update their mid-tier and high-end products later down the road.
The M1 follows the architecture of their A-series processor that they have been building since 2010 but redesigned to fit in their laptop and desktop environment. Like their A-series counterpart, the M-series, beginning with the M1, are System-On-Chip or SOC design. Everything, the CPU, graphics and I/O and Memory controller are inside a single chip. Apple also added a Neural Core to handle Machine learning tasks like what they do in computational photography.
The M-series chip focus on efficiency first and optimization to achieve their desired performance goals. The tight integration of software and hardware, which Apple now controls from top to bottom results in a chip that is both energy efficient and high performing. Unlike Intel, which is a chip merchant, Apple does not disclose any information on the M1 other than general specifications. Apple prefers to show it results in software benchmarks and overall usage experience instead.
The M1 is build on a 5nm process. The M1 has 8-core in two configurations which is called Fire and Ice cores. There's 4 high-performance cores and 4 high-efficiency cores. There's 16-core graphic processor and with a Neural Engine for ML tasks. All this is glued together with I/O circuits called Apple Fabric which handles memory, external I/O and access to storage and secure enclave.
In contrast with Intel, details of the M1 chip is scarce outside of marketing literature. Apple does not even advertise their CPU speed but it is detected to be at 3.2 GHz for the high-performance cores. Details about using the neural engine for 3rd party ML libraries like TensorFlow is very basic.
Performance Comparison
There are several things to note to ensure you, the reader, will have an informed view of what is going on. Both of them are completely different chips, not only in architectural terms, but also in usage scenario. The M1 is Apple entry level SOC to provide the cheapest solution with the highest possible performance at a given price point. It also Apple's test bed to test compatibility as they move architecture from Intel to their own Apple Silicon in the open market. The Intel Core i9-11900K is the enthusiasts chip targeted towards gamers or high end users that willing to spend around $3,000 and upwards for the ultimate gaming experience or need a dedicated video editing station. The i9-11900K also expected to be run on a desktop computer which power efficiency is not a concern and also expected to be run together with discreet GPU to give the best graphical performance.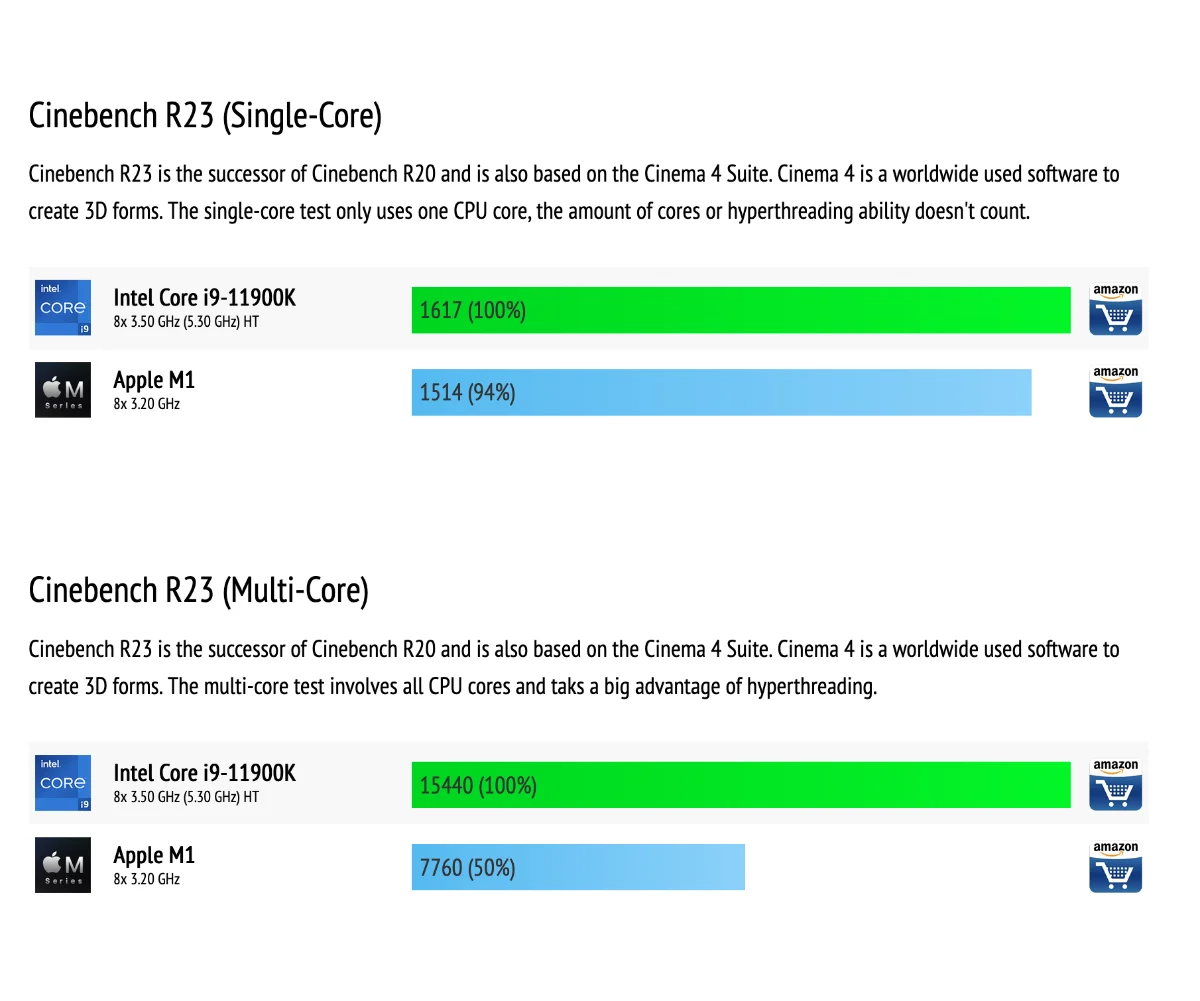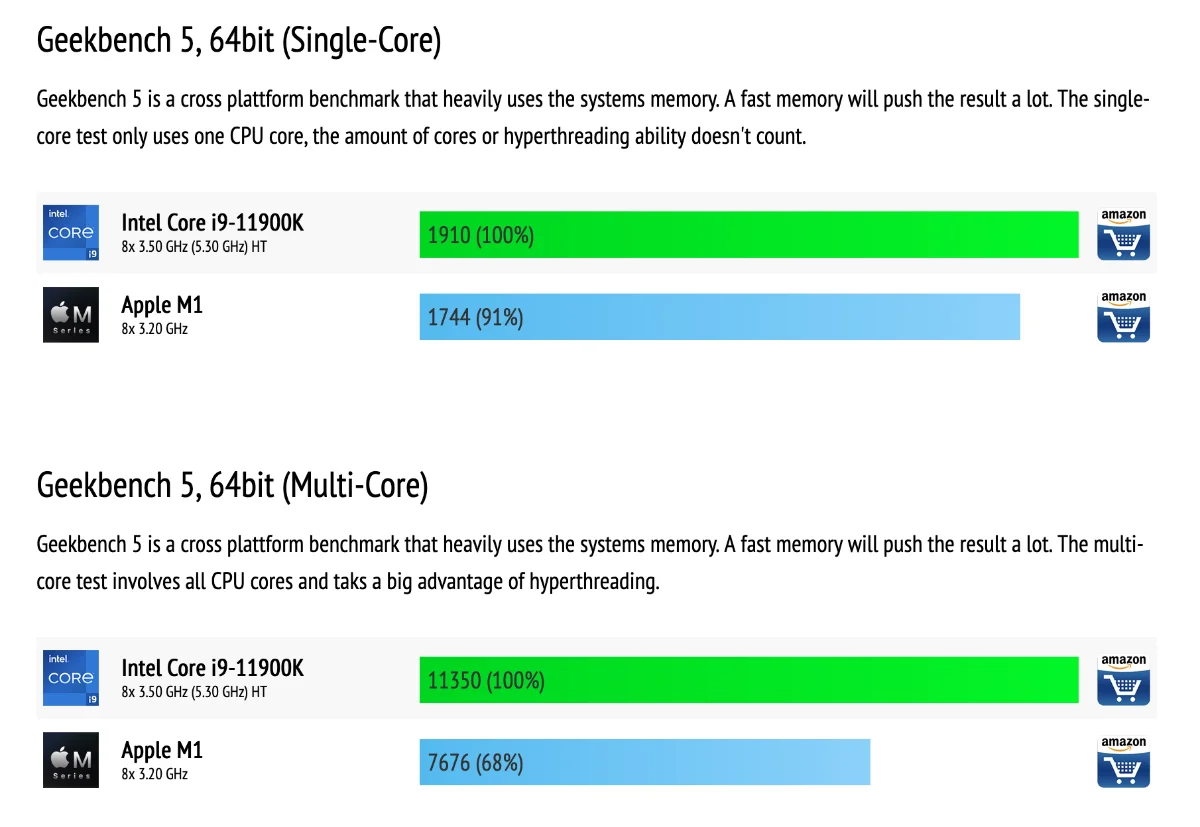 That being said, it is quite impressive that how a chip that is designed for a $600 system perform so closely against a $600 desktop chip on a single threaded performance especially on GeekBench and CineBench. The M1 basically handed i9 butt in the internal graphics comparison despite the i9 has a brand new redesigned graphic cores. But there's a caveat on this, the i9 is expected to be put in a system with discreet graphic card(s) so maybe the emphasis during i9 development is not so much on the graphics. But then, the single threaded performance is still astounding for a "cheap" low-power chip. Yes, the Core i9 does beat the M1, but remember how much performance you get from the amount that you spent both in terms of money and power.

Conclusion and Future
The Core i9-11900K is Intel's show of force to tell the world that they are the market leader and the bleeding edge on CPU design and manufacturing. In this case, yes, Intel has been able to beat the competitors … for now. Intel is no longer the king of the hill but is now in a long distance race. It no longer has the decisive win it held a decade ago. Now it is still in the front, but others are behind Intel and looked fresher and younger. Intel will still have a lot to do to stay in the front.
The M1 is not just Apple first chip. It is a promise of the future. Not only for the future of Apple, but future of computing as well. Before the iPhone comes out, Blackberry and Nokia was the king of the hill and phone designs was around them. Today, almost all smartphones are basically big slabs of glass which Apple pioneered. In the M1, this is the first ARM chip that is good enough for desktop computing. Qualcomm is joining the fray with Microsoft to bring ARM to desktop. The future might no longer be x86 instruction set but ARM instead. That's the promise of the future initiated by Apple.
Related
We also compare the M1 performance against Intel's x86 cousin, the AMD Ryzen 9:-
Plug
Support this free website by visiting my Amazon affiliate links. Any purchase you make will give me a cut without any extra cost to you
Accessories:-
Wireless earphones / headphones:-
Buyer's Guide:-
Resources
WWDC 2023 Prediction & Recap
Based on pre-event announcements and what the rumors are saying, this year's World Wide Developers Conference could be the most groundbreaking yet from Apple.
Tags:
comparison
,
intel
,
m1
,
i9
,
apple
,