Table of Contents
This tracks Apple's major movement and announcements in 2023. To view Apple's movements in 2022, click here.
October
Apple has admitted that certain apps and software is causing iPhone 15 Pro to overheat as they are working on a fix - Apple
September
August
Apple has announce September event. Theme is Wonderlust. It is set at September 12, 10am Pacific Time. The amination reminds me of the tapestry in Apple TV+ Foundation series. - Arstechnica

Apple is reportedly bought the entire TSMC's production of 3nm chips. This should cover the production of upcoming A17 in iPhone Pro models, the next M3 SOC and derivatives - MacRumours

Apple release a video where 3D Pets, a company that specializing in making prosthetic for animals, uses the iPhone 14 TrueDepth sensor to create a 3D mapping of a the animal and in turn, create the prosthetic for that animal. The company was also highlighted by Youtuber MKBHD.

During the Lahaina wildfires, a family of five got trapped in a middle of it. With no cell signal and zero visibility because of the thick smoke, they manage to contact emergency services via Apple satellite SOS feature. With location given to the emergency services, they are eventually rescued.

My brother's girlfriend's cousin and his family were caught in their vehicle in Maui while the wildfires suddenly erupted around them.

No cell service, so Apple Emergency SOS was the only way they could get in contact with first responders. Literally saved their lives. pic.twitter.com/PpxNwTGOAf

— Michael J. Miraflor (@michaelmiraflor) August 10, 2023

Apple 3rd quarter results are in: $81.8b in revenue (down 1% yoy). Revenue from services is at all-time high at $21.2b with over 1 billion paid subscription. However, iPhones sales are down, partly because the iPhone 15 is expected to be unveiled in September. - Apple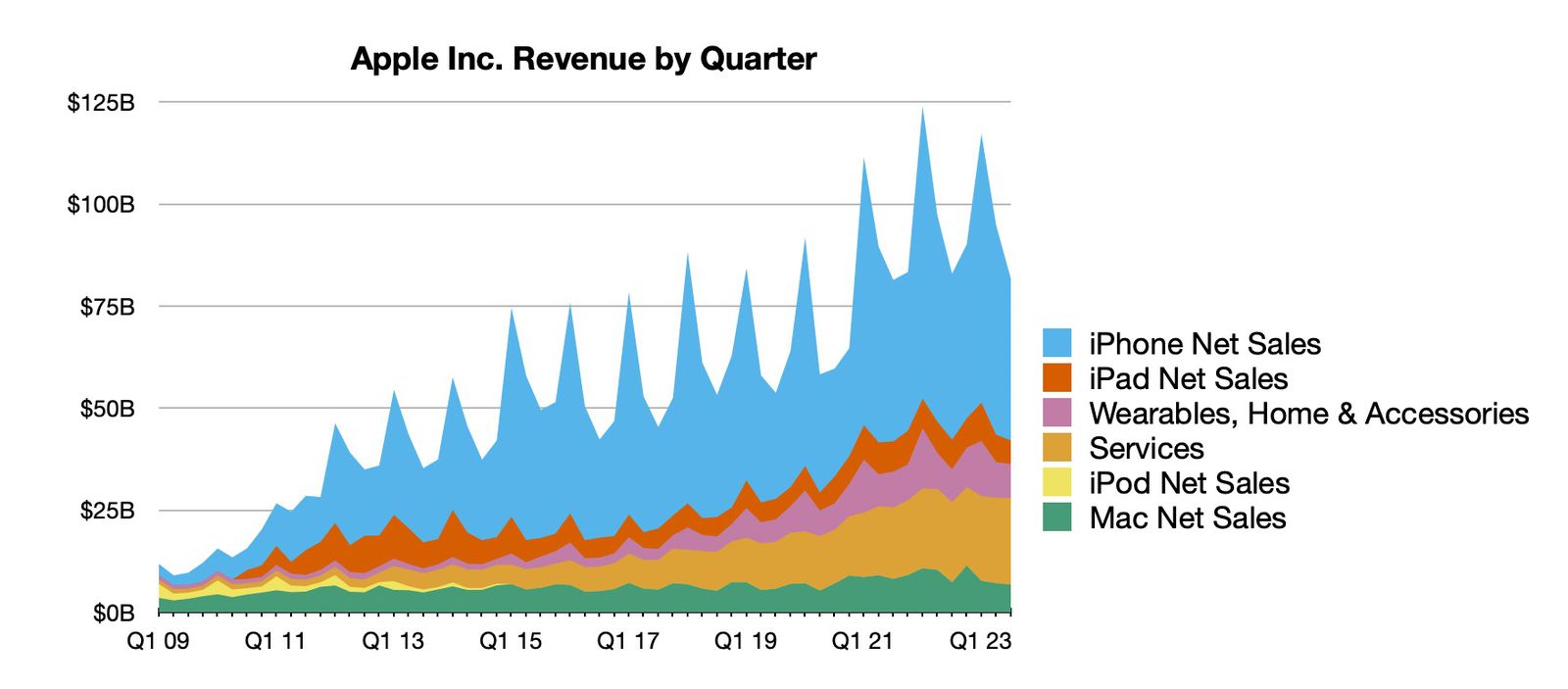 July
Apple Vision Pro is now available to developers that wishes to create new apps for the visionOS. Slots are limited - Apple


It is reported that Apple's Vision Pro labs is not drawing many attendees. - MacRumors

Unity - a popular 3D world engine that people use to make games - is rolling out their public beta version of their software that support visionOS - Arstechnica
Apple release a new ad 'Swiped' featuring 'The Underdogs' which talks about Apple security and services.
Apple TV+ received record 54 nominations across 13 Apple Original titles for the Emmy award. Those titles includes Ted Lasso, STILL: A Micheal J. Fox Movie, and Bad Sisters. - Apple

21 nominations. pic.twitter.com/5bYylgbIhB

— Apple TV (@AppleTV) July 12, 2023
June
May
More pre-WWDC 2023 announcements: Apple preview new accessibility features for the next version of macOS, iPadOS and iOS which includes Personal Voice: a feature that will allow you to create a voice that sounds like you in 15 minutes, in case you are in danger of losing your voice. - Apple


Apple announced the availablity of Final Cut Pro and Logic Pro for the iPad begining 23 May, around 2 weeks before WWDC 2023. The Logic Pro requires an iPad with A12 chip or later while Final Cut Pro requires M1 chip or later to run. The apps costs $7/month or $49/year (with 1 month free trial). - Apple




April
March
Apple announced that WWDC 2023 will be held at June 5, 2023 with online format during the week. Risking being speculative, the promo graphics does look like a fresnel lens that is usually used in VR headset - Apple


Apple Pay Later is now available in United States to allow users to split a purchase over four payments spread over six weeks. The feature is built right in the Wallet. For this feature to work, you will need the Apple Card. - Apple


For classical music lover, Apple launched Music Classical which give Apple One subscriber access to five million high-quality tracks - MacRumours
Apple released a slew of software updates

iOS 16.4 update - new emojis, Safari Web notification on iPhone and iPad, Focus support for web notifications. Support for Sony PS5 Edge DualSense Controller.
watchOS 9.4 update - AFib history tracking, cycle tracking is now supported in more countrires.
macOS Ventura 13.3 - Emojis and Bug fixes
HomePod 16.4 - stability and performance improvements

It is reported that Apple has previewed the Reality headset, which will be Apple new product in over a decade to their top 100 executives at the Steve Jobs theather. - Bloomberg
One of the founding fathers of Intel, the company that put the Silicon in Silicon Valley, Gordon E. Moore has died at 94. As with all tech titans, Tim Cook mourns the loss one of the own

The world lost a giant in Gordon Moore, who was one of Silicon Valley's founding fathers and a true visionary who helped pave the way for the technological revolution. All of us who followed owe him a debt of gratitude. May he rest in peace.

— Tim Cook (@tim_cook) March 25, 2023

After working since 2017, Apple finally got Apple Pay to work in South Korea. Apple faced regulatory challenges when they attempt to launch in 2017. - MacRumours
A report by Duke University stated that the Apple Watch could help treat vaso-occlusive crises (VOCs) or Sickle Cell disease symptoms. - MacRumours
With falling revenue, Apple expands hiring freeze and delay bonuses for some employees - MacRumours
It's Oscar season and Apple won one for best animated short film - The Boy, the Mole, the Fox and the Horse. The short film is available for streaming in Apple TV+. To date, Apple Original films, documentaries and series have earned 345 awards including Best Picture from Oscar for the film CODA. - Apple


Apple Cloud Chief steps down, replaced by Jeff Robbin, the creator of iTunes.

Jeff Robbin, known as the creator of iTunes and a longtime engineering VP, will be taking over the responsibilities of Apple's cloud chief. https://t.co/crtD1zF4Ug https://t.co/DLkshY5C7s

— Mark Gurman (@markgurman) March 3, 2023

Apple is closing Charlotte, North Carolina store after multiple incidents of shooting. - MacRumours
February
Mark Gruman of Bloomberg reports that Apple has secret moonshot programs within the company and is expected to be close to have a no-prick glucose sensor that is slated to be put in an Apple Watch - Bloomberg
DigiTimes reported that Apple has ordered TSMC entire 3nm production line to be use with the upcoming M3 and A18 chip that will be put into new baseline Macs and iPhone 15 Pro (or Ultra) - MacRumours
The New York Times reports that Apple Watch latest feature which can call emergency services if the watch thinks the wearer is in an accident has too many false alarms that might cause emergency dispatch to be desensitized or misplace limited resources - New York Times
Windows 11 is official supported on Apple Silicon by Microsoft through the latest update of Parallels, a Virtual Machine app that runs exclusively on macOS.

Microsoft is officially supporting Windows 11 on Apple M1 and M2 Macs. A new partnership with Parallels will allow Mac users to officially install Windows 11 as a VM. Details here: https://t.co/q7Ecz0PeLF

— Tom Warren (@tomwarren) February 16, 2023

Apple posted their first quarter results ending in 31-Dec-2023. Revenue is down 5 percent to $117.2 billion while net income is down to $30.0 billion. While product sales are down, Apple services increased to $20.8 billion. - Apple
With AI chatbot race is heating up with Microsoft integrating ChatGPT with their Bing search engine & Google showcasing Bard, Apple is expected to hold their annual AI summit (for employees only) this month at the Steve Jobs theater - 9to5Mac
Apple named its first ever Chief People Officer - Carol Surface

Apple is naming its first Chief People Officer - Carol Surface from Medtronic - and shifting over HR responsibilities from Deirdre O'Brien, its retail chief, CEO Tim Cook says in memo to employees. Surface starts at Apple in March and will report to Cook. https://t.co/GYga7eqIgN

— Mark Gurman (@markgurman) February 8, 2023

Apple is reported to test Apple Pay Later feature on their retail employees. It is reported this feature allow a purchase to be split into four installments over six weeks. - Bloomberg
YouTube channel neo publish a video about Apple's circle headquarters in Cupertino
Apple release a new film that is shot on iPhone 14 Pro. This film is 30 minutes long.
As Apple's VP of Industrial Design Evans Hankey departs Apple later this year, Apple decided not to look for a replacement. The core industrial design team that consist of around 20 or so people will report directly to COO Jeff Williams - Fast Company
January
Apple is sponsoring the Super Bowl LVII halftime show and featuring Rihanna as the star. To mark this occasion, Apple introduce exclusive content featuring Rihanna's music in Spatial Audio, exclusively on Apple Music. - Apple


Apple reportedly stop their development of their in-house Wi-Fi chip module. - Ming Chi Kuo @ Medium
Apple finally start to sell the Kensington Locking Kit for the Mac Studio. Pricing is at $65 - Apple Store


With a lower pricing, bigger screen, new temperature and humidity sensor, the HomePod is back
In a video event, Apple launched the M2 Pro and M2 Max chips, refreshed the Mac Mini and refreshed the MacBook Pro


The M2 Pro chip now has up to 12 CPU cores instead of 10, up to 19 GPU cores instead of 16 and supports up to 32 GB of memory
The M2 Max chip also has 12 CPU cores instead of 10, up to 38 GPU cores instead of 32 and supports up to whopping 64 GB of memory.


The Mac Mini now has M2 or M2 Pro chips with memory support up to 32 GB. Price for the base Mac Mini has dropped from $699 to $599. The M1 Pro version has 4 Thunderbolt 4 ports instead of 2 in the M2 version.


The MacBook Pro has M2 Pro or M2 Max chip, Mini-LED screens, matching MagSafe 3 cables, support up to 96 GB of memory and a battery life up to 22 hours streaming movies from Apple TV Plus.

For Martin Luther King day, Apple has updated their front page to dedicate the memory of Dr. Martin Luther King. Tim Cook also said a few words about MLK.

Dr. King said, "We must come to see that human progress never rolls in on the wheels of inevitability. It comes through the time and persistent work of dedicated individuals." Grateful to everyone carrying on the legacy of Dr. King and making a difference in their communities. pic.twitter.com/TKA0fniWVv

— Tim Cook (@tim_cook) January 16, 2023

Under his direction, Tim Cook, Apple's CEO agree to take a paycut from his annual salary of $84 million in 2022 to $49 million in 2023. Signs of times for Apple and the US economy - The Verge
Intel announced the Core i9-13980HX processor, which Intel claims the world's most powerful mobile processor - Intel
Wireless Power Consortium (WPC) has adapted Apple's MagSafe as the new Qi2 standard - MacRumours
Dark Sky, a weather app that Apple acquired in 2020 will cease to be in the App Store starting 1-Jan-2023. Apple has mainly implemented Dark Sky features in their own Weather app - MacRumours
Apple October Event Recap
'Unleashed' event come and went. Apple dropped a few heavyweight punches at Intel and Nvidia. We take stock of what Apple revealed and what did not make the cut
Online IDEs Compared
With everything going to the Internet, it will be just a matter of time before the tools to build the Internet will go the same way.
Tags:
Apple
,
chronicle
,
apple events
,