Table of Contents
One of the earliest ideas of the internet is having an information superhighway where the greatest commodity in the modern world, information, will be available at your fingertips. Of course, the internet has evolved vastly since we started making computers talk to each other in the 1960s and what started as a military secret, is now what is considered the ultimate fashion statement.
When one thinks of Apple, naturally people will think of Macs, iPhone and lately AirPods and Apple Watches. When one thinks of Google, naturally one would think of The Search Engine, the Android operating system and maybe Gmail. All are valid points. But there's a bigger hidden product behind these huge tech companies: the Ecosystem
Executive Summary:

From the earliest day of computing, engineers, programmers and scientists discovered that computers are far more useful when they are networked together
Companies has built networked computers since they figure out that computers can send and received messages from the outside world
Today, large behemoth tech companies like Apple and Google has successfully build entire ecosystem that basically helps every facet of our lives from waking us up with their alarms to sending videos as we prepare to go to sleep and basically everything in between
Arguably, Apple managed to start the ecosystem race by introducing the HandOff feature in WWDC 2014, but Google, being the tech wizard they are, managed to catch up and provide a top notch ecosystem itself
In broad strokes, each ecosystem has the same sort of functionality, but the devil are in the details
Both companies are basically on brand in their approach to the ecosystem problem with Apple prefer the top-down approach they control the entire technology stack and others can invite 3rd party vendors in while Google is the bottom-up approach they each of their Pixel devices in their line up is a technology demonstrator which 3rd party are expected to improve upon.
However, there are some standardizations like the Matter standard which both companies are adhering to in regards to Smart Home devices.
Background
It wasn't known when the exact date of the ecosystem if borned, but the concept was certainly not a new concept. Since people figure out how to make computers talk to each other and how useful they are when they are connected, people have imagined a network of computers with the main goal to be a service for mankind (and investors of course). In the film 2001: Space Odyssey which was released in 1968, the original writers envisions a future where we watch news on tablets, communicate with people through television sets in real time and ultimately have a computer which will help us with home automation. All these are happening today, except for the part where the home automation AI threatens the occupants.
For Apple, one would say it was during WWDC 2014 where they first demoed the Handoff feature, which allows you to start typing an email or notes in your Mails or Notes app on the phone and continue where you left off straight in your Mac. That is the first ecosystem feature Apple introduced and after that, more and more Apple devices work together.
For Google, the first glimpse of the ecosystem is when Google introduced Pixel 2 in 2017 where Google promises that it will have more and more Google devices tied together. Despite coming in late to the party, Google built a pretty much comprehensive ecosystem owing to their technical prowess.
The Heart: Apple ID vs Google ID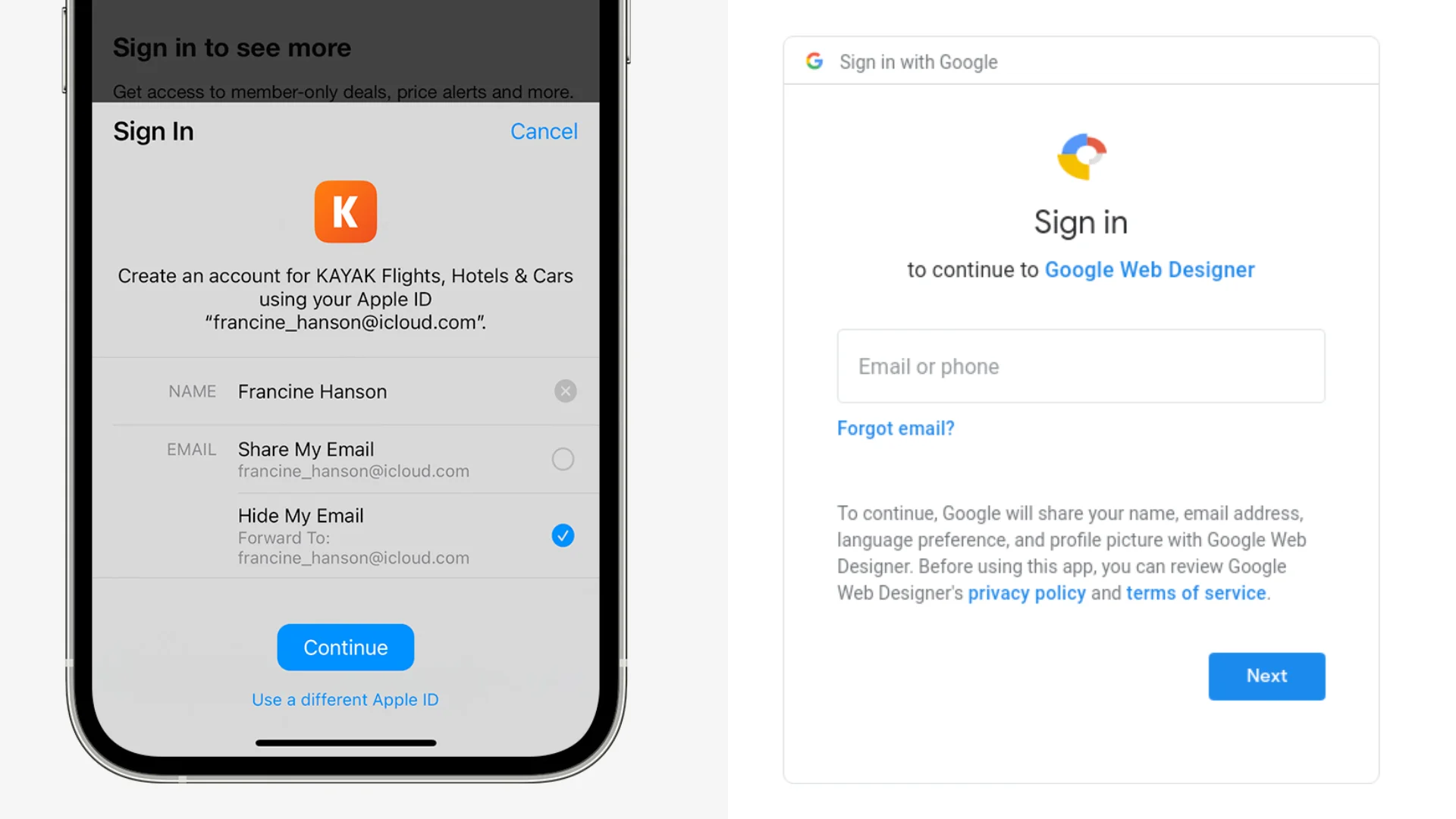 The first problem that needs to be solved when making your own ecosystem is establishing ownership. And the easiest way to establish ownership is by making an internet accessible, centralized user accounts database for Apple is the Apple ID and for Google is the Google Account.
From this centralized ID, you can have access to their centralized storage and services like email, photos, notes, calendar, etc. Google offers bigger free tie at 15GB storage, while Apple only manages to push out 5GB free storage.
With centralized storage, some enterprising developers have created a solution where you can use this same login for Google and Apple to access other websites and devices.
| - | Apple ID | Google Account |
| --- | --- | --- |
| Single Sign On | Yes | Yes |
| Sign On Websites? | Yes | Yes |
| Popularity for above feature? | Low | High |
| Free Cloud Storage | 5 GB | 15 GB |
| Email Obfuscation | Yes | No |
Software Suite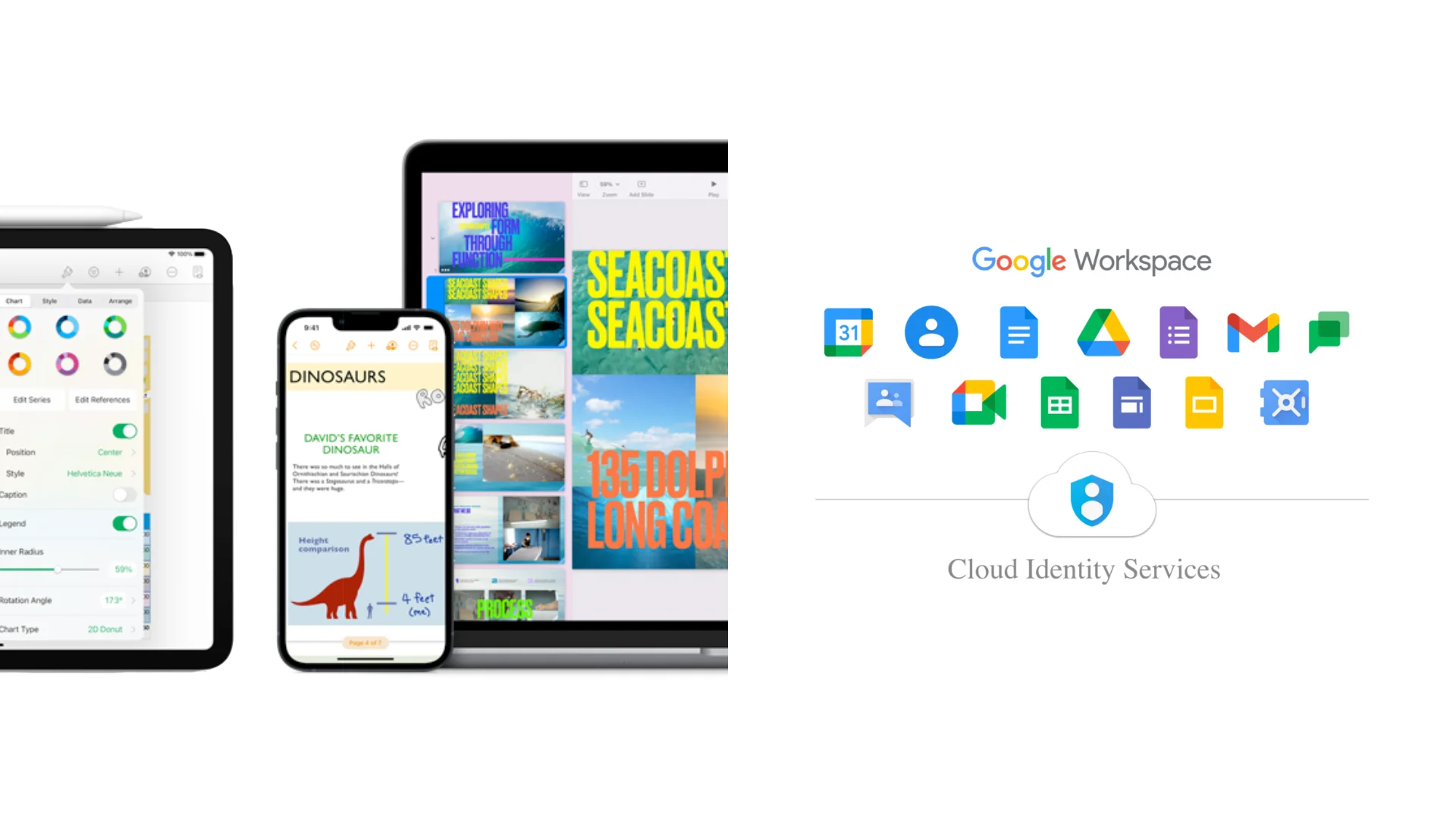 One of the reasons why Apple products are so appealing is not only because of how they look, but how they work. Apple has a beautiful productivity suite called iWork and what's more than that, they have it online on iCloud, which means all these docs can be accessed by any browser on any computer.
Google has a similar suite of productivity apps which used to be called GSuite. Now it's all Google Workspace. While it is not as beautiful as Apple's solution, they have more powerful options and can even rival the king of productivity suite: Microsoft Office. Microsoft considers Google is a bigger threat than Apple's own Google Workspace.
Google also takes productivity apps to another level by providing solutions for businesses. For example, while Google provides email services through Gmail, you can set up your own email services for your company by purchasing their solutions bundle and pointing the MX records of your domain to Google email servers. In fact, a lot of IT services that traditionally handle internally like having your own domain controller for centralized company-wide ID, office productivity, even setting up video calls can be offloaded to Google.
While Apple has some solution for each of Google product offerings (Apple macOS server, Apple fleet management for hardware, Apple at Work programme), they don't have the same internet scale solution like Google have and for one, they can work together.
| - | Apple | Google |
| --- | --- | --- |
| Email | Mail app / iCloud Mail | Gmail |
| Word Processor | Pages | Docs |
| Spreadsheet | Numbers | Sheet |
| Presentation slide | Keynote | Presentation |
| Note taking app | Notes | Keep |
| Form / survey | - | Forms |
| Calender / Planning | Calender | Calender |
| Messaging / Video Communications | FaceTime / iMessage | Meet |
| Use your own domain for above services? | No | Yes |
Service Bundle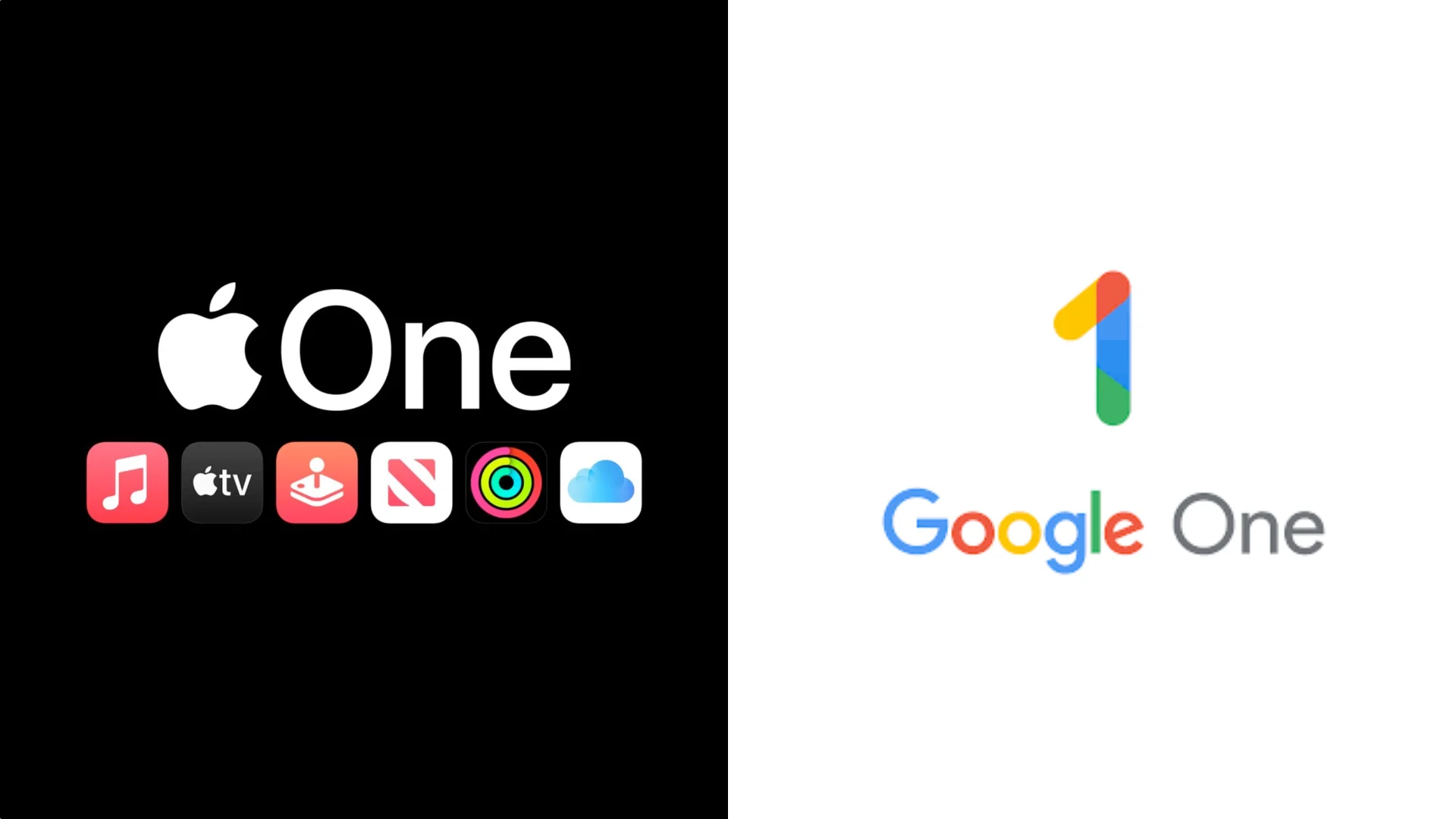 In order to give the best value for consumers, and to make it easier for consumers to understand your product, companies typically provide bundles for their services. Typically a few products packed together and you pay X amount of dollars each month.
Apple One is a service bundle that consumers would pay to access Apple services which include additional storage (up to 2 TB), Apple TV+ (tv shows and movies made by Apple), News+, and Fitness+. Furthermore, you can share these services under a family account where purchases made by family members can be shared.
Google on the other hand, their service offering is a bit messy. Probably because they are targeting multiple markets, or considering some of their products are different instead of how Apple thinks they are a one stop solution for everything.
There's Google One, which basically gives online storage and can be shared via a family account. Yes, it's only for storage. There's a separate package for YouTube premium which is their streaming services. There's also Google Workspace which is charged by user per domain. And let's not talk about Google Cloud, which Google sells their computer resources online, which is a totally different market altogether.
| - | Apple One | Google One |
| --- | --- | --- |
| US Pricing | Up to $32.95/moth | Up to $300/month |
| Services Offered | Apple TV+, Fitness+, News+, iCloud Storage (up to 2 TB) | Storage |
| Max Storage | 2 TB, but another 2 TB is available on a separate iCloud subscription | 30 TB |
| Family Sharing? | Yes | Yes |
Hardware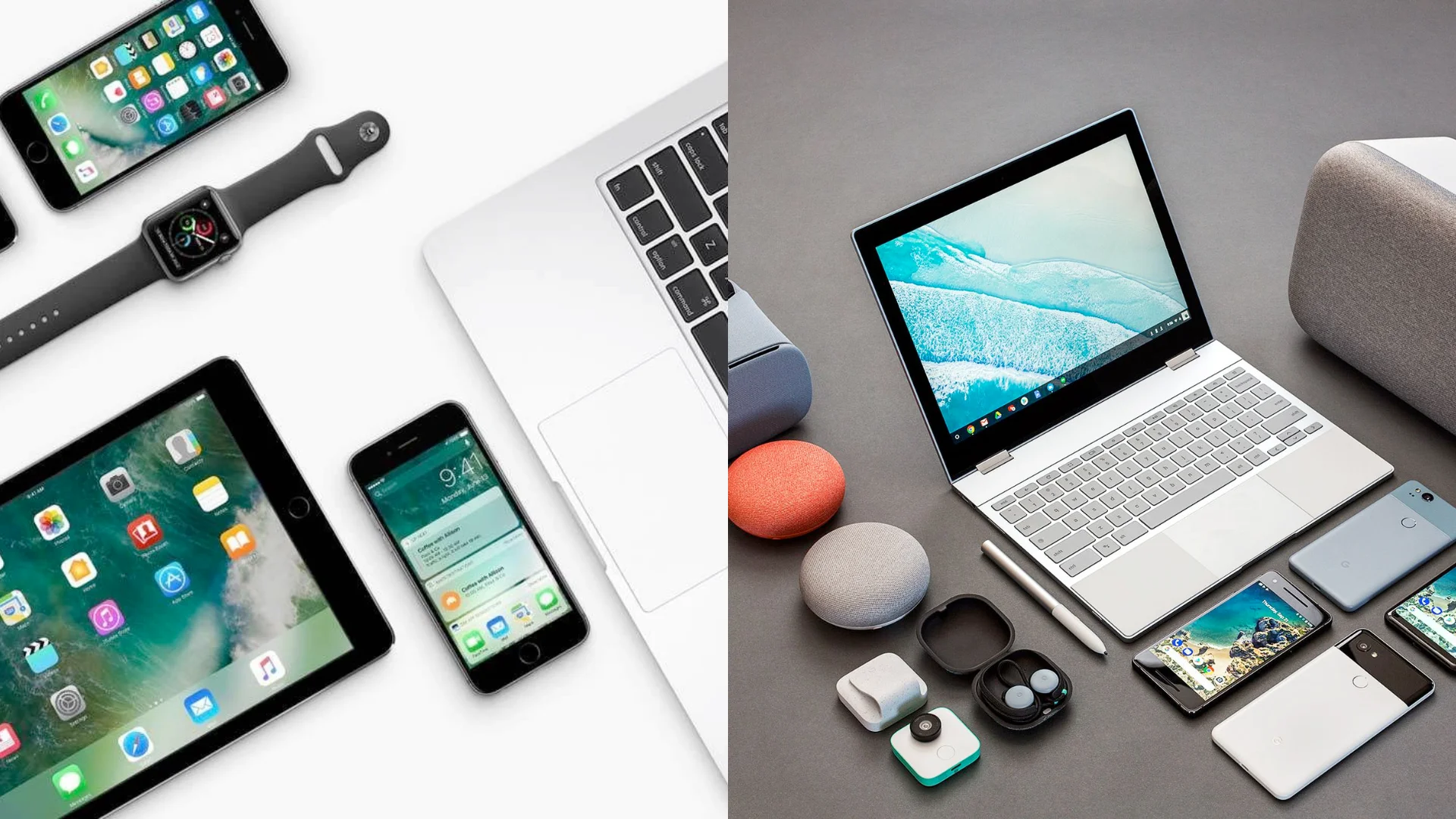 Some might say that this debate is not fair since both view hardware differently. It's true, but Google also made their own hardware and have their hardware stack just like Apple.
Apple is famous for having complete control on the entire stack from the chips that run the hardware to the software that controls the hardware. Having a very tight integration provides them a unique experience because they control the entire ecosystem.
Google on the other hand, approaches the problem in the Microsoft way, somewhat. They provide the software and license them out to 3rd party hardware manufacturers which put Google software in them. However, they have a tighter leash than Microsoft. Manufacturers must implement Google software in their hardware solutions although there's more freedom and Apple likes having a 3rd party store.
The debate between iOS and Android has been done to death and after over 15 years of development, both operating systems and devices are very mature and it all now boils down to preferences. The only thing to note is that you can have Google software installed on iPhones, but don't expect iPhone features like FaceTime, iMessage and others to be on Android.
| - | Apple | Google |
| --- | --- | --- |
| Smartphone | iPhone | Pixel and all other Android Phones |
| Smartwatch | Apple Watch | Pixel Watch |
| Wireless Earphones | AirPods lineup | Pixel Buds |
Ecosystem Features: Hardware Integration and Cloud features

One of the appeal of the ecosystem solution is how seemingly different objects now has more value when you add more devices in the ecosystem.
Apple has developed a polished ecosystem where you can unlock your Apple Watch with your iPhone. Your Apple Watch can unlock your Mac. The iPhone can act as a controller for your Apple TV. If you are playing a song on the iPhone, tap a HomePod and the HomePod will play that song for you. These are one of the many things that Apple has built into their devices and with new iteration, they are expanding that ecosystem.
Google admittedly is playing catch up to the situation, but they have moved aggressively fast since the introduction of Pixel 2. Pixel Buds now connect seamlessly with your Android devices. Your Pixel Watch can unlock your ChromeBook. But that ChromeBook of course is not as mature and polished as macOS. And Pixel Buds in no AirPods.
| Ecosystem Features | Apple | Google |
| --- | --- | --- |
| App state keeping across multiple devices | HandOff - state keeping across multiple devices. Apple has SDK for 3rd party implementation. | Google apps can do state keeping. Google Cloud has SDK for 3rd party implementation. |
| Fast Wireless headphone detection | Through custom chips, AirPods can quickly connect to other Apple devices | Pixel Buds can quickly connect to ChromeBook and Android devices |
| Use smartwatch to unlock laptop | Apple Watch can unlock your Mac when you are nearby | Pixel Watch can unlock your ChromeBook when you are nearby |
| Track your devices | Find My app can track your Apple devices and other 3rd party devices that uses Apple's SDK | Google Find My Device can track your Android devices |
Smart Home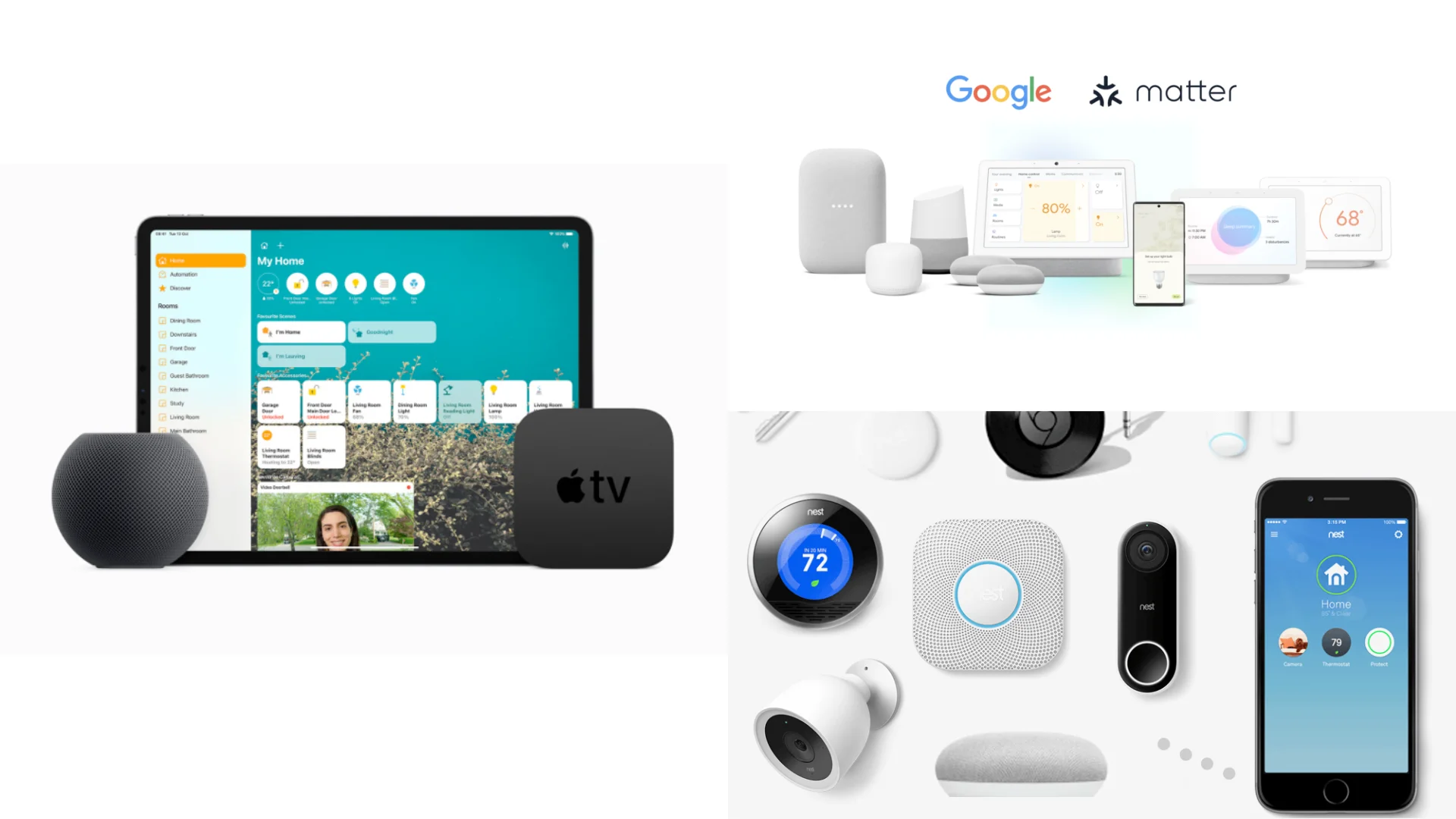 The idea of a smart home where there are intelligent devices in your home to help with your every need including heating, lighting, cleaning up your dishes, and others have been envisioned in one form or another since the Space Age in the 1950s.
Today, the reality is closer than ever with Apple, Google and even Amazon offering their own solution. This segment of the industry is mature enough that we now have a standardized protocol to connect smart home devices which is called Matter.
Apple provides smart speaker solutions which are called HomePods and also a streaming box called Apple TV. Both are high quality products that can bring hours of entertainment. Apple also provides the HomeKit SDK where 3rd party developers can make products that are compatible with their home automation solution: the Home app.
While Apple is content in making a streaming box and a smart speaker while relying on 3rd party solutions, Google has a more extensive product line up which comes from their acquisition of Nest in 2014. Not only do they have a streaming device (Google Chromecast) and a smart speaker (Nest Audio, formally Google Assistant smart speaker), they also have cameras, door bells, locks, smoke detectors and also a thermostat.
| - | Apple | Google |
| --- | --- | --- |
| Streaming Device | Apple TV lineup | Chromecast lineup / Android TV |
| Speakers | HomePod lineup | Nest Speaker lineup |
| Door bell | - | Nest Doorbell |
| Door lock | - | Nest Doorlock |
| Thermostat | - | Nest Thermostat |
| Cameras | - | Nest Cameras |
Conclusion
Finding the winner for this comparison is not straightforward as it seems. While Apple is focused mostly on consumer space, they do have enterprise solutions and are inching their way towards the business sphere. Apple favors quality over quantity where they might not have an extensive line up like Google does, but all of their products offering (including services like Music and TV+) are of high quality.
Google on the other hand has tentacles in consumer, business and even back end where they sell computing resources in the cloud. But even in consumer space, there seems to be some confusion. Google One for some reason doesn't include YouTube premium which both are under the Alphabet umbrella. And Google has Google Play Music and Youtube Music. What? Yes, sometimes their offering can be confusing.
Google ecosystem has a bigger reach since they work in the internet space since inception, while Apple is more integrated in their approach. Apple makes a hefty margin by selling well polished final product which works well with their other well polished final product so of course they are more focused on experience on their devices than making things works everywhere, which is where Google is going.
So which is the better ecosystem? Apple is more polished and Google has more reach. Either way, tech companies find out that you can make a whole lot of cash by building beautiful walled gardens.
Plug
Support this free website by visiting my Amazon affiliate links. Any purchase you make will give me a cut without any extra cost to you
Other Ecosystem Items
Google Ecosystem Explained
On CES 2022, Google launched Better Together with Android which is essentially the Google Ecosystem. We stack up Google ecosystem effort against the king: Apple
Google Tensor vs Apple A15 and Others
Google debuts a brand new SOC that powers their Pixel 6. How will Google own SOC stack up against the competition like Apple A15, SnapDragon 888 and Samsung Exynos 2100?
Tags:
ecosystem
,
comparison
,
google
,
apple
,