Macbook Pro
Steve Jobs once remarked that the computer is a bicycle for the mind. The real physical bicycle is a tool to allow you to outrun animals that usually will outrun humans. The MacBook Pro is basically a Harley-Davidson motorcycle for the human mind. Powerful, effortless and beautiful. The MacBook Pro is a pro tool for professional who are making a living out of their laptops.
Read about the rumours on the next MacBook Pro here.
What it is
Apple's professional line of laptops for people who makes a living out of their laptops. Durable enough for everyday abuse, powerful enough to run their own professional applications like Final Cut Pro and Logic and beautiful and light enough that you would not mind carry them around for years.
Variants
The Macbook Pro comes in 3 variats. It is simpler to think of them as low-tier, mid-tier and high-tier.
Low-Tier: Macbook Pro 13-inch with 2x ThunderBolt ports
Mid-Tier: Macbook Pro 13-inch with 4x ThunderBolt ports
High-Tier: Macbook Pro 16-inch with 4x ThunderBolt ports
Features
CPU Currently Apple is transitioning away from Intel CPU and moving towards Apple Silicon. So the base version is currently released with their first Mac chip, the M1. The mid-tier currently run Core i5 or i7 while the high end runs Core i7 or i9. It is expected the mid- and high-tier version will be replaced around 2021. Expect a beefier version of the M1 that will able to compete with the Core i7 and i9 from Intel.
Graphics The low-tier graphics is integrated with the M1 chip, but don't let it fool you. With enough optimization and hardware accelerators, you can basically edit 3 streams of 4K video with ease. Something that the previous Intel-equipped laptop is not capable of. The mid-tier uses integrated graphics. The high-tier uses both the integrated graphics and have 4 discreet GPU options. MacOS automatically switches between integrated and discreet GPU depending on workload to save battery life.
ThunderBolt / USB-C ports. The base MacBook Pro 13" comes with two ThunderBolt ports and the higher spec MacBook Pro 13" and the 16" variant comes with four ThunderBolt ports. The ThunderBolt 3 is a very versitle port which allows up to 20GB/s speed, power delivery and upto 5k display. The newer low-tier comes with USB 4 instead of ThunderBolt because of Intel but it is compatible with ThunderBolt 3. Confusing? There's a guide for that.
Touch ID. All comes with Touch ID. So all authentication process can be done through Touch ID such as unlocking your Mac, entering password for privilege escalation and buying things from the App Store.
Touch Bar. The function keys on the higher trim has been replaced with an OLED strip called the Touch Bar. There is a coating on the strip which allows smooth scrolling and does not leave smudges. The Touch Bar is programable based on application, so it can add custom buttons on every application.
Memory. The base version has up to 16GB of RAM. The higher trim 13" can go 32GB. The big 16" can go to a monstrous 64GB of RAM if your wallet permits ($800 option).
Storage. The low-tier comes with 256GB of storage space and option for 512GB. The mid-tier comes with 512GB standard and options for 1TB or 2TB. The high-tier comes with 512GB standard and options of 1TB, 2TB, 4TB or even crazy 8TB ($2,400 option).
Screen Obviously in the name, the low and mid-tier have 13.3 inch screen while the top-tier has 16 inch screen. The 16 inch has been upgrade as previously has 15.4 inches diagonally. All screen comes with wide color gamut (P3) with with max brightness of 500 nits.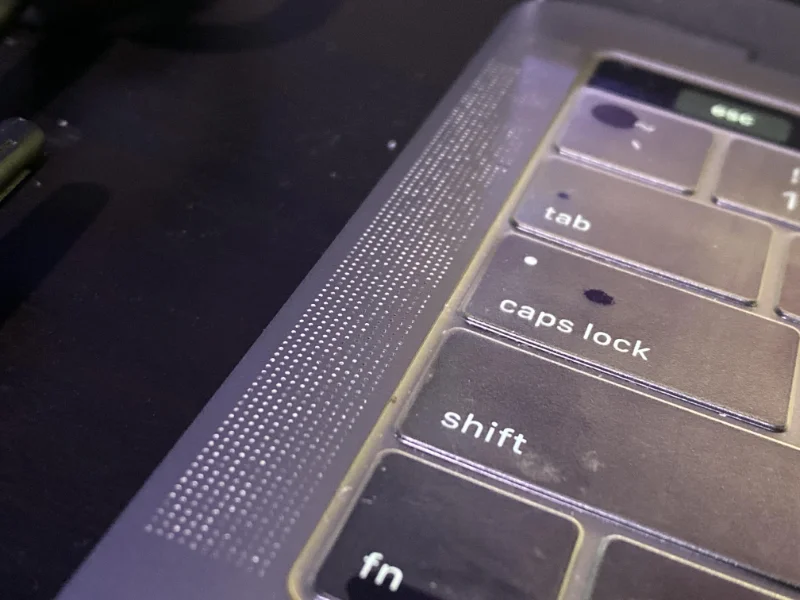 Speakers and Mics The low and mid-tier has pretty good speakers with high dynamic range. The higher end has high-fidelity six speaker system. The mid tier has the normal 3-mic array which allows for beam forming, while the low and high tier has the studio quality mics that is pretty good. Good enough for conducting interviews and actual music recording. The speaker grill is laser cut and the holes is small and fine enough that you won't feel the holes when you rub them with your thumb, which is very impressive.
macOS. Practically the best Operating System out there.
Tech Specs
A table of the 3 models
Feature
13" 2 TB ports
13" 4 TB ports
16" 4 TB ports
Last Update
Nov 2020
May 2019
Nov 2019
General Specs
CPU
Apple M1
Intel Core i5 or i7
Intel Core i7 or i9
Graphics
Apple M1
Intel Iris
Intel UHD Graphics 630 and a choice of discreet GPUs:-

AMD Radeon Pro 5300 w/ 4GB DDR6 VRAM (default)
AMD Radeon Pro 5500 w/ 4 or 8GB DDR6 VRAM
AMD Radeon Pro 5600 w/ 8GB HBM2 VRAM

Neural Engine?
Yes
No
Memory
8 or 16GB
16 or 32 GB
16, 32 or 64 GB
Storage
256, 512, 1024 or 2048 GB
512, 1024, 2048 or 4096 GB
512, 1024, 2048, 4096 or 8192 GB
Ports
2x USB 4 / TB
4x ThunderBolt 3
Wi-Fi
Wi-Fi 6 / 802.11ax
802.11ac
Bluetooth
Bluetooth 5.0
Screen
Size
13.3"
13.3"
16"
Resolution
2560 x 1600 pixels
2560 x 1600 pixels
3072 x 1920 pixels
Color Gamut
Wide Color (P3)
Max Brightness
500 nits
Audio
Speakers
Stereo Speaks
6-speakers with woofers
Mic
Studio Quality 3-mic array
3-mic array
Studio Quality 3-mic array
Headphone jack
Yes
Dolby Atmos playback?
Yes
Keyboard & Trackpad
Backlit keyboard?
Yes
Touch Bar?
Yes
Touch ID?
Yes
Ambient Sensor?
Yes
Force Touch Trackpad?
Yes
Dimensions & Weight
Height (mm)
15.6
15.6
16.2
Width (mm)
304.1
304.1
357.9
Depth (mm)
212.4
212.4
245.9
Weight (kg)
1.4
1.4
2.0
Power & Battery
Wireless Web (hours)
17
10
11
Battery Size (wH)
58.2
58.0
100
Battery Charger (w)
61
61
96
It is worth it?
If you are working on your own business or for someone else, you need this laptop if you are making a living from this laptop. I also run a photography business in Malaysia (an upper-middle income country) and this laptop pays itself around 6 months. People who are doing video, programing or design will get their ROI even faster.
Apple is transitioning away from Intel CPUs to Apple Silicon. Predicted time line for the mid-tier and high-tier of the laptop to be replaced is around 2021. With the low-end M1 chip already beaten the Core i7 and i9 in both single- and multi-thread benchmarks, expectation is running high on the beefier version of M1 that will replace the Core i7 and i9.
Future spec and changes
Apple is currently making a transition away from Intel CPU to their own Apple Silicon. During transition, design changes is not expected to be made. However, internal specs may change as the M1 13" MacBook Pro has upgraded mic-array and the inclusion of USB 4 and Wi-Fi 6. Expect new CPU with possible new RAM and storage configurations in the near future.
Where to get it?
Get your Apple Computers with M1 chips at my Amazon Affiliate links.