Mac Studio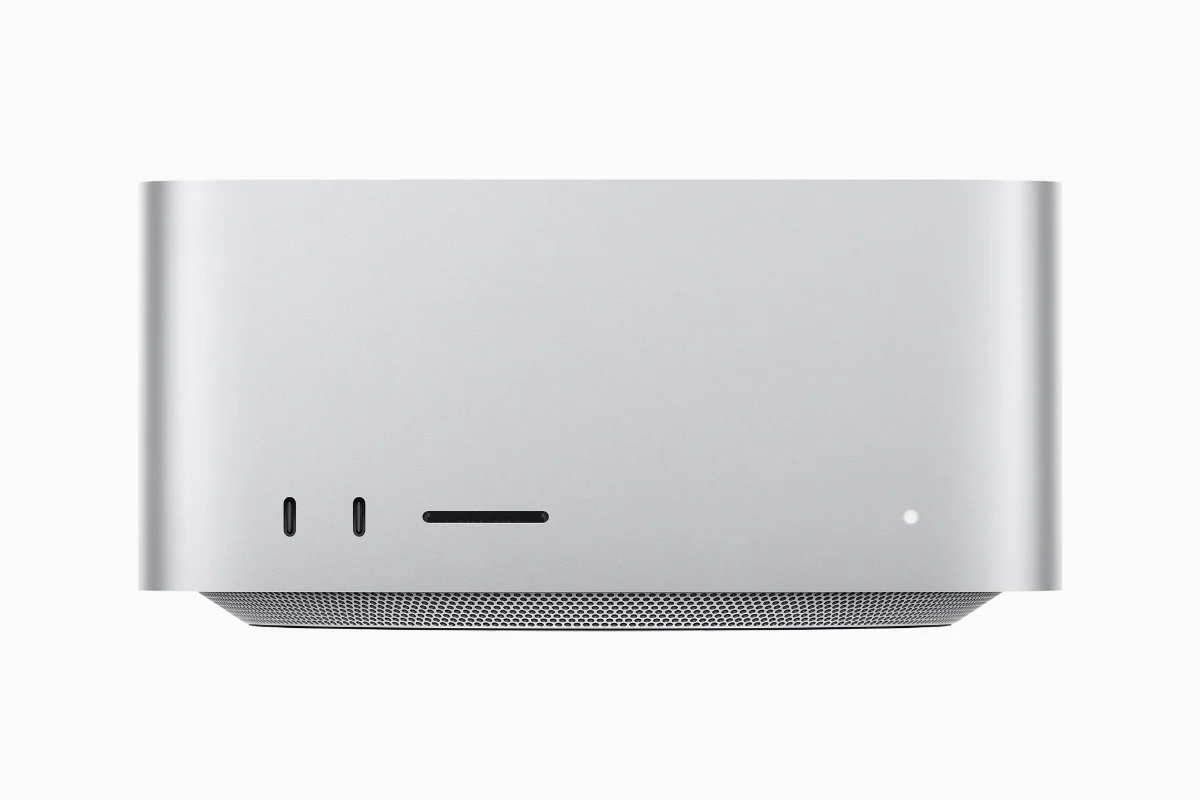 With great fanfare on March 2022, a Tuesday, Apple unveiled the Mac Studio and with it a slew of new technology that has changed the game. Again. Mac Studio is the first time that Apple launched a new Mac since pulling out a MacBook Air from a manila envelope in 2008. While the MacBook Air is targeted as the new laptop for the everyman, the Mac Studio is something else. It's targeted for both the professional that require serious firepower from their Mac and also the pro-sumer market that needs the I/O and the performance that the MacBook Pro just would not cut it.
But the devil is in the details. For me, the Mac Studio does not only showcase a brand new processor and form factor, but it kind of rewrites how Apple develops and markets their Mac line up. Since Apple has always been a trendsetter, computers will be nuclear reactors on your desktop: pint size machines that pack a powerful punch.
Executive Summary:
Mac Studio is Apple's newest Desktop Mac, which launched on Apple March 2022 Event. It is the first Mac since MacBook Air in 2008.
Headline feature is the introduction of a new Apple Silicon: M1 Ultra which is two M1 Max dies stitched together using UltraFusion. The result, two of everything: 20 compute cores, 2 Neural Engines, 64 Graphic Cores, 800 MB/s memory bandwidth and 128 GB memory support.
Other details: ports in the front of the device finally comes back. 2 USB-C ports + SD slot. In the M1 Ultra, those USB-C are Thunderbolt 4 ports
At the back, there's 4 ThunderBolt 4 ports, HDMI, Power, 10 gig ethernet, powered headphone jack and a massive cooling vent.
It comes with M1 Max and M1 Ultra version. Other than the front ports, the other major difference is the M1 Ultra is heavier because they use a copper heatsink instead of aluminum
Prices starts from $1,999 for the M1 Max version and $3,999 for the M1 Ultra version. You can get it here at my Amazon Affiliate link.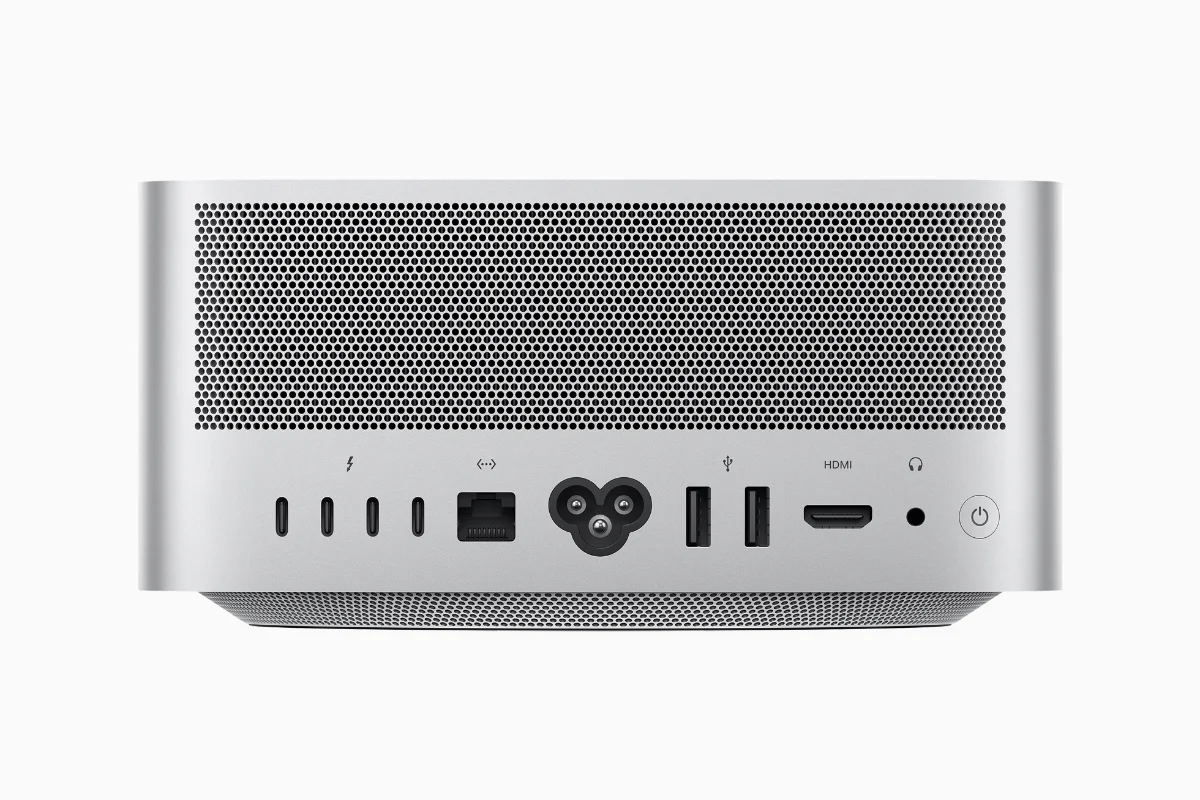 Details
There is a lot to unpack with the Mac Studio since it is a new platform with brand new technologies. We will cover the paper specifications and also what it means for the Apple ecosystem.
Features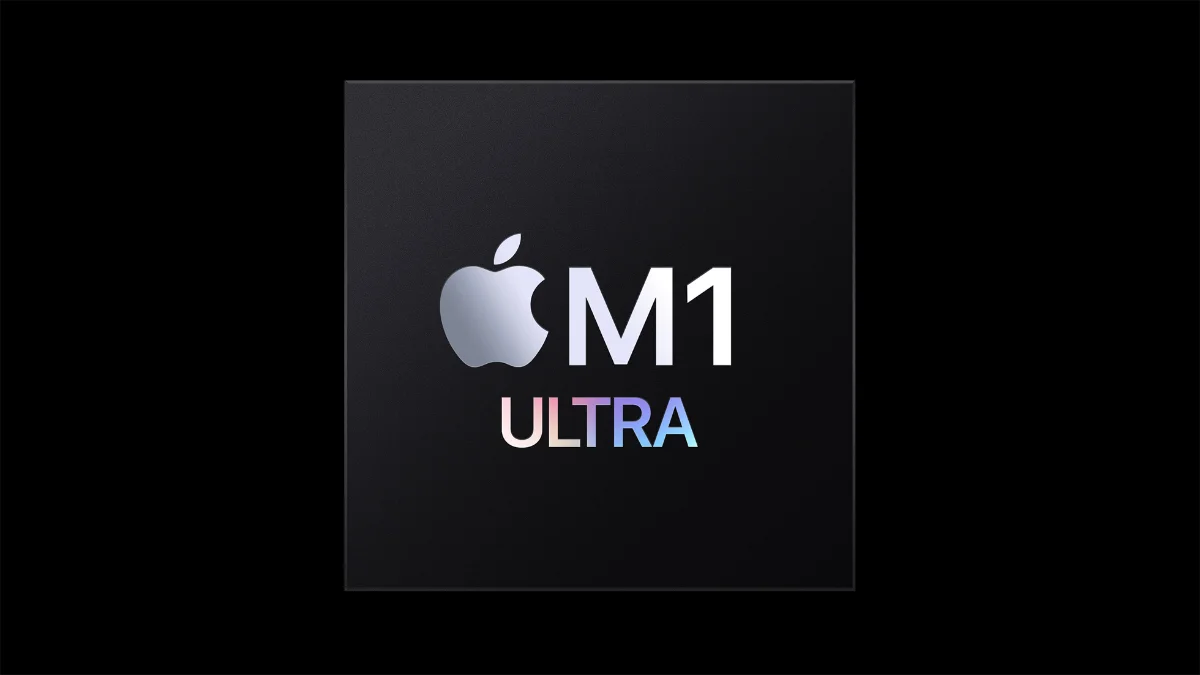 System on Chip: You have two options for the SOC: the M1 Max which was unveiled in the MacBook Pro which basically features 10 compute core at 32 graphic cores and the brand new M1 Ultra which are two co-joined M1 Max to make it a single CPU with 20 compute cores and a whopping 64 graphic cores.
Memory: On the M1 Max option, you have the option of putting 32GB or 64GB of RAM, while with the M1 Ultra, you have the option of putting 64GB or 128GB of RAM. I would dare say, for most workloads, you will have rare chance of running out of RAM
Storage: M1 Max provides 512 GB of storage while the M1 Ultra provides 1 TB of storage. You have the option to max it out to 8TB of storage.

I/O connections: On the back, you have 4x Thunderbolt 4 ports, 2x USB-A ports and a HDMI 2.0 port. Ports here are professional grade: 10GB ethernet is standard and the headphone jack is powered so you can use your large expensive headphones in a pinch. On the front, you have a 2x USB-C port and a SD card slot. If you opt for the M1 Ultra option, those front ports are Thunderbolt 4 instead of USB 3. For wireless, it's WiFi-6 and Bluetooth 5.0
Mac Studio Cooling. Cool air comes from the bottom and hot air expels at the top. The M1 Max uses aluminum heatsink while M1 Ultra uses copper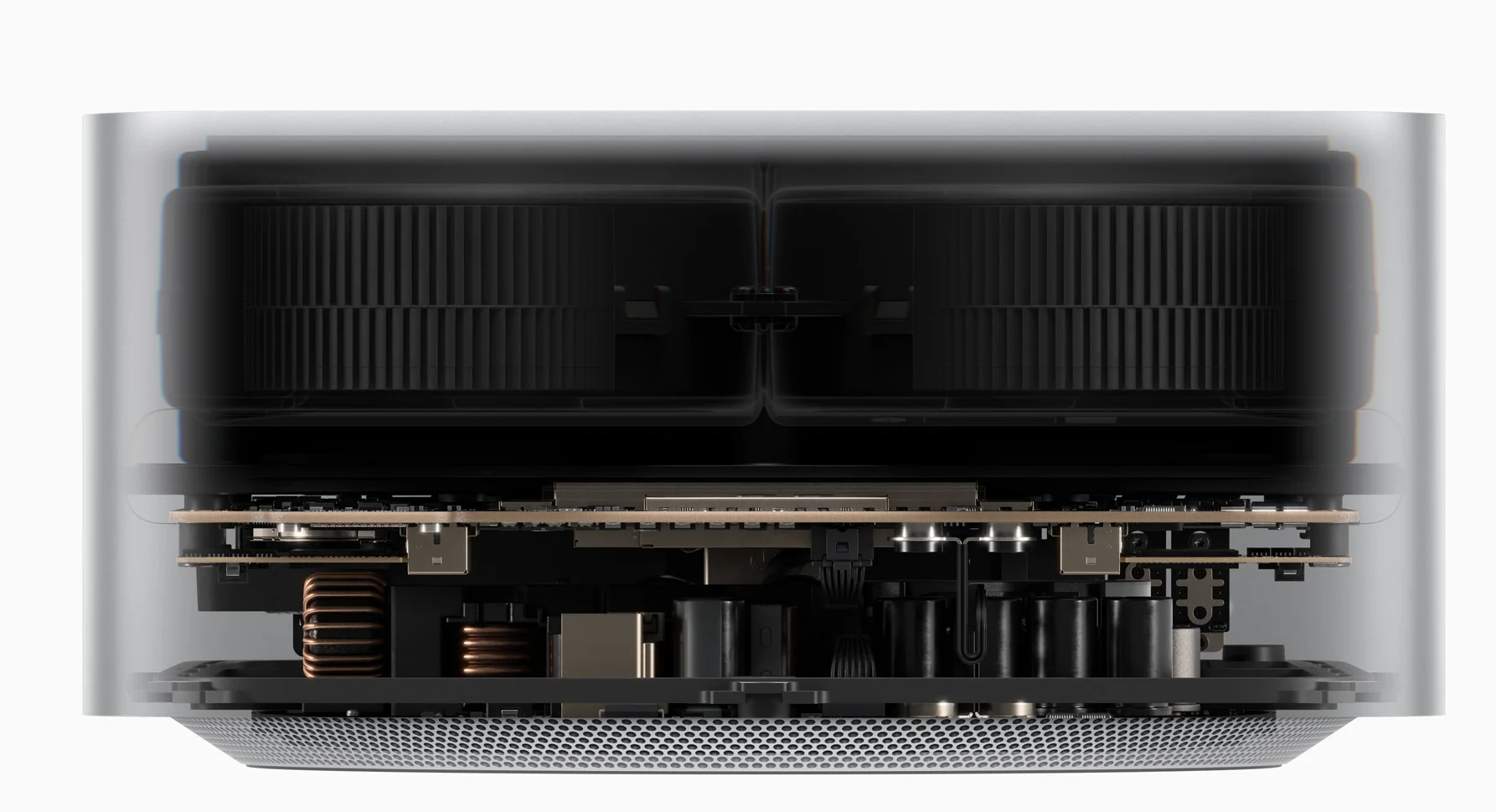 Thermals: Serious power needs serious cooling capacity. Basically the circuitry can fit on the current Mac Mini, but with M1 Ultra basically using 60W for computers and another 120W for graphics and putting on Thunderbolt 4 power delivery, it is going to consume around 300W, which requires some serious cooling. Please note that the M1 Ultra version is heavier than the M1 Max on account of the heatsink. According to Apple, the M1 Max version has the aluminum cooler while the M1 Ultra is the heavier but higher thermal conductivity copper cooler.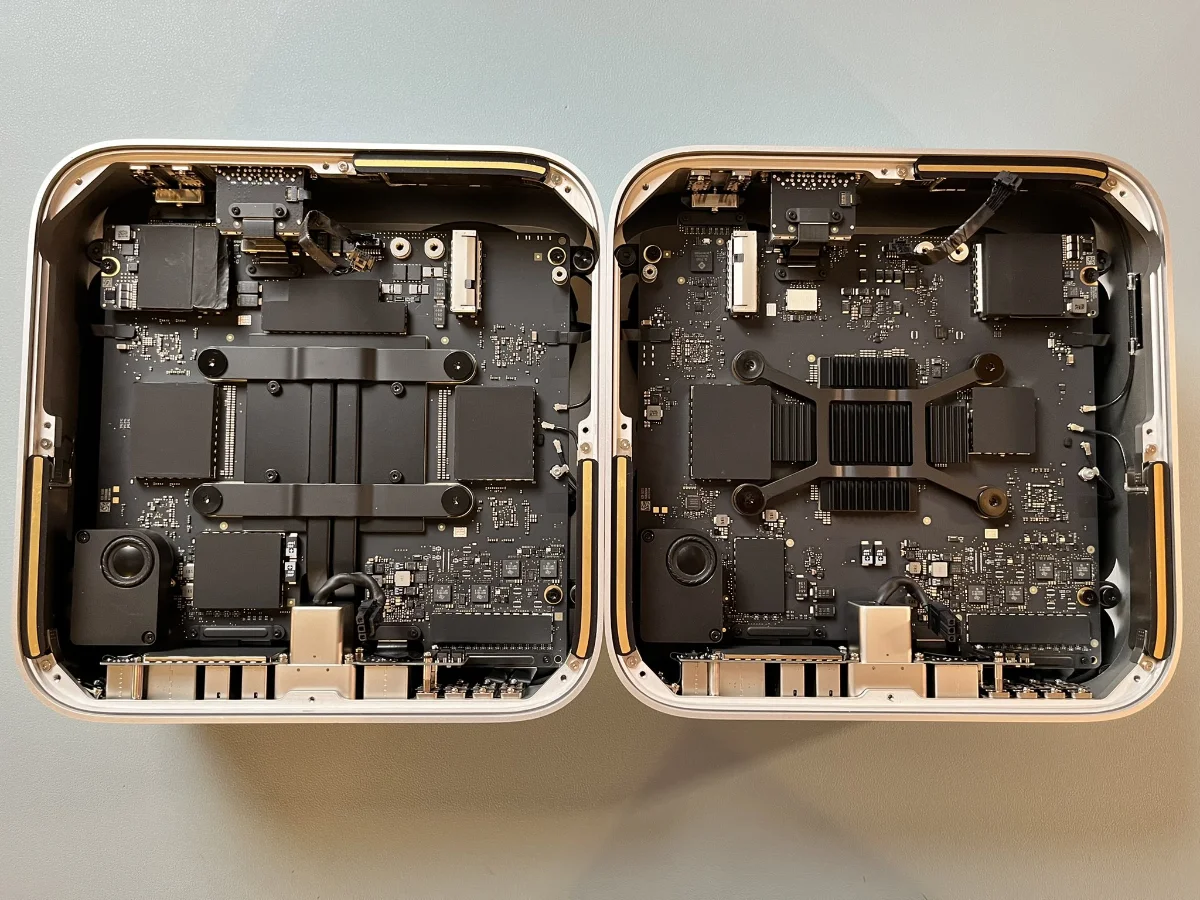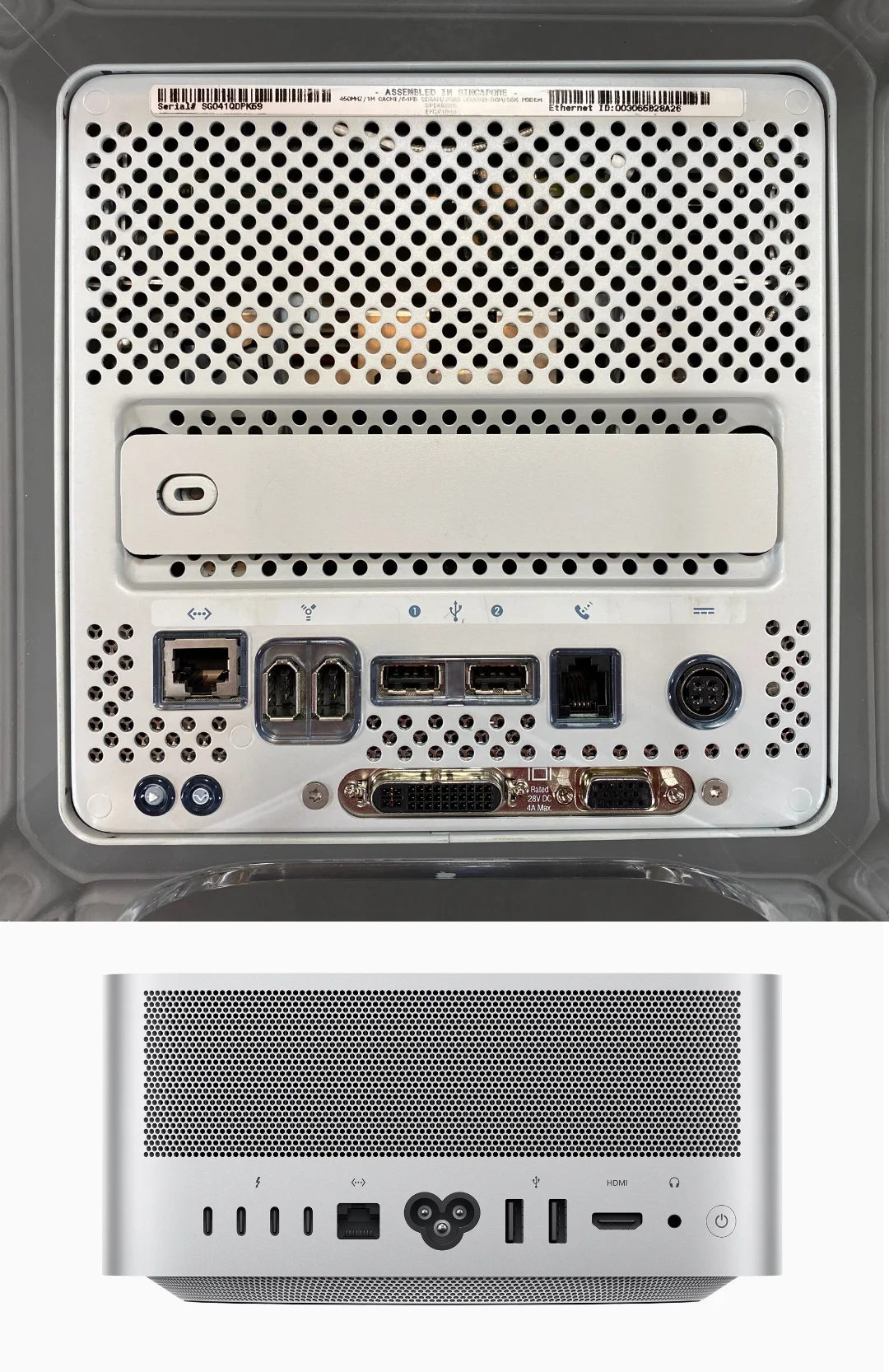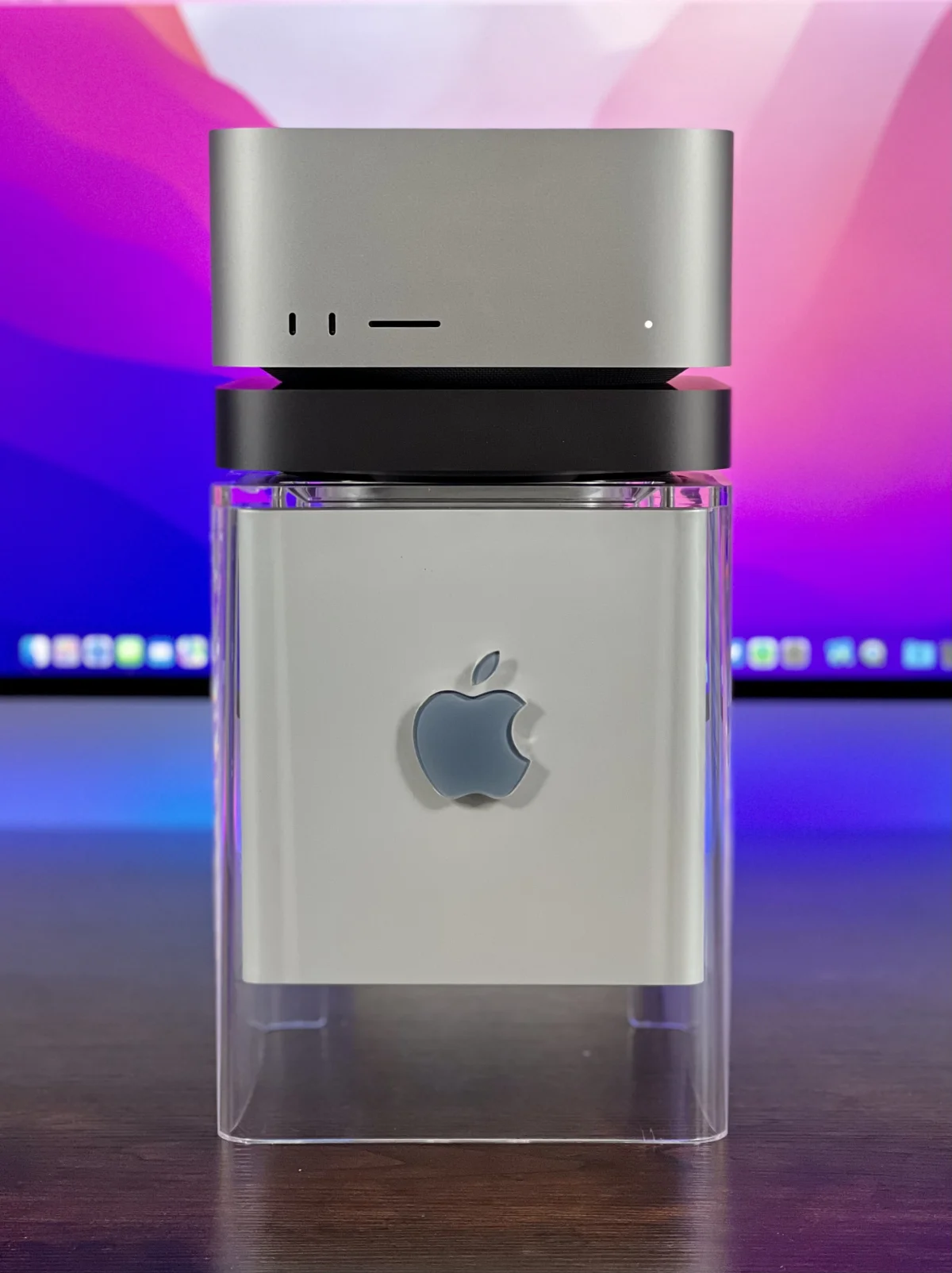 Design: There are many way to go about this. On footprint size and general design, it occupies the same footprint as the Mac Mini but obviously taller, about 2.5 Mac Mini stacked. Some have pointed out the port and vent layout is reminiscent of one of Apple's greatest design and blunder: the G4 Cube. There's also the element of 'trash can' Mac Pro of 2013. And of course, the lattice pattern almost looks like the current Mac Pro.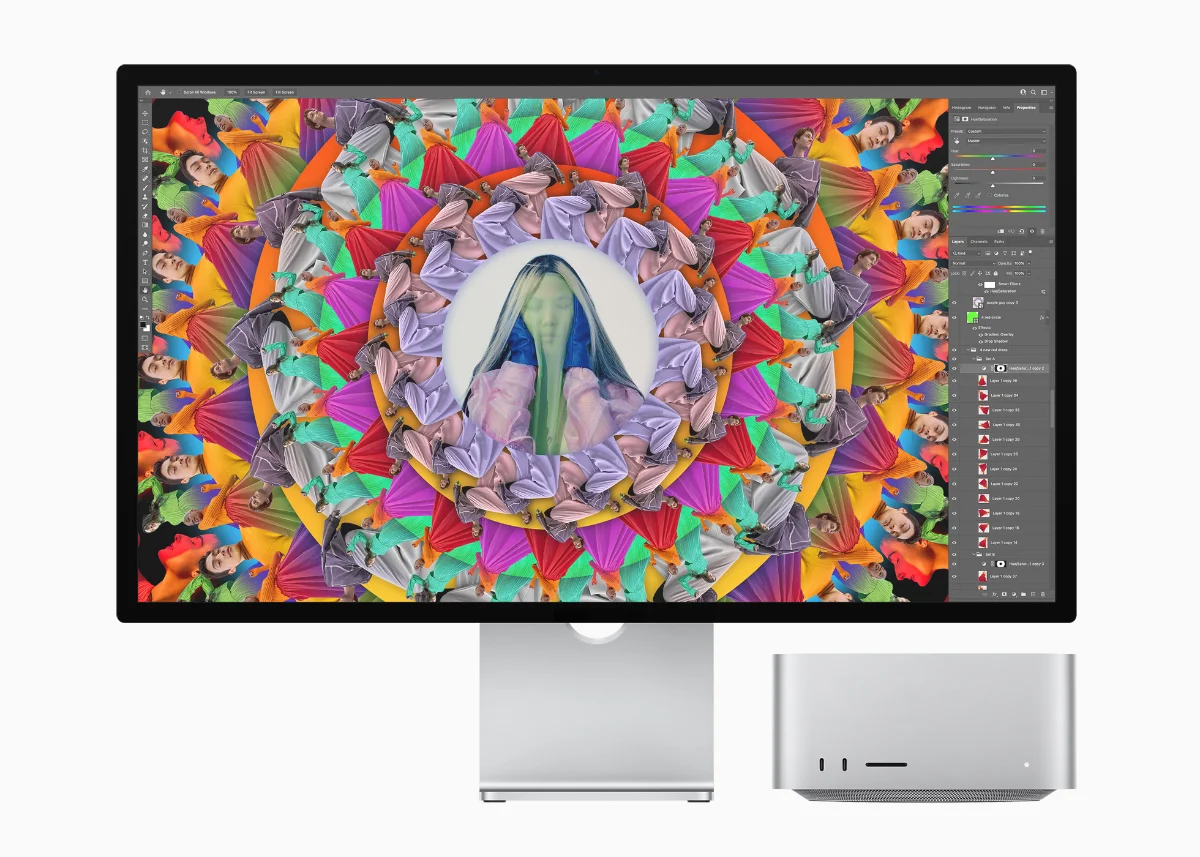 Companion Product: At launch, Apple also introduced the Studio Display to go with the Mac Studio. A 27-inch 5K display lifted from the 27-inch iMac and slightly tweaked. Base price is $1,599 which comes with a stand or you can change the stand to a tilt and swivel one for $400. The anti glare nano texture is a $300 option. Also to go with the Mac Studio is the black Magic Keyboard ($199), black Magic Mouse ($99) and black Magic Trackpad ($149). For connectivity, there's a black braided ThunderBolt 4 cable for $129. The VP of pricing should be given a medal for such courage in pricing.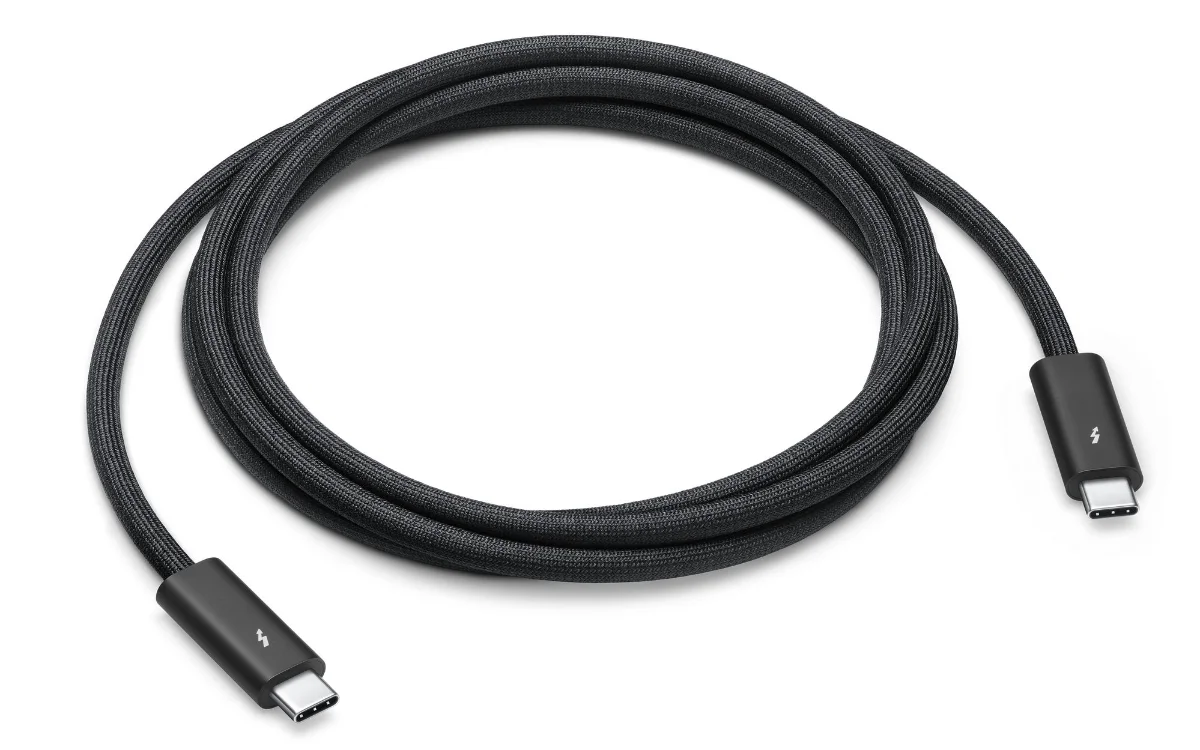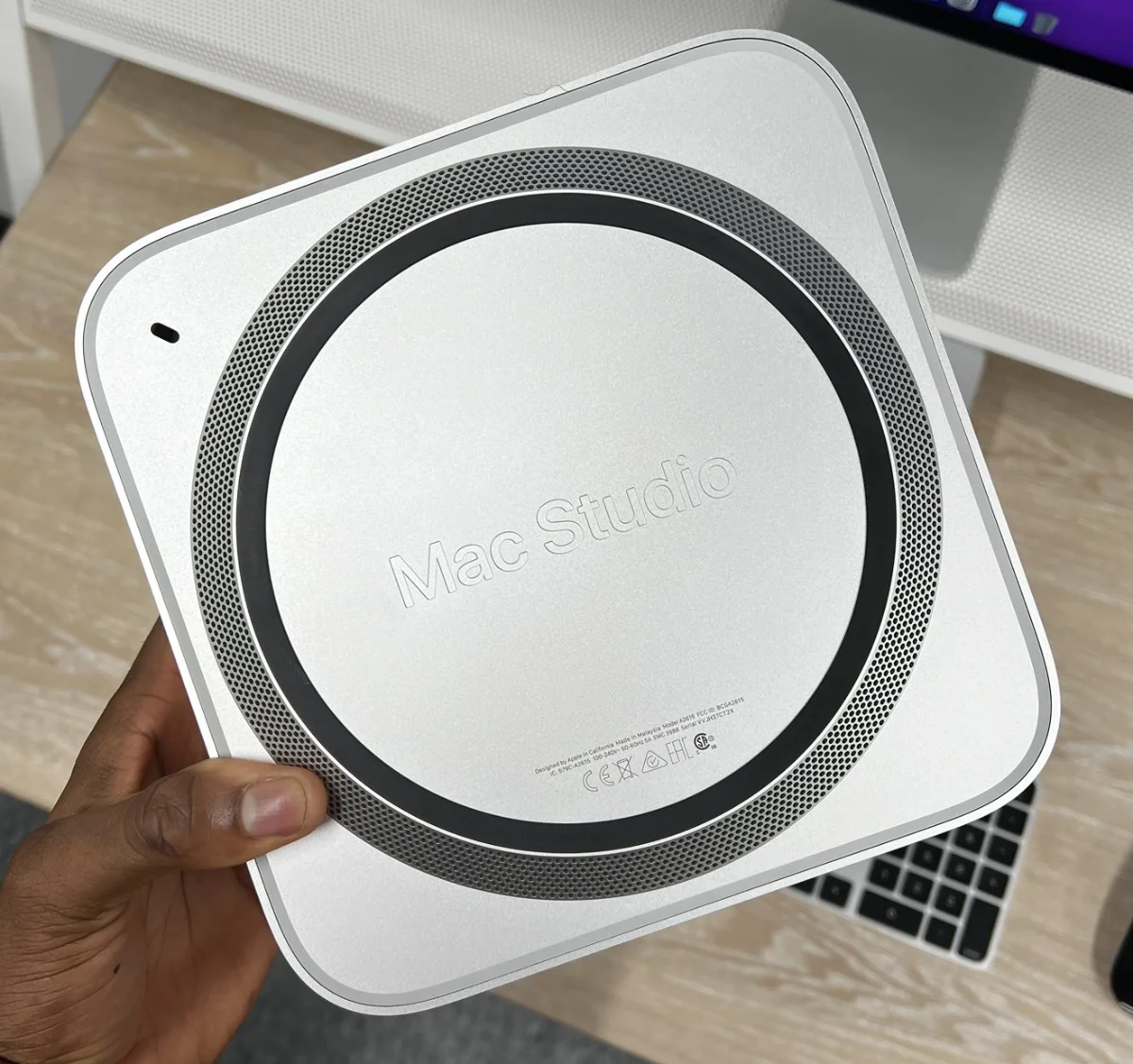 Security The Mac Studio can be secured via Kensington lock that is located at the bottom of the Mac Studio. Although the slot can fit a Kensington lock, being so close to the ground will make it a bit akward to put a typical Kensington lock. It is reported that Apple will sell their own solution which is based on the Kensington lock.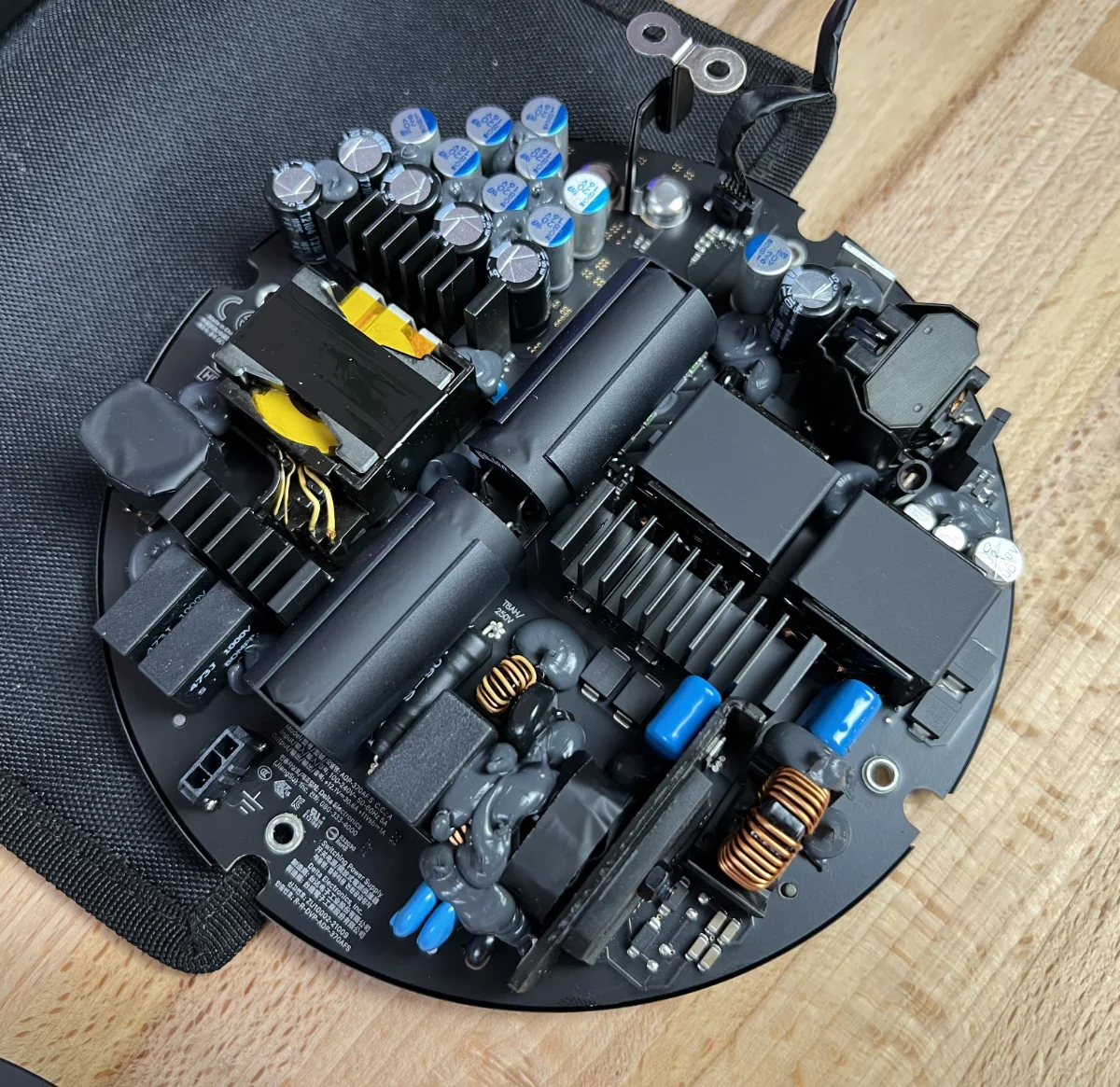 Power Consumption The Mac Studio uses a 370W power supply to energized the entire computer. You will get the same power supply for both the M1 Max and M1 Ultra version.
Performance
At the time of writing, Apple has claimed that the M1 Max compute performance is comparable to Intel's i7-12900K while the M1 Ultra is extremely competitive with Intel i9-12900K. On graphic side, the M1 Max can go toe to toe with Nvidia GTX 3080 while the M1 Ultra should be able to give the GTX 3090 a good fight.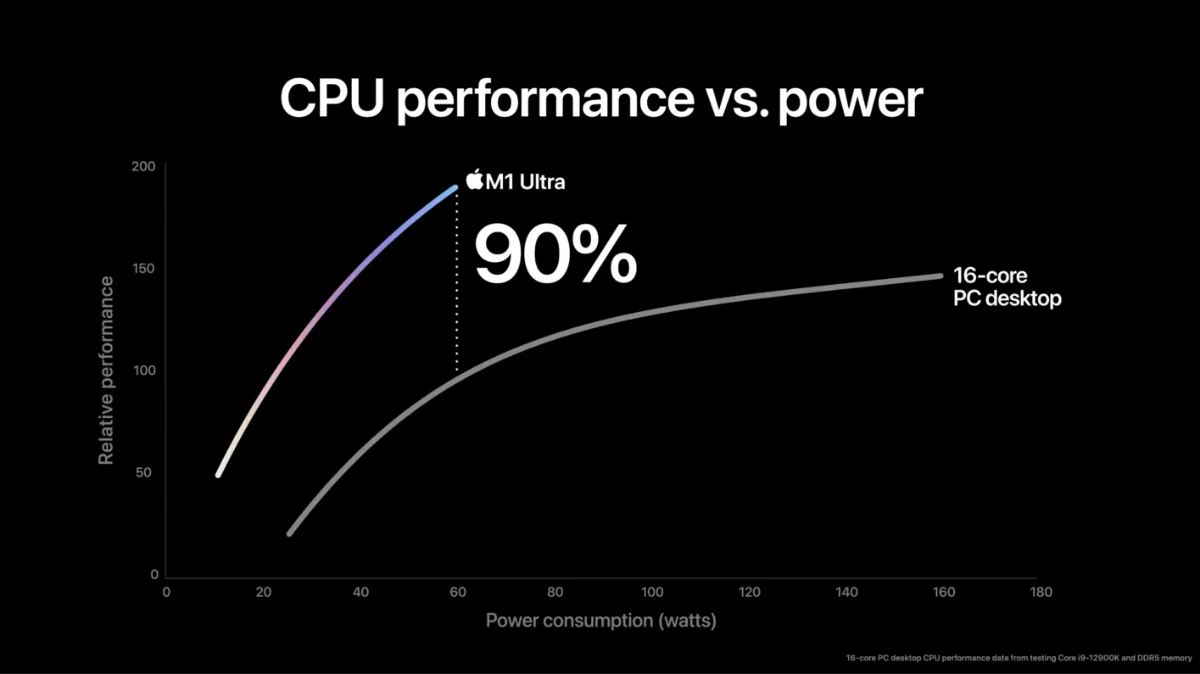 What's more surprising is that Apple basically threw their $50,000 Mac Pro under the bus. Chart after chart show how more performant their M1 Ultra is against the 28-core Intel Xeon W processor and their AMD Vega graphic card. I feel sorry for the people who bought their Mac Pro only to be bested after two years of progress. But such is the fate for people who are working in Information Technology.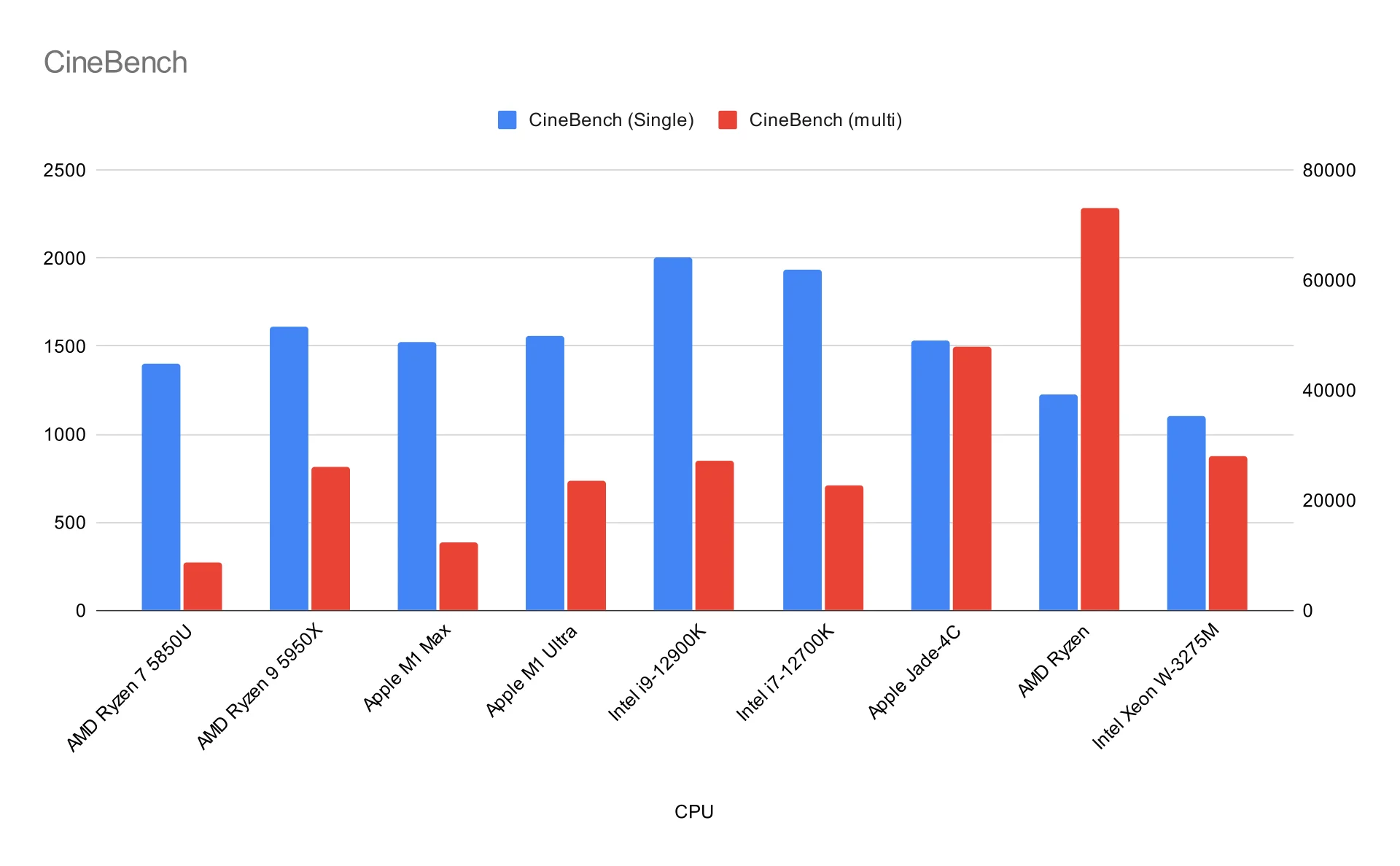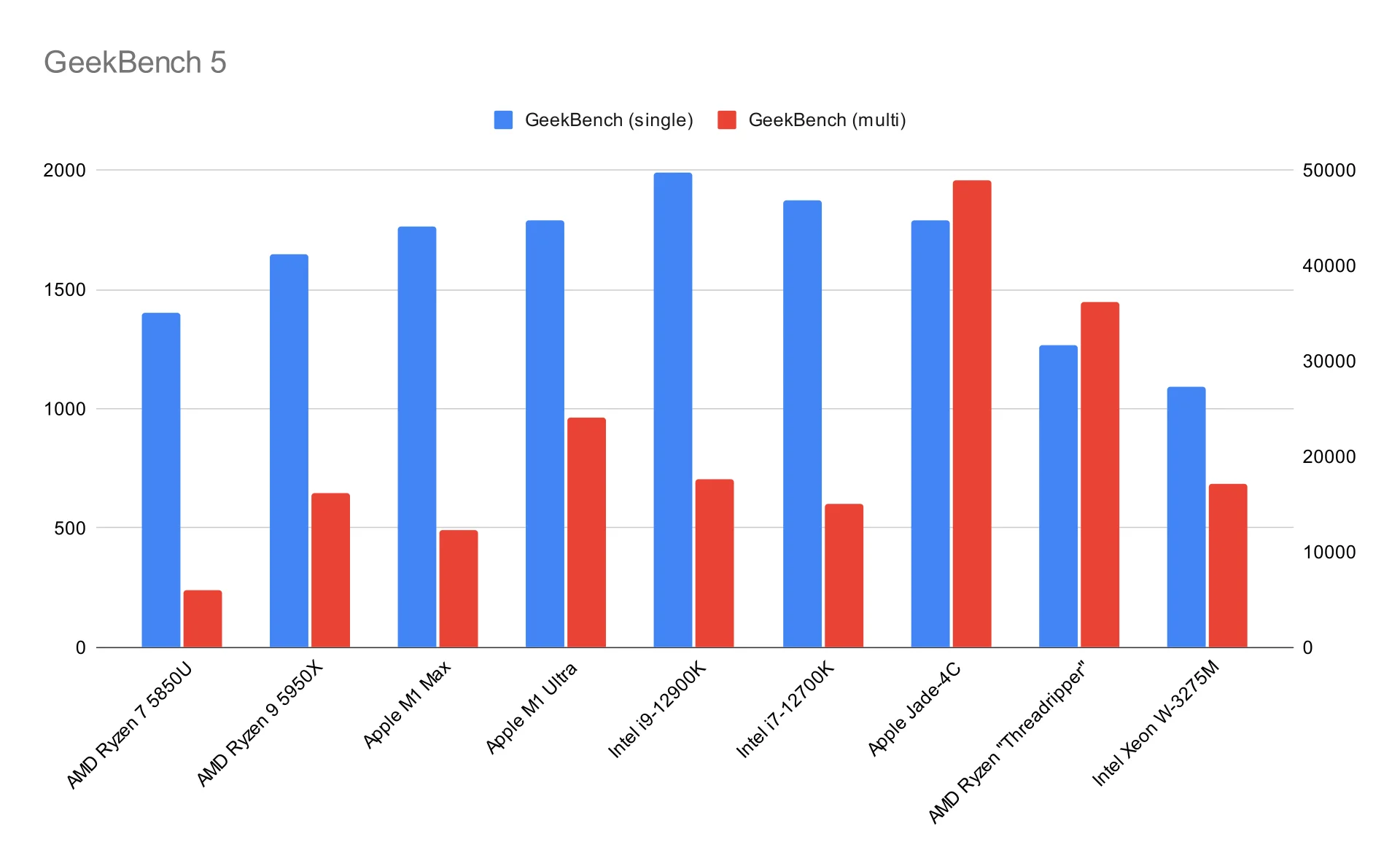 Underneath the surface
Specs-on-paper wise, the Mac Studio is a great machine. But what happens inside is where the magic happens.
As stated before, Apple is not in the hardware or software business, but in the ecosystem business. The Mac Studio on it's own is a great machine, but having more and more Apple devices, everything works better.
With their companion monitor, Studio Display, for example, which has an A13 chip on the monitor allows you to have a webcam with the Center Stage feature. When you have a video FaceTime call, the ultrawide webcam will focus on you and other subjects in the video automatically. With 6 built-in speakers, you have the capability of having spatial audio.
With Apple Watch, you can automatically unlock your Mac Studio just by being near it. With continuity, you can easily move from one Apple device to another, like writing a reminder in your Notes app and continue right where you left off in the Mac Studio.
Pricing
On pricing, the base Mac Studio is priced at $1,999 and you'll get the 24 graphic core M1 Max with 32GB of RAM and 512GB of storage. For the M1 Ultra, the base price is $3,999 and you have the 48 graphic core M1 Ultra with 64GB of RAM and 1TB of storage. Below is the price table for every Mac Studio configuration. A maxed out M1 Ultra Mac Studio with 128 GB of RAM and 8 TB of storage will set you back $7,999.
Base M1 Max has 512 GB storage while base M1 Ultra has 1TB of storage. For storage options in the Base M1 Max: 1TB (+$200), 2TB (+$600), 4TB(+$1,2000) and 8TB(+$2,400). Take away $200 if you starting from base M1 Ultra.

| RAM / Processor | M1 Max 24-cores | M1 Max 32-cores | M1 Ultra 48-cores | M1 Ultra 64-cores |
| --- | --- | --- | --- | --- |
| 32 GB | $1,999 | $2,199 | - | - |
| 64 GB | $2,399 | $2,599 | $3,999 | $4,999 |
| 128 GB | - | - | $4,799 | $5,799 |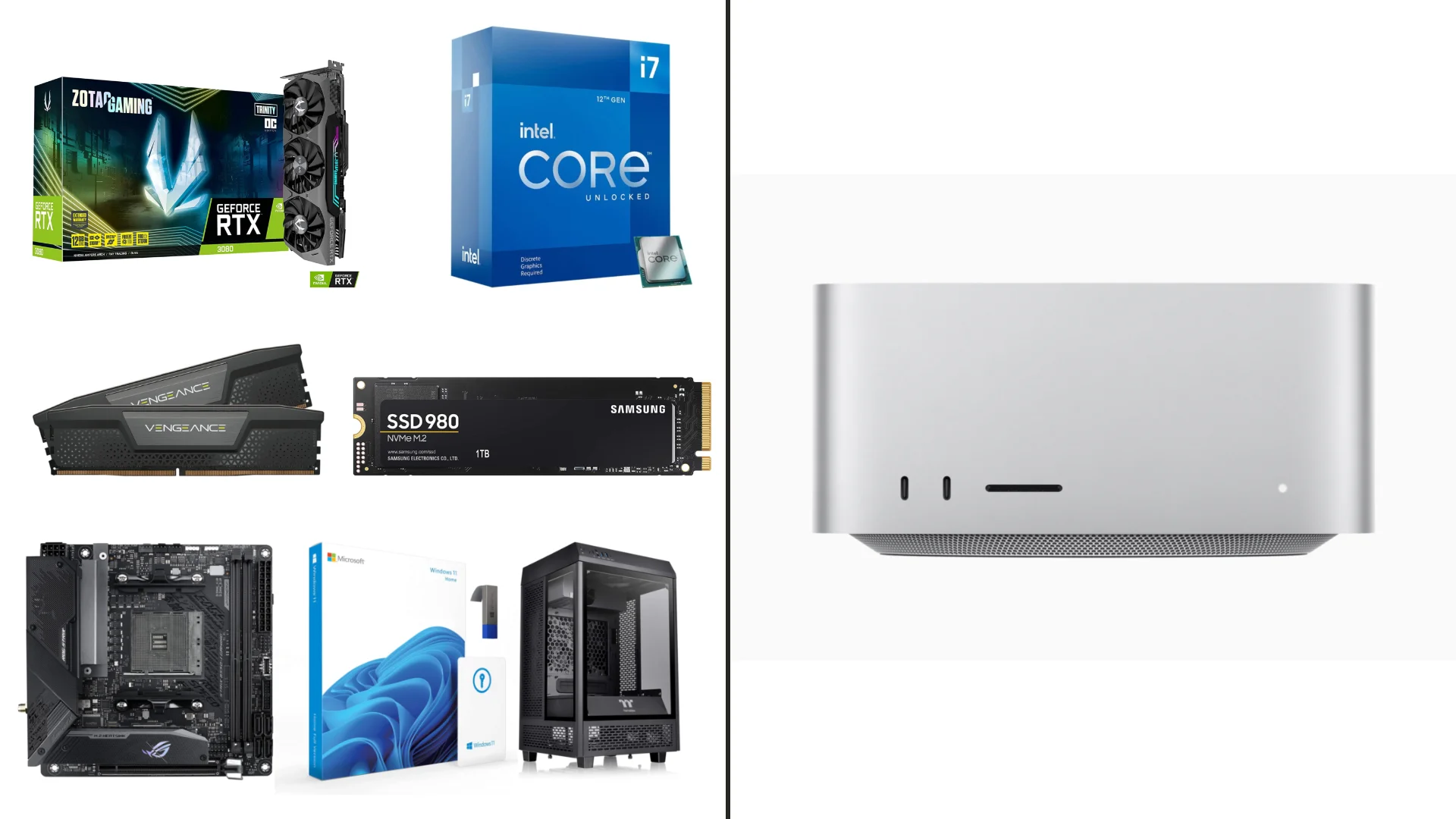 On thoughts on pricing. At $1,999 for the base M1 Max and $3,999 for the base M1 Ultra seems expensive at first look, but try to remember what they are competing against. For the M1 Max, currently it is competitive with an Intel i7-1280P which is listed at $482. And the M1 Max graphic performance is supposed to be comparable with a Nvidia RTX-3080 card which lists for around $1,500 to $1,700 if you are lucky to actually get one. Those two components are already close to $2,000 and you still have to get the memory sticks, the storage, a motherboard and don't forget the chassis and the OS too. And if you are looking for a competition to the M1 Ultra, it's the $600 i9-12900K, the $2,700 Nvidia RTX 3090 and the $600 64GB DDR5 RAM.
So, yes, the pricing looks expensive, but it is on par with the competition. The only problem with the Mac Studio (and Mac in general) is application support to make use of the M1 Max and M1 Ultra. Games and non-Apple video editors shows the problem in the area not because the M1 Max and M1 Ultra is not capable, but the software is not optimized to run Apple Silicon and with a relatively small market share, very little motivation for developers to do so.
What's Missing
Nobody is perfect and there is no perfect computer. Afterall, it's engineered for a solution and compromises have to be made. Here are some missing items from the Mac Studio
Extension Slots: Yes, nobody uses extension slots anymore but since this is a machine that is aimed at professionals, they do still use PCI-X cards especially for music production. But with 4x ThunderBolt 4 that delivers 40GB/s bandwidth per port, it a gripe at this point
Walled Garden: Yes, macOS is a very polished OS and you can still run Windows and Linux in virtual machines, but the performance would not be as good as bare metal if you need it. Apple is not going to allow bootcamp on Apple Silicon anytime soon, so there you have it.
Upgradeability: Design-wise, the Mac Studio is a solid design and I expect it will have the same longevity like their Mac Mini counterpart, which is to say: Apple will not change the design for 15 years or so. The problem is, upgradability path or the lack thereof. Whatever specs you wanted, it has to be right up front and changing individual components is downright impossible.
In a teardown done by MaxTech, the Mac Studio is shown to have ports to upgrade or add SSDs. Apple on their website has stated that storage is not user upgradable. Furthermore, the ports are not the typical M.2 port but instead it is custom port used by Apple, which is not sold by Apple or any 3rd party. Further investigation by Luke Miani showed that the SSD in the Mac Studio is blocked on software level, so you can't even swap SSDs from another Studio unless you have Apple internal diagnostic tools.
Further investigation points out that the SSD on the Mac Studio is not really SSD but raw storage blocks. The storage controller is embedded within the M1 Ultra or M1 Max as with all M1 series family. So you need special software tools to manage the storage blocks.
Repairability: in late 2021, Apple pledged that customers will have access to manuals and genuine parts in their self-repair problem which starts from the iPhone 12 / 13 and eventually go to their M1 Macs. As of March 2022, there is no evidence of any progress to be found.
Apple finally include Mac Studio in their self service repair program in December 2022, along with other Mac desktop products
Verdict
Mac Studio is one absolute unit of Mac. It's basically a nuclear reactor at this point: very high performance density packed in a very small package. However, the $1,999 starting price tag means that the Mac Studio is not for everyone. I break down the use cases and if you actually need it.
A professional who works with Final Cut Pro: Buy it. The M1 Ultra is the most powerful chip in Apple's line up and even beats the $50,000 Mac Pro. Running 17 streams of 8K ProRes 422 at the same time? Intense
A person having a side gig doing videos: Buy it. At $1,999, the Mac Studio is actually a great value if you want the extra performance that the M1 simply unable to give. If you don't need to go around doing things, the M1 Max Mac Studio is already a good buy.
Enthusiast: Buy it. The Mac Studio is the most capable Mac that you own. Even at the base price of $1,999, it is the Mac with the most I/O, the best cooling (except for the Mac Pro) and highest base performance. The beauty of having a box is you can customize your setup to your exact specifications.
Gaming: Don't. Not because the M1 Ultra is not powerful or capable, it is because in macOS land it's a Catch-22 situation. There are not many AAA games because there are not a lot of gamers in macOS and there are not a lot of gamers in macOS because there's no AAA games.
Mostly watching YouTube / Netflix, web browsing, making presentations and emails: Don't. You basically get the same performance as the $699 Mac Mini or better portability with the $999 MacBook Air.
What People Are Saying
Overall, the Mac Studio has received positive reviews. Many praised the performance of the M1 Ultra, the design and utility of Mac Studio.
Rene Ritche
Jonathan Morrison
Dave2D
iJustine
The Verge
MaxTech Teardown of the Mac Studio
Luke Miani investigates if the Mac Studio is upgradable. Spoiler: it isn't
Created Tech on Gaming on the M1 Ultra.
Teardown by iFixIt. iFixIt give the Mac Studio a Repairability score of 6 out of 10.
Plug
Support this free website by visiting my Amazon affiliate links. Any purchase you make will give me a cut without any extra cost to you
Accessories:-
Wireless earphones / headphones:-
Buyer's Guide:-