Apple Watch Ultra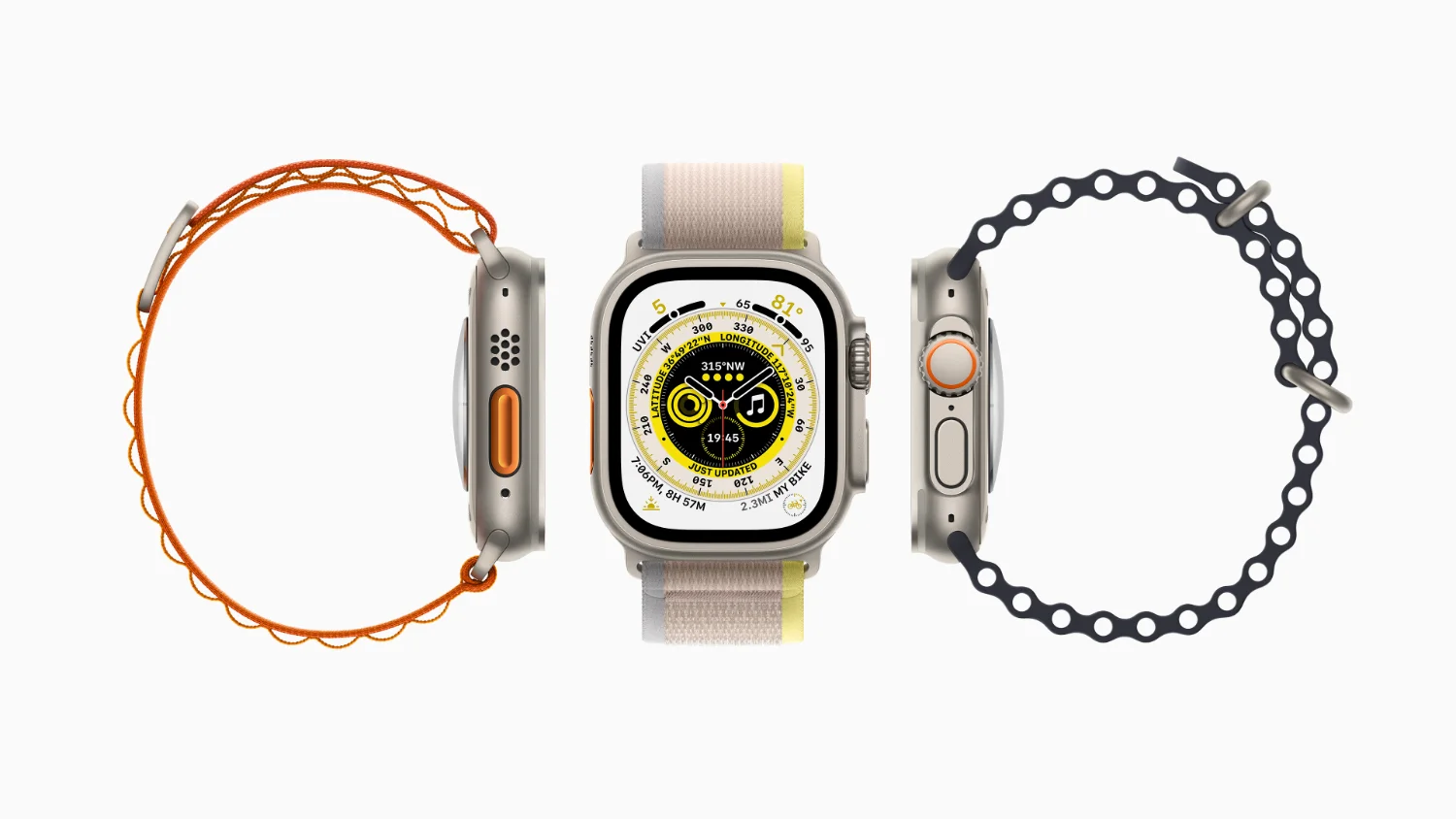 Apple Watch Ultra is Apple's newest product since the Mac Studio was unveiled in March 2022. The Apple Watch Ultra is a iPhone companion product which fits nicely in their ecosystem.
What is it?
Apple Watch on steroids: Imagine an Apple Watch. Now imagine that the Apple Watch went to the gym and hung out with very active people. People who are always on the move, off-grid or going to the edges of the planet whether deep down in the sea or high up in the sky. Apple built the Apple Watch Ultra for those kinds of people.
External Features
Naming: Apple decided to use the word Ultra now. Pro is also a good second choice, but now is the edge where Ultra is the higher level than Pro.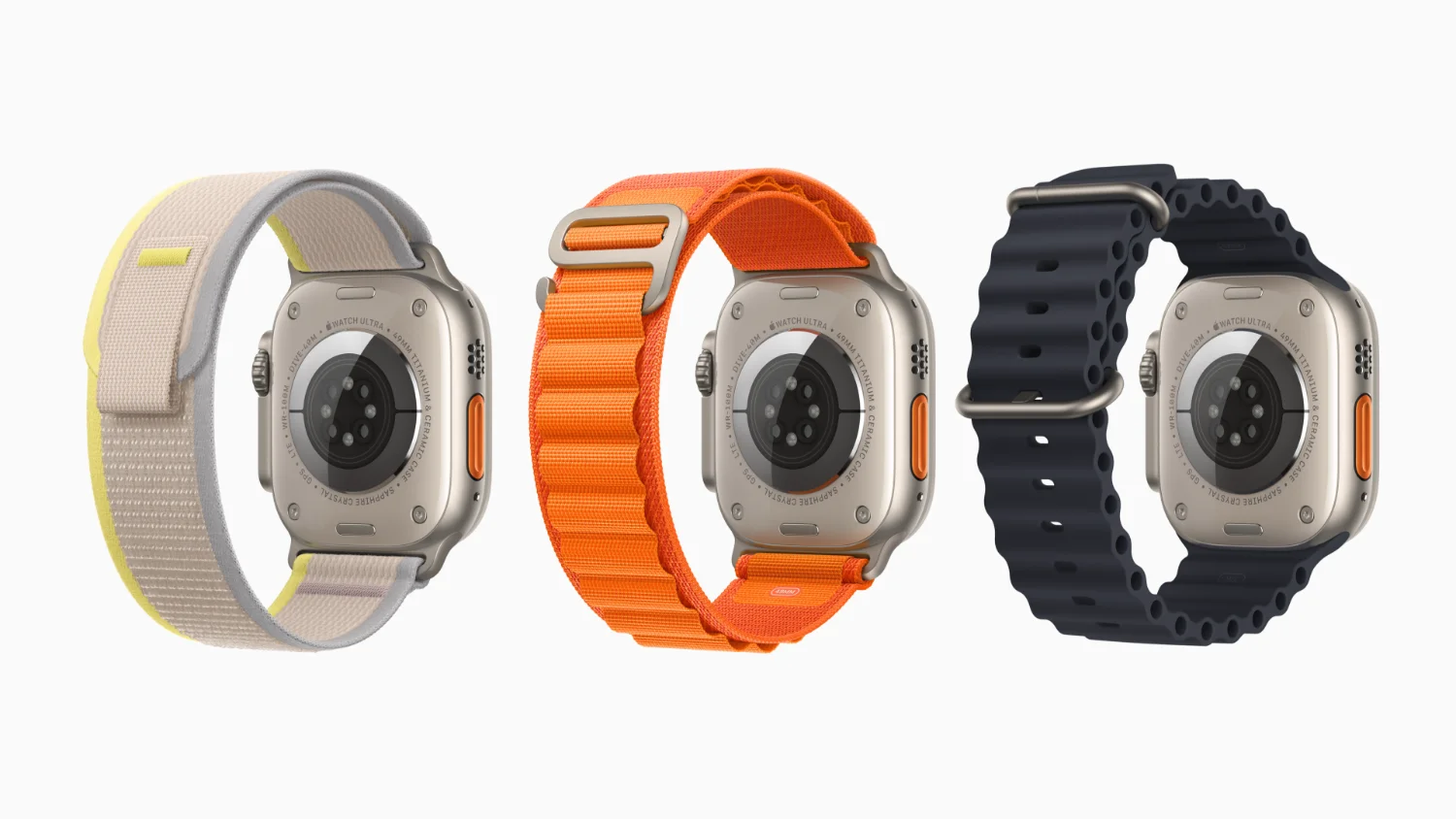 New Bands: Apple released 3 exclusive bands for the Apple Watch Ultra: Alpine Loop, Trail Loop and Ocean Band. They are designed around the environment which they are most likely to be in, but they are interchangeable and can be fitted on a normal Apple Watch.
Case: The Apple Watch Ultra is huge. It has a 49mm screen within a titanium casing. The case goes up to the glass of the watch. The digital crown is bigger and has a crown guard. The side button is also larger because it is designed to be used with gloves.
Screen: The screen is 49mm making it a ver large watch. Brightness level can go up to 2000 nits in sunlight, making it one of the brightest display on the market.
Glass: The glass is sapphire glass, which is normally used in watches because their scratch resistance properties are close to a diamond (9 on Mohs scale compared to 6 on gorilla glass). But impact resistant is not its strong suit so the casing has to cover the glass especially on the side.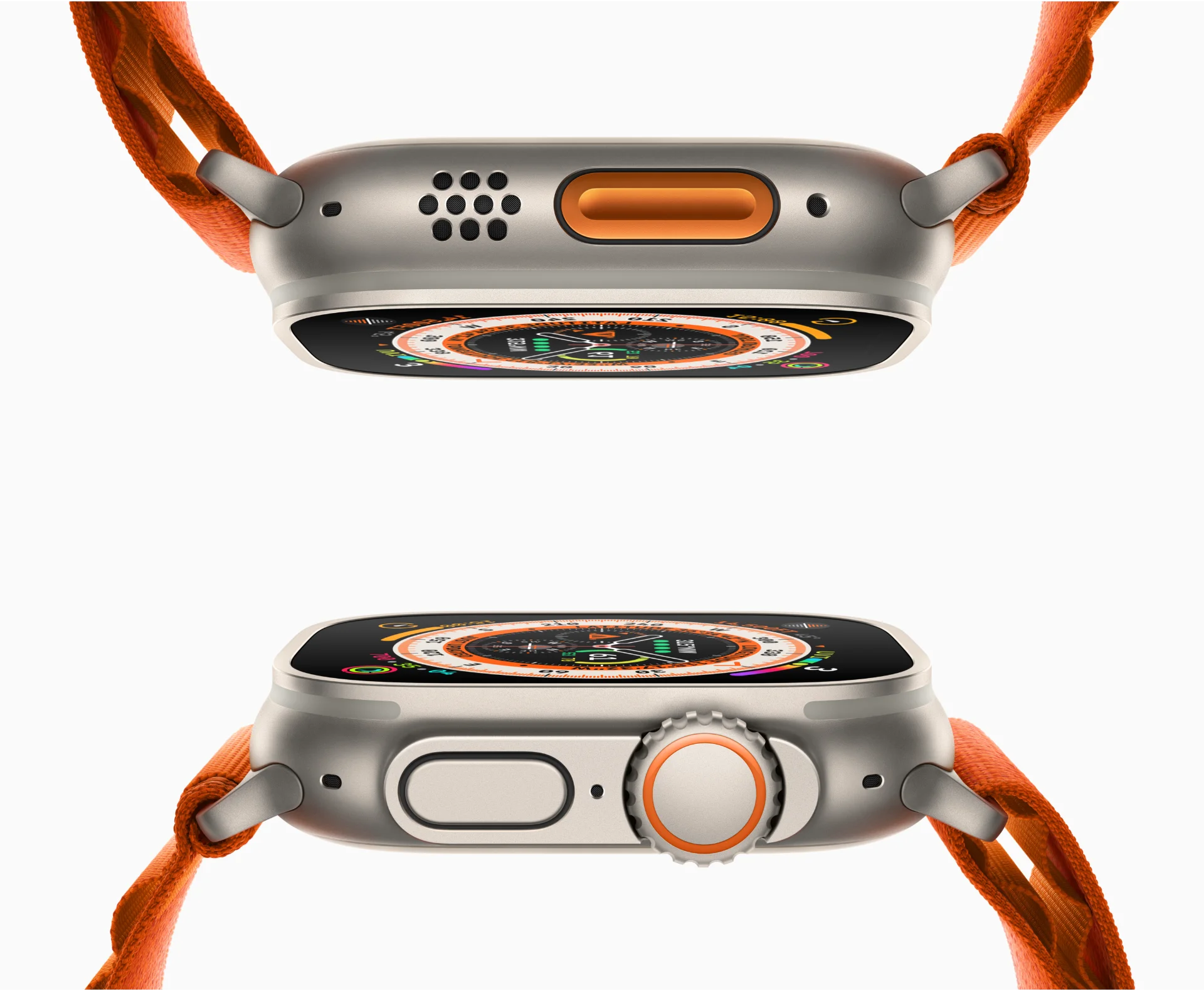 Bigger buttons: As mentioned, the buttons on the Apple Watch Ultra are bigger because it is designed to be used with gloves.
Action Button: There's a second button in international orange which is called the action button. The button is customizable, but only what Apple allows you to do. On app level, developers can take advantage of the 2nd button as an additional function.
Speakers and Mic: It has dual speakers for better sound quality. There's also additional mics on the watch for better sound capture
Dual Frequency GPS: There's dual band GPS on the watch for better GPS tracking and accuracy.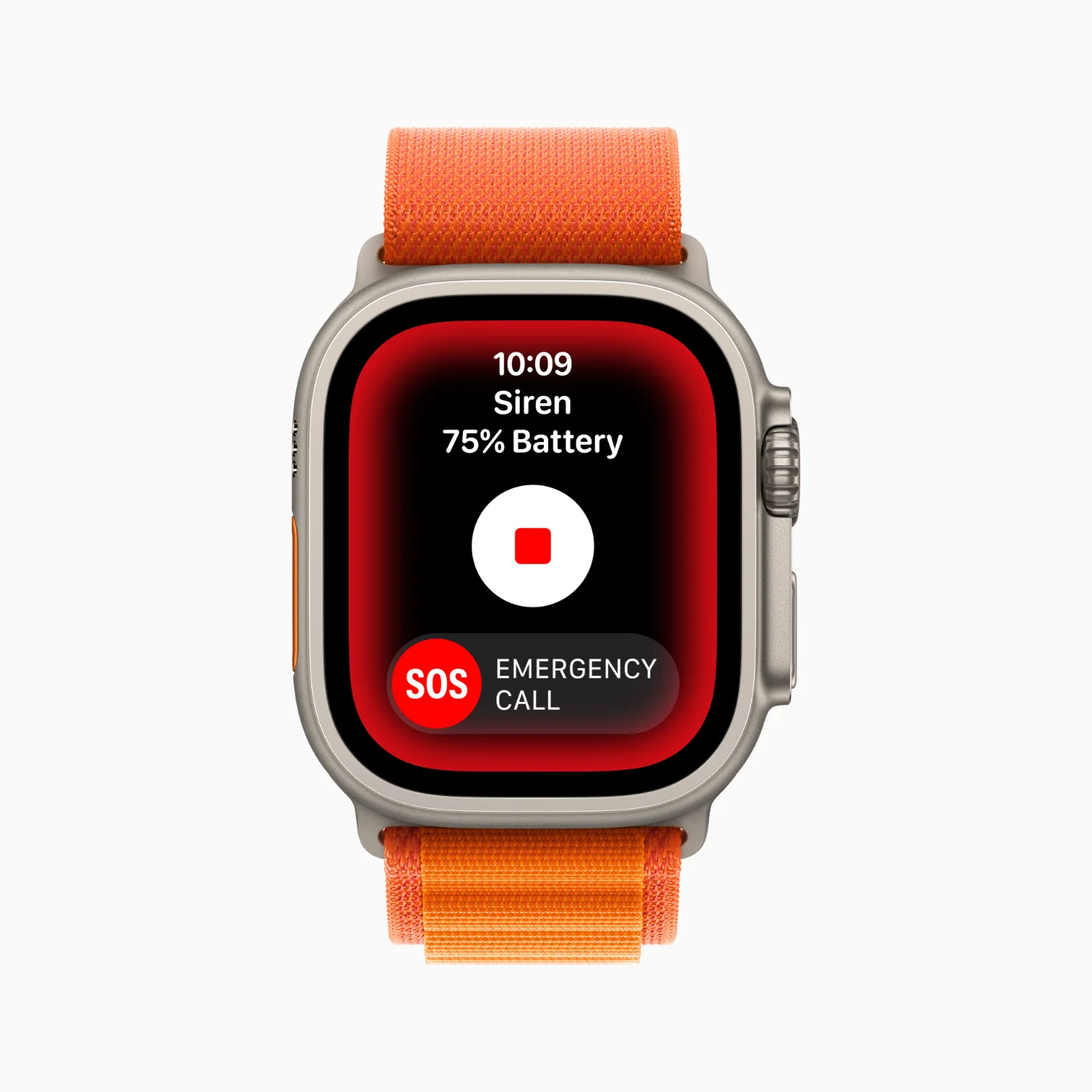 Siren: There's a 85db siren mode to attract people's attention. Supposedly can be heard from at least 600 meters away. North American users might call it very loud, but in my experience going into a thick rain forest jungle, it might be just adequate. Thick rainforest jungle can really absorb sound. Hiking in a jungle, you might not hear the sound of a loud waterfall until it is like 10 meters away.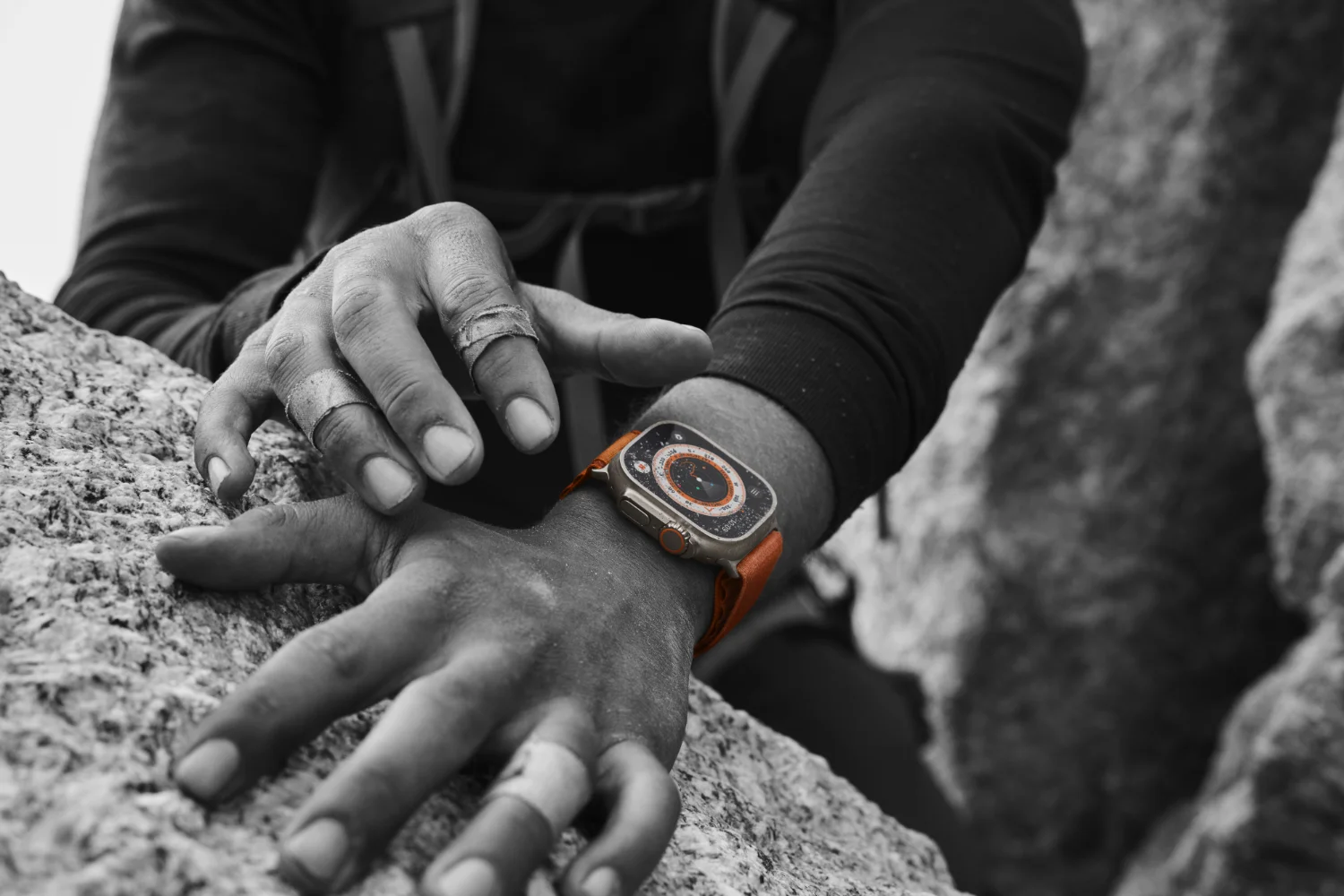 Build Quality and High standards: The watch is built to a very high standard. Apple claims that the watch will be functional upto 40m in the water for recreational dive and water resistant at 100m. It can survive temperature ranges from -20°to 55° celsius. I can't tell you how hard it is to design devices that actually work in those huge temperature swings. Most electronic devices are designed to work in 10 to 35 C.
Apple showcase the following standards:
IP6x: The Apple Watch Ultra is basically dust proof
EN13319: The standard for depth gauge and time measurements for diving equipments.
MIL-STD 810H: US military standard to determine if certain items can survive being in a military environment. It specifies a battery of tests which includes high pressure events, low pressure event, gunshot pressure, being frozen and then thawed. A pretty comprehensive 1,000 page read about tests. Great if you are a test nerd.
Internal Features
S8 Chip: It is the new S8 chip that is featured in Apple Watch Series 8. So for most part, it acts like a normal Apple Watch.
Battery Life: Being a big watch, there's a lot of room to put a bigger battery. Apple claims a 36 hour standard use between charges. There's a low power mode where you can extend the life to 60 hours (2.5 days).
Dive Computer: Apple has a built in dive computer which help measure your depth and water temperature. Apple also partner with Oceanic Plus to develop a dive computer which include functions like safety stop and how long it takes for you to get to the surface.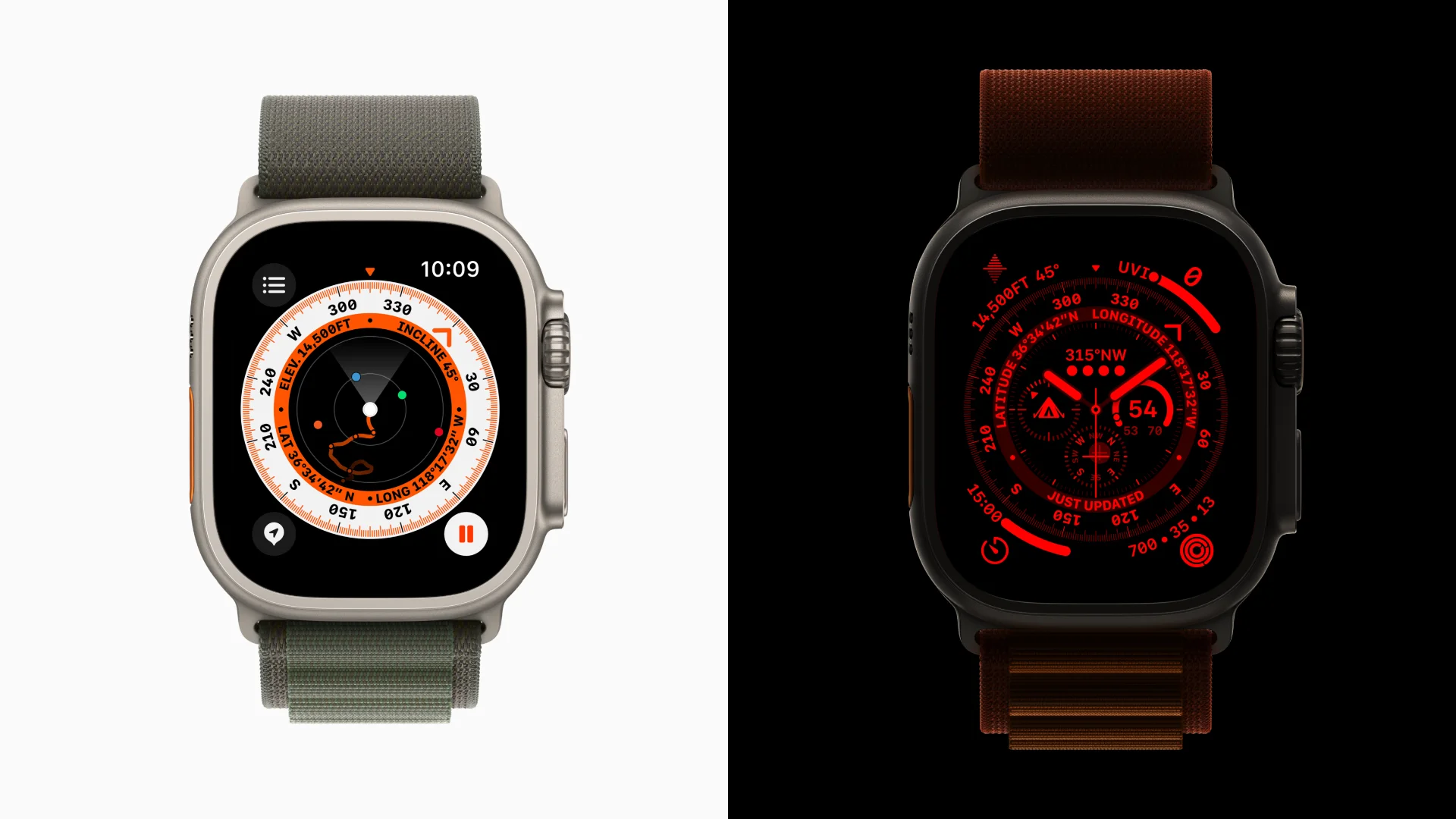 Compass and Wayfinder: The compass in the Apple Watch Ultra is redesigned to take advantage of the new screen size and more accurate sensors. There's a way finder app which you can put pins on the map so you can track you hike and find your way back.
New Wayfinder Face: There's a new wayfinder face that also shows a live compass. It also has a night-mode so it wouldn't destroy your night vision.
Is it Worth it?
As a tool: The Apple Watch Ultra is designed as a tool for athletes, adventurers, extreme sport enthusiasts , divers and people, for the most part, an Apple Watch just wouldn't cut it. Is it a good tool for those people? For now, the answer is yes, Apple designed software and hardware to match the lifestyles of the wanderlust or adrenaline junkie.
The real answer of course will be known in a few months when actual paying customers put these watches on the field.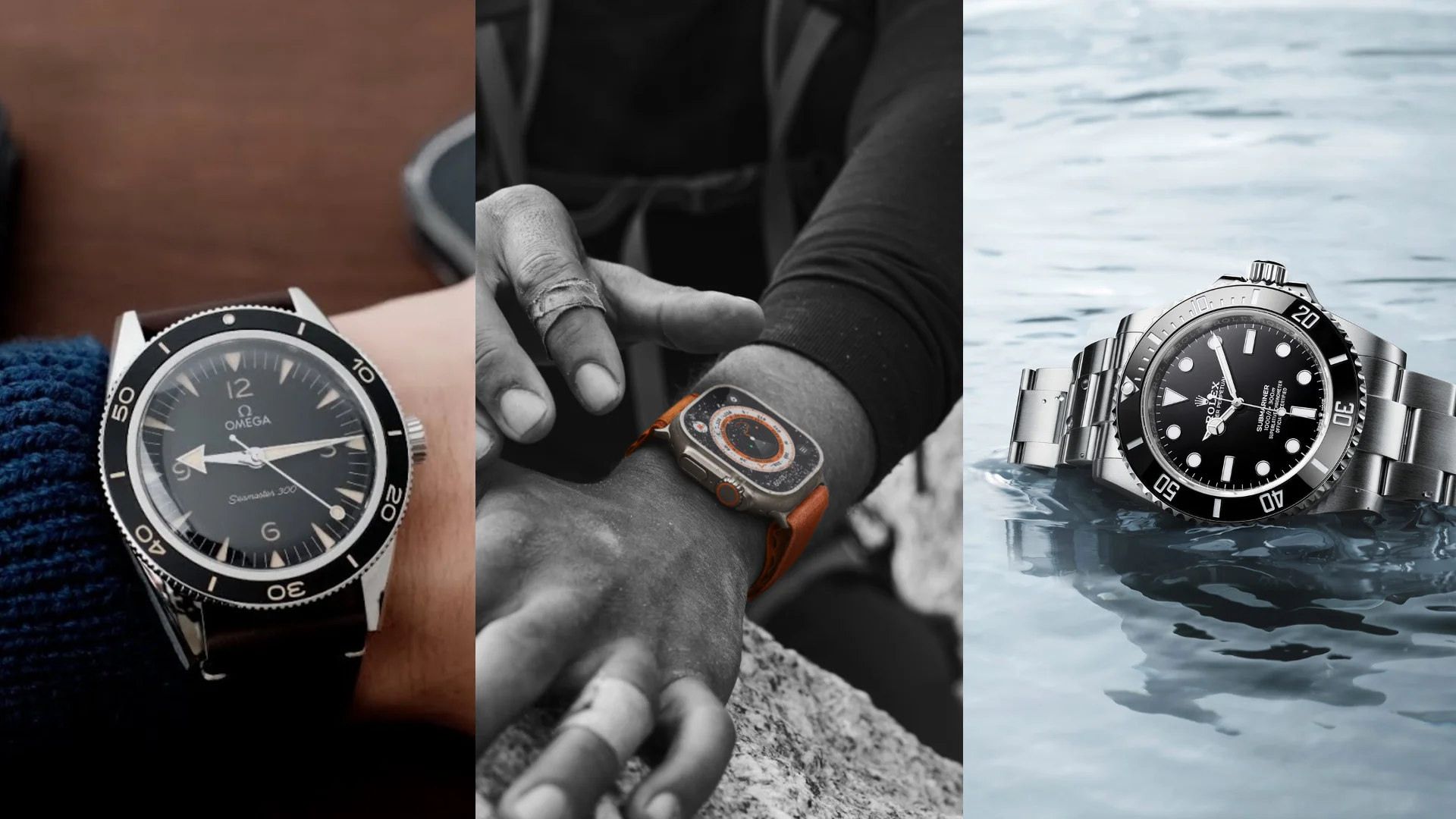 As a fashion statement: It is a known fact in fashion, one of the most sought after diving watches is the Rolex Submariner. It is also a known fact that most Rolex Submariner owners won't even spill champagne on the watch let alone bring it to diving. But there's a certain appeal of owning some over engineered items even though you will not use the item to the limit. Like owning a sports car or an expensive watch.
So, is the Apple Watch Ultra a good fashion statement? In my view, the Apple Watch Hermes edition, which is less capable than the Apple Watch Ultra, is far more stylish as a fashion accessory. Even that is no match for a good old mechanical watch like Omega or Rolex.
Plug
Support this free website by visiting my Amazon affiliate links. Any purchase you make will give me a cut without any extra cost to you
Other Ecosystem Items