Apple Watch Series 7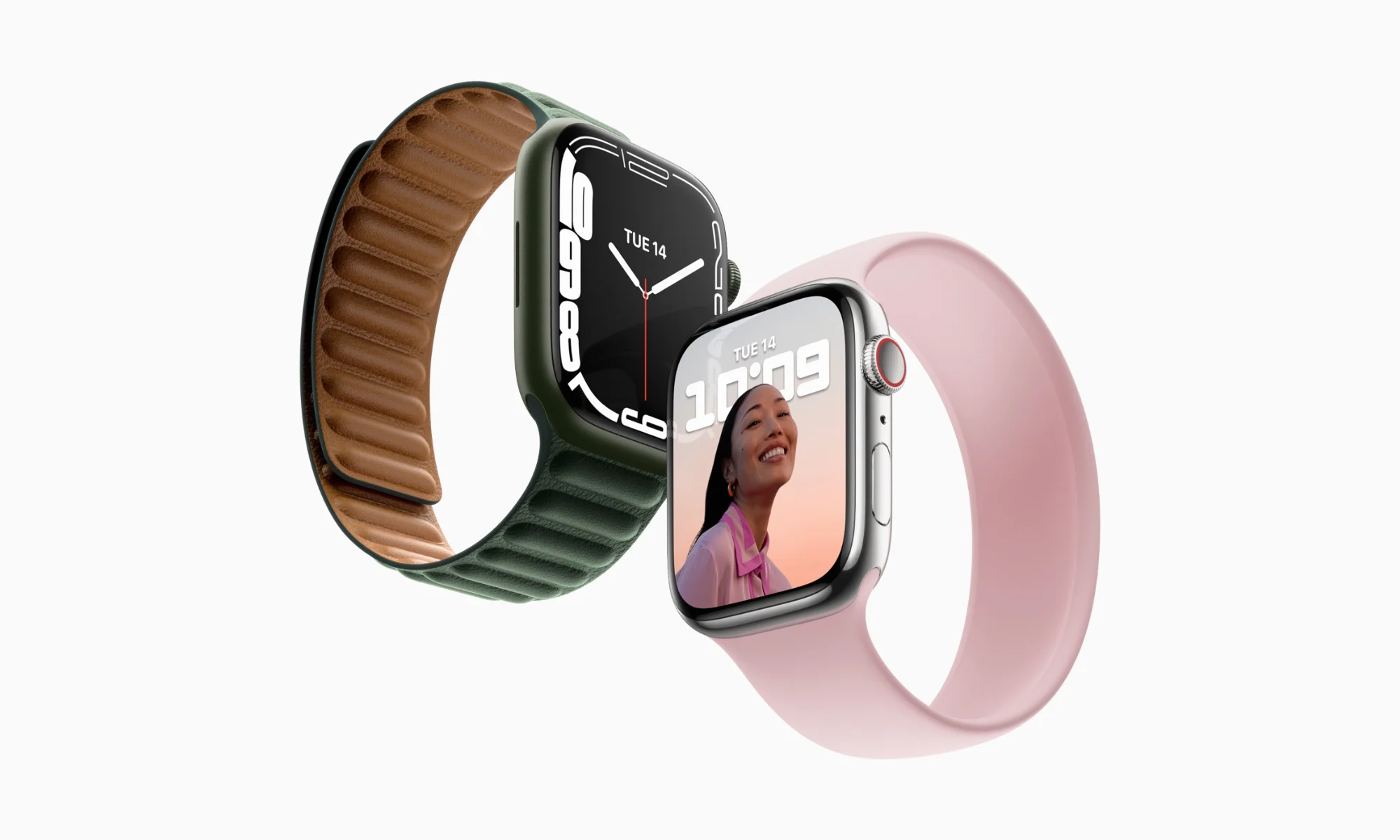 Apple most "personal" computer has been updated for the California Streaming event.
What it is?
Apple wearable computer. First introduced in 2014 and now on it's seventh generation. The 7th version was launched on September 2021. It was released together with the iPhone 13
The new version has two sizes (41mm and 45mm), two wireless connectivity methods (Wi-Fi only or with cellular), two exclusive editions (Hermes and Nike), 3 kinds of metals, 9 colors and 52 band choices. This is not include editions like Hermes which has their own bands and finishes.
Overwhelmed by all the choices? Apple got a solution for you. Apple got you coverage with Apple Watch Studio. You can configure your watch to be as personal as you would like to be, like configuring your car.
Feature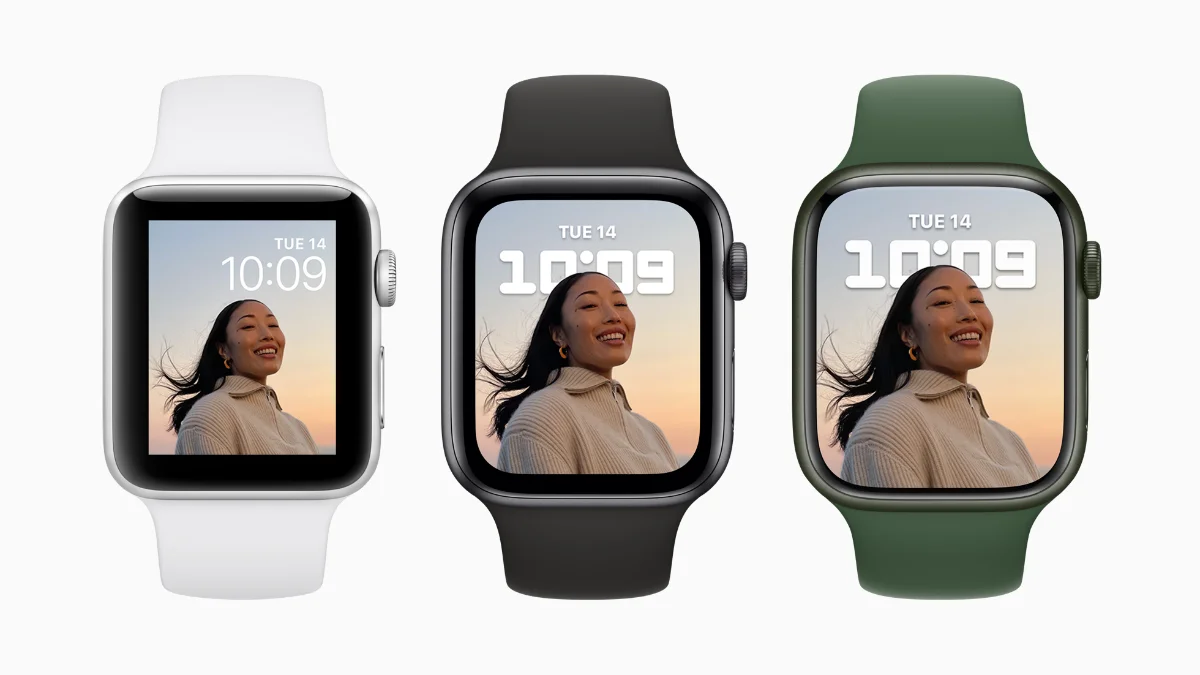 Larger Screen By moving the screen all the way to the edge of the edge of the watch, Apple manage to squeeze an extra 1mm to the limited screen estate. Your screen size is now 41mm and 45mm instead of previously 40mm and 44mm. The physical size of the watch remains the same, so you can still use all of your old watch bands. Because of that, the screen resolution for the 45mm is now 396 x 484 pixels, which is higher than the original iPhone, which was set at 320 x 480 pixels. What a time to be alive.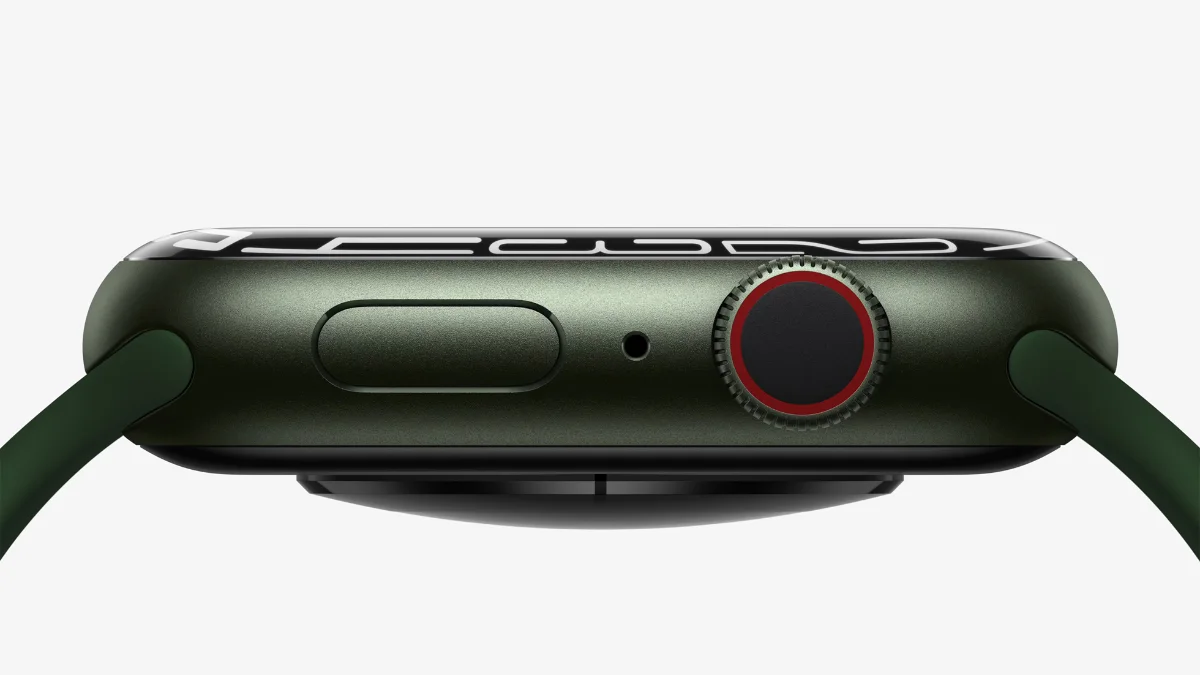 New glass Just like in expensive watches, the glass now makes a wrap around effect and you can see the watch face at extreme angles due to the refracted light from the screen. The glass is also more durable than the previous version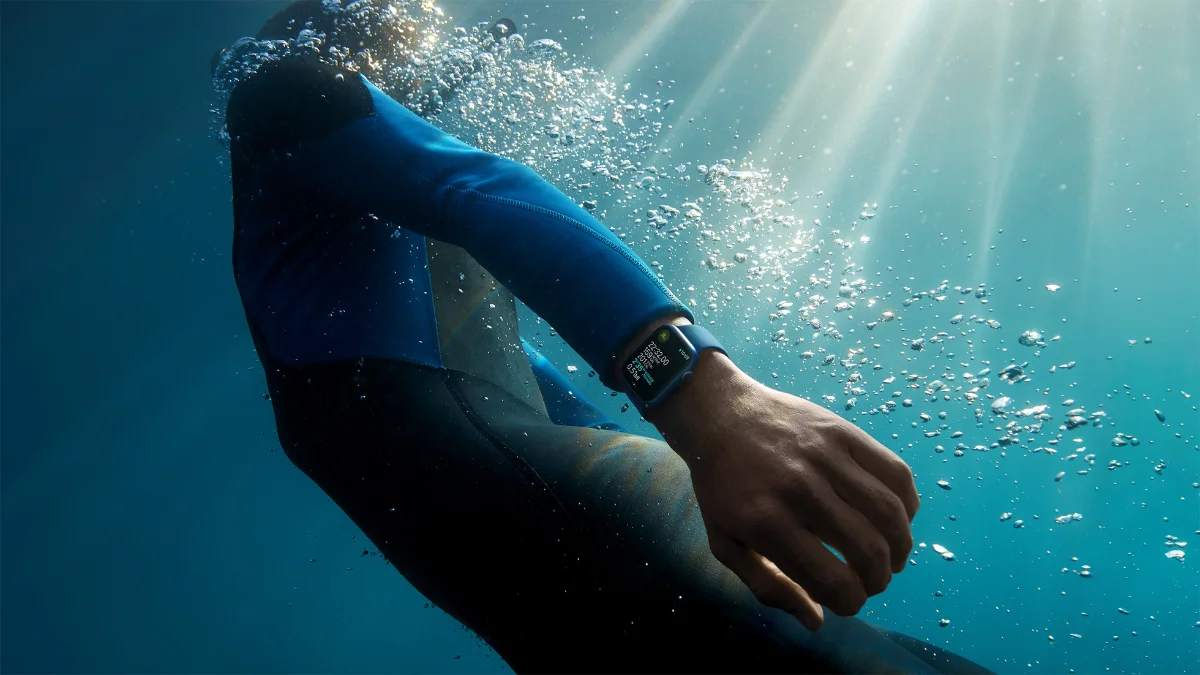 Durability They have redesign the glass to make it more durable than ever before. Dust resistent at IP6X and water resistant up to 50 meters.
Same sensors as series 6 Blood oxygen, ECG and heart rate monitor. new watchOS version also do sleep tracking.
Faster charging speed 0% to 80% in 45 minutes. 8 minute charge is enough for 8-hours of sleep tracking.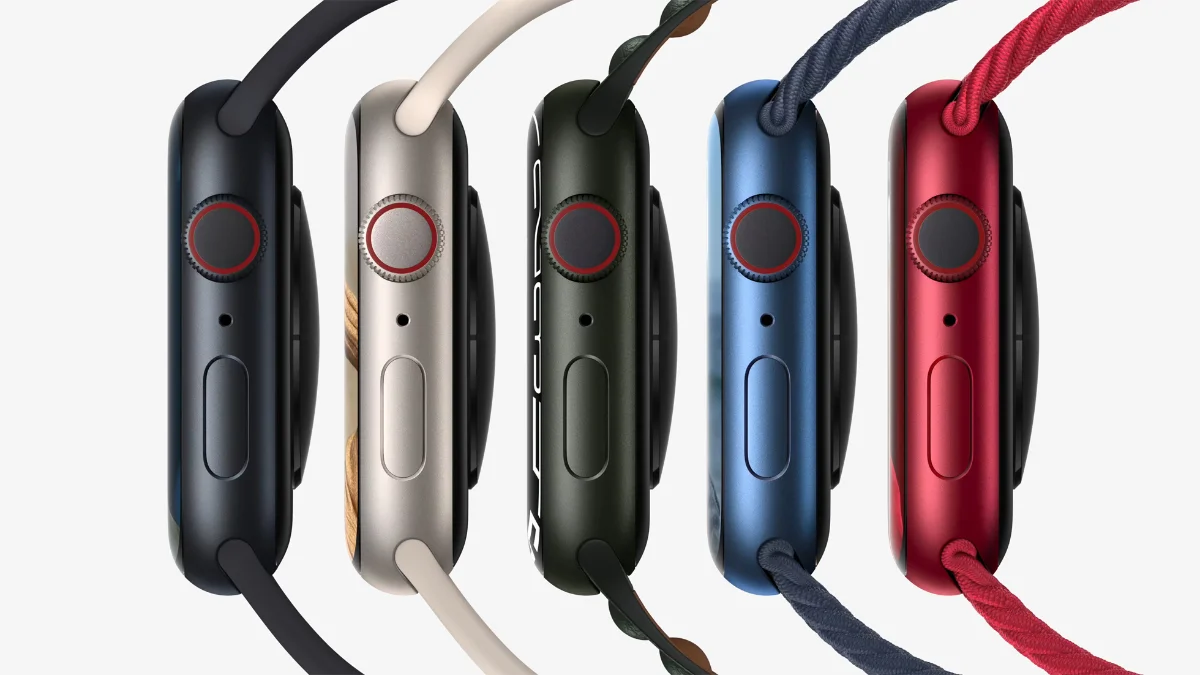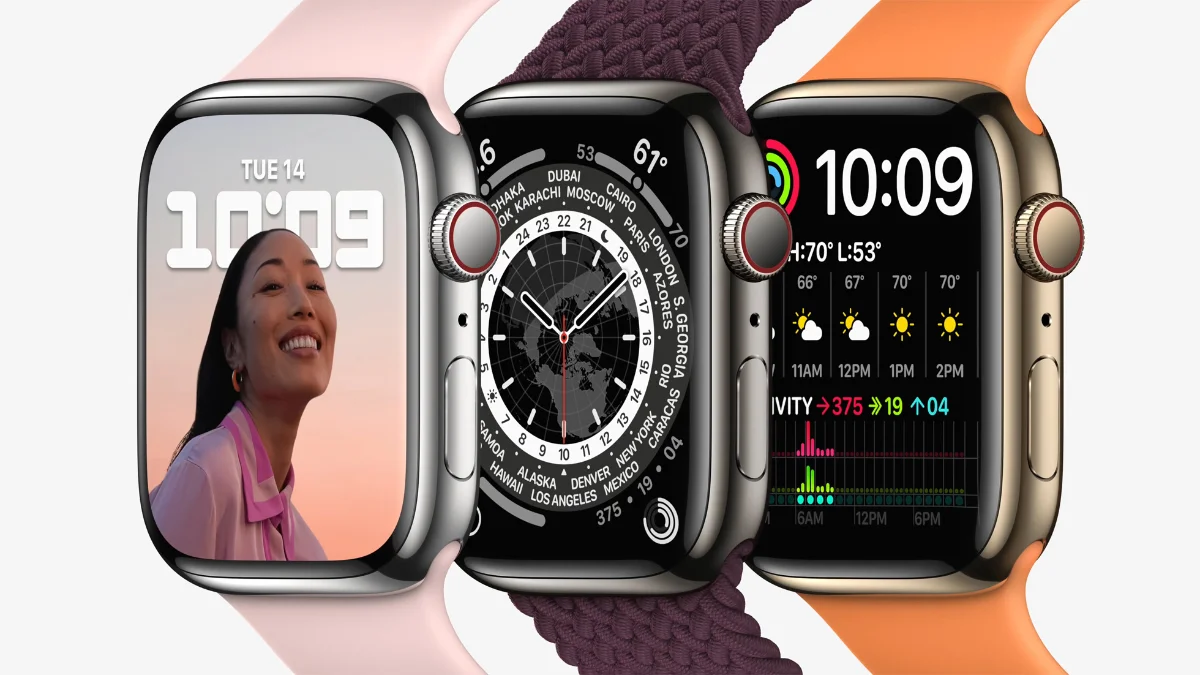 Colors There will be 5 colors: Green, Blue, (PRODUCT) Red, Starlight (white) and Midnight (black). The Hermes features a stainless steel color. Stainless steel edition has gold, graphite and silver finishes.
Material Aluminum is the material for the base model while Hermes has the stainless steel. Apple Watch Edition is made from Titanium.
Chip They didn't mention the chip anywhere in the presentation or in their website, and they also didn't show any benchmark and since there's no sensor upgrades at all, we are guessing that they retain the S6 chip from the Series 6 chip.
Other Features
Most of the features mention here are carry over from previous generation Apple Watch.
Always on display OLTP display which varies the refresh rate from 1Hz to 60Hz.
Fall detection It can detect that you had a hard fall and attempt to call emergency services for you.
Health Sensor Heart rate monitor to see how fast it's beating. ECG to check how is your heart is beating. Blood Oxygen Monitor to see your intake when exercising.
Fitness+ New feature is that you can do a work out together with a friend using SharePlay.
Editions
As in the series 6, Apple has collabration with Nike and Hermes to make the Hermes and Nike edition of the watches.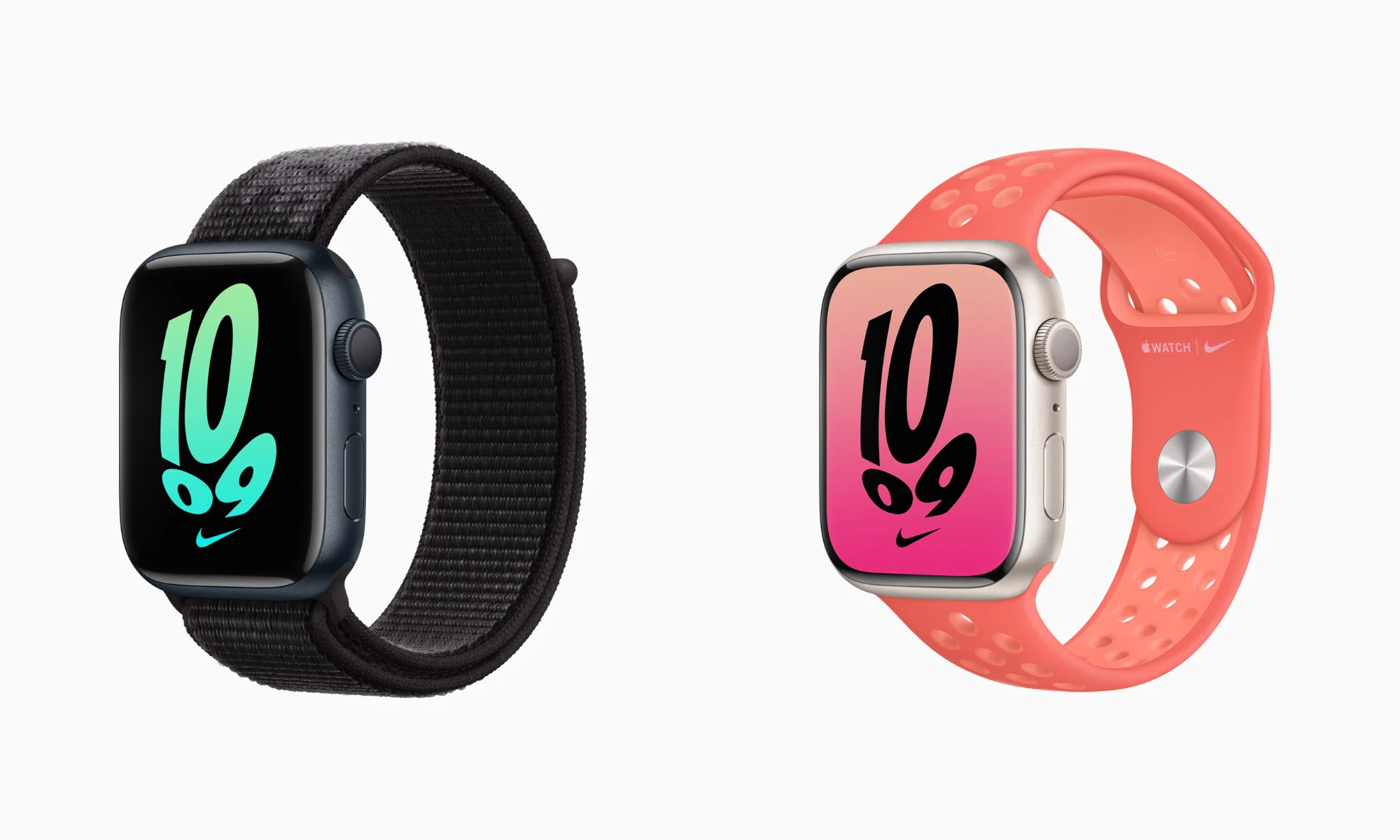 The Nike new bands and watch faces.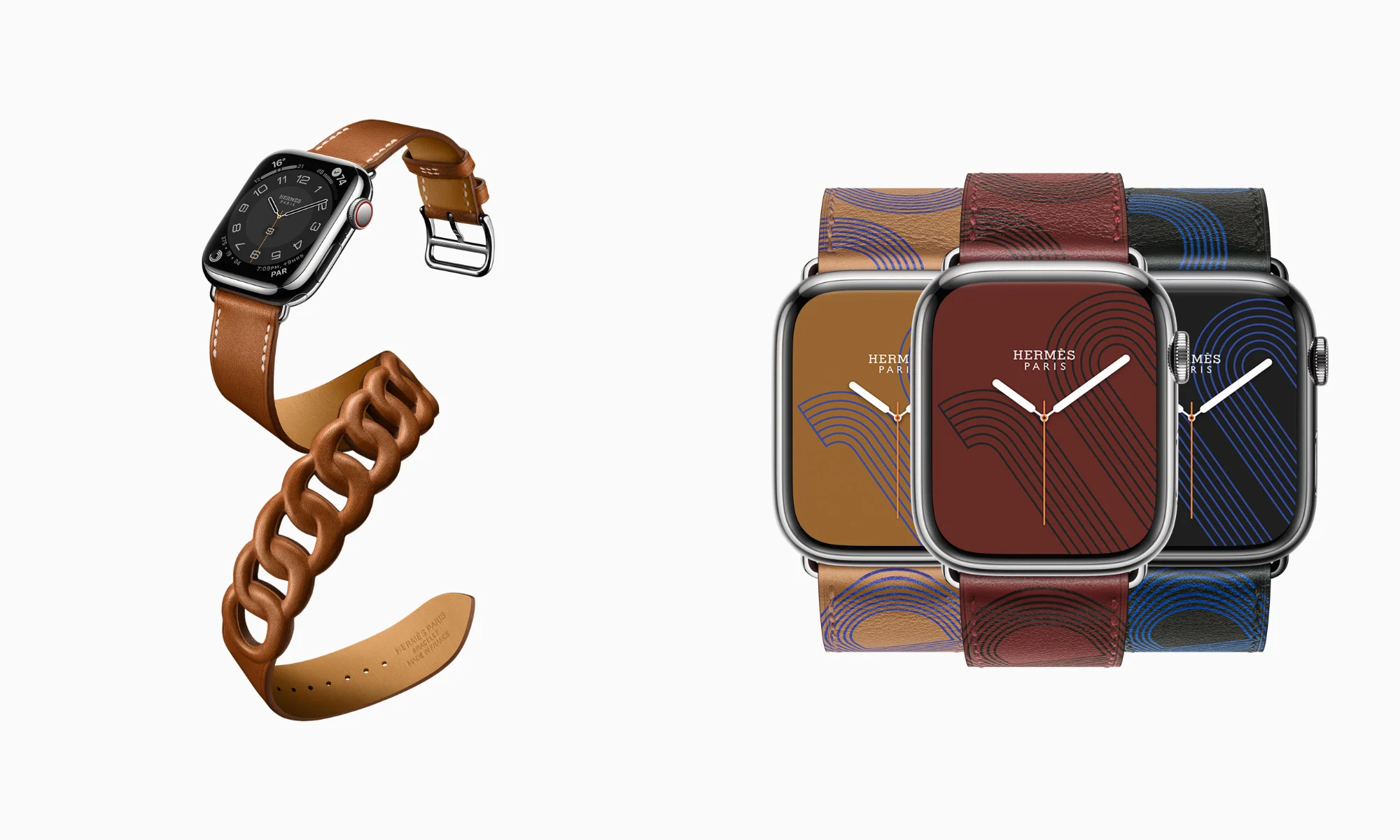 The Hermes has two new bands. First is the Gourmette Double Tour which is meant for ladies and "pays homage to 1930s Hermès collars, with links weaving fluidly together in supple Fauve Barénia leather." The second is Circuit H which is "a bold graphic representation of a signature anchor chain design, printed in Swift leather with a complementary watch face"
Verdict
If you coming from 5 or 6, it might not be compelling enough. From 4 and below, it is tempting. Even the mighty Apple is not immune to the global chip shortage so they can't make new ones, so hold on for the old ones this year.